"I am the man of the hour, the man with the power, too sweet to be sour!"
A revolutionary champion who was decades ahead of his time, "Superstar" Billy Graham was a hated villain during his prime as the WWWF champion, yet he maintained a position as one of the most colorful personalities in the history of wrestling. He was also one of the biggest box-office attractions of his era and a true legend who has been imitated and copied often through the years. Standing 6'4″ and weighing 275 lbs., with long blonde hair, psychedelic tie-dyed trunks, a deep bronze tan, and a body absolutely rippling with power, the arrogant braggart from Paradise Valley, Arizona created a look and character that would go on to influence, either directly or indirectly, virtually everyone in professional wrestling that came after him.
"The Superstar" also made a huge impact on the professional wrestling business as a whole. The fast-talking, incredibly egomaniacal  braggart was the prototype for champion heel wrestlers for years to come, as his massively muscled, deeply tanned body and long blond hair combined with uniquely colorful ring attire created a wrestling persona imitated by numerous wrestlers, both during his era and after he retired.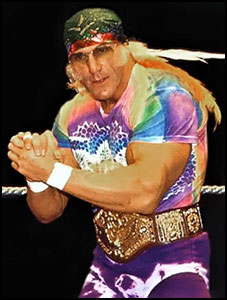 Among others, "Big Poppa Pump" Scott Steiner, "The Universal Heart Throb" Austin Idol, "Precious" Paul Ellering, Jesse "The Body" Ventura and even Mick Foley's Dude Love come to mind. Many other professional wrestlers that came after Billy Graham made his huge impact on the business, men like Sting, "Stunning" Steve Austin, Lex Luger, Triple H and other colorful blond muscle men from the generation that followed Graham couldn't help but be influenced by The Superstar.
Even The Rock, the self-proclaimed "most electrifying man in sports entertainment" owes a raising of the People's Eyebrow to Graham, who was the first WWE wrestler to regularly incorporate an overuse of referring to himself in the third person into his colorful promos. Of course, it's no secret that Terry Bollea himself has stated that he borrowed much of Billy Graham's ring persona and characteristics when creating his Hulk Hogan and, later, "Hollywood" Hogan characters.
Wayne Coleman was born on June 7, 1943, in Phoenix, Arizona, the youngest of four children. While he had no amateur wrestling background, during his high school years the athletic Coleman excelled at several sports, particularly track & field. Indeed, he set state records in the shot put and the discus as a freshman and was so impressive that his coaches were grooming him for a possible Olympic appearance. However, those plans fell through when he made the decision to drop out of high school during his junior year. In addition to excelling at track & field, Wayne Coleman was an accomplished amateur boxer who made it to the finals of the 1959 Golden Gloves. Two years later, he became a champion amateur bodybuilder, winning the West Coast division of the prestigious Mr. Teenage America competition at the age of seventeen. Fittingly, some fifteen years after winning the Mr. Teenage America title, Coleman competed in the Mr. Pro America competition, where he won first place in the Best Developed Arms category.
Although he only played one season of high school football as a freshman, Coleman was a superior natural athlete and, after being encouraged by a friend, he tried out for the Calgary Stampeders of the Canadian Football League in 1967 and actually made the team. Before the pre-season ended, though, he was traded to the Montreal Alouettes, where he played the majority of the 1967 season before being let go. The following year, Coleman made the Oakland Raiders pre-season team, a truly impressive accomplishment for a walk-on player with virtually no practical experience, but he was cut just prior to the start of the 1968 season due to a torn Achilles tendon. A dozen years later, long after he'd become a champion professional wrestler, Coleman again displayed his athletic proclivity when he entered CBS's The World's Strongest Man Competition. Although he placed well in several of the competition's unique events, a pulled hamstring incurred during the log-lifting contest precluded his ability to advance. That said, his previous scores were still strong enough that he ultimately placed seventh in a field of ten, despite having to drop out mid-way through the competition.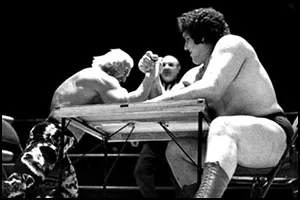 The man who would soon become "Superstar" Billy Graham entered the sport of professional wrestling in 1969 via Stu Hart's Calgary-based Stampede Wrestling promotion. After receiving his initial training by Hart, the rookie Coleman learned the basics of professional wrestling while working under his given name. Having no wrestling experience to draw from, Hart promoted his new attraction by utilizing Coleman's most obvious feature, namely, his gargantuan body and immense strength. Billed as the "Arm Wrestling Champion of the World," Coleman travelled the Stampede circuit and took on all comers in legitimate arm wrestling contests, offering $500 (the equivalent of $3,500 in 2020 currency) to anyone who could put his massive arm down. Plenty tried, but none were successful. For the next seventeen years, the arm wrestling gimmick was something that Graham would go on to use, with great success, in virtually every promotion he travelled to, although it understandably evolved from legitimately challenging members of the audience into angles with his opponents.
Shortly after his return to the U.S., a chance meeting with professional wrestler Dr. Jerry Graham at a Phoenix nightclub forever altered the course of Wayne Coleman's life, as well as the trajectory of professional wrestling. While he'd once been among the premier names in the sport, ongoing personal issues and poor business decisions had led Jerry Graham to a place wherein he found it very difficult just finding work. But, after meeting the hulking Coleman and discovering that he'd received his training in Calgary, Jerry Graham saw a way to make his way back into a major promotion. With his younger, highly impressive "brother" Billy by his side, Jerry Graham was able to secure a position for the tag team in Mike LeBell's popular Los Angeles-based promotion where the new Golden Grahams immediately made an impact on the territory and its fans. However, not long after their debut in the region, Dr. Jerry's personal demons once again led to his termination of employment. Billy Graham, on the other hand, remained in Los Angeles and continued to learn and improve over several months until he made his next career move, which took him to Roy Shire's San Francisco promotion in 1970.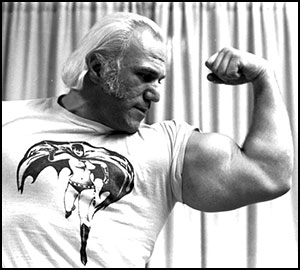 It was in San Francisco that Billy Graham truly began to develop as a professional wrestler. With little more than a year of stop-and-start experience to his credit, Graham began working with some of the most talented pros in the business, learning not just how to wrestle but, even more importantly, how to manipulate the audience psychologically.
Under the guidance of a taskmaster such as Roy Shire and working alongside the likes of Pat Patterson, Ray Stevens, Peter Maivia, and Rocky Johnson, the novice Graham improved by leaps and bounds. After less than two years in the business, Graham's status rose to a level wherein he was involved in main-event matches, eventually resulting in his first championship, the NWA World Tag Team title, which he won with Pat Patterson in 1971.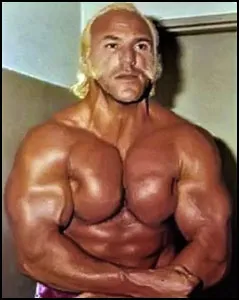 Following his two-year tenure in San Francisco, Billy Graham moved on to his next major assignment, this time traveling to the American Wrestling Association in 1973. Upon entering the AWA, Graham picked up the final missing piece of his ring persona's puzzle… the nickname "Superstar." While he certainly gave Verne Gagne a serious run for the AWA World title, it was against Wahoo McDaniel that "Superstar" Billy Graham engaged in his most memorable AWA feud. The Superstar and The Chief battled each other throughout 1973 & 1974, drawing sold-out crowds all across the multi-state territory during one of the most statistically profitable programs in the history of the AWA
Interestingly, although he did not win an AWA championship during his lengthy and successful run in Gagne's promotion, on January 9, 1974, Graham did capture the NWA Hawaiian title while part of the AWA roster. Additionally, it was while competing in the AWA that Graham actually won his first World Heavyweight championship by defeating Billy Robinson for the International Wrestling Enterprise promotion's IWA World championship on August 16, 1974 in Denver, Colorado. Although the Japanese-based promotion was not on par with Inoki's NJPW or Baba's AJPW in terms of popularity, IWE's International Wrestling Alliance World Heavyweight title was a highly prestigious championship during its twelve-year existence and the first belt in Japan to carry a "world title" distinction. The IWE and the AWA had a talent exchange agreement and Graham, who was unlike any wrestler the Japanese public had ever seen before, held the IWA World title for two months before losing to The Mighty Inoue in Saitama, Japan on October 7, 1974.
After growing weary of the frigid midwestern winters that were synonymous with the majority of Gagne's cities, Graham began taking bookings in several other territories while still appearing on select AWA cards. On October 25, 1975, The Superstar made his debut in the World Wide Wrestling Federation, a harbinger of (great) things to come. Meanwhile, he also competed regularly for Paul Boesch in Houston as well as working for Jack Adkisson in Dallas, where he became a multi-time Texas Brass Knuckles champion. Beginning in 1976, Graham also had a great deal of success in Florida, where he won several championships and entered into a feud with Dusty Rhodes that would evolve into one of the greatest of either man's careers. On November 22, 1976, he defeated "The American Dream" for the Florida Heavyweight championship and, later, Graham captured the prestigious NWA Southern Heavyweight title. With Sir Oliver Humperdink serving as his manager, Graham also formed a very successful tag team with Ox Baker during his run in the Sunshine State and together Graham & Baker won the Florida Tag Team championship while engaging in a memorable feud with the popular Brisco Brothers.
During the Spring of 1977, "Superstar" Billy Graham made history when he met and defeated his longtime rival Bruno Sammartino for the World Wide Wrestling Federation Heavyweight title in Baltimore, Maryland. It turned out to be Graham's only WWE championship and the match has gone down as a true classic. As always, it was a strong pro-Bruno crowd in Baltimore's Civic Arena and when he cheated to defeat Sammartino, gaining "extra leverage" by having two feet on the ropes when he made the pin, it just added to Graham's heel persona. Try as he might at sold-out events up and down the Eastern seaboard, "The Living Legend" could never regain his WWWF title from the powerhouse from Paradise Valley.
With the evil genius of The Grand Wizard of Wrestling guiding his WWWF escapades, Graham set attendance records all across the World Wide Wrestling Federation territory. At the WWWF's "home" arena of Madison Square Garden, Graham made history by having the highest percentage of sell-outs of any WWE champion ever. "Superstar" Billy Graham drew a capacity crowd to nineteen of the twenty cards he main-evented at The Garden, a record that will likely never be eclipsed.
As the World Wide Wrestling Federation Heavyweight champion, Graham faced every worthy babyface challenger in the promotion during his reign, cleanly (and sometimes not so cleanly) defending his belt against the likes of Bruno Sammartino, Dusty Rhodes, Ivan Putski, Chief Jay Strongbow, Gorilla Monsoon, "High Chief" Peter Maivia, Tony Garea and Mil Mascaras.
It was the unsuspecting Bob Backlund, though, who would eventually cause "Superstar" Billy Graham's championship downfall. On February 20, 1978, ten months after Graham's WWWF reign first started, Backlund defeated The Superstar in front of a wild, sold-out M.S.G. crowd. Ironically, (and completely uncoincidentally) Backlund scored the victory while Graham's foot was draped over the bottom ring rope, making him the only WWE champion to both win and lose the title with his feet on the ropes. Regardless of the circumstances, and despite Graham's vociferous outcry over Backlund's "tainted" win, Bob Backlund's 1978 victory forever ended Billy Graham's reign as WWWF champion.
Following the loss of his title, Graham and Backlund engaged in two more sold-out spectaculars at The Garden. The first encounter went to a dominant Billy Graham when Backlund was beaten to a bloody pulp and the match, but not the title, was awarded to The Superstar via a blood-stoppage decision. A conclusive "rubber match" was then ordered by WWWF President Willie Gilzenberg, to be held inside of a steel cage.
Another 22,000 M.S.G. spectators were on hand (as well as an additional 5,000 watching on closed-circuit television at the adjoining Felt Forum) to witness the much-anticipated championship cage match showdown.
This time around, it was Backlund who was the aggressor, as the new titleholder was clearly determined to establish that he was worthy of carrying the championship belt. Ultimately, this proved to be the case as Backlund managed to escape the cage with his status as the undisputed WWWF champion intact.
After his heated series with Bob Backlund finally concluded, Graham remained one of the promotion's top attractions, continuing his lucrative feuds with both Dusty Rhodes and Bruno Sammartino. He also formed a successful yet short-lived tag team with his storyline step brother, the unpredictable "Crazy" Luke Graham. However, the former champion eventually left the WWWF during the Fall of 1979 to go compete in the Memphis-based Championship Wrestling Association. While in Memphis, Graham captured his third "world" championship by defeating Pat McGinnis on October 8, 1979 for the CWA World Heavyweight title.
Oftentimes in professional wrestling, a title can make the champion, automatically lifting his status to a higher level in the eyes of fans and promoters.  Meanwhile, there are many instances wherein a champion can make the title. While the CWA's version of the World Heavyweight championship was nowhere near as prestigious as the WWWF or even the IWA titles had been, having a world-famous attraction the caliber of "Superstar" Billy Graham wearing the promotion's belt was undoubtedly a source of legitimacy and bragging rights for the CWA. After entering the territory and winning its World title, Graham quickly became involved in a feud with the region's biggest star, Jerry Lawler, and on November 12, 1979, "The King" toppled Billy Graham to win the promotion's top prize.
Once his run in the CWA ended in December of 1979, "Superstar" Billy Graham abruptly disappeared from the public eye. For the better part of two years, he remained away from the wrestling business and many wondered about the whereabouts of the man who, just a few years earlier, had been one of the top five box office attractions in the entire sport. Those questions were answered in September of 1982, when Graham shocked the wrestling world and returned to national prominence in the World Wrestling Federation.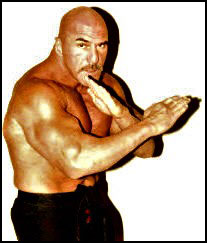 However, the "Superstar" Billy Graham that reappeared in 1982 was far different than the man who had left the Federation in 1979. Gone were the tie-dyed trunks, blond hair and Muhammad Ali inspired promos. He now sported a shaved head, dark mustache and a new martial arts gimmick. Immediately upon his return, Graham (who was once again being managed by his former mentor, the Grand Wizard of Wrestling) made it clear that he was back for one reason and one reason only… to gain his revenge on Bob Backlund and take back the WWF title that he felt still rightfully belonged to him. During one of his first appearances since making his return, Graham attacked the "All-American Boy" during a televised match and, after blasting him in the back of the head with Backlund's WWF belt, rendered the champion "unconscious." The enraged former champion then declared, "If I can't have this belt, no one can!" and proceeded to repeatedly smash the title belt on the floor, pulling off the gold plates and literally tearing the leather strap in half, completely destroying the WWF championship that he had once cherished. The stage was set for another epic Graham vs. Backlund series, which is exactly what took place, at least initially.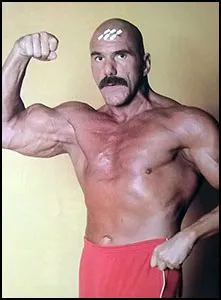 When he first made his return to the WWF, Graham had been in tremendous physical shape and although his new martial arts gimmick did not match up in comparison to the Superstar of old, it was nevertheless something new and different. However, personal issues soon began affecting Graham professionally. Although the latest series with Backlund had started off strong and went on to sell-out The Garden three more times during this run, midway through their feud it became clear that Graham was not the mesmerizing performer he'd once been. He lost weight, began to let his physical appearance and incredible body decline, his formerly trend-setting promos were nowhere near as entertaining as they'd been previously and he just seemed to be missing the "it factor" that had made him so special just a few years earlier. Sadly, away from the cameras, Graham also experienced more than one overdose on prescription drugs during this period. In retrospect, it was a very dark time in the former champion's life, both personally and professionally. Following his run with Backlund, he engaged in a forgettable mid-card feud with the aging Swede Hansen, a short series with Rocky Johnson and then, little more than a year after his return, he was once again gone from the WWF
After his departure from the Federation in 1983, Graham briefly returned to Verne Gagne's American Wrestling Association, where he had a short and  somewhat uneventful run before moving on to the NWA's Florida territory. Although the once-mighty promotion's popularity had dropped substantially since its glory days in the Seventies, there was still a considerable amount of strong talent working in Florida when he returned to the Sunshine State. Graham, who seemed to have his personal issues under control and was now once again in top physical condition, quickly became a major figure within Kevin Sullivan's portentous Army of Darkness and on March 29, 1984, he defeated the powerful Billy Jack Haynes to capture the Florida Heavyweight championship. As the unique storyline saga with Kevin Sullivan played out, The Superstar eventually turned babyface and began a violent feud with the maniacal Gamesmaster that headlined C.W.F. cards throughout much of the year.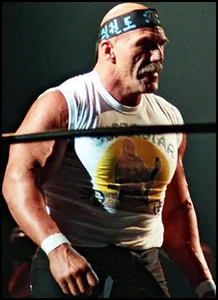 In 1985, Graham returned to the Mid-Atlantic territory, the first time he'd wrestled in the region in over a decade. Still sporting the karate gimmick, he initially came into the promotion as a heel, under the tutelage of manager Paul Jones. As part of Jones' stable of villains, he battled Jimmy Valiant for several months before ultimately turning babyface and feuding with his former manager. Graham's war with The Paul Jones Army culminated in a showdown against Jones' top protégé, The Barbarian, at Starrcade '85. Prior to their bout, The Superstar and The Barbarian squared off in an arm wrestling match where the winner would be awarded $10,000. After a back-and-forth struggle, Graham was mere moments away from putting The Barbarian's massive arm down when Jones interfered, attacking Graham with a cane and forcing The Barbarian to lose via disqualification. Immediately afterwards, their match began and the imposing Barbarian took the battle to Graham. Eventually, though, Graham gained the upper-hand and, after applying his famous Superstar Bearhug, had The Barbarian on the verge of unconsciousness. Just as the referee was about to call for the bell and award the match to Graham, Paul Jones again interfered, attacking Graham with his cane once more and forcing another disqualification.
Following his victories at Starrcade, Billy Graham returned to his familiar "superstar" persona, foregoing the bland karate wardrobe and once again donning his colorful tie-dye ring attire. The NWA fans responded positively to the change and Graham's position on the roster rose steadily. He faced off against World champion Ric Flair in several main-event title matches across the territory and formed a popular tag team with Jimmy Valiant known as "The Street People."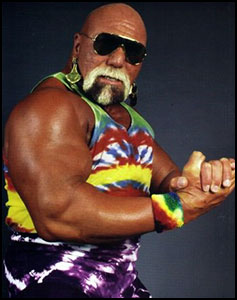 After his run in Jim Crockett Promotions came to its eventual end, "Superstar" Billy Graham returned to the site of his greatest triumphs; the World Wrestling Federation. Much had changed during the four years since Graham last wrestled in the Federation; Hulk-a-Mania and the WWF had taken the nation by storm, while Graham had dropped his dark karate gimmick and was once again the psychedelic Superstar. A series of vignettes reintroduced "Superstar" Billy Graham to the WWF's audience, positioning him as a fan favorite as opposed to the heel he'd portrayed during his previous stints in the promotion and it seemed as though he was primed for a return to the top.
However, on September 16, 1986, while wrestling Bob Bradley during his first match back in the WWF, Graham suffered a debilitating hip injury as he lifted Bradley while applying his famous bearhug. He did his best to hide the intense pain from the audience (as well as his boss, Vince McMahon) but it quickly became clear that he would need a hip replacement surgery before he would be able to wrestle in any more matches.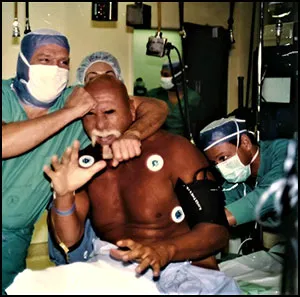 The surgery was quickly scheduled and at a certain point it was decided that Graham's operation would be filmed. Portions of the footage would then be used in a series of vignettes designed to keep Graham in the eyes and minds of WWF viewers while he was away making his recovery. The hip replacement was a success, although the chief surgeon, Dr. Lawrence Dorr, warned Graham privately that every bump he took in the ring would inevitably, undoubtedly chip away at the new hip he'd just received. In Dorr's mind there was no question about it and he advised the former champion to retire before a second replacement surgery was needed. Graham, like thousands of wrestlers before him and after, ignored his doctor's advice and prepared for a return to the squared circle.
Several months passed as The Superstar rehabilitated and WWF camera crews followed his recovery, keeping viewers appraised of his progress via vignettes that showed him pumping iron in the gym and climbing foothills in the Arizona desert. Eventually Graham returned to the ring, competing in both singles matches and tag team action with partners like Ken Patera and Ivan Putski. The Superstar was then programmed into a feud with the manager Slick, whose top protégés at the time were "The Natural" Butch Reed and The One Man Gang. But, just as his doctor had predicted, the wear & tear from wrestling five nights a week and the constant travel required for his profession began to erode Graham's new artificial hip. Several months after his return to the ring, it became clear that retirement from active competition could not be avoided. Regrettably, after spending seventeen years as a professional wrestler, "Superstar" Billy Graham's career inside of the ring was over.
Fortunately, that did not mean Graham's career in the wrestling business was also over. An angle was devised wherein Graham would be "injured" at the hands of The One Man Gang and Butch Reed. Graham would then make a return to the WWF, not as a wrestler, but as the manager for Don "The Rock" Muraco. The combination of Graham and Muraco seemed to gel immediately and the two definitely shared a chemistry with one another that translated well to the WWF's audience. Yet, despite the success of their pairing, Graham's ailments (which now included a collapsing spine and severe bone deterioration in his right ankle that made walking normally very difficult) eventually robbed him of this new opportunity in the business.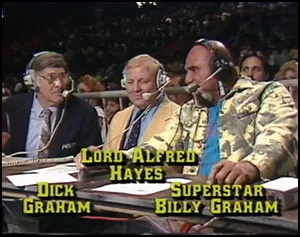 To his credit, Vince McMahon, who had always been a big supporter and fan of the herculean Billy Graham, was not ready to give up on The Superstar. Another injury angle was staged that saw Greg "The Hammer" Valentine attack the legendary wrestler-turned-manager and trap him in Valentine's infamous Figure Four Leglock for an extended period of time. Graham once again disappeared from WWF broadcasts, only to return later in another new role, this time that of a color commentator. The new position seemed like a natural for the fast-talking Superstar, who worked primarily with Lord Alfred Hayes and, later, Gorilla Monsoon. In his 2006 autobiography, Tangled Ropes, Graham had this to say regarding his color commentary, "…since Monsoon was so much more experienced as an announcer, I followed his lead and played off his comments. Considering the fact that this was a brand new discipline for me, I felt like I'd done a very good job…What tipped the scales against me was a show that I announced at the L.A. Sports Arena. At one point, I was supposed to switch from calling the action to interviewing some of the talent in the locker room. And I did a horrible job in the transition." After the color commentary experiment did not work out as hoped, McMahon eventually ran out of career opportunities for the former champion and on January 3, 1989, he was forced to let Graham go.
For Billy Graham, the ensuing decade was a tumultuous mixture of highs and lows. The first half of the Nineties was marked by painful surgeries, difficult recoveries and, later, a determined public outreach regarding the dangers of anabolic steroids. When the series of scandals over Dr. George Zahorian, Terry Garvin and Mel Phillips' questionable relationships with various young ring boys and the Federal lawsuit against Vince McMahon all developed in succession, Graham was involved with each. In the eyes of many within the wrestling business, it seemed as though he (as well as Bruno Sammartino) was on a personal crusade against the promotion, making high-profile contemptuously vituperative statements about the WWF on both television and in print. Following the drama, scandals and Vince McMahon's eventual acquittal in 1994, Graham once again withdrew from the public spotlight and focused on his personal life. In addition to his involvement with the Athletes International ministry, Graham traveled to a number of high schools in the western U.S., talking to young athletes about his experiences as a professional wrestler and football player as well as his history with steroids. He also took on speaking engagements at several state penitentiaries, sharing his cautionary tale and meeting with individual inmates.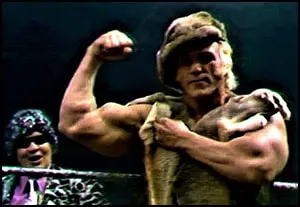 Early in 2000, Graham returned to the world of professional wrestling for the first time in a half-decade when superstarbillygraham.com was launched. A new generation of wrestling fans were introduced to "Superstar" Billy Graham via the popular website, while longtime fans were happy to see the return of the legendary former champion. Although he had made a number of enemies at Titan Tower during his crusade against the WWF several years earlier, Graham was nevertheless welcomed back by many of his former colleagues. After the unique website was launched and became an early internet hit, Graham used the forum to make amends with WWE employees that he had alienated previously and, as a result, tensions were further eased.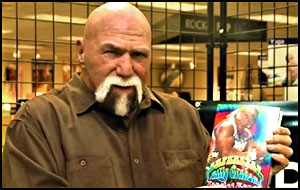 During the late Nineties, Billy Graham had begun writing his autobiography, intending to self-publish what promised to be a truly compelling book. However, after eventually rekindling (and repairing) his relationship with Vince McMahon, previously closed doors were opened and new opportunities presented themselves. In 2005, WWE released a two-disc retrospective DVD entitled, "20 Years Too Soon: The 'Superstar' Billy Graham Story." The much-anticipated DVD was an unexpected hit with fans and it turned out to be one of WWE's better selling videos of the year. Then, on January 10, 2006, World Wrestling Entertainment released "Superstar" Billy Graham's long-awaited autobiography, Tangled Ropes. Co-written by Keith Elliot Greenberg, Tangled Ropes was very well-received by critics upon its release and Graham's memoir was voted "Best Pro Wrestling Book" in the 2006 Wrestling Observer Newsletter awards issue.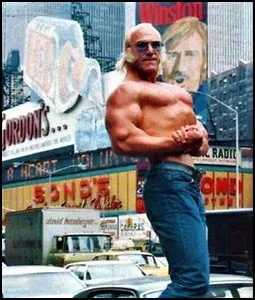 Graham, oozing with charisma, was the consummate showman from the start of his career. And while he relied mainly on an unstoppable "power attack" approach to the sport, Billy Graham was, at times, a surprisingly competent worker and a superior ring psychologist, more than able to carry his part of the match with elite technical wrestlers like Gagne, Brisco, Race and Backlund. Meanwhile, his all-out brawls with the likes of Dusty Rhodes, Wahoo McDaniel and Bruno Sammartino may have been lacking in science but never in excitement or commercial success. But, clearly, what made Billy Graham such a "superstar" from the beginning was not his wrestling prowess, or even a lack of it, but rather the fact that he made fans notice him. Sure, wrestling had featured muscular, blonde braggarts before, but no one like "Superstar" Billy Graham.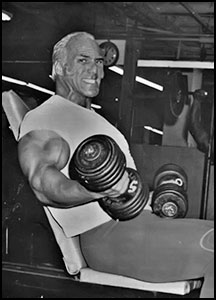 Visually, the bleach-blond, tie-dye-clad, psychedelic muscleman was like nothing wrestling fans had ever seen before. In the ring, he was limited technically, but offset that shortcoming with a mastery of psychology and exceptional selling for his opponent. Every move he made seemed to mean something and the fans, although most hated him with a true passion, could not get enough of the colorful, fast-talking, hulking egomaniac.
Consequently, Graham was among the first so-called "tweeners," or wrestlers who also have a large group of highly vocal, loyal fans that continue to support that wrestler despite his frequent acts of cowardice, cheating, and egotism. Perhaps most importantly, very early in his career it became obvious to promoters across the country that The Superstar invariably packed arenas wherever he appeared. Along with Bruno Sammartino, Andre the Giant and Dusty Rhodes, "Superstar" Billy Graham was among the elite ticket-sellers of the 1970s and, arguably, the top box-office attraction in the entire profession during his reign as WWWF champion.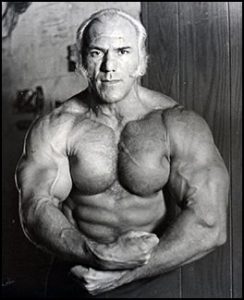 But, despite his colorful attire, trend-setting promo ability and an exorbitant amount of charisma, Graham's biggest influence would come in the form of his massive, bulging, steroid-enhanced muscles. Others saw the interest that Graham's look caused in the fanbase and they emulated it. When Graham wrestled, he was unique. There were no wrestlers, no matter how muscular they may have been, who looked like "Superstar" Billy Graham. After Graham, the heavily muscled, massive wrestler became the norm, taken to the very top by a self-professed Superstar disciple in Hulk Hogan.
Billy Graham is by no means responsible for steroids in wrestling, but he really was the first wrestler to gain huge stardom as a direct result of using them. However, Wayne Coleman has paid a very heavy price for the years of steroid abuse that enabled him to become "Superstar" Billy Graham. The drugs have ravaged his once perfect body, leaving him with a multitude of serious physical ailments. Parts of his skeletal structure have actually died and Graham has been forced to undergo several ankle and hip replacement surgeries, as well as a liver transplant, due to his prolonged abuse of anabolic steroids.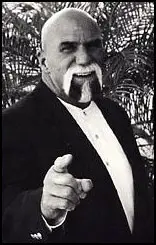 Yet, despite the many physical hardships he has endured following his departure from the ring three decades ago, Wayne Coleman has persevered in the face of unremitting adversity. Although his on-again, off-again relationship with Vince McMahon and WWE over the decades has been a tumultuous affair, to say the least, The Superstar's lofty place in World Wrestling Entertainment's (and professional wrestling's) history is undeniable.
"Superstar" Billy Graham is a member of the Wrestling Observer Newsletter Hall of Fame (1996), the WWE Hall of Fame (2004), and the Professional Wrestling Hall of Fame (2009).
---