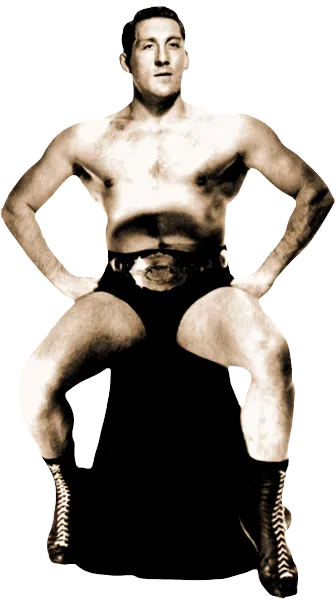 For those in the know, the name Gotch means a lot to professional wrestling, instantly conjuring thoughts of the legendary turn-of-the-century former World champion Frank Gotch. However, unbeknownst to most contemporary wrestling fans, there was another man who wrestled under the name Gotch, a man who is considered by many to be nearly as important and deserving of history's praise as his more famous namesake. In Japan, Karl Gotch is held in as high esteem as Frank Gotch is by American wrestling historians. Likewise, his supreme wrestling skill is as legendary there as Frank Gotch's grappling techniques are here and, despite his lack of notoriety with the general wrestling public, Gotch helped shape the sport into what it is today.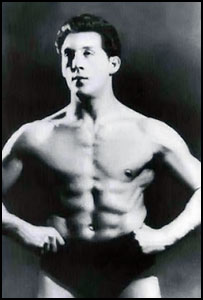 Karl Gotch was born Karl Istaz on August 3, 1924, in Antwerp, Belgium and grew up in Hamburg, Germany. As a youth, he excelled at both Greco-Roman and freestyle wrestling and, ultimately, a 24-year-old Istaz earned a spot on Belgium's 1948 Olympic squad. From there, he went on to enhance his already considerable skills by traveling to England and training at Riley's Gym, the infamous "Snake Pit." Riley's Gym, of course, was a shooter-factory that was known in pro circles worldwide for churning out some of the most dangerous submission wrestlers the world had ever known. Upon joining the professional ranks, Istaz competed under the name Karl Krauser and quickly achieved success, wrestling in (and winning) tournaments across Europe and collecting both the European Heavyweight and German Heavyweight titles before setting his sight on North America. He made his American debut in 1959, but was greeted with a somewhat cold reception. The no-nonsense Istaz was a shooter, not a showman, and as a result he was often passed over by promoters who were far more concerned with packing the house than presenting wrestling clinics. Meanwhile, he was frequently avoided by wrestlers who had no interest in participating in legitimate contests, especially with a grappler who, even at this early stage of his career, had a reputation for being very difficult to work a match with.
Unable to deliver interviews that intrigued the TV wrestling audience, but more than capable of wrestling circles around 90% of his competition, the highly talented Krauser was used primarily as a lower-card worker. His fellow wrestlers, who were higher up "the ladder," knew that Karl Istaz was a highly skilled, potentially dangerous grappler who also had a habit of occasionally taking liberties with his opponents inside the ring. Not a flashy wrestler, not a flamboyant wrestler, but a man who could, and often did, make performance-style workers look highly incompetent whenever he wished, not to mention inflicting injuries on occasion. This aspect of Istaz's professional character was a constant during his years in the business and while it earned him universal respect amongst his peers, it certainly did him no favors in terms of career advancement.
In 1961, in an attempt to add to his persona, Istaz began wrestling under the name Karl Gotch (in honor of the late, great World champion) and slowly began rising up in the territorial ranks. Soon after changing his ring name to Gotch, Istaz finally began enjoying some well-deserved success. He won the Ohio-based Midwest Wrestling Association (aka American Wrestling Association) World Heavyweight title in September of 1962 by defeating the massive Don Leo Jonathon and Gotch went on to hold the then-prestigious championship for two full years before being defeated by the great Lou Thesz.
It was during this time period that Gotch became involved in a series of real-life altercations with NWA World Heavyweight champion "Nature Boy" Buddy Rogers. Gotch was not a fan of the controversial World champion personally or professionally, to say the least. The animosity between the two eventually led to a locker room fight (which was initiated by Gotch) that saw "The Nature Boy" come out a beaten man with a broken arm. It also ended up alienating Gotch from even more promoters and fellow wrestlers, further adding to an already infamous reputation that was not opening doors for him professionally.
Just prior to his altercation with Rogers, Gotch wrestled his first match in Japan, which turned out to be a 45-minute draw against established Japanese star Michiaki Yoshimura. Little did Gotch know that it would be in the Land of the Rising Sun that he would achieve his greatest fame and success. So enamored with the talented and skilled Gotch were the Japanese, that he is, to this day, referred to as "The God of Pro Wrestling" in that country.
In addition to the popularity and influence that his unique mat-based technical style generated, Gotch helped shape wrestling forever through the men he trained. Where would the business of pro wrestling in Japan be had there not been men like Antonio Inoki, Tatsumi Fujinami, Hiro Matsuda, Osamu Kido, Satoru Sayama (Tiger Mask) and Yoshiaki Fujiwara. As New Japan's top trainer, Karl Gotch was involved in developing them all, and many others (including Americans Joe and Dean Malenko). The training he gave these great athletes, future legends of the ring, instilled in them the same respect for wrestling skill and technique that had made Gotch such a revered star in their home country.
However, in America, things for Gotch were still quite different. Lacking in traditional "charisma" and incorporating a style that was highly technical and skillful but not particularly exciting to American fans, Gotch had to struggle for each of the few titles he gained during his thirty-year career. He teamed with "Iron" Mike Dibiase in 1967 to win the WWA World Tag Team title in Los Angeles, eventually losing the straps to Pedro Morales & Victor Rivera. His other major title victory came in the form of the WWWF World Tag Team championship, which he won with Rene Goulet on December 6, 1971. After being defeated by Baron Mikel Scicluna & King Curtis Iaukea just three months later, Gotch soon left the WWWF and returned to Japan for the remainder of his career.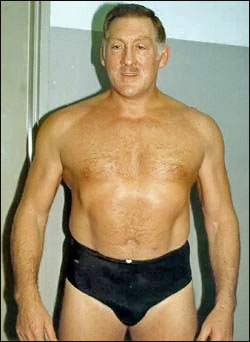 His last major championship was New Japan's "Real" World Heavyweight Title, which he won twice in 1972. Gotch spent the next several years in Japan, enjoying a lofty status as one of the premier foreign wrestlers in the country, not to mention its most prolific trainer. One of the biggest foreign stars the island nation had ever known, he wrestled his last match on January 1, 1982 when he defeated Yoshiaki Fujiwara in Tokyo.
Karl Gotch is a member of the Wrestling Observer Newsletter Hall of Fame (1996), the Professional Wrestling Hall of Fame and Museum (2007), and the George Tragos/Lou Thesz Professional Wrestling Hall of Fame (2009).
Karl Istaz, a.k.a. Karl Gotch, died on July 28, 2007 at the age of 82.
---