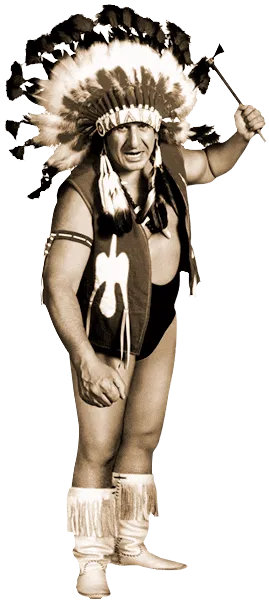 Without question, "Chief" Jay Strongbow was a consistent box office draw and, arguably, the most famous and beloved Native American wrestler of all time. Ironic, because Strongbow didn't have a drop of Native American DNA in his blood. Nevertheless, as both a main-event and mid-card attraction, in the ring and at the box-office, Strongbow was one of the most popular and reliable workers in Vincent J. McMahon's World Wide Wrestling Federation. Although his Native American persona was fictional, as a role model for people of all races, there were none better and "The Chief" proudly wrestled his entire career as a beloved fan favorite. And, like all great wrestlers, past and present, he never allowed his ego to get the best of him. Strongbow understood how the wrestling business works and was never above "doing the job" in order to help his opponent or the promotions that employed him.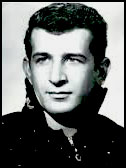 Although he was billed for the majority of his career as being a native of Pawhuska, Oklahoma., "Chief" Jay Strongbow was actually born Luke Joseph Scarpa on October 4, 1928 in Nutley, New Jersey, The Italian-American made his professional debut in 1947, wrestling as Joe Scarpa, a variation of his real name. After several years of traveling to various promotions and gaining experience, he first made his mark in the business while competing in the southern portion of the country, namely, Alabama and Tennessee. He wore the Gulf Coast Heavyweight title in 1960, the NWA World Tag Team championship (Mid-America version) with Lester Welch twice in 1961 and the Southern Tag title (with Lee Fields) in 1963. Later, Scarpa excelled in two of the NWA's top promotions, the Georgia and Florida territories, winning the NWA World Tag Team championship (Florida version) with Don Curtis in 1962, the Florida Heavyweight title in 1967, plus the Florida Brass Knuckles championship and the Southern Tag Team championship (w/Jose Lothario), both in 1968. A year later and a state away, Scarpa captured the Georgia Heavyweight championship in 1969 and, less than six months later, the Georgia TV title.
In 1970, Scarpa began working for Vincent J. McMahon's World Wide Wrestling Federation, where his popularity with fans exploded. Taking on the persona of "Chief" Jay Strongbow, he quickly became one of the WWWF's top attractions and was in high demand all across the multi-state territory. Standing 6`0″ and weighing 245 lbs., Strongbow was a formidable challenge for anyone who faced him in the ring and he often served as a "roadblock" for future opponents of WWWF champion Bruno Sammartino. If a wrestler could get past Strongbow, a title opportunity often followed. His Tomahawk Chop was a weapon to be feared and led to many victories, as did his Sleeper hold and several variations of the suplex. Strongbow could also brawl with the best of them, especially once his fiery "Native American" temper was ignited. If the "Chief" started his War Dance, the fans in attendance knew the end was near because no one could (or, perhaps more appropriately, was allowed to) stop him once a fired-up Strongbow began circling his opponent.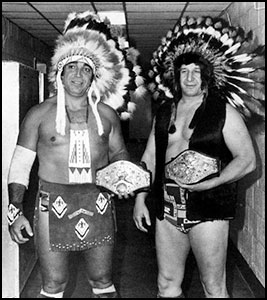 After Scarpa had taken on the persona of a Native American, the "Chief" did venture outside the parameters of the WWWF on occasion, and was, for a time, a high-profile figure in The Sheik's Detroit promotion and on TBS's Georgia Championship Wrestling. Although winning titles was never the primary goal for Strongbow, especially during his latter years in the ring, a wrestler as popular as Jay Strongbow couldn't help but pick up a fair share of championship gold. The most notable championship of his career was the WWWF Tag Team title, which he won on four separate occasions. His first WWWF Tag Team title came on May 22, 1972 when he teamed with Sonny King to defeat Baron Mikel Scicluna & Curtis Iaukea at New York's Madison Square Garden. But, Strongbow & King would only hold the belts for a short time, as they were defeated by the devious tandem of Prof. Tanaka & Mr. Fuji on June 27, 1972. Then, on December 7, 1976 Strongbow regained the tag team championship, this time with partner Billy White Wolf, defeating Nicolai Volkoff & Tor Kamata in the finals of a tournament for the vacant WWWF Tag Team title. The "Native American" duo of Strongbow & White Wolf then held the title for over eight months before being forced to vacate the championship when White Wolf's neck was "broken" by Ken Patera's devastating finisher, the Swinging Neckbreaker.
After seeking revenge on Patera over the intentional injury of his partner, Strongbow then went on to face the reigning WWWF Heavyweight champion "Superstar" Billy Graham in a top-drawing feud. Strongbow also engaged in a noteworthy series with "The Big Cat" Ernie Ladd in the WWWF, a feud that carried over to the NWA's Georgia Championship Wrestling a few years later. On June 28, 1982, Strongbow again brought home the WWF tag team gold, teaming with his "nephew" Jules Strongbow to defeat the Japanese tandem of Mr. Saito & Mr. Fuji. Lou Albano's rule breaking team quickly regained the title, though, on July 13, 1982. But, the popular Strongbows were not to be denied and they regrouped, again defeating Saito & Fuji on October 26, 1982. This time, the "Native American" duo held on to the title belts and defended them against the WWF's best teams until, after nearly a half-year as champions, The Strongbows were defeated by another Albano-led team, this time the impressive and dangerous Wild Samoans. After losing their belts, the Strongbows remained a top WWF tag team, until Jules left the promotion. From that point forward, it was back to singles wrestling for "Chief" Jay.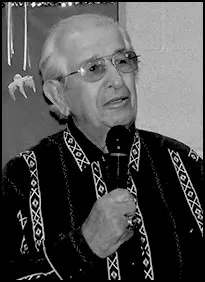 Still one of the more popular wrestlers in the World Wrestling Federation, in the eyes of the fans, Strongbow was now an "elder statesman" for WWF wrestlers, having been with the promotion for so long. Despite his advancing age (and subsequent reduction in ring prowess) Strongbow was still one of the promotion's bigger draws as the 1980s rolled on and the WWF evolved into a national entity. Eventually, though, nearly forty years after his pro debut, Scarpa retired from active competition in 1986. However, he remained very much involved with professional wrestling and, over the course of the following decade, Strongbow worked in the WWF's front office and served as road agent, helping to lay out matches, coaching the performers and supervising live events.
"Chief" Jay Strongbow is a member of the WWE Hall of Fame (1994), the Professional Wrestling Hall of Fame and Museum (2009) and the New England Pro Wrestling Hall of Fame (2011).
On April 3, 2012, Joe "Chief Jay Strongbow" Scarpa passed away at the age of 83.