Although his massive proportions, already monolithic in scale, were exaggerated by promoters who billed him as standing either 7'4″ or 7'5″ (his actual height was slightly under 7 feet) Andre the Giant was without question the overall largest major professional wrestler in history, both in physical size as well as mass appeal at the box office. In a business that is full of behemoths, he was the largest, the first, and by far the most famous. Truly, Andre was a force like no other and professional wrestling's one true giant.
Born in the small farming community of Molien, France on May 19, 1946, Andre Rene Roussimoff was discovered in a gym frequented by wrestlers and by the age of nineteen had already made his way into the sport. The slender but well-muscled seven-footer quickly made a name for himself throughout Europe before travelling to the French-speaking provinces of Canada, where he wrestled as Jean Ferre'. Although inexperienced and raw, the charismatic Jean Ferre' quickly established himself as a top attraction throughout Quebec and before long the young giant garnered the attention of WWWF owner Vince McMahon, Sr.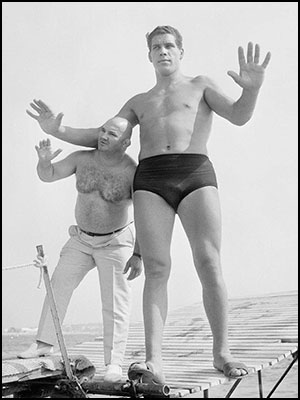 After signing Roussimoff to an exclusive management contract, McMahon promptly began using the more appropriate billing of Andre the Giant and started booking him throughout the World Wide Wrestling Federation as well as loaning him out to other promoters across the country. By virtue of his immense size, McMahon understood that Andre couldn't realistically be beaten and that, simultaneously, over-exposing him to the public would diminish his unique status in the eyes of wrestling fans. As a result, Andre was sent on a never-ending tour that brought him to every regional promotion in the country and overseas.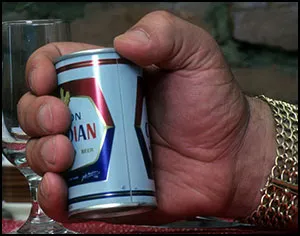 During an era of territorial wrestling, Andre the Giant made his way through region after region, never losing and, more importantly, never wearing out his welcome in any given territory. It was a winning formula for Andre, McMahon and his many promotional partners; when the top babyface had his hands too full with the local heels, the unbeatable giant would often be called in, to the delight of the paying customers who never failed to pack the local arena in order to see him in person. Good would invariably prevail over evil and Andre would straighten the promotion out with a handful of matches before moving on to his next territorial destination.
Billed for well over a decade as pro wrestling's only undefeated competitor, it would stand to reason that Andre would have automatically collected a plethora of championship accomplishments during his legendary career. Yet, he didn't, primarily due to the transient nature of his schedule and, more importantly, an inherent inability for him to lose a title belt via pinfall when that time came. Nevertheless, "The Eighth Wonder of the World" did wear championship gold at various times, usually as part of a tag team; in 1970 he won the IWA (w/Michael Nador) and Austral-Asian (w/Ron Miller) tag team titles. Later, he would team with Dusty Rhodes to capture the NWA United States belts and, in 1981, the Florida tag team title. He also enjoyed a lengthy run as WWF World Tag Team champion with partner Haku in 1989.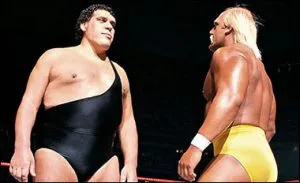 However, his most memorable title reign was also his shortest. With millions watching on NBC's Saturday Night's Main Event program, Andre, now a villain for the first time since debuting in North America a decade earlier, defeated WWF Heavyweight champion Hulk Hogan after one of two twin referees made an illegal three-count on the popular Hulkster. Andre, the new titleholder, then "sold" the championship belt to "The Million Dollar Man" Ted Dibiase, meaning Andre's total time as WWF champion lasted mere minutes.
In addition to his worldwide fame within the world of professional wrestling, Andre was also a genuine crossover celebrity and he appeared in highly-rated episodes of hit television programs such as The Six Million Dollar Man and T.J. Hooker among others. The easily-recognized giant was also a frequent spokesman in TV commercials and a regular on the late-night talk show circuit. His most well-known role came in 1987 when he was cast as the lovable giant Fezzik in Rob Reiner's highly successful The Princess Bride. His final public appearance came in 1992 when he appeared on WCW's Clash of the Champions program that celebrated twenty years of pro wrestling on TBS.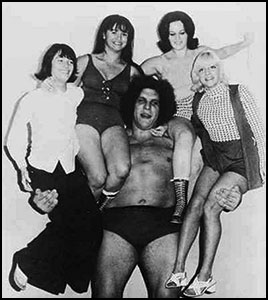 Andre the Giant was the first wrestler to be inducted in the WWE Hall of Fame (1993) and is also a member of the Stampede Wrestling Hall of Fame (1995), the Wrestling Observer Newsletter Hall of Fame (1996), the Professional Wrestling Hall of Fame and Museum (2002) and the Canadian Wrestling Hall of Fame (2016).
A victim of a heart attack that was caused by the acromegaly which was responsible for his enormous proportions in the first place, Andre "The Giant" Rousimoff passed away on January 27, 1993 at the age of 46.
---