Bob Backlund, the talented former N.C.A.A. wrestling champion, was personally selected by Vincent J. McMahon to fill the void left when his longtime titleholder Bruno Sammartino made the decision that he no longer wanted to carry the WWWF championship. After nearly fifteen years of promoting an "ethnic babyface" at the top of his cards, the powerful Northeastern matchmaker decided to feature an "All-American Boy" as champion and Bob Backlund, with his understated Midwestern mannerisms, fit that description perfectly. While some within the industry questioned McMahon's choice of the relatively unproven Backlund to lead the promotion, over the course of his six-year reign as champion, both McMahon and Backlund ultimately proved those doubters wrong. While Backlund's interview skills were somewhat lacking, there was no denying his fantastic physical conditioning, remarkable strength, and admirable work ethic. Without question, Bob Backlund was an exceptional champion who carried the WWE title with honor and integrity, proving himself worthy of the championship on a nightly basis, and carving out a lofty spot for himself in the annals of pro wrestling history.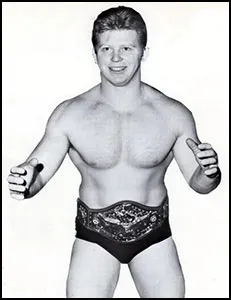 Robert Louis Backlund was born on August 14, 1949 in the small rural town of Princeton, MN. Backlund was a wrestling champion from his earliest teens, excelling in the sport throughout high school. His exceptional skills were honed even further once he entered college at North Dakota State, where the young and highly talented Backlund went on to become the NCAA Division II amateur wrestling champion in the heavyweight division. His natural talent caught the eye of many within the pro wrestling ranks and the 6'1″ 235 lb. Backlund eventually chose a career inside the squared circle. Once he made the decision to turn pro in 1973, Backlund was trained by the legendary the Funk brothers and he made a quick, although characteristically quiet, impact soon after entering professional wrestling.
Making his way onto the territorial circuit, wrestling mainly in Texas, Florida, Georgia, and Minnesota, Backlund soon made a name for himself despite his inexperience. His red hair, athletic build, and polite mannerisms endeared him quickly as a classic babyface to many fans of the day and Backlund won his first championship in 1974 when the rookie defeated Terry Funk for the NWA Western States title. He then followed up that impressive victory by teaming with Jerry Brisco to defeat the devious team of Fuji & Tanaka for the Georgia Tag Team title in 1975. He also teamed with Steve Keirn to win the NWA Florida Tag Team title in 1976 when the young duo defeated Bob Roop & Bob Orton, Jr. Backlund slowly built a following as a fan favorite, gaining experience and confidence along the way. Although his lack of interview ability was often a hindrance, teaming him with Brisco and Keirn allowed the focus to be on Backlund's considerable skill, not his somewhat weak interviews. Much like classic wrestling champions of years gone by, Bob Backlund simply did his talking inside the ring.
"Superstar" Billy Graham, on the other hand, was about as flamboyant, colorful, and brash as you could get when he was The Grand Wizard's prized WWWF champion back in 1977, at the time Backlund (with Arnold Skaaland as his manager) first entered the World Wide Wrestling Federation. While the charismatic champion from Paradise Valley, AZ. defended his title against a formidable lineup of challengers, Backlund slowly but surely defeated opponent after opponent, until there was no question he was the #1 contender. Graham and Backlund finally met head-to-head on February 20, 1978 in front of over 22,000 pumped-up Madison Square Garden fans. Graham, knowing that it would be his last defense as WWWF champion, appeared far less cocky once in the ring and Backlund dominated much of the match. After nailing his patented "Atomic Drop" finisher, Bob Backlund pinned The Superstar (who had intentionally draped his leg over the bottom rope, making him the only man to both win and lose the championship with a foot on the rope) to become the new WWWF Heavyweight champion. An "enraged" Graham protested bitterly but it was to no avail, Backlund was the winner and new champ. The two combatants would then engage in a classic series at Madison Square Garden, with a dominant Graham winning the rematch due to Backlund's profuse bleeding. The final encounter was held inside of a steel cage, and, after coming within a hair of regaining his title, Graham missed a running knee into the corner, entangling his foot in the wire mesh of the cage and watched helplessly as the bloody and disoriented Backlund regained his composure enough to walk out of the cage for the victory.
Once he had disposed of Graham, Backlund found a literal army of "bad guys" lined up to take him on, and, more importantly, to take his title. Led by Lou Albano, Freddie Blassie and The Wizard, challengers like Greg Valentine, Pat Patterson, Peter Maivia, "Big" John Studd, Blackjack Mulligan, The Masked Superstar, Jesse Ventura, Ivan Koloff, Ray Stevens, "Superfly" Snuka, Adrian Adonis, Stan Hansen, and dozens of others all tried, and failed, to take the fight out of "The All-American Boy." Even World champions like Harley Race and Nick Bockwinkel wanted a piece of the wholesome WWF champion, and Backlund fought both men in separate "title vs. title" matches. Later, in other NWA vs. WWF "unification" matches, Backlund wrestled NWA champions Dusty Rhodes in Japan and Ric Flair in Atlanta. Bob Backlund was also the first reigning WWF Heavyweight champion to win the WWF tag team titles, when he teamed with former champ Pedro Morales to defeat Lou Albano's Wild Samoans on August 9, 1980 at Shea Stadium. The "dream team" was soon forced to relinquish the championship (with the Samoans eventually regaining the titles after a tournament) but Backlund's popularity and credibility only grew as a result of the win.
With time, he slowly turned from a pure-as-snow farmboy to an experienced and toughened veteran champion. He was still rather bland and his interviews left much to be desired, but he was also young, in tremendous shape and, as his fans had come to see during his matches, very tough. Aside from his natural talent and superb conditioning, the real key to Backlund's success and longevity can perhaps be found in the opponents that he was paired against. His challengers were the ones with all of the charisma, therefore, fans were still very interested in their matches. Backlund didn't need to be a fast-talker or visually intimidating, because his opponents already possessed those qualities. All the young champion needed was his skill and ability to perform, which he possessed in abundance. The large crowds that Backlund consistently drew all over WWF's Northeastern territory during his six years as champion were proof of his popularity.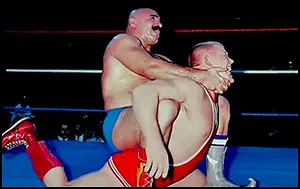 But, when Vince McMahon Sr. sold the Capitol Wrestling Corporation promotion to his son Vincent K. McMahon, an unsuspecting Backlund soon found out that after nearly six years of defending the WWF championship, the younger McMahon was ready to make some big changes, beginning with the Heavyweight title. On December 26, 1983 during a match against The Iron Sheik, Backlund lost the WWF title in a major upset. The former champion later claimed that Vince had asked him to dye his hair purple and create a new crazed and bitter character that would then challenge Hogan, although McMahon later went on record denying Backlund's claims. In any case, Bob Backlund was gone from the WWF within months of his loss to the Sheik. But, surprisingly, other than a few low-key appearances for the Pro Wrestling USA promotion and some dates in Japan, Bob Backlund completely disappeared from the world of wrestling. Not only did the former champion leave, he stayed away for nearly a decade.
But then, in a rather big shock to longtime World Wrestling Federation fans, it was announced on WWF television that former champion Bob Backlund would be returning to the promotion after an eight-year hiatus. Once back on WWF programming, it was clear that there would be no purple hair for Bob. He returned with the same "gimmick" he'd always had, which was no gimmick. However, his return to the promotion was not nearly as well received by the WWF's "New Generation" fans. Backlund lost a mid-level feud with Razor Ramon and soon found himself on the lower end of the WWF's roster. With his original core of fans gone and the current WWF fans knowing (or caring) little about Backlund other than that he was once the champion, his return quickly faltered. Soon, his appearances on TV became more and more infrequent. However, it would later be known that Backlund wasn't fading away again. Instead, he was in seclusion, ostensibly training for what he called "the match of my life" against WWF champion Bret Hart.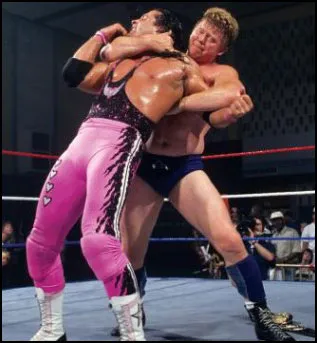 After making a reasonable and dignified request for a title match, Hart agreed, and Backlund received his first WWF title match in over a decade. The contest was an exciting one, with Backlund controlling much of the encounter. But, when referee incompetence cost Backlund what appeared to be a sure victory the former champion finally "snapped" after years of pent-up frustration. When Hart offered his hand in respect, Backlund instead captured Hart in his painful Crossface Chicken Wing hold and refused to let "The Hitman" go. His bizarre actions led to a major feud with Hart and soon Backlund's character did a complete flip-flop.
No longer the somewhat shy, soft-spoken and respectful man he once portrayed, he was now Mr. Bob Backlund, extreme right-wing fanatic. Mr. Backlund conducted long, outspoken interviews, using his expanded vocabulary to insult not only Hart, but the WWF fans as well. He was now on a quest to cleanse the Federation and its fans of the "encephalopathy" that Mr. Backlund found to be "caused by the infested quagmire of hedonism you pathetic souls call your lives." Mr. Backlund proudly stated that he was there to save the "New Generation" from itself by regaining the WWF championship.
On camera, Mr. Bob alienated any wrestler, "good" or "bad," that he came into contact with but, more importantly, his rather bizarre personality switch enabled Backlund to once again "get over" with many WWF fans, albeit in a much different way than during his lengthy title reign. Instead of being the object of the fans' adoration, he now inspired their hatred, which in pro wrestling is essentially the same thing. Furthermore, Backlund turned heel (something he vowed for many years never to do) on his own terms. There was no purple hair or bizarre costume, just his conservative bow tie, plain grey suit, and a vocabulary as expanded as his still-formidable wrestling repertoire. Suddenly, Mr. Backlund (whose promo ability suddenly rose to new levels of excellence) was now pro wrestling's deranged representative of the far Right. He was the principal everyone hated growing up, the politician bent on restoring "moral fiber" and imposing his own values on the rest of the population, the unyielding voice of authority. In other words, a wrestler that fans loved to hate.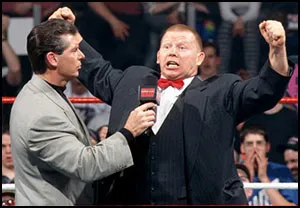 Still, even with his new role as the WWF's top heel, no one was quite prepared when on November 23,1994 at the Survivor Series, Bob Backlund defeated Bret Hart in a controversial "Towel" match to regain the WWF title that had been taken from him a decade earlier. Bret's younger brother Owen had a great deal to do with Backlund gaining the victory, but it didn't really matter how it happened, the fact remained that Bob Backlund — make that Mister Bob Backlund – was now a two-time WWF Heavyweight Champion. However, just as The Iron Sheik had been the interim champion that bridged Backlund's first reign with the beginning of Hulk Hogan's, Mr. Backlund now assumed the role of a "transitional champion" himself. After ending an eight-month WWF championship run by Hart (his second) Backlund himself would usher in a new WWF champion in the form of the seven-foot steamroller known as "Big Daddy Cool" Diesel. After doing his best to "rehabilitate" the WWF during his three days as champion, Backlund went down to Diesel's powerbomb in record time on December 26, 1994 at New York's Madison Square Garden. Following the loss of his title, Backlund remained in the WWF, just in a considerably lessened capacity. In 1997, Backlund once again left the World Wrestling Federation and began taking sporadic independent dates, although he would eventually return to the Federation in 2000 and briefly managed Kurt Angle.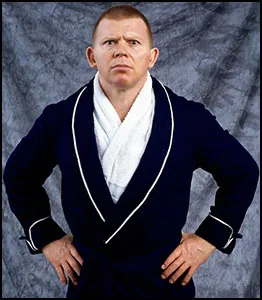 His next major appearance came early in 2007, although it wasn't with WWE, but, instead, its primary competitor, TNA Backlund appeared on several TNA pay-per-views, including Final Resolution, and Destination X, although it was usually in a non-wrestling capacity. He did compete in TNA, though, most notably at Slammiversary, where he defeated Alex Shelley and, later, Backlund would team with Jerry Lynn to wrestle Shelley & Chris Sabin at the Victory Road PPV. By December of 2007, after less than a year in TNA, he was back in WWE on a limited, part-time basis and served primarily as a "legend" that would make sporadic appearances on WWE programming. His last major storyline came in 2016 and saw Backlund acting as Darren Young's "life coach." The vignettes featuring Backlund's quest to "Make Darren Great Again" were an entertaining part of both Raw and Smackdown and their interactions made for a solid mid-card program. However, when Young suffered an injury that took him out of action, their story ended and Backlund once again quietly disappeared from WWE television.
His final wrestling matches took place in Japan, for Dradition Pro Wrestling, when he was 68 years old. On April 20, 2018, he was teamed with Riki Choshu and Tatsumi Fujinami as they faced (and defeated) Jinsei Shinzaki, Kazma Sakamoto and Tajiri. The next day, April 21, 2018, Backlund teamed up with Hiro Saito and Yoshiaki Fujiwara in a losing effort against Fujinami, Choshu, and Masakatsu Funaki, marking the official end of his 45-year career.
Bob Backlund is a member of the Wrestling Observer Newsletter Hall of Fame (2004), the Professional Wrestling Hall of Fame and Museum (2008), the WWE Hall of Fame (2013), and the International Wrestling Institute & Museum's George Tragos/Lou Thesz Professional Wrestling Hall of Fame (2016).