Throughout his lengthy career, Pat O'Connor, the beloved New Zealander, was known worldwide for his skill and sportsmanship. He was also respected as a multi-time World champion and frequent regional titleholder. Always the consummate champion, O'Connor was known as a true professional, both in and out of the ring. His reputation preceded him, and through his worldwide travels he established himself as unquestionably one of pro wrestling's biggest attractions and most popular fan favorites.
Before entering the professional ranks, O'Connor was a two-time New Zealand national freestyle champion and a silver medalist in the 1950 British Empire games. After turning pro, his winning ways continued. He won the prestigious AWA (Montreal) World Heavyweight title twice, both by defeating his longtime nemesis Killer Kowalski, once in 1954 and again in 1955. O'Connor also captured numerous regional titles throughout his illustrious career, including two Central States Heavyweight championships in 1962 and 1963, two Missouri Heavyweight titles in 1962 and 1967, and the AWA World Tag Team title on November 11, 1967 with partner Wilber Snyder. However, O'Connor will forever be remembered for one title win in particular when, on January 9, 1959, he defeated Dick Hutton in St. Louis, Missouri to become the NWA World Heavyweight champion.
Pat O'Connor was one of the most beloved NWA champions of the era and, as a result of his popularity, he held wrestling's most important and coveted title for over two and a half years. The hard-working O'Connor defended his World championship five nights a week against the very best wrestlers of his era, men like Killer Kowalski, Buddy Rogers, Dick Hutton, Bob Geigel, Dick The Bruiser, Dory Funk Jr., Lou Thesz, and many others.
When Verne Gagne established the American Wrestling Association in May of 1960, O'Connor was declared the inaugural AWA champion as part of a storyline that was designed to help establish the new World championship. O'Connor was then, ostensibly, given 90 days to defend the title against the promotion's #1 contender, Verne Gagne. Of course, this was never going to happen and when, as planned, he did not face Gagne within the allotted time period, O'Connor was "stripped" of the unsolicited championship and Gagne was awarded the AWA title on August 16, 1960. The popular New Zealander's NWA World title reign continued on for another year, though, during which time O'Connor defended the championship nightly against the sport's best until he was defeated by "Nature Boy" Buddy Rogers on June 30, 1961, at Comiskey Park in Chicago before a crowd of over 38,000 spectators.
Although he never again wore the World championship, he continued on with much success for the next ten years. But as the 1970's rolled in, the aging O'Connor began to lose more frequently. He always put in a good effort against the younger and stronger competition he faced throughout the Midwest during this time period, fighting bravely against up-and-comers like Bobby Jaggers, Crusher Blackwell and other Central States performers, although losing more often than winning.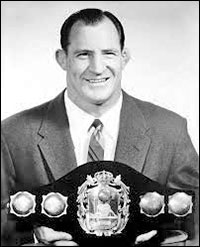 Behind the scenes, he was a minority owner in the Central States and Missouri promotions until his retirement. Meanwhile, on screen, he transitioned into a lower-card wrestler and occasional referee. On the surface, it might appear to be a somewhat anticlimactic way to end a great career, however, O'Connor saw the twilight of his time in the sport as an opportunity to pass on some of his wealth of knowledge to the younger wrestlers, to build them up in the fans' eyes by losing to them, as well as a way to continue to be involved in the profession he loved even after the spotlight was no longer on him personally.
Pat O'Connor is a member of the Stampede Wrestling Hall of Fame (Class of 1995), the Wrestling Observer Newsletter Hall of Fame (1996), the George Tragos/Lou Thesz Professional Wrestling Hall of Fame (2004), the Professional Wrestling Hall of Fame (2007), the St. Louis Wrestling Hall of Fame (2007), the NWA Hall of Fame (2011), and the WWE Hall of Fame (2016).
A victim of cancer, Pat O'Connor died on August 15, 1990 at the age of 66.