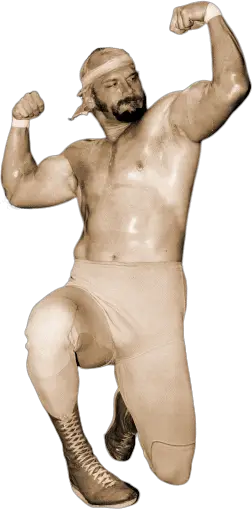 In a business filled with truly unique individuals, Jesse "The Body" Ventura is a persona like few others. While never considered a great worker in the ring, behind the microphone he was undoubtedly one of the best ever and one of wrestling's biggest stars. Ultimately, he is a man driven by the will to succeed. Be it as a Navy Seal, a professional wrestler, a color commentator, an actor, talk show host, best-selling author or politician, once Ventura becomes focused on a goal, it seems nothing can stop him. The epitome of the phrase "You can't judge a book by its cover," on the surface this determined, multi-dimensional man is an unlikely hero. But, once you dig a little deeper into his personal history, it can be argued that a better role model could not be found.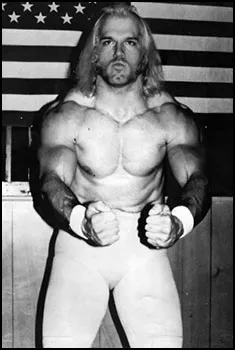 Jim Janos, the future Jesse "The Body" Ventura, was born into a middle-class, blue-collar family on July 15, 1951 in St. Paul, Minnesota. As a youth, Janos quickly developed a love for sports, two of his favorites being competitive swimming and professional wrestling. Upon graduation from high school in 1969, he enlisted into the Navy during the height of the Vietnam war. Once in the Navy, he endured the personal sacrifices as well as the rigorous mental and physical training that it took in order to become a Navy Seal. Janos had what it took, and he completed several tours of duty as part of the elite fighting group's underwater demolition team. Once he was back in the United States, Janos, like many returning Vietnam vets, had little direction in life upon his return. He found his way to southern California, where he rode with a motorcycle gang, the Mongols. But, after a few years Janos realized that the biker lifestyle wasn't really leading him anywhere and he moved back to Minnesota. Once he had returned home, Janos enrolled at Hennipen Jr. College, where he played football. As had always been the case, he was a standout in sports and a mere participant in class. Eventually, he dropped out of college and into something entirely different. While working out at a local gym, the 6`3″ 250 lb. Janos was first introduced to people within the professional wrestling business. Already a lifelong fan of the sport, it didn't take much to convince Jim to give wrestling a shot. After receiving his formal training from Eddie Sharkey, Janos developed his new wrestling persona, California surfer-guy Jesse Ventura, and made his pro debut in 1975 against veteran journeyman Omar Atlas.
Ventura created his first waves within the business while competing for the NWA's Central States territory. In terms of the NWA's hierarchy, the Kansas City-based promotion was not one of the sport's major players, but it was one of the best training grounds for young, inexperienced wrestlers trying to learn and perfect their craft. Ventura openly admits that he initially modeled nearly every facet of his new persona after his favorite wrestler, the legendary "Superstar" Billy Graham, who was then at the height of his popularity and influence. With his new Graham-ish persona complete, Jesse Ventura emerged as a major force in Central States Wrestling. Right around the same time he started his successful run in Central States, the rookie Ventura also began wrestling in Portland's Pacific Northwest Wrestling which, much like Central States, was another "training ground" type of promotion. And, like Central States, it produced a number of future superstars who were, at the time, unknown to the wrestling world at large.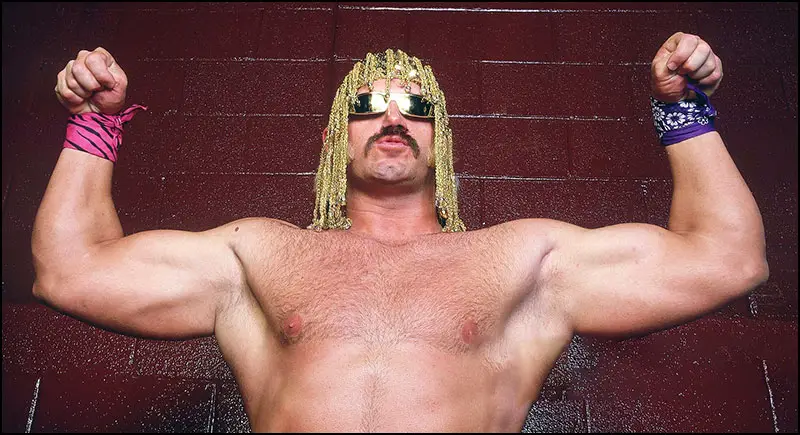 He engaged in a particularly intense feud with Jimmy Snuka while wrestling in Portland and twice wore the Pacific Northwest Heavyweight title belt in 1976. Ventura also won five Pacific Northwest Tag Team championships (w/partners Bull Ramos, Buddy Rose, and Ted Oates) between 1976-78. Back in Kansas City, Ventura teamed with local powerhouse Tank Patton to win the Central States Tag Team title on September 14, 1978, his only championship in the midwestern promotion. Having paid his dues, gained valuable experience and perfected his wrestling style (Ventura was never known as a great technical wrestler, but made the most of his limited repertoire) it was finally time for Jesse Ventura to move up to the "big time." He returned home to Minnesota and began working for Verne Gagne's American Wrestling Association in 1979. It was in the AWA that Ventura first broke onto the national wrestling scene, as fans across the country realized what people in the Portland and Central States territories already knew; Jesse Ventura was going to be a big star in the wrestling business.
Once in the AWA, Jesse was initially managed by Bobby Heenan and he wrestled both as a singles competitor (engaging in a "body building" feud with the equally young "Precious" Paul Ellering) and in tag teams with various Heenan Family members, such as "Big, Bad" Bobby Duncum. But when he was paired with another young superstar-in-the-making, Adrian Adonis, Ventura's career advanced to the next level. On July 20, 1980, Ventura & Adonis, the East-West Connection, were awarded the AWA World Tag Team title when reigning champions Verne Gagne & "Mad Dog" Vachon no-showed a scheduled defense in Denver. Although the championship had been "given" to them, Ventura & Adonis gelled as a team and it quickly became obvious that the duo was something special. The East-West Connection reigned as AWA World Tag Team champions for nearly an entire year before losing their belts to The High Flyers, Greg Gagne & Jim Brunzell, on June 14, 1981.
After dominating the American Wrestling Association, Ventura and Adonis ventured northeast to the World Wrestling Federation. With Freddie Blassie as their manager, The East-West Connection both set their sights on WWF Heavyweight champion Bob Backlund. Blassie promised fans that his one-two punch of Ventura and Adonis was sure to be the knockout blow that would topple Backlund off of his WWF throne. History proved that this was not to be the case, but Ventura's first run in the WWF was nevertheless another career-booster. With fans in the midwest and the northeast having been exposed to Jesse "The Body" Ventura, he left the WWF and headed south to Memphis. During his stay in "the King's court," Ventura twice defeated Memphis legend Jerry "The King" Lawler for the prestigious Southern Heavyweight title in 1983. As part of Jimmy Hart's First Family, Ventura occasionally teamed with the rugged Stan Hansen and the two battled Lawler and Austin Idol both in singles and tag team matches.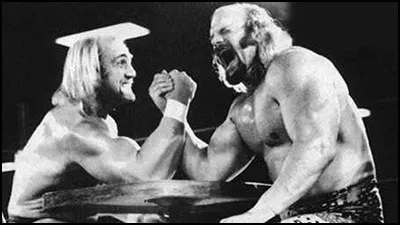 Following his run in Memphis, Ventura returned to the AWA and resumed his feud with the promotion's top babyfaces, in particular, The Crusher as well as "The Incredible" Hulk Hogan. However, by this time Vincent K. McMahon's WWF was in the midst of its nationwide expansion and, early on, Verne Gagne's AWA was singled out by McMahon as the prime source of new talent for the Federation. Like dozens of wrestlers before and after him, Ventura left the AWA for the WWF and once there, engaged in major, main-event feuds with Tony Atlas, Ivan Putski, and, in particular, Intercontinental champion Tito Santana. But, by the mid-1980's, Ventura's body began to break down from the constant punishment he received in the ring. After developing a nearly lethal blood clot, Ventura decided to step away rather than risk his life and he retired in 1986 after eleven years of in-ring competition. With the retirement of Jesse Ventura, the world of wrestling lost a major box-office attraction, however, with that loss came an unexpected gain…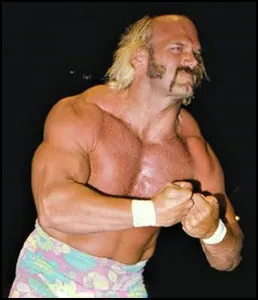 As a color commentator, Ventura changed the face of WWF broadcasts with his "I call it like I see it" pro-heel stance. As the color man for WWF PPV's, the NBC Saturday Night's Main Event program and the WWF's Prime Time Wrestling (with co-host Gorilla Monsoon) show on the USA Network, Ventura, and his distinctive voice, was a part of nearly every memorable WWF moment from the mid to late 1980s. Ventura then used his fame and talent to land leading parts in major films such as Demolition, Predator and The Running Man and by the end of the decade, he was a genuine household name. His independent streak created certain problems between Ventura and WWF owner Vince McMahon, though, problems concerning his plans to form a wrestlers' union as well as his insistence on being paid royalties for WWF video sales. In 1990, Ventura quit the promotion and, in 1994, he received over $800,000.00 when a federal jury found that McMahon had wrongfully withheld royalties owed to Ventura. After leaving the WWF, he continued to pursue his career in Hollywood, with a good deal of success, yet Ventura remained out of the picture when it came to pro wrestling. But, with the dawn of the new decade, he re-emerged as a wrestling personality early in 1992, this time with the promotion that Ventura called "the wrestling of the future," Ted Turner's World Championship Wrestling. As the color commentator for all WCW pay-per-views, Clash of the Champions specials, and TBS's WCW Saturday Night from 1992-1994, Ventura once again left his indelible mark on professional wrestling and seemingly rounded-out his career in the process.
It was during his WCW tenure that Ventura became inspired to run in the mayoral elections of his hometown of Brooklyn Park, Minnesota, which he won. Ventura's political victory made headlines across the country and once again solidified Jesse's place in American pop (and now, political) culture. However, when his stay in WCW came to a somewhat bitter end, thanks initially to issues with then-WCW Vice President Bill Watts and, later, Hulk Hogan, Ventura left WCW and retired from professional wrestling. As had been the case some twenty years earlier, it was time for Jesse Ventura (who by this point had legally changed his name from Jim Janos) to look for new challenges.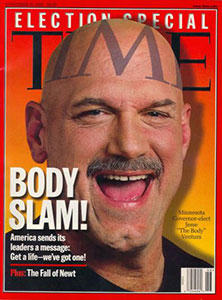 At first, a successful run as a radio talk show host served as Ventura's new outlet. However, no one could've imagined that his new career path would lead him to the Governorship of the state of Minnesota, although that's exactly what happened. Ventura had an open forum each day to discuss the issues on his radio program and he used it to his advantage. Taking an "everyman" approach to politics, Ventura seized every opportunity to get his message to the voters of Minnesota. After running a frugal, grass-roots campaign, Ventura, running on the Reform ticket, literally stunned the world when he defeated the firmly established, well-funded Democrat and Republican candidates by a substantial margin and won the Governorship. As a result, Ventura appeared on the cover of Time magazine, the only wrestling personality ever to do so. His image was plastered on every available media outlet, and the confused, elitist press scratched their collective head. Following his historic victory, "Jesse 'The Body' Ventura is the new Governor of Minnesota?!?" was the prevailing attitude among political pundits across the nation. Some called it refreshing, many called it a joke. The fact remained, though, that the trailblazing Ventura shocked everyone when he won his election.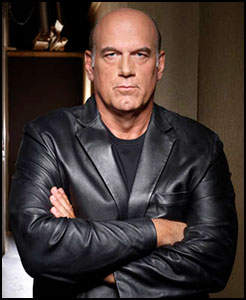 In addition to his wrestling and political careers, Ventura authored no less than ten books, several of which made the N.Y. Times best-seller list. Additionally, Ventura has appeared in some fifteen different motion pictures, many of them being major box-office successes, as well as hosting several popular political television programs, including Conspiracy Theory and Off The Grid.
Jesse Ventura has received numerous awards, including the Wrestling Observer Newsletter Award for Best Color Commentator (1987, 1988, 1990), the Cauliflower Alley Club's Iron Mike Mazurki Award (1999) the George Tragos/Lou Thesz Professional Wrestling Hall of Fame Frank Gotch Award (2003) and was inducted into the WWE Hall of Fame (2004).