Big Time Wrestling/Pacific Coast Athletic Corporation (a.k.a. "San Francisco")
OWNERS/PROMOTERS:
Joe Malcewicz (1935-1961)
Roy Shire (1960-1981)
STATES & PRIMARY CITIES:
California (San Francisco, Oakland, Fresno, Sacramento, Stockton, Modesto, San Jose, Richmond, Red Bluff)
Nevada (Las Vegas, Reno)
MAJOR CHAMPIONSHIPS:
Pacific Coast Heavyweight title (1936-1961)
Pacific Coast Jr. Heavyweight title (1935-1953)
Pacific Coast Tag Team title (1950-1961)
AWA United States Heavyweight title (1961-1968)
NWA United States Heavyweight title (1968-1981)
BTW World Tag Team title (1961-1968)
NWA World Tag Team title (1968-1979)
PROMOTIONAL HISTORY:
Beginning in 1935, professional wrestling in the region of Northern California was operated by Joe Malcewicz, with San Francisco serving as its home base. Following an impressive career inside of the ring, Malcewicz, who had an excellent reputation among his peers and employees, ran a solid business and enjoyed decades of success. However, as the wrestling business continued to evolve, Malcewicz was hampered by staunchly old-school sensibilities, particularly his belief that television exposure would lead to a decline in live attendance. As a result of failing to change with the times, Malcewicz' business eventually suffered and he opened himself up to competition, despite his long standing NWA affiliation. By 1961, Malcewicz was forced to cease operations after losing a promotional war with another wrestler-turned-promoter, Roy Shire. In nearly every way, the brash, independent-minded Shire differed from the more decorous Malcewicz, and from the star-studded debut of the Pacific Coast Athletic Corporation (aka Big time Wrestling) at the Cow Palace on March 4, 1961, Shire's aggressive, ambitious promotional style helped him draw tremendous crowds and establish San Francisco as one of professional wrestling's hottest, most lucrative territories.
Although he eventually became a member of the National Wrestling Alliance in 1968, during the first several years of his run as a promoter, Roy Shire and his Pacific Coast Athletic Corporation operated very successfully outside of the NWA fraternity. While he could be rather impertinent personally, there is no denying Shire's acute eye for talent, nor his acumen as a booker and promoter. With a roster consisting of some of the most skilled and marketable wrestlers to be found, coupled with realistic matches and exciting, coherent storylines, the San Francisco territory was a model for how a successful promotion should be run. After establishing a prominent television presence in Oakland on KTVU with All-Star Wrestling, Shire began producing a second program, Big Time Wrestling, on KOVR in Sacramento. Both weekly shows were hosted by the esteemed Walt Harris (followed by the equally popular Hank Renner) and each garnered exceptional ratings. Ultimately, Shire would tape several local versions of Big Time Wrestling, which aired on stations in specific markets throughout his territory.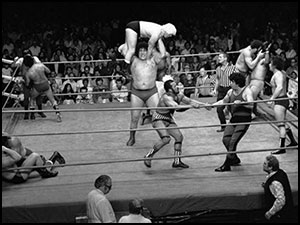 With a revolving roster of supernal talent consisting of names such as perennial United States champion Ray Stevens, "Cowboy" Bill Watts, Andre the Giant, Peter Maivia, Bobo Brazil, Pat Patterson, Rocky Johnson, and Dick Murdoch as well as young, legends-in-the-making like Jimmy Snuka, "Superstar" Billy Graham, "Rowdy" Roddy Piper, The Guerrero Brothers, Buddy Rose, and Don Muraco, Roy Shire treated his fans to a consistently high level of action and intriguing personalities. Meanwhile, his annual Battle Royale spectacular became the state-of-the-art for that particular specialty match and, years later, was the inspiration for WWE's Royal Rumble.
However, despite his exemplary promotional methods, Shire's mulish personality ultimately led to the downfall of Big Time Wrestling. In 1970, he lost the ability to produce the popular television program due to, of all things, his refusal to stop spitting tobacco juice on the KTVU studio floors. Meanwhile, his headstrong "my way or the highway" personality also caused problems with management at KTXL, leading the UHF station to halt production of his program there in 1979. No longer able to record his own television shows, Shire was forced to import tapes from other groups during his final year as a promoter. First, he tried co-promoting with Don Owen out of Portland and, after that partnership quickly failed, Shire formed a short-lived working agreement with Bob Geigel's Kansas City-based promotion. When the Central States grapplers failed to catch on with San Francisco's fanbase, he collaborated with Eddie Graham, whose CWF stars proved to be popular with Shire's audience. However, the exorbitant cost of flying Graham's wrestlers all the way from Florida to California ended the partnership after just three shows at the Cow Palace. Meanwhile, as Shire fought to remain solvent, Verne Gagne, sensing opportunity, acquired television coverage in the Bay Area. Facing stiff competition from the likes of Hulk Hogan, Jesse Ventura, Ken Patera, Crusher Blackwell and the rest of the AWA's impressive talent roster, an enervated Roy Shire had no choice but to cease operations and retire in 1981, ending his two decades years as a promoter.