Ed Lewis was a true pioneer of the sport and one of its earliest and most dominant champions. He truly paved the road for pro wrestling to be recognized as a legitimate sport in the eyes of the public during the early 20th century, and he was also there to see the fallout of the sport's dark "legitimacy" secret revealed to that trusting public. This multiple-time World Champion (and expert submission wrestler) helped, as part of the influential Gold Dust Trio with partners Billy Sandow and Toots Mondt, to introduce what are now considered pro wrestling norms, forever changing the sport, and for that, the professional wrestling will always owe him a debt of gratitude.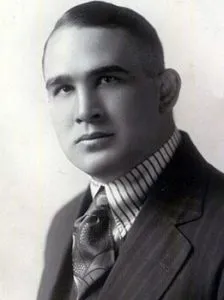 "The Strangler" was not born Ed Lewis, but rather, Robert Friedrich on June 30, 1891. Like many future Hall of Famers from this time period, he started wrestling at a very young age, fourteen, by which time he already weighed nearly 200 pounds. During this early, developmental time of his career, Friedrich competed at small carnivals, gaining valuable experience in farm towns throughout middle America. The sport of wrestling was very different during those early formative years and in the late nineteenth/early twentieth centuries there were still many actual professional wrestling contests or "shoots" (although the concept of a "predetermined winner" was certainly not unheard of) with most matches decided in 2 out of 3 fall contests. The emphasis of the wrestlers back then was not necessarily to draw and entertain tens of thousands of fans by incorporating wild gimmicks and costumes, but rather, simply to gain the advantage over, and then defeat, your opponent through leverage, fighting skills, and grappling…and still turn a profit. When Lewis first started in the sport, a "work" was considered by many top names of the era to be very much beneath their dignity, although the pre-determined match was beginning to be used by promoters more and more frequently. In the late 1800s and early 1900s, most (but far from all) pro wrestling matches were still, indeed, legitimate contests between two wrestlers who were each trying to defeat the other. Lewis himself was involved in arguably the longest running wrestling match in history, when on July 4, 1916 he wrestled former champion Joe Stecher to a 5 1/2 hour draw. Often referring disdainfully to wrestling that incorporated wild personalities and choreography as "slambang" wrestling, Lewis began his career just prior to the slow transition that forever led professional wrestling down the road of "sports entertainment."
Lewis got his "Strangler" nickname, according to legend, from a reporter who saw a similarity between a rookie Lewis and the former champion Evan "The Strangler" Lewis. Ed Lewis used a variation of what is now known as the Sleeper hold, which appeared to the public at the time as though he was strangling his opponent. Lewis, probably the most accomplished submission wrestler in the sport during the early 1900s, was feared and respected both inside and outside of the ring for his extensive knowledge of amateur wrestling, and even more for his wide array of crippling wrestling holds known as "hooks." All of the wrestlers knew that Ed Lewis easily could, and sometimes did, legitimately injure any wrestler that crossed him, anytime he felt like it.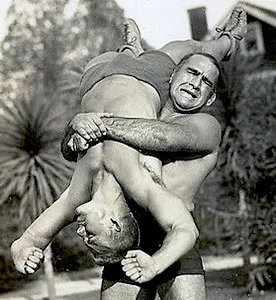 Among the many titles he would win were no less than four undisputed World Heavyweight championships between 1920-1931 (holding the title for five out of those eleven years) and was the World Champion with the most number of title reigns for the next thirty years, until his future protégé Lou Thesz broke the record. He also won the AWA (Boston) World Heavyweight title and unified that with the Undisputed World championship. However, on April 14, 1931 he lost the AWA championship via DQ in a very controversial match to Henri Deglane, ultimately becoming the first step in what would eventually once again shatter the World title into many different versions. However, he was still recognized as the World champion in Chicago, then the center of the wrestling world, and in most other wrestling hotbeds across the country. He won the New York State Athletic Commission (N.Y.S.A.C.) World Heavyweight title in 1932, and re-established himself to East Coast fans as the true World Champion. Ten years later, on November 26, 1942, he defeated Orville Brown for the Midwest Wrestling Association World Heavyweight title in Kansas City, KS.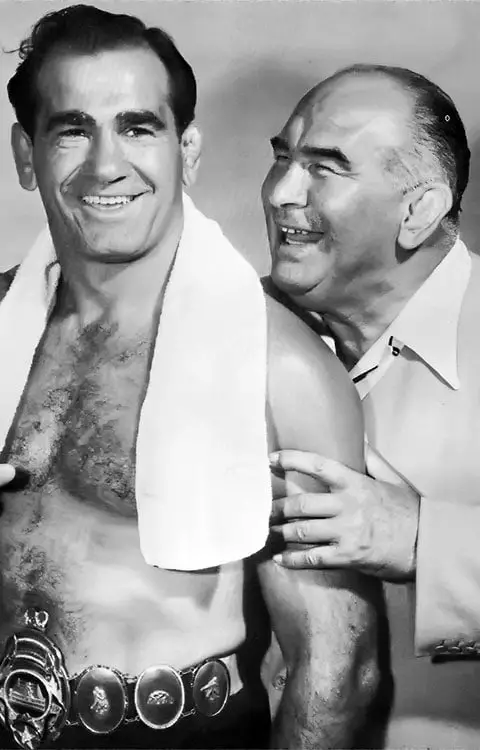 During the height of his popularity, he was a sports celebrity ranking with the likes of baseball's Babe Ruth and boxing's Jack Dempsey. In an era when the general public truly believed in professional wrestling's legitimacy, Ed "Strangler" Lewis was among the sports/entertainment elite, enjoying unbridled fame, having close personal friendships with Ruth and other world-famous celebrities, and earning millions of dollars at a time of economic strife for the rest of the country. According to many sports and entertainment historians, at one point, Ed "Strangler" Lewis was arguably the top sports celebrity in America. In fact, Lewis and boxing champion Jack Dempsey had a long-running "feud" throughout their simultaneous title reigns, mainly fueled by the press, who were looking for a story, and fans who clamored for a dream matchup between the two popular celebrity athletes. However, nothing ever came of the speculation and newspaper "war of the words" between the two champions, despite Lewis' willingness. Dempsey later admitted that the match never happened because he knew that he didn't stand a chance against the World wrestling champion.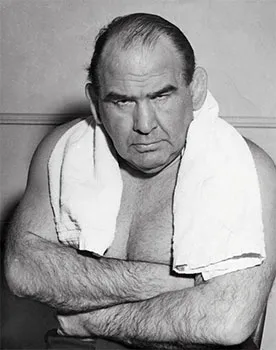 Not many did. He faced and defeated the very best fighters of his era, legends such as Stanislaus Zbysko, Orville Brown, Joe Stecher, Jim Londos, Dick Shikat, Fred Beel, Jack Leon and many other wrestling titans during his record-setting five World Championship reigns. By his own records, during a career that lasted more than four decades, Lewis wrestled in over 6,200 matches, many of them legitimate, and reportedly lost only 33. Following his retirement from the ring, Lewis (who suffered from a number of serious health issues, including trachoma, due to his time in wrestling) travelled the country as the manager of his protégé and successor, NWA World champion Lou Thesz.
The Strangler is a member of the Wrestling Observer Newsletter Hall of Fame (1996), the George Tragos/Lou Thesz Professional Wrestling Hall of Fame (1999), the Professional Wrestling Hall of Fame and Museum (2002), the WWE Hall of Fame (2016), and the International Professional Wrestling Hall of Fame (2021).
Robert "Ed 'Strangler' Lewis" Friedrich died on August 8, 1966 at the age of 76.
---