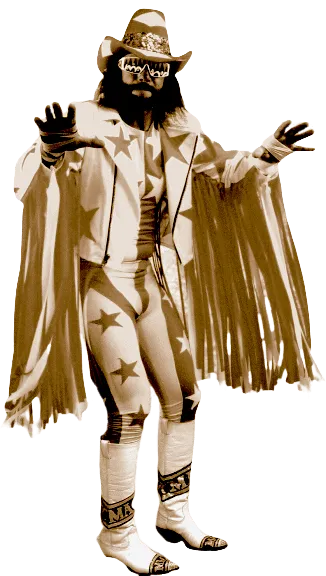 He was an icon of the 1980s and 1990s, with a trademark phrase and an oversized personality. But he was plagued by his demons, jealousy and paranoia, and lived in the shadows of some of the greatest professional wrestlers in the history of the business. But Randy Savage was special, a phenom among a locker room of talent, destined to be an enigma in life and beloved in death.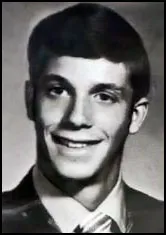 Randy Savage was born Randy Mario Poffo in Columbus, Ohio on November 15, 1952. He was the eldest son of Judy Poffo and her husband, wrestler Angelo Poffo. Judy and Angelo met as students at DePaul University and when a fastball to the head derailed his dreams of a career in baseball, he became a well-known professional wrestler in the 1950s and 1960s, winning the NWA United States Heavyweight Championship (Chicago version) from Wilbur Snyder in 1958. He was also famous for being featured in Ripley's Believe It or Not! for executing 6,033 sit-ups in 4 hours, 10 minutes. When Randy was two years old, his brother Lanny was born and he would also become a professional wrestler. As the family of a wrestling star, the Poffos moved around a lot, and Randy lived in Zanesville, Ohio, Downers Grove, Illinois, Staten Island, New York and eventually Lexington, Kentucky. In high school Randy excelled at sports, lettering in baseball, football and basketball and was a National Honor Society member. He turned down a scholarship offer from Arizona State University and entered the Major League Baseball draft. Dejected after going undrafted he attended Southern Illinois University–Carbondale, from which he graduated in 1971.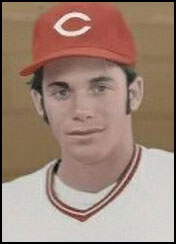 After finishing college, Randy decided to pursue a career in baseball, having been drafted out of high school by the St. Louis Cardinals. He had been a two-time All-State catcher at Downers Grove North High School in Illinois, and joined the Sarasota Cardinals of the Gulf Coast League where he hit .286 in his first year in rookie ball. The next year was even better as he was named to the GCL All-Star team as a hard hitting outfielder and in 1973 he hit .344 in 25 games as a designated hitter for the Sarasota Red Birds. The next year, however, he was promoted to Class-A ball with Orangeburg of the Western Carolinas League, and his batting average plummeted to a weak .250. In 1974 he moved to Tampa Bay, Florida to play for the Cincinnati Reds affiliate in the Florida State league and his numbers skewed downwards again, batting .232, with nine home runs and 66 RBIs. After being released by the Reds, he was invited to try out for the Chicago White Sox Class-A affiliate. Because of a shoulder injury, he began throwing left-handed and moved to first base, but again, failed to gain a spot. He finished his minor league career with 289 games in four minor league seasons, with a .254 batting average, 16 home runs and 129 RBIs.
An excellent athlete born into a wrestling family, Randy may have had other options, but he had a family legacy to fall back on. So in 1973, while still playing baseball, he began working with his father and brother, wrestling across the midwest and south. He began wrestling under a mask as "the Spider" (perhaps to hide his identity as a Poffo). At some point while wrestling in Georgia Championship Wrestling, booker Ole Anderson convinced home drop Poffo from his wrestling name and to change it to Savage, saying that Poffo was too tame of a name for someone who wrestled like a savage. At some point, Angelo became dissatisfied with the push that his sons were receiving and decided to establish his own promotion, International Championship Wrestling (ICW). Because his promotion competed in the mid-western states against promotions that were sanctioned for those territories, ICW was considered an outlaw promotion, finding itself at odds with major promotions in the region. The Poffos were tough, however, and would not be intimidated, operating for six years with Randy and Lanny as the featured talent. Also featured on the ICW weekly television show was interviewer Liz Hulette, who would later gain fame as Savage's wife and manager Miss Elizabeth. The promotion had engaged in a bitter feud against Continental Wrestling Association which was owned by Jerry Jarrett and Jerry Lawler and when television ratings and attendance at house shows dwindled significantly, ICW shuttered its doors, selling its assets to CWA. Because of the feud between the promotions, Randy and Lanny were natural heels when they began working for Jarrett and Lawler. Randy teamed with Lanny in battles against the Rock 'n Roll Express to much acclaim and Savage had periods of matches against Lawler fighting for the AWA Southern Heavyweight championship. The feud ended on June 7, 1985 when Lawler beat him in a "Loser Leaves Town" match in Memphis, Tennessee. Throughout his run in CWA, Randy showed his versatility, switching back and forth from the role of a babyface to a heel and back again, and he gained notoriety as a potential megastar in the business.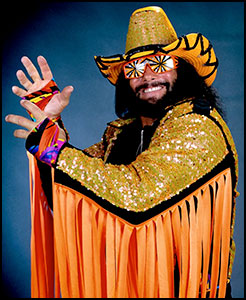 Savage brought a unique persona to the ring. John Pantozzi's description of him was that "in appearance, he lassoed a rainbow and wore it for all to see." Everything about him was over the top, from his colorful monogrammed capes, fringed wrestling tights, oversized sunglasses to his raspy-voice and measured speaking style. Whereas latter day wrestling fans would seek to hijack wrestlers' promos with chants of "what," Savage was impossible not to pay attention to, in part because he legitimately looked like he might come unglued and attack an audience member. His overprotectiveness of Elizabeth played into many of his storylines, and while many argued that it was over exaggerated, just as many felt that he had an irrationality about their relationship that was overbearing and even dangerous. All of these wrapped together along with his fast-paced aggressive wrestling style made him one of the top prospects in the business.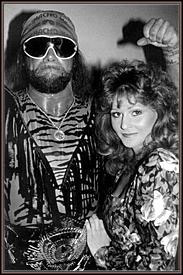 It did not take long for him to gain that status as the World Wrestling Federation came calling. Savage was featured in promotional segments as the top free agent in all of wrestling and was coming to the promotion. An angle was set up where all of the top managers in the WWF were vying to represent him, but instead he announced, with great fanfare, that his new manager would be the lovely Miss Elizabeth. This introduced the demure and delicate Elizabeth as a contrast to the volatile, paranoid Savage. His WWF pay-per-view debut saw him fight his way through a 16-man battle royal before losing as the last participant to the Junkyard Dog. He then began a feud with Tito Santana over the Intercontinental Title (IC) belt which he eventually won on February 24, 1986 in the Boston Gardens arena. The Intercontinental title was usually a stepping stone towards a challenge for the WWF Heavyweight belt and he matched up with the WWF champion Hulk Hogan in a series of matches. Savage beat Hogan on several of these occasions via count out, but because the belt could not change hands because of a count out, he walked away empty-handed. What he walked into, however, was a dream feud against veteran wrestler George "the Animal" Steele. Steele had long been an animalistic heel, but in the feud he had fallen in love with Elizabeth and often interceded when she was being manhandled by Savage. This saw them matchup for the IC title at Wrestlemania II in a cage match in Nassau Veterans Memorial Coliseum in Uniondale, New York. Although Steele was able to kick out of Savage's patented elbow drop, Randy gained a roll-up pinfall by using both of his feet on the ropes for extra leverage.
Randy continued competing against Steele but then transitioned towards a new feud against Ricky "the Dragon" Steamboat. The two rivals were superior athletes and their bouts often contrasted with many of the plodding matches that were common in the WWF. The feud was built up magnificently as Savage attacked Steamboat who was greeting fans on the November 22, 1986 episode of WWF Superstars of Wrestling. Savage draped Steamboat neck across the barricade and leaped off of the turnbuckle and delivered a double- axe-handle to the back of his neck, pulverizing his throat. He then rolled Ricky into the ring, grabbed the bell from ringside and jumped off of the turnbuckle, and slammed it into Steamboat's throat. Steamboat shuddered in agony, unable to breathe. This storyline was stretched out for months as cameras watched the Dragon trying to rehabilitate. Finally, the two were to meet at Wrestlemania III in a match that would be heralded as the greatest ever presented by the WWF.
While most matches in wrestling are called in the ring and done on the fly, Savage was notorious for his insistence in laying a match out in the locker room. Announcer Gene Okerlund would recall that "Savage was obsessed with things being absolutely perfect and tight in his matches." Lanny would blame it on Savage having OCD, but explained that Randy was a perfectionist. "You heard the expression sports entertainment? Well, Randy believed in both. He believed in entertainment — that would be the robe, the gimmick, the interview, the ring color and pizzazz. But he also believed in sports and had a chip on his shoulder to prove that he was the greatest athlete who ever lived." Thus, he wanted the match to be the best one on the Wrestlemania card.
Behind the scenes, Savage and Steamboat laid out the intricate plans for the match and the three months spent with vignettes demonstrating the severity of Steamboat's injuries had the fans in a frenzy on the day of their match. Dave Hebner was the referee and as both wrestlers were driven through the Pontiac Silverdome, the crowd roared with excitement. Once in the ring, Steamboat immediately sought revenge, choking Savage with a Hangman maneuver. The match went back and forth with 22 near falls. The crowd was electric when Savage sent Steamboat to the ground in the middle of the ring after Hebner took a bump and was disoriented. Savage grabbed the ring bell and climbed onto the turnbuckle, ready to repeat his previous attack to the Dragon's throat, but was stopped by Steele, who pitched Savage off of the turnbuckle, onto the mat. With his back injured, Savage scooped up Steamboat for a bodyslam, but Rick turned it into a roll-up and secured a pinfall. The crown went crazy as Hebner presented Steamboat the belt and Ricky and Steele left the ring to applause. Savage was left in the ring with an anguished Elizabeth by his side, defeated, humbled… and knowing he had just had the best match of his career. The Wrestlemania match stole the show and many, if not most, fans consider it the greatest WWF match in history. It was named 1987's Match of the Year by both the Wrestling Observer Newsletter and Pro Wrestling Illustrated, but as Lanny later explained, for Savage it became a match he could never top, a fact that would haunt him in years to come.
Despite being a hated villain, Savage's brilliance in the ring, as well as his energetic promos, had fans lining up to see him and as his popularity began to grow, he found more people cheering him than booing him. After winning the King of the Ring on September 4, 1987 at the Providence Civic Center in Providence, Rhode Island, Savage eased up in his overbearing treatment of Elizabeth and hostility towards the fans, and he found himself headed for a shot to reclaim the IC belt, now held by the Honkytonk Man. During their match on the October 3, 1987 episode of Saturday Night's Main Event, the match was interrupted by the Hart Foundation, with Honkytonk subsequently smashing a guitar over Savage's head. Elizabeth ran to get help and returned with Hulk Hogan in tow. Hogan stormed the ring and the heels began beating him down before he fought them off with the help of a revived Savage and after the two backed into one another and faced off with clenched fists, Savage extended his hand and the Mega Powers were formed.
Savage and Honkytonk engaged in numerous battles over the next several months, both in one-on-one action and in group tag team action. Savage was pursuing Honkytonk's Intercontinental belt, wanting to use it as a stepping stone towards the WWF championship. Behind the scenes, however, Honkytonk refused to drop the belt to Savage, arguing that he was too successful at the time to lose his momentum and that Savage didn't need the belt to be considered a legit challenger for the WWF World title. As a result, their feud ended with a series of blow-off matches between Savage and Honkytonk team in cage matches. For Savage, the failure to capture the IC strap was just a blip on the screen as he had bigger things ahead of him.
On February 5, 1988, the WWF broadcast "The Main Event" from the Market Square Arena in Indianapolis, Indiana. During the broadcast, champion Hulk Hogan faced Andre the Giant in a rematch of their historic battle at Wrestlemania III. In this match, Andre defeated Hogan, when referee Dave Hebner's twin brother Earl (who was working on behalf of Ted Dibiase) worked the match ostensibly as Dave. When Andre covered Hogan late in the match, Earl delivered a three count pinfall to Andre, despite Hogan's shoulders clearly being up at the one-count. While Hogan protested, Andre held the belt high, then immediately presented it to Dibiase, thus selling the title to the Million Dollar Man. Minutes later, as Hogan scrambled at Andre and Dibiase, fans in the arena roared as Dave Hebner ran from the back and climbed into the ring to confront his brother Earl. Hogan spotted the two and grabbed them trying to figure what was going on. As the two brothers argued, Earl knocked Dave to the ground and then kicked him. Hogan then picked Earl up and threw him over the ropes and out of the ring, where he was caught by Andre.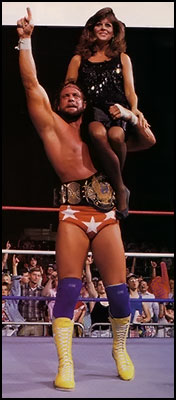 As a result of this, while Andre was recognized as the victor in the match and new champion, his selling the belt to Dibiase was improper as the title could only change hands via a pinfall or submission, and the title was therefore vacated. As a result, a 14 man tournament was slated for Wrestlemania IV to determine the new WWF World Heavyweight champion.
The Macho Man was considered a favorite in the tournament and he defeated "The Natural" Butch Reed, Greg "The Hammer" Valentine and the One Man Gang to reach the finals, where he would face "The Million Dollar Man," Ted Dibiase. Hogan, who was disqualified along with Andre in their match, sat down at ringside in order to prevent any interference. In the finals of the tournament. Randy pinned Dibiase to capture the World title, after Hogan had hit Dibiase with a chair. Savage, Hogan and Miss Elizabeth celebrated the victory in the ring and the Mega Powers were united once again.
For the next 371 days, Randy Savage defended his world title against formidable foes such as One Man Gang, the Big Boss Man and André the Giant. But he was even more popular when he teamed up with Hogan as the Mega Powers and faced the Mega Bucks (Andre and Dibiase) and then against the Twin Towers (The Big Boss Man and Akeem the Dream), with the Mega Powers winning matches at the first Summer Slam event and at the 1988 Survivors Series.
In addition to being a team in the ring, Savage and Hogan developed a friendship outside of the ring as well, with Elizabeth becoming a very close confidant of Hogan's wife Linda. Good times, however, would not last forever. After Hogan took on Elizabeth as his manager as well, he accidentally eliminated Savage from a Royal Rumble match on January 15, 1989 and the two began to fight in the ring before Elizabeth separated them. Five weeks later, in a match against the Twin Towers during the Main Event II, Elizabeth was injured. When Hogan carried her to the back, Savage flipped out and abandoned Hogan in the ring, with Randy accusing Hogan of trying to steal Elizabeth from him. On April 2, 1989, the stage was set for Savage to defend his title against Hogan at Wrestlemania V. Despite being hospitalized with an elbow infection, Savage showed up for the match and battled the Hulk for 17 minutes before being pinned.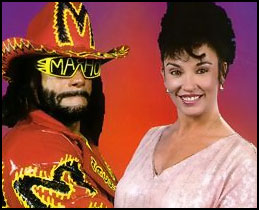 Now without the championship belt, Savage was also without Miss Elizabeth, as she stayed in Hogan's corner as his manager, so Randy replaced her with Sensational Sherri Martel. He and Hogan continued to face one another for the next few months, often with Hogan teaming with Brutus Beefcake against Randy and Tiny "Zeus" Lister. After winning the 1989 King of the Ring tournament by pinning Jim Duggan, Randy proclaimed himself the "Macho King." During his coronation as the King, he was awarded a scepter by Ted Dibiase and was accompanied by his brother Lanny, now performing in the WWF as "The Genius." As The King, he faced Hulk Hogan once again for the WWF World Heavyweight championship but lost on a pinfall when guest referee, boxing champion Buster Douglas counted to three despite Savage's shoulder being up at the count of two.
The Macho Man then engaged in matches over the next year with Dusty Rhodes and the Ultimate Warrior. At Wrestlemania VII, Savage faced the Warrior in a retirement match. After hitting Savage with several shoulder blocks, The Warrior stood on the Macho Man and was awarded the pinfall. An enraged Sherri attacked the Macho Man for losing the match but was chased off by Elizabeth who was in the crowd watching. The couple reunited on screen, turning Randy back into a crowd favorite. Despite the retirement stipulation, Savage finished out a few more matches, the last being on April 1, 1991 in Kobe, Japan where he was defeated by Genichiro Tenryu.
Although retired, Savage continued working for the WWF, this time in the capacity as a color-commentator on the television broadcasts. At the same time, the WWF continued to focus on the relationship with Elizabeth, with Randy proposing to her and a marriage ceremony being held at SummerSlam 1991 in a segment that was dubbed the "the Match Made in Heaven." Later, at their televised wedding reception, Elizabeth opened a present which contained a live snake, courtesy of Jake "the Snake" Roberts. Savage begged the WWF for reinstatement as a wrestler, but was turned down by WWF President Jack Tunney.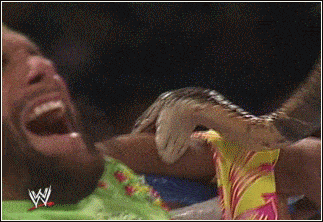 Later, on the October 21, 1991 broadcast of WWF Superstars of Wrestling, Roberts stood in the ring and insulted the Macho Man who was working ringside at the commentary table. He goaded Savage into the ring and then attacked him, leaving him tied in the ring ropes. Jake then pulled a live King Cobra snake out of a bag and caused it to legitimately bite Randy on the arm for more than 30 seconds (while the snake had been devenomized, Roberts struggled to get it to release Savage from its fangs). "That's a really funny story because the snake was supposed to be devenomized, and when (it) bit me, it wouldn't let go," Savage recalled in an interview with the IGN website. "About five days later I had a fever and went to the hospital with a 104-degree fever. It's unbelievable to walk into the hospital and tell the doctor I had a snake bite. Finally the fever went down, they gave me antibiotics, and luckily the snake was devenomized, but twelve days later the snake died. He was devenomized but maybe I wasn't. [laughs] Jake told me: "'You killed my snake dude.'" After this incident the Macho Man was successful in getting reinstated and faced Roberts in a series of matches all the way through February of 1992.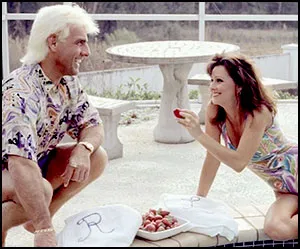 Randy next set his sights on WWF champion Ric Flair. Flair had shown a series of vignettes in which he stated that he had been in an intimate relationship with Elizabeth, corroborated by a series of photographs of the couple smiling by the poolside. The photos were later shown to have been doctored, as WWF Magazine showed the original photos of Elizabeth and Savage compared to the photos presented by Flair, with him substituted in Savage's place.
The two wrestlers feuded during this time, ostensibly over Elizabeth's honor and Savage took the belt from Flair at Wrestlemania VIII in Indianapolis, Indiana on April 5, 1992. While a return to the championship should have been a tremendous moment for Savage and Elizabeth, things were dramatically different behind the scenes, as the marriage between Randy and Elizabeth was coming to an end, all while it was played out to be blissfully solid on tv. Randy was known backstage to be almost psychotically jealous and protective of Elizabeth, ordering other wrestlers to stay away from her and reportedly once locking her in a backstage room to prevent any wrestlers from talking to her. The couple divorced on September 18, 1992 with Elizabeth's final WWF appearance being at the UK Rampage show on April 19, 1992. Savage even got into it with Hulk Hogan years earlier when Hogan lifted Elizabeth into the ring and Savage accused him of "copping a feel." After the divorce (which was announced in WWF Magazine) Savage apparently held Hogan and his wife responsible for much of the discord between Elizabeth and him and held a grudge against Hogan that lasted for years.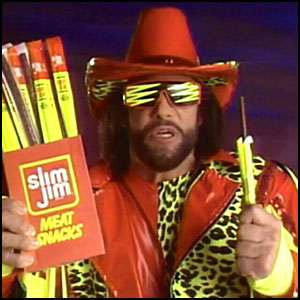 Savage's popularity had gained him mainstream recognition and in 1993 he was hired as a spokesman for the Slim Jim beef jerky product. His catch phrase for his commercials for the product was "Need a little excitement? Snap into a Slim Jim!" He would continue hawking Slim Jim's until 2000.
Over the next few months, the Macho Man defended his World title belt against the Ultimate Warrior before losing it back to Flair in September, in part due to interference from Razor Ramon. For the next two years, Savage engaged in singles and tag matches against the top names in the promotion. He also served as a color commentator on the newly launched Monday Night Raw television show and on PPVs. He performed in these roles until his contract with WWF expired in November of 1994.
Although Vince McMahon decided that Randy Savage's time as an in-ring competitor had come to an end, Savage himself felt that he still had much to accomplish as a wrestler. As 1994 came to a close, so, too, did Savage's career in the World Wrestling Federation. The Macho Man then made his debut in World Championship Wrestling on the December 3, 1994, edition of WCW Saturday Night, alluding to his past with Hulk Hogan and ambiguously hinting that the feud might be rekindled now that they were in the same promotion again. However, the opposite turned out to be the case and at Starrcade '94, Savage came to Hogan's aid when the Hulkster was being beaten down by Kevin Sullivan's Faces of Fear.
Once his position as a babyface had been established in WCW, Savage entered into his first major feud, competing against former WWF rival "Nature Boy" Ric Flair. The Savage-Flair series headlined WCW's television and pay-per-view events for several months during 1995, delivering exciting angles and quality matches at the top of the card while Hogan was away from the spotlight, filming one of his various acting projects. On November 26, 1995, Randy Savage won his first WCW World Heavyweight title at the inaugural World War 3 pay-per-view when he outlasted 60 other competitors to become champion. The victory, however, was short-lived, as just one month later, he lost the championship to Ric Flair at Starrcade '95. Yet, Savage would rebound and he soon regained the World title from "The Nature Boy" on the January 22, 1996, edition of Monday Nitro. As his ongoing program with Flair (which would eventually involve Savage's ex-wife Elizabeth as well as his father, Angelo Poffo) continued to play out on WCW programming, Randy Savage would again drop the title to Flair, this time during a steel cage showdown on February 11, 1996 at SuperBrawl VI in St. Petersburg, Florida.
The lengthy series between the two superstars would continue on through to the summer of 1996, at which time Savage, as well as WCW itself, became caught up in the revolutionary storyline of the emerging New World Order. Indeed, Savage was a major player within the match that actually launched the NWO when he teamed with Sting to face Scott Hall & Kevin Nash, The Outsiders, in the main-event of Bash at the Beach '96. Following Hulk Hogan's unexpected heel-turn, Randy Savage was one of the main defenders of WCW and he stood with Sting, Lex Luger, D.D.P. and others to fend off the onslaught of the villainous invading faction. However, despite his high standing in the company, when he could not come to terms on a new contract with the promotion, Savage briefly disappeared from WCW programming until making a surprise return in January of 1997.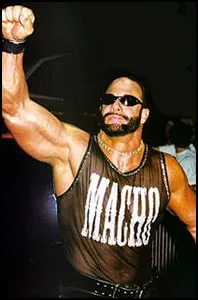 When he returned to action, he complained that he was being blackballed by the promotion. He sought out the company of Sting who was engaged in a one-man war against the NWO and the two appeared at WCW shows watching from the shadows. WCW President Eric Bischoff (who was also a member of the NWO) told Savage that he was unwelcome in WCW and would only be allowed back in the promotion if it was as a member of the NWO. At the SuperBrawl VII pay-per-view on February 23, 1997 from the Cow Palace in San Francisco, California, Savage did just that, abandoning Sting. He reunited with Miss Elizabeth, who was now a member of the NWO and the two began feuding with Diamond Dallas Page and his wife Kimberly for the next eight months. He next feuded with Lex Luger, but his eyes were set on his former compatriot Sting, who was now in possession of the WCW title belt. He got his shot at the champion at Spring Stampede 1988 and despite interference from Hulk Hogan and tearing an ACL during the match, Randy defeated Sting via pinfall in just over ten minutes. He was aided by Kevin Nash during the match as well as the next night on Monday Nitro. This caused a fissure in the NWO and Savage, Nash and others split off to form NWO Wolfpac, abandoning Hogan and his followers. Savage then proceeded to feud with Bret Hart and Roddy Piper, but midway through the year, he disappeared from television to go and have surgery on his knee.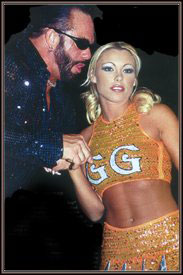 When he returned in April 1999, he was a whole new man. He sported earrings, a ponytail and a new girlfriend, Gorgeous George (Stephanie Bellars) who served as his valet. They were soon joined by Madusa Micelli and Miss Madness (who later wrestled as Molly Holly) and pursued the WCW World Heavyweight title again. In a convoluted and nonsensical tag match between Kevin Nash and Sting against Randy and Sid Vicious, Savage through a stipulation won his fourth WCW championship. He lost the belt the next night on Monday Nitro to Hogan and went on to feud with professional basketball star Dennis Rodman, culminating in a victory at Road Wild 1999 in Sturgis, South Dakota. His star in WCW began fading and he made his last appearance for the promotion on the May 3, 2000, episode of Thunder. After several years of hiatus, he returned to wrestling, beginning a feud with Jeff Jarrett in the Total Nonstop Action promotion in November 2004, but left just a month later after a disagreement over a proposed finish at a pay-per-view.
By the end of his career, Savage had not blown through his money like so many wrestlers of his era. He was extremely frugal (a trait he picked up from his father, staying in cheap hotels and eating sandwiches while other superstars of his caliber stayed in five star hotels and ran up $1,000 room service tabs). This allowed him to pursue several avenues in the entertainment industry. He had appeared on an episode of the Baywatch television show in 1996 and episodes of Mad About You and Walker, Texas Ranger in 1999. His real interest was in movies and he debuted in the 2000 release of the wrestling movie Ready to Rumble. His biggest role was in the 2002 blockbuster film Spider-Man in which he portrayed wrestler Buzzsaw McGraw. He also lent his memorable voice to several cartoon television shows and films including King of the Hill, Space Ghost: Coast to Coast and Disney's The Bolt. He released a rap CD entitled Be A Man in 2003 and appeared in various wrestling video games over the years.
Years into retirement, Savage settled into marriage with Barbara Lynn Payne, whom he called his soulmate, in 2010. He had mellowed considerably and was described as having attained a level of peace that contrasted greatly with his persona as a wrestler as well as his behaviour behind the scenes. The couple moved to Florida and were driving together on May 20, 2011 when Randy suffered a heart attack and crashed into a tree and died. His autopsy showed that he had an enlarged heart and advanced coronary artery disease. His death struck the wrestling industry like a thunderbolt. After he was cremated, his ashes were placed under a favorite tree on his property in Largo, Florida.
Tributes poured in after his death and the WWE released a DVD documentary, Macho Man: The Randy Savage Story, in November 2014. Many fans and fellow wrestlers had complained for years that Randy had not been inducted into the WWE Hall of Fame during his lifetime, so the WWE announced on January 12, 2015 that Savage would headline that year's Hall of Fame class. He was represented by his brother Lanny and was inducted by Hulk Hogan. He was inducted into the Downers Grove High School Hall of Fame (1994), the Wrestling Observer Newsletter Hall of Fame (1996), the Professional Wrestling Hall of Fame (2009), and the Ilio DiPaolo Legends of the Aud Hall of Fame (2016).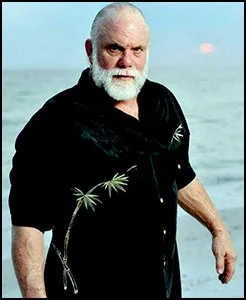 Randy Savage was a unique and electrifying personality, in all aspects of the game. While he was overshadowed by the outsized personalities of Hulk Hogan and Andre the Giant, he has held up over the years in the high regard in which he is viewed. After referencing legends such as Ric Flair, Lou Thesz, Buddy Rogers and Gorgeous George, Jon Robinson of IGN said "But for my money, for my ticket to that one dream match, when you factor in personality, crowd heat, drawing power, and of course, wrestling ability, from the top rope to the mat, 'The Macho Man' Randy Savage is right there with any of those names previously mentioned."
Sources:
Chicago Tribune – Macho Man's road to WWE Hall of Fame went through Downers Grove
John Pantozzi – "Macho Man" Randy Savage
IGN Website – Randy Savage Interview