While there have been a few exceptions over the years, traditionally when a pro wrestler is referred to as a "two-sports" athlete, that 2nd sport is invariably professional football. Throughout the long history of wrestling, there have been numerous examples of athletes from the gridiron who left pro football and later excelled as professional wrestlers. However, in the early 1990s, Dan "The Beast" Severn (as well as his longtime professional rival, Ken Shamrock) literally paved the way for a future generation of two-sport athletes who crossed-over between the worlds of professional wrestling and mixed martial arts, from "Tank" Abbott, Mark Coleman, Bobby Lashley, Jake Hager, Bob Sapp, Tom Lawler, Cain Velasquez,  and, of course, Brock Lesnar and Ronda Rousey. In the case of Severn, the list of his athletic achievements is as lengthy as it is impressive. As an amateur, he was a two-time All-American at Arizona State University, a two-time Pac-10 champion, and he captured a total of 13 AAU championships. Additionally, he was an alternate on no less than three Olympic wrestling teams and an assistant wrestling coach at both Michigan State and Arizona State universities. After making the switch to MMA, his success continued and in 1995 Severn won UFC 5, then followed that up by winning the UFC Ultimate Ultimate tournament, and eventually the UFC Superfight (open weight) title in 1996, making him the first and only UFC Triple Crown champion. Meanwhile, as a professional wrestler, Severn is the only man in history to hold an MMA (UFC) and professional wrestling (NWA) championship simultaneously. A two-time NWA World Heavyweight champion, "The Beast" also owns the distinction of having the third-longest reign in National Wrestling Alliance history.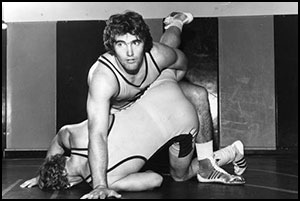 Daniel DeWayne Severn was born on June 8, 1958 in Coldwater, Michigan. A superior natural athlete from the start, the young Severn excelled at both Greco-Roman and Freestyle wrestling while in high school, winning national championships in each discipline and placing in Olympic trials before even reaching the age of 18. Later, while attending Arizona State University, Severn won two Pac-10 championships and became a two-time Division 1 All-American while amassing a very impressive record of 127-11-1. Equally impressive is the fact that 73 of Severn's 127 victories at ASU came via pin, which is a school record that still stands more than three decades after his graduation. Also noteworthy is that the single draw during his collegiate career took place against future two-time Olympic gold medalist Bruce Baumgartner.
Following his collegiate career, Dan Severn continued on with his goal of becoming the best amateur wrestler in the world, a challenging quest to be sure, even for a grappler as talented as the rugged 6′ 2″ 250-pound Severn. In addition to earning a spot as an alternate on the 1980, 1984 and 1988 Olympic freestyle squads, Severn won numerous tournaments and medals internationally during the early-mid 1980s, including the 1985 Canadian Cup gold medal and no less than 13 AAU championships. Severn was also a successful coach during these years, maintaining his amateur status while serving as an instructor for the wrestling programs at both Arizona State and Michigan State.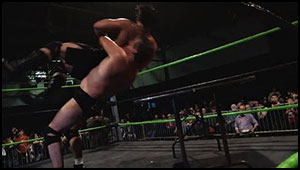 As his lengthy, highly-decorated tenure as an amateur competitor inevitably began to wind down during the early 1990s, Severn looked to the unique challenge of professional wrestling as a new, viable career option. He began his training for the pro ranks in 1991, under the instruction of Al Snow. At the time, Snow was still several years away from achieving fame in both ECW and WWE, however, he was nevertheless a highly-skilled pro wrestler, a top independent attraction throughout the Midwest, and an ideal trainer for an athlete with Severn's background. Soon after his debut, Severn would become aligned with the UWF-i, an influential Japanese "worked shoot" promotion. Both in Japan and at home in America, Severn quickly began amassing an impressive record while growing his reputation among informed wrestling fans, despite his lack of mainstream exposure domestically.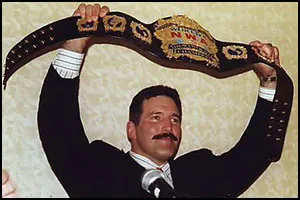 On February 24, 1995, less than four years after making his professional wrestling debut, Dan Severn defeated Chris Candido in Erlanger, Kentucky to win the NWA World Heavyweight championship. At the time, the National Wrestling Alliance was still reeling from the crippling effects of losing its affiliation with WCW, only to be followed by a very public, very embarrassing betrayal by ECW's Todd Gordon and Paul Heyman. While Chris Candido was a fine wrestler, at the time he held the NWA title, he lacked the experience, name value, and overall gravitas that the free-falling, beleaguered Alliance was in such desperate need of. A respected, believable World champion who could not only carry the title belt but also the promotion itself was what was required. And, luckily, the NWA was able to find both of those key qualities in Dan Severn.
Dating back to when he was still competing in the collegiate ranks, Severn began training in other forms of martial arts, eventually earning a 5th degree black belt in Judo, a 2nd degree black belt in Jiu-Jitsu, and becoming a decorated champion in the art of Russian sombo wrestling.
Excelling at each of these varied fighting disciplines, he combined them with his extensive knowledge of freestyle, catch, and Greco-Roman wrestling, thus allowing a 36-year-old Severn to successfully make his entry into the deleterious world of no-holds-barred professional cage fighting. A genuine UFC pioneer, Severn made his Ultimate Fighting debut on December 16, 1994 at UFC 4, losing in the finals to the soon-to-be-legendary Royce Gracie.
Dan "The Beast" Severn received his identifiable (and accurate) nickname during his second UFC appearance, UFC 5, on April 7, 1995. Former NFL legend and Ultimate Fighting color commentator Jim Brown, having witnessed the rugged Severn methodically earn three successive victories over formidable competition, dubbed him "The Beast" and the apt moniker remained for the rest of Severn's MMA and pro wrestling careers.
At the time of UFC 5, Severn was also the reigning NWA World Heavyweight champion and he proudly wore the iconic pro wrestling title belt into the octagon, where he then proceeded to defeat Joe Charles, Oleg Taktarov, and Dave Beneteau to win the tournament. Regarding his legendary performance, Severn had this to say, "Well ahead of that fight, I had my first of only two ever training camps. I took thirty-two days out of my life to become something. I became something, and I achieved my goal. I dedicated myself and worked towards something and I succeeded. So it was well worth it." Severn continued, "By the same token, during those thirty-two days, I moved away from my home. I could not be a husband nor a father. I had to leave my family behind. It was something I explained to my wife and it was something I had to do. I stayed by myself and had a very Spartan-like existence. I had an old black and white TV sitting on a crate and two old VHS tapes. People nowadays can't even fathom what I did. All I did was eat, sleep, and train. And on paper I came up with what my best strengths and attributes were because back then, you did not know who your opponents were going to be."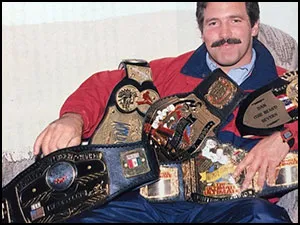 One of the winningest and most recognized athletes in the fledgling UFC's early history, Dan "The Beast" Severn undoubtedly helped establish the new promotion and, indeed, the sport itself. In addition to his UFC 5 tournament victory, Severn also won the 1995 Ultimate Ultimate event and the Superfight Championship. Yet, while he is legendary for his ground-breaking accomplishments in the UFC, Severn was also a champion and main-attraction in World Extreme Cagefighting, Elite-1, and the Continental Freefighting Alliance, among other Mixed Martial Arts promotions. All total, his MMA/cage fighting record was an impressive 101-19-7.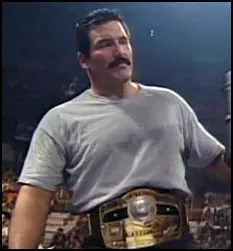 As the travelling NWA World Heavyweight champion during the mid-Nineties, Severn took on the same role as his predecessors, albeit on far more modest scale. While the glory days of the NWA's territorial system were clearly a thing of the past, the respected titleholder was nevertheless in high demand among the resilient collection of regional promoters that comprised the "new" National Wrestling Alliance. This included, among others, strong independent groups such as Jim Cornette's Smoky Mountain Wrestling, Dennis Corraluzo's NWA Championship Wrestling America, Bert Prentice's Music City Wrestling, and Howard Brody's NWA Florida, as well as international member promotions in Japan, Great Britain, Puerto Rico, and New Zealand.
On June 23, 1997, more than two years into his reign as the NWA World champion, Severn, with the NWA title belt in tow, made an unexpected appearance on WWF television, serving as a guest color commentator during former UFC rival Ken Shamrock's match against Billy Gunn. Following Shamrock's victory, there was a brief stare down, followed by a handshake, planting the seeds for further interaction between the two sometime in the future.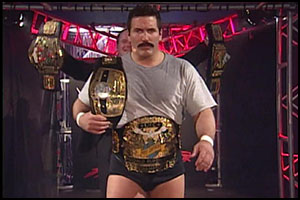 Several months later, Severn reappeared in the World Wrestling Federation, this time as part of the NWA "invasion" of the WWF. The storyline once again saw Severn being recognized on WWF programming as the reigning NWA World champion while being allowed to simultaneously fulfil his championship obligations within the NWA, an unthinkable scenario just a few years earlier. The lethal but soft-spoken Severn was initially paired with the loquacious Jim Cornette and the two made an entertaining duo. However, the ill-fated "NWA invasion" storyline was seemingly doomed to failure from the start and it faded from the WWF's airwaves not long after debuting. "The Beast" remained a prominent part of the WWF's mid-card, however, and Severn would eventually engage in feuds with D-Lo Brown, Owen Hart, Steve Blackman, and, of course, former MMA rival Ken Shamrock.
Severn competed in the Brawl for All tournament, which, of course, was the WWF's infamous and ill-advised shoot-fighting competition from 1998. With a $75,000 prize going to the winner, sixteen professional wrestlers put on bulky 20 oz. boxing gloves and, in legitimate contests, slugged it out inside of a squared circle. On the July 13, 1998 episode of Monday Night Raw, Dan Severn faced and defeated The Godfather in the first round of the Brawl for All tournament. However, he withdrew immediately prior to the quarterfinals, allowing his previously defeated opponent to advance by default. At the time, Severn's official reason for withdrawing was that he "had nothing to prove." Although, in interviews that took place years later, Severn claimed that he was actually asked by WWF management to drop out of the tournament. Meanwhile, some who were close to the situation believe that Severn pulled out following his first-round victory because he was unhappy with the point system, the nonsensical rules for the tournament (which changed from week to week) and was not comfortable risking his well-earned reputation by competing in a shortsighted, makeshift toughman competition.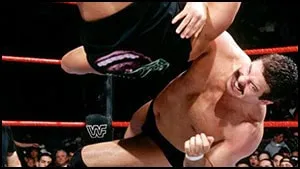 Ultimately, there were several missed opportunities during Severn's year-long WWF tenure. While his understated personality and interview style was certainly not custom-made for the WWF's over-the-top brand of professional wrestling, the fact remained that Severn was a superior athlete with a bounty of legitimate credentials, he was a nationally/globally known sports celebrity, and the reigning World champion for Vince McMahon's one-time biggest rival. Instead of using these unique nuances for its own benefit, the WWF chose to keep Severn firmly entrenched in the middle of the card. Eventually, the promotion's management requested that he stop bringing his NWA and UFC belts to television tapings. Additionally, the promotion failed to mention any of the over half-dozen MMA contests that Severn competed in (and won) during his WWF run. In recorded interviews that took place after he'd left the company, Severn stated that WWF management was uncomfortable with the lack of control they had over him and that many of the top stars were scared to wrestle him, for fear of potentially being made to look incompetent.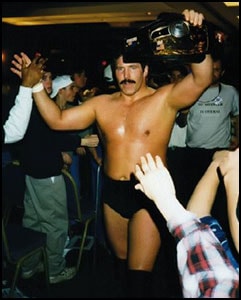 Although his WWF tenure concluded after slightly more than a year, Severn's lengthy reign as the NWA champion continued on until he was finally defeated by Naoya Ogawa on March 12, 1999 in Yokohama, Japan. His 1,479 consecutive days as NWA World Heavyweight champion marks the 3rd longest uninterrupted title reign in National Wrestling Alliance history, behind Dory Funk, Jr. (1,563 days) and Lou Thesz (1,941 days). As its champion and standard bearer for more than 4 years, Dan Severn brought much-needed respect and legitimacy to the beleaguered NWA, and its World championship, during a time when the ragtag collection of independent promoters desperately needed it.
Following the loss to Ogawa, Severn continued wrestling and fighting in promotions across the globe. Then, three years later, nearly to the day, "The Beast" regained the NWA World championship in Tokyo, Japan when he defeated Shinya Hashimoto on March 9, 2002. However, a mere ten weeks later, he was stripped of his newly-won title by the National Wrestling Alliance. Just days before the inaugural NWA: Total Nonstop Action pay-per-view, the NWA announced that the championship was being vacated because Severn had a prior MMA engagement, King of the Cage, that took place on same night as TNA's debut.
In a press release, the NWA stated that, "Dan Severn represented the NWA well during his two reigns as champion and proved with his difficult decision that he is truly a man of his word who could not honorably cancel a previous booking even if it meant losing the NWA World Heavyweight title. We look forward to having a new NWA World Heavyweight Champion crowned in Huntsville on 6/19/02."
The decision raised eyebrows, as Severn's TNA appearance could have easily been moved to the following week. However, TNA seemed intent on a battle royal to crown the new NWA champion, which was dubbed "The Gauntlet for the Gold." Ironically, Severn's longtime rival Ken Shamrock was the man who came out of the first TNA pay-per-view wearing the NWA World championship belt.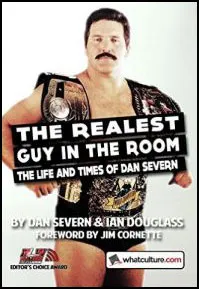 In addition to his careers as a wrestler and cage fighter, Severn also carved out a respectable career as an actor, landing parts in nearly a dozen feature films between 1993-2016. At the age of 54, Severn fought in his final MMA contest, defeating Alex Rozman on April 28, 2012, and then retired from the sport soon thereafter. However, he continued taking dates as a professional wrestler for several more years, eventually retiring from the squared circle in 2019. His autobiography, The Realest Guy in the Room: The Life and Times of Dan Severn featured a forward written by Jim Cornette and was released in July of 2016.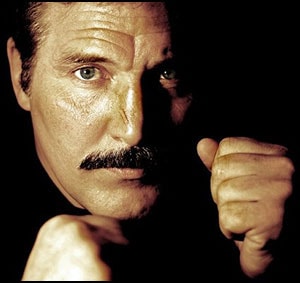 On April 16, 2005, Dan "The Beast" Severn was inducted into the UFC Hall of Fame, the third man in history to receive that honor. Additionally, he is a member of the Arizona State University Sports Hall of Fame (1984). In 2010, Severn received the Cauliflower Alley Club's prestigious Lou Thesz Award and that same year he also became a member of the NWA Hall of Fame. In 2018, he was inducted into the George Tragos/Lou Thesz Professional Wrestling Hall of Fame as well as receiving that organization's Frank Gotch Award (2002) and George Tragos Award (2012).