Over the decades, professional wrestling has been the chosen vocation of some of the toughest, meanest, nastiest Texans that the Lone Star State has ever produced. In years past, Texas wrestling fans have, generally speaking, liked their grapplers to be big, rough & tough. And, if he's got a short fuse, all the better. That description certainly applies to many of Texas' most popular wrestling stars from the past & present, but perhaps none more so than the gigantic and unpredictable tobacco-dripping Texas bulldozer, Stan "The Lariat" Hansen. For nearly three decades, the 6'4″ 320 pound Hansen was unquestionably a main-event attraction (and champion) in top promotions throughout the United States and Puerto Rico. He became legendary during the early portion of his career as the man who legitimately broke "The Living Legend" Bruno Sammartino's neck, a unique "bragging right" that he carried throughout the entirety of his career. As one of the NWA's primary territorial attractions, Hansen was a main-event performer and champion in high-profile promotions across the country, most notably Georgia, Texas, Memphis, Mid-South, and Mid-Atlantic Wrestling. In 1985, Hansen forever placed his name in professional wrestling's history book when he became the AWA World Heavyweight champion, dominating Verne Gagne's still-strong (at that time) league while drawing the attention of wrestling fans and striking fear in the hearts of his opponents. Yet, despite all of his success in North America, the unpredictable, pulverizing scientific brawler undoubtedly made his biggest mark overseas in Japan. In the Land of the Rising Sun, Stan "The Lariat" Hansen became, arguably, the most successful "gaijin" (i.e. non-Japanese wrestler) in the history of professional wrestling in that country and he established himself as a legitimate legend in both the New Japan (Inoki) and All Japan (Baba) promotions.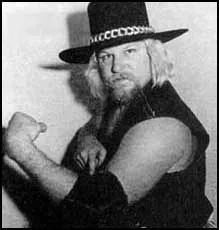 Although he was nicknamed "The Bad Man from Borger, Texas," John Stanley Hansen was actually born in Knox City, Texas on August 29, 1949. A standout in football for Las Cruces High School in New Mexico, Hansen attended West Texas State University and played linebacker throughout his entire collegiate career. Following graduation, Hansen was signed as a free agent with both the Baltimore Colts and the San Diego Chargers, while also enjoying a stint in the short-lived World Football League. A set of circumstances eventually resulted in the legendary Funk brothers training the youthful powerhouse for a career in professional wrestling and the rest, as they say, is history.
Stan Hansen began his career as a professional wrestler in 1973, competing in the Funk family's Amarillo promotion before moving on, in rapid succession, to Fritz Von Erich's Dallas and Leroy McGuirk's Tri-State territories. It was in McGuirk's Tri-State promotion that Hansen was reunited with fellow West Texas State alum Frank Goodish, who, at that time, had just recently broken into the wrestling business as "Bruiser" Frank Brody. Hansen's first championship victory came less than a year after his debut when he and Brody paired up to win the Tri-State United States Tag Team title in October of 1974. Together, the youthful duo of Hansen & Brody created a genuinely formidable team despite their lack of experience in the profession.
The brash, rugged young team managed to hold the Tri-State belts for over seven months before they were dethroned by the team of Danny Hodge & Jay Clayton. It was during this time period that Hansen also made his first trip overseas to Japan, where he made a very good first impression with both the Japanese fans and, more importantly, the promoters, namely Shohei "Giant" Baba. Yet, despite his impressive achievements for such a new performer, no title reign or successful international tour could compare to the lift Hansen's short career would receive in 1976 when he was brought to the World Wide Wrestling Federation by Vince McMahon, Sr. to serve as the latest monster heel for the reigning WWWF champion, "The Living Legend" Bruno Sammartino.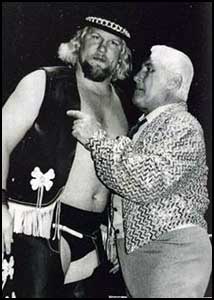 It was at New York's Madison Square Garden on April 26, 1976, during his legendary encounter with Bruno that Hansen, under the managerial tutelage of "Classy" Fred Blassie, gained the victory of a lifetime and joined a mere handful of wrestlers who can claim a win over Sammartino. The rough Texan not only defeated The Living Legend (via countout) in his home arena, he also gained worldwide notoriety by literally breaking the undefeatable champion's neck. In the storyline, the life-threatening injury was caused by Hansen's brutally stiff clothesline, known as The Lariat. In reality, it was a mis-performed bodyslam by the relatively inexperienced Hansen that crushed the vertebrae in Sammartino's neck. Fully understanding that the botched move had been an accident, Bruno carried no hard feelings towards the young man who had injured him so severely…at least away from the cameras. In front of the fans, however, Bruno slowly made his recovery and was eventually shown undergoing intense physical therapy, enduring great pain while focusing on a singular goal: to extract revenge on the man who had broken his neck.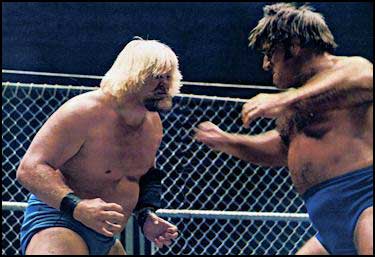 Nearly six months later, The Living Legend would do just that, inside of a steel cage, before some 30,000 fans at New York's Shea Stadium. Hansen was thoroughly manhandled during their return encounter, and after being battered & bloodied by the 'enraged' Sammartino, Hansen fled the ring in humiliating, unquestioned defeat. However, despite having been dominated so completely by Sammartino following his return, Hansen was still one of a select few to have defeated, not to mention injured, the mighty Sammartino, a fact that the big man (and various territorial-era TV announcers) never allowed wrestling fans to forget. Furthermore, his unique (at the time) finishing maneuver, The Lariat, suddenly acquired an aura of legitimacy and danger that was virtually unparalleled in the sport.
While there was no doubt that Hansen was one of the best young up-and-comers in the game at that time, his ring performance was greatly enhanced by the fact that the brawler seemed intent on developing his basic wrestling skills. While he would never have been confused with a technician such as Dory Funk, Jr. or Jack Brisco, it was still fairly obvious that there was more to Hansen's offense than traditional 'big man brawling.' Indeed, while Hansen was highly proficient at that style of mayhem, it was also not unusual to see the 300-pounder take to the air with a hard-hitting drop kick, or to catch an unsuspecting foe in a flying armdrag. When this nod to wrestling science was combined with Hansen's natural brawling ability and high impact style, as well as his overwhelming size (and the ever-present aura gained from his victory over Bruno) the result was soon obvious for Hansen, who suddenly found himself in demand by promoters from all over the world.
After impressing AJPW management and its fanbase during his first Japanese tour, Hansen returned to the Land of the Rising Sun later that same year. However, by virtue of his affiliation with Vince McMahon, Sr. and the WWWF at that time, the wild Texan ran roughshod through the rings of Antonio Inoki's New Japan Pro Wrestling. Whether he was battling top NJPW stars such as Inoki and Tatsumi Fujinami or posing a genuinely formidable challenge to Andre the Giant, the bulldozing young brawler quickly established himself as a main-event attraction in Japan, just as he had done in the United States. From 1977 through 1981, Hansen's Japanese stock was raised significantly during his increasingly frequent tours there, ultimately leading to him capturing the promotion's top prize, the National Wrestling Federation Heavyweight title. On February 8, 1980, Hansen cemented his lofty status in Japan when he became one of a very select group of men to have cleanly defeated Antonio Inoki, ending Inoki's five-year run as the NWF champion.
Following his legendary grudge match with Bruno at Shea Stadium, Hansen would leave the WWWF and return to travelling between various NWA territories, primarily in the South and Southeast. On May 2, 1977, in Tulsa, Oklahoma, Hansen defeated Dick Murdoch to win the Tri-State territory's premier title, the NWA North American Heavyweight championship. As was common among regional champions of the day, Hansen did not hold the North American belt for a considerable length of time, as he was defeated by perennial North American champion Bill Watts less than two months after gaining the championship. Still, as had been the case with his victory over Sammartino, Hansen's North American title win further added to his lofty stature in the eyes of wrestling fans. Hansen's next major career move came later in 1977, when he left the Tri-State/Mid-South territory and entered the red-hot ring wars of the NWA's Georgia promotion.
Almost immediately, Hansen's status as a main-event attraction was once again confirmed when he gained the area's top championship, the Georgia Heavyweight title, by defeating the beloved Mr. Wrestling II on November 16, 1977. Hansen and the legendary masked man engaged in a heated six-month feud, which saw "The Bad Man from Borger, Texas" lose his Georgia Heavyweight title back to Mr. Wrestling II on January 25, 1978, but then regain it two weeks later on February 6, 1978. From there, Hansen went on to maintain his tight grasp on the Georgia title belt for several more months before he was stripped of the championship on May 20, 1978, after attacking a referee following a wild bout with the popular masked man.
Soon after being stripped of the Georgia title, Hansen began taking bookings in the Tri-State/Mid South territory once again, regaining the NWA North American title by defeating a young Paul Orndorff in July of 1978. Meanwhile, back in Georgia, he captured the Tag Team championship with Ole Anderson after defeating Tommy Rich & Rick Martel on October 20, 1978. The wild, unpredictable big man certainly created his share of excitement (not to mention great matches) in Georgia, and, eventually, he gained the fans' admiration and cheers, even going so far as mending his differences with Georgia's top babyfaces, Mr. Wrestling II and "Wildfire" Tommy Rich, with whom he'd had many battles over the past year or so. The team of Hansen & Rich then captured the Georgia Tag Team title on July 2, 1979 when they defeated the formidable duo of Hansen's former teammate Ole Anderson and "The Russian Bear" Ivan Koloff. The highly popular team of Hansen & Rich gelled well together and they held the Georgia tag titles for nearly two months before being defeated by Anderson & Koloff.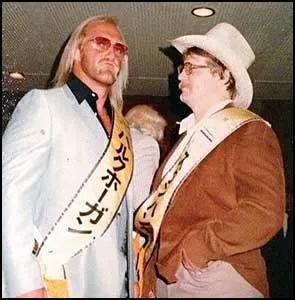 As the Eighties began, Stan Hansen continued splitting his time between Japan and the U.S. He eventually returned to the World Wrestling Federation in 1981, reuniting with former manager Freddie Blassie and rekindling his feud with Bruno Sammartino. He also engaged in a lengthy, intense feud with reigning WWF Heavyweight champion Bob Backlund that culminated in a bloody Steel Cage match at Madison Square Garden. Following his program with Backlund, Hansen formed a bulldozing tag team with fellow Blassie stablemate, "The Incredible" Hulk Hogan. While the massive duo did not have a run as WWF tag team champions, they turned many heads both in America and in New Japan, where they also teamed frequently.
After his second run with the WWF ended, Hansen made his way to Jim Crockett's Mid-Atlantic territory and, in addition to competing as a singles performer, he once again began teaming with Ole Anderson, with whom he'd won the Georgia Tag Team championship in 1978. On June 26, 1982, the rugged duo of Hansen & Anderson captured the NWA World Tag Team title by winning a tournament to crown new titleholders. Meanwhile, at the same time in Giant Baba's AJPW, Hansen was a primary component of numerous championship duos, teams that are still legendary years after his retirement.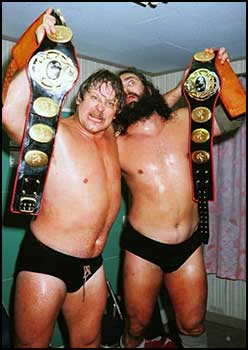 Hansen won All-Japan's version of the World Tag Team title on no less than eight occasions; three with Tenryu, two with Terry Gordy, and one run with Dan Spivey, Ted Dibiase and Gary Albright, respectively. Additionally, "The Lariat" captured the PWF Tag Team championship four different times, with partners such as Bruiser Brody, Ted Dibiase, and "The Universal Heartthrob" Austin Idol. In the years between 1983-1989, Hansen also won the prestigious All-Japan Pro Wrestling Real World Tag Team tournament four times, with partners Brody, Dibiase, Gordy and Tenryu.
When Stan Hansen made the unexpected jump from New Japan to All Japan in 1981, it sent shockwaves through the island nation and, ultimately, let to a professional partnership with Shohei Baba that lasted for nearly twenty years. During his lengthy, historic run in All-Japan Pro Wrestling, Stan "The Lariat" Hansen was a main-event, championship competitor like few others and, arguably, the most successful gaijin in the history of Japanese professional wrestling.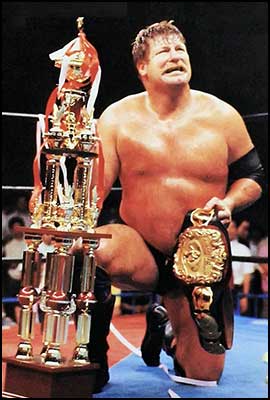 In addition to his four reigns as the PWF World Heavyweight champion between 1983-1987, he also captured the prestigious United National Heavyweight title as well as the International Heavyweight championship. As the reigning PWF and International champion, Hansen stepped into the ring on April 18, 1989, to face his AJPW archrival Jumbo Tsuruta, the United National champion, in a title unification match to determine the first-ever Triple Crown champion, a title that would go on to become what many fans during that era considered to be the true World championship. Hansen lost to Tsuruta that night, however, he would rebound and defeat former tag team partner Terry "Bam Bam" Gordy on June 8, 1990, to win his first Triple Crown championship. Along the way, Hansen, a dominant Triple Crown titleholder from 1990 through 1995, would defeat the formidable likes of Gordy, Mitsuharu Misawa, Jumbo Tsuruta, and Toshiaki Kawada to enjoy four different Triple Crown championships and forever etch his name into AJPW history. All total, Stan Hansen would enjoy 505 days as the AJPW Triple Crown champion.
Although he was an undeniable pro wrestling superstar everywhere he wrestled, by this point in his career, Stan Hansen was primarily a force in Japan. However, whenever he would takes dates in America, his success as a top-tier attraction followed. This was certainly the case in 1985, when Hansen agreed to enter Verne Gagne's American Wrestling Association.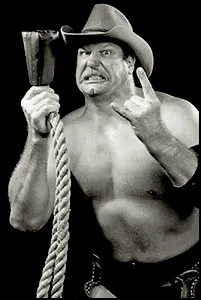 At the time, there was a full-scale wrestling war taking placing between the WWF and the NWA, with the once-mighty AWA doing its best to hold on to its ever-diminishing share of the pro wrestling marketplace. Acquiring a talent the likes of Stan Hansen was a major feather in its cap and a way for the no-frills AWA to further distinguish itself from its competitors. Just a few months after entering the promotion, Hansen met and defeated AWA World Heavyweight champion Rick Martel on December 29, 1985, in East Rutherford, New Jersey. "The Lariat" ended Martel's 595-day title reign not with his famous, devastating clothesline finisher but, rather, with a punishing Boston Crab.
The wild Texan then went on to dominate the promotion for the next six months, feuding with the former champion Martel, as well as top AWA stars like Crusher Blackwell, Curt Hennig, and Nick Bockwinkel. Hansen defended his championship not only in the AWA but also All-Japan, adding credibility to the title and providing some exciting, hard-hitting matches for the AWA's fanbase.
However, Hansen and AWA owner Gagne eventually began butting heads on the champion's creative direction, with Hansen feeling that Gagne's booking style was not fully taking advantage of his unique talents and drawing power at the box-office. By the Summer of 1986, the promoter and his champion had come to an impasse and on June 28, 1986, at a house show in Denver, Hansen was informed that he would be dropping the title that night to Nick Bockwinkel. Feeling that the match had not been given a proper build-up, particularly for one that would feature a title switch, Hansen had words with Gagne and then left the arena, with the championship belt still in his possession. Bockwinkel was then declared champion in front of the live crowd, while Hansen soon returned to Japan and continued "defending" the AWA belt on AJPW cards. Legal action was threatened, though, and Hansen eventually returned the title to Gagne…but not before famously running it over with his pickup truck several times. Years later, he remarked during an interview, with a sly grin on his face, "Well, you know, all I got to say about that is…the belt got a little beat up." He then added, "It was beat up before I got it, but it was beat up a little bit more when they got it back!"
From 1986-1990, Hansen wrestled exclusively for Baba, but, after a four-year absence the free-spirited Hansen finally returned to the United States, landing in WCW where he was immediately positioned at the top of the card. While maintaining a schedule in Japan at the same time, Hansen quickly made an impact in WCW by destroying several lower and mid-card wrestlers before engaging in a fairly lengthy feud with one of the promotion's biggest attractions, the reigning United States champion Lex Luger. On October 27, 1990, Hansen ended a record setting 523-day-long reign for "The Total Package" by defeating him in Chicago, Illinois during the semi-main event of Halloween Havoc. The highly physical Hansen-Luger feud then continued on, with Luger absorbing the lion's share of abuse, before the two met in a Bullrope Match at Starrcade '90: Collision Course. On December 16, 1990, Luger regained his U.S. title in St. Louis, Missouri, ending Hansen's reign after slightly less than two months.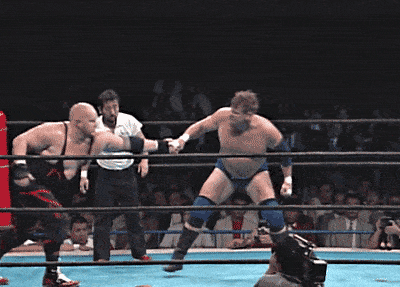 Following his run with Luger, Hansen wrestled several matches against Sting, as well as rekindling his ultra-violent series from All-Japan with Big Van Vader. On February 24, 1991, the two behemoths battled each other to a double-disqualification at the WrestleWar '91 pay-per-view, with both wrestlers throwing the referee out of the ring and then continuing their wild brawl. But, soon after his mini-feud with Vader ended, Hansen's lofty stature in the promotion began to steadily decline. Whether is was caused by his high-impact, punishing style of wrestling or perhaps his status as a part-time WCW employee due to his commitments in Japan, it was clearly noticeable that Hansen's place on the card was being diminished. When presented with the idea that he would become the leader of The Desperados, a mid-level comedy trio, Hansen decided that his run in WCW was over and he returned to AJPW full-time during the Summer of 1991.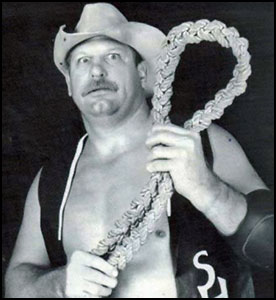 After leaving the United States and returning to Japan, Hansen would go on to spend the next ten years there and, ultimately, he ended his stellar career with All-Japan Pro Wrestling. But, as the Nineties ended, many dramatic changes swept over AJPW, not the least of which was the death of the promotion's founder Shohei "Giant" Baba on January 31, 1999, which was then followed by the retirement of Baba's premier American performer, Stan Hansen, two years later. Decades of rugged competition had finally begun to take their toll on Hansen, and, rather than diminish his accomplishments and legacy, the proud Texan — with nothing left to prove or accomplish — stepped away from active competition while he was still at the top of his game.
Hansen's final match as a singles competitor occurred on October 21, 2000, where he participated in a tournament to fill the vacant AJPW Triple Crown championship, losing in the semi-finals to former partner Genichiro Tenryu. Hansen's final match ever took place on October 28, 2000, when he took part in a six-man tag team match, partnering with Steve "Dr. Death" Williams and Wolf Hawkfield in a losing effort against Johnny Smith, Masanobu Fuchi & Yoshiaki Fujiwara. Three months later, on January 21, 2001, the legendary big man officially announced his retirement and ended his 28-year-long career in front of more than 30,000 fans at the joint AJPW/NJPW Giant Baba Memorial Spectacular.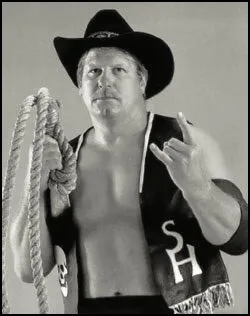 The readers of Pro Wrestling Illustrated voted Hansen's steel cage showdown at Shea Stadium against Bruno Sammartino as the Match of the Year and he also earned the Most Hated Wrestler Award, both in 1976. Meanwhile, Tokyo Sports honored him with its Popularity Award (1980), Best Foreigner Award (1982), Match of the Year Award (1982, 1988, 1992), Best Tag Team Award (1998, with Vader) and the Lifetime Achievement Award (2000). Stan "The Lariat" Hansen is also a member of the Professional Wrestling Hall of Fame and Museum (2010), the Wrestling Observer Newsletter Hall of Fame (1996), the WWE Hall of Fame (2016), and the George Tragos/Lou Thesz Professional Wrestling Hall of Fame (2017).