Bruno Sammartino is considered by many to be the overall greatest WWE champion in history, an opinion that is difficult to argue against. "The Living Legend" established the brand-new World Wide Wrestling Federation and gave credibility to Vince McMahon Sr.'s new heavyweight championship by building a fan base unlike anyone else until Hulk Hogan. During his first run as champion, the hugely popular Sammartino carried the WWWF title for 2,803 days, over seven and a half years, which is by far the longest continuous title reign in WWE history. Sammartino is also unquestionably the King of Madison Square Garden, WWE's longtime home arena. However, contrary to wrestling lore, he did not sell-out Madison Square Garden 187 times. In fact, over the course of twenty-six years, Sammartino "only" made 159 appearances at the World's Most Famous Arena. Furthermore, according to the best records available, "The Living Legend" had approximately 45 sell-outs of The Garden when wrestling in the main-event, either as a singles or tag team performer, an amazing accomplishment in itself and a feat that will likely never be matched by another WWE performer. During his two tenures as champion, Sammartino held the WWWF gold for over eleven years, 4,040 days in total, resulting in more WWE records that will almost surely never be broken.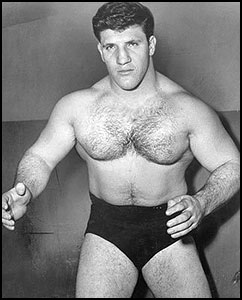 "The Italian Superman" was born in Abruzzi, Italy on October 6, 1935, and, after an extremely trying time just managing to stay alive during the second World War, he immigrated to the United States, relocating to Pittsburgh, PA., at the age of 15. Sammartino began his wrestling career in December of 1959 and, although he was not necessarily a proficient technical wrestler, he was nevertheless an instant hit with fans and promoters. The youthful 5'10" 270 lb. powerlifter amazed his audiences with his immense strength while impressing matchmakers with his undeniable box-office appeal. After less than four years as a pro, a 28 year-old Sammartino won his first World Wide Wrestling Federation Heavyweight championship on May 17, 1963 by defeating the legendary "Nature Boy" Buddy Rogers in front of a captivated Madison Square Garden crowd. After Sammartino had defeated the respected and talented Rogers, the young champion seemed to go on a personal crusade to establish the fledgling new WWWF title as a legitimate World championship. He met and defeated the absolute biggest and best of his era, including Rogers, Killer Kowalski, George "The Animal" Steele, "Classy" Fred Blassie, Haystacks Calhoun, Gorilla Monsoon, Crusher Verdu, Waldo Von Erich, "Cowboy" Bill Watts and countless others during his nearly eight-year run as WWWF champ. His popularity grew to new, unseen heights along the East Coast during this time, as Bruno was as popular and well-known in the Big Apple as any New York Yankee. Furthermore, the chant of "Bruuun-o! Bruuun-o!" could be heard in Boston, Philadelphia, Pittsburgh, Baltimore, and every other major city that comprised the WWWF territory. To Northeastern fans throughout the decade of the 1960s, Bruno Sammartino was the literal epitome of professional wrestling.
However, as with all things in life, his record-setting 2,803 days as WWWF champion came to an inevitable end on January 17, 1971 when he was defeated by the mighty "Russian Bear" Ivan Koloff, who used his devastating top-rope Knee Drop to get the pin over the man that nobody could beat. The 22,000 in attendance at Madison Square Garden were so shocked to see Bruno pinned, cleanly, that after the final count was made and Koloff became the new champ, there was a stunned, surreal echo of silence and disbelief throughout the normally raucous crowd. It was truly a one-of-a-kind occurrence, never again repeated in the annals of WWE history. Following the loss of his championship, Sammartino took a sabbatical from the WWWF and, during one of his few non-WWWF ventures, he travelled to the Midwest and won the World Wrestling Association (WWA) World Tag Team title with Dick The Bruiser on July7, 1973. The duo, nicknamed "Annihilation Inc.," defeated Ernie "The Big Cat" Ladd and Baron Von Raschke for the tag title and held onto the belts for nearly six months before being defeated by The Valiant Brothers.
Bruno returned to the Northeast and eventually met his successor, Pedro Morales, in the first-ever WWWF "babyface vs. babyface" championship encounter. The matchup, featuring the promotion's two most popular wrestlers, took place on September 30, 1972 and drew over 22,500 spectators to Shea Stadium, going to a grueling 65-minute draw. Morales subsequently lost the WWWF title to Stan Stasiak on December 1, 1973, but Stasiak only held the title for nine days before Sammartino defeated him on December 10, 1973. This was the beginning of Bruno's four year long, record-setting second WWWF title reign. Bruno is quoted as saying that the competition during his second reign was even tougher than the first, and one look at the men he defeated during these years will tell you why…Ken Patera, "Superstar" Billy Graham, Ivan Koloff, Bruiser Brody, Ernie Ladd, Tor Kamata, Spiros Arion, Nicolai Volkoff, Pampero Firpo, Baron Von Raschke, "Big, Bad" Bobby Duncum, Mr. Fuji, Prof. Toru Tanaka, Ox Baker, and many more all went down in defeat when matched against the powerful champion.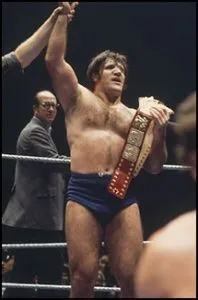 One wrestler who ended up giving Bruno quite a bit of trouble, one of his few defeats, and a legitimate broken neck to boot, was the wildman from West Texas State, Stan "The Lariat" Hansen. On April 26, 1976 Hansen not only defeated "The Living Legend" (via blood-stoppage) but actually delivered a clothesline with such force that it fractured Bruno's vertebrae, breaking his neck. In reality, it was a botched body slam, not Hansen's infamous Lariat, that broke Sammartino's neck. But, the injury was nevertheless legitimate and devastating. The time away from the ring was long for Bruno's fans, but not for Sammartino, as a mere two months after his injury took place, he was back in the ring at Vince McMahon, Sr.'s somewhat desperate request. McMahon had Shea Stadium booked for the closed-circuit Muhammad Ali vs. Antonio Inoki match and the advance ticket sales were underwhelming. The WWWF stood to lose a great deal of money unless something big happened to boost ticket sales. That "something" was a Sammartino vs. Hansen rematch, and the WWWF owner desperately needed for the bout to happen in order to make the event a success. Against the wishes of his doctors and family, Sammartino agreed and the match took place on June 25, 1976, drawing over 32,000 fans, the largest crowd to attend a card promoted by Vince McMahon, Sr. up to that point. To the delight of his legion of loyal fans, Bruno bloodied and battered "The Bad Man from Borger, Texas." so badly that a crimson-masked Hansen eventually fled the ring in fear, disgrace and defeat.
Bruno's next great challenge came in the 6'4″, 275 pound, massively muscled frame of "Superstar" Billy Graham. After several prior attempts, the colorful and flamboyant "Superstar" Graham finally ended Bruno's second reign, as a bloody Graham defeated Sammartino on April 30, 1977 in Baltimore, Maryland. The match ended in controversy, with Graham using the ropes illegally to gain the victory and the WWWF title. However, despite being cheated out of the championship, Bruno was never able to pin Graham's massive shoulders to the mat and win back his title during any of their many rematches. Bruno's career as the World Champion was finally over, this time forever. His career as one of wrestling's top performers, however, was far from being ended.
In January of 1980, Larry Zbyszko turned violently on his former mentor during a televised "friendly" wrestling exhibition. The result was an epic feud that lasted for month after brutal month (and made the WWF a small fortune as the new decade began) that finally concluded when Bruno defeated Zbyszko inside of a steel cage in front of over 36,000 fans, again at Shea Stadium. A few years later, even with his age rapidly advancing and Vince McMahon, Jr's "new" WWF ascending to unimagined heights, Bruno worked a few tag team matches with his son David and engaged in violent feuds with Roddy Piper, Randy Savage, and Adrian Adonis, with "The Living Legend" coming out the victor in them all. Those mid-1980s feuds turned out to be Bruno's swan song and, in 1987, Sammartino retired from the ring for good. He still maintained a high-profile presence within the World Wrestling Federation, though, and alongside Vince McMahon and Jesse Ventura, Sammartino did color commentary on syndicated WWF programming. But, after a bitter series of professional and philosophical differences with WWF owner Vince McMahon, Bruno, with over twenty-five years of WWF tenure under his belt dating back to the literal beginning of the company, quit the Federation in 1988. After a few post-retirement dabblings in pro wrestling, namely working for Herb Abrams' UWF and also WCW, Bruno left the sport altogether.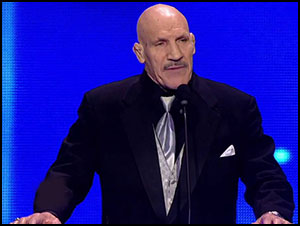 After leaving the WWF, Sammartino was very critical of Vince McMahon and the World Wrestling Federation, particularly during the company's infamous steroid and sex scandals of the early-mid Nineties. The former champion, now an outspoken critic of the WWF, appeared on several high-profile television programs, including the Phil Donahue Show, Entertainment Tonight, Larry King Live, A Current Affair and Inside Edition, vociferously denouncing the company he helped build. A few years later, during the WWF's controversial "Attitude Era," Sammartino's disdain for his former employer continued, sighting the promotion's use of vulgarity and exploitation of women while still simultaneously catering to a fanbase made largely of children. However, as the WWF became the publicly-traded WWE, Sammartino's strong anti-WWE stance softened, due primarily to the promotion's new, more family-friendly product and the tireless efforts of Paul Leveque to bring the former champion back into the WWE "family." Eventually, Leveque was successful and on April 6, 2013, at Madison Square Garden, Bruno Sammartino accepted his long overdue induction into the WWE Hall of Fame.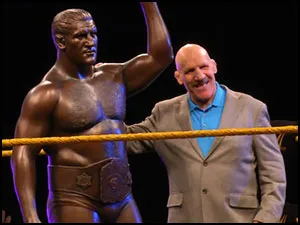 In addition to his induction into the WWE Hall of Fame, Sammartino is also a member of the Wrestling Observer Newsletter Hall of Fame (1996), the Professional Wrestling Hall of Fame & Museum (2002) and the International Wrestling Institute & Museum's George Tragos/Lou Thesz Professional Wrestling Hall of Fame (2019).
Following multiple organ failure due to heart complications, "The Living Legend" Bruno Sammartino passed away on April 18, 2018, at the age of 82. After his passing, Pittsburgh Mayor Bill Peduto called Sammartino "one of the greatest ambassadors the city of Pittsburgh ever had."