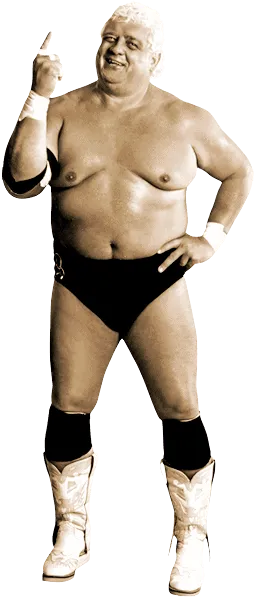 Dusty Rhodes is without a doubt one of the most charismatic, entertaining, and famous wrestlers of all time. During his 1970s and early-1980s prime, he was second only to Andre The Giant (and some would argue that Andre was second only to Dusty Rhodes) in terms of world wide fame and fan support. Dusty was arguably the most popular wrestler in the sport from the mid-1970s through the mid-1980s, consistently drawing exceptionally large crowds wherever he wrestled, be it the NWA (and later, WCW), the WWWF, the AWA, Japan, or anywhere else the nomadic grappler roamed during his four decades as a wrestler. There was something different about the fast talking, down-to-earth "son of a plumber" that endeared him to wrestling fans everywhere and his non-stop traveling between promotions helped him become one of the top five drawing cards in the entire sport during his years in the ring. Additionally, outside of the ring, he proved himself to be a unique and influential booker on several occasions in the NWA/WCW and, later, he was a creative force in TNA and during the early years of WWE's NXT.
Virgil Riley Runnels, Jr. was born on October 12, 1945, in Austin, Texas. Upon his graduation from high school, where he excelled in both baseball and football, Runnels first attended Sul Ross State University, followed by Tarleton State University and he eventually finished his education at West Texas State University. After leaving West Texas State, he briefly pursued a career as a professional football player, practicing with AFL franchises such as the Boston Patriots and New York Giants before landing a spot on the Continental Football League's Hartford Charter Oaks. But, as fate would have it, an inspired serious of circumstances soon led him away from football and into a career as a professional wrestler.
After receiving his formal training by Joe Blanchard, he made his pro wrestling debut in 1967 and, following a short run in San Antonio, Runnels travelled to his first real territory, Kansas City, home of Central States Wrestling. It was in Central States that Runnels (now using the ring name Dusty Rhodes) first met the man he would go on to achieve great success (and a lifelong friendship) with Dick Murdoch. Although they were both still technically rookies in the sport, Rhodes and Murdoch, The Texas Outlaws, became immediate stars for Central States, winning the promotion's tag team championship on November 7, 1968. Five weeks later, on December 13, 1968, Rhodes added an even more prestigious belt to his collection when he captured the Central States Heavyweight title in St. Joseph, Missouri.
Having conquered the Central States territory, by late 1969 The Outlaws had moved on to Verne Gagne's neighboring American Wrestling Association, where the brash young rule breaking duo once again quickly rose to the top. In the AWA, The Texas Outlaws most notably engaged in a lengthy, bloody and, ultimately, highly profitable feud with the region's premier tag team, The Bruiser & The Crusher. Against the legendary barroom brawlers, The Outlaws did not fare particularly well in terms of wins/losses. However, more importantly, throughout major AWA strongholds such as Minneapolis, Milwaukee, Denver and, of course, Chicago, the Bruiser & Crusher vs. The Outlaws matches drew capacity crowds whenever their brutal encounters took place. But, as they say, all good things must come to an end…
After several years as one of pro wrestling's most successful tag team attractions, Rhodes made the reluctant but inevitable decision to dissolve his partnership with Murdoch, although certainly not their friendship, which remained intact despite the end of the Texas Outlaws. As a solo performer, he continued to travel from territory to territory and found success wherever he roamed. On March 21, 1971, he defeated "Cowboy" Bill Watts in Shreveport, Louisiana to capture the prestigious North American Heavyweight championship and later, on November 15, 1972, Rhodes won the Hawaiian version of the North American title by defeating Sam Steamboat in Honolulu. His next major stop was the NWA's red-hot Florida territory, where, under the tutelage of CWF owner Eddie Graham, Rhodes underwent a wrestling education that would change the trajectory of his career forever. Graham was universally respected by his peers as being the best finish man in the business and an innovative, forward-looking promoter who truly saw the big picture when it came to his territory. Away from the fans and TV cameras, Graham took Rhodes under his wing, teaching his young pupil concepts, philosophies and promotional strategies that would help Rhodes to eventually become one of professional wrestling's most successful creative forces. Eddie Graham was also the key factor in perhaps the most fundamentally important event in Rhodes' entire career; turning babyface.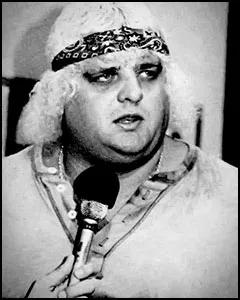 Prior to entering the Florida territory, Dusty Rhodes had intentionally positioned himself to be the object of fans' hatred during the entirety of his short career. And, after arriving in Florida, his heelish persona remained, as Rhodes aligned himself with the devious Gary Hart and was matched against the area's most popular "good guys." However, Graham saw that, even as a villain, Rhodes was making a genuine connection with the Florida fanbase and decided that the time was right to make a change in his character. Thus, in May of 1974, at the Fort Homer Hesterly armory in Tampa, Florida during a tag team match that pitted Rhodes and the Korean giant Pak Song against Eddie Graham and his young son Mike, "The American Dream" was born. After being inadvertently chopped down by his own partner, Rhodes retaliated against the reviled Hart and Pak Song, to the surprised delight of those in attendance. In the weeks to come, with respected TV announcer Gordon Solie serving as a conduit between Rhodes and the viewing audience, his fabled story of rising from humble beginnings as the "son of a plumber" to wrestling riches was a tale that immediately appealed to the fans. When combined with his abundant natural charisma and exemplary speaking ability, Rhodes' newfound admiration spread like wildfire across the Sunshine State, taking him to levels of popularity never before experienced by a wrestler in the prestigious territory.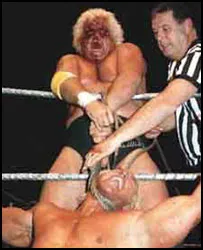 With Florida serving as his primary base of operations, "Stardust" went on to become one of wrestling's most-traveled competitors. Indeed, for most of 1977 and into 1978, Dusty Rhodes was ranked in the Top 10 of the National Wrestling Alliance, the American Wrestling Association, and the World Wide Wrestling Federation simultaneously. It truly was a different time and climate in the sport and "The American Dream" was on top of the world, receiving high-profile title matches against Harley Race (NWA), Billy Graham (WWWF) and Nick Bockwinkel (AWA) all in the same year. Meanwhile, back "home" in Florida, he would go on to rule the territory like no one before or since, amassing a championship resume unrivaled in the state, including no less than ten reigns as the Florida Heavyweight champion, seven as the Southern Heavyweight titleholder, as well as four runs with the Florida Tag Team championship and two as Florida TV champion. However, despite his unparalleled success within the territory, Rhodes craved "the big one," the NWA World Heavyweight championship. And, while it did takes him quite some time to achieve his goal, when he finally did, it was in Florida with the backing of Eddie Graham.
Rhodes' first NWA World title reign was a true heartbreaker. After three years of wrestling Harley Race all across the country and losing each time due to count-outs, disqualifications, and "cheating" by the rugged titleholder, on August 21, 1979, in Tampa, Florida, Dusty Rhodes finally became NWA World champion. The victory sent shockwaves throughout the wrestling world, but Dusty's long-awaited reign was not to be. After making three successful title defenses (a rematch with Race, plus defenses against Terry Funk and Don Muraco) Rhodes was set to engage in another rematch with former champion Harley Race on August 26, 1979. But, before the match could start, a crazed Terry Funk stormed the ring and, in one of his many famous sneak attacks, Funk "broke" Dusty's arm with a knee drop from the top rope. A disgusted Race nailed Funk with a right to the jaw and even offered to reschedule the match, however, Dusty refused, ostensibly not wanting to disappoint the fans in attendance. However, disappointed they were when the "injured" Rhodes went on to lose the NWA championship back to Race that summer night in Orlando, ending Dusty's first World title reign after just five days.
At the time he was setting the Florida territory afire, Rhodes was also doing the same thing one state north, in Georgia. Along with Tommy Rich and Mr. Wrestling II, Dusty Rhodes was one of the early stars on TBS, entertaining a nationwide audience on cable TV's first "superstation" and drawing sold-out crowds in arenas across the Peachtree State. His legendary, long-running feud with Ole Anderson in Georgia was one of the most nuanced and complex series of any era, lasting for over two years, with multiple layers of detailed storyline development involved. It was also in Georgia where Rhodes would capture his second World title when he again defeated Race for the NWA championship on June 21, 1981, at The Omni in Atlanta, Georgia. This time around, the NWA championship committee allowed Rhodes to carry the ten pounds of gold, at least for a time. As NWA World champion, Rhodes defended his championship in the Florida, Georgia, Central States, St. Louis and Mid Atlantic territories, putting his title on the line against top challengers each night as the travelling World champion. However, after being "injured" by The Assassins in Florida the night before, Dusty entered a Kansas City ring on September 17, 1981, to face the young and talented "Nature Boy" Ric Flair, who overwhelmed the vulnerable champion and defeated Rhodes for the World title.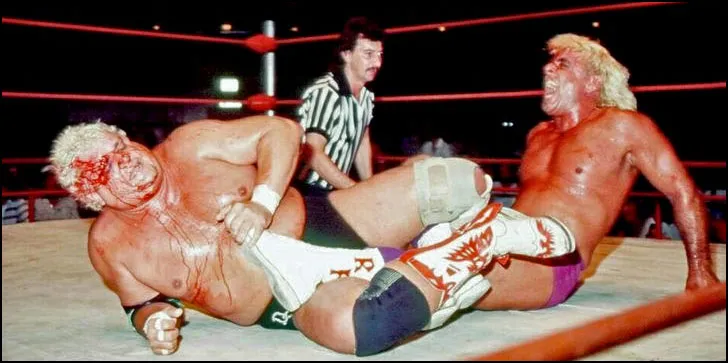 After losing the NWA championship, Rhodes continued to travel the nation while maintaining Florida, where he was the promotion's booker, as his base of operations. Feuding primarily with Kevin Sullivan, the territory continued to prosper under Rhodes' leadership, however, by 1983 a series of circumstances led Rhodes to rethink his status in Florida. After receiving an offer from Jim Crockett to relocate to Charlotte and take over the booking duties for the Mid Atlantic territory, Rhodes made the decision to leave Eddie Graham and the Florida promotion. While not an easy thing to do, in retrospect, it was the right decision to make and with Dusty Rhodes at the helm, Mid Atlantic wrestling experienced a notable increase in business and product quality. As Crocket's group acquired timeslots on TBS and transformed Mid Atlantic into the NWA, Rhodes was leading the charge, assembling a talent roster on par with Vince McMahon's WWF, developing the gritty, reality-based style of the NWA and creating a genuine alternative for wrestling fans of the day. In addition to creating Starrcade, Rhodes was the force behind unique NWA events such as the Great American Bash tour and the Bunkhouse Stampede series, as well as popular pay-per-views like Halloween Havoc, Superbrawl and others.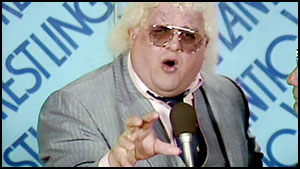 Although he was later accused of pushing himself at the expense of others, there is no doubt that Rhodes was one of the top three performers in wrestling at the time, an attraction who had millions of fans and drew large crowds at both live events and on television. His championship resume during this time period speaks for itself, as "The American Dream" captured one Mid Atlantic TV title, a National Heavyweight championship, two World Six-Man Tag Team titles, a U.S. Heavyweight title, and three World TV championships while competing in Crocket's promotion. Additionally, Rhodes was able to even the score from a few years prior when, on July 25, 1986, he defeated Ric Flair for the NWA World championship in Greensboro, North Carolina, marking his third reign as the NWA kingpin. But Flair, and the constant interference of his Four Horsemen, would prove to be too much for Dusty. Less than a month later, "The Nature Boy" regained his title on August 7, 1986.
Following the sale of Jim Crockett Promotions to Turner Broadcasting in 1988, Rhodes was relieved of his duties as head booker and soon left his home of the previous five years. With co-owners Mike Graham and Gordon Solie, Rhodes then opened the Florida-based Professional Wrestling Federation and hoped to rekindle the territorial success of Championship Wrestling from Florida. Despite securing television coverage that featured himself as well as up-and-coming stars such as his debuting son Dustin, the Big Steel Man (Typhoon), Scott Hall and Dallas Page, the timing just wasn't right and the P.W.F. never really caught on in Florida, going out of business after just a year of promoting cards.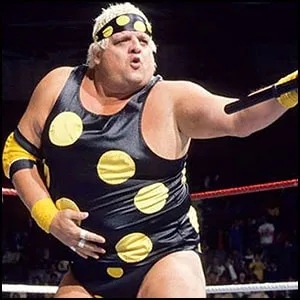 After the closure of the PWF, Rhodes soon ended up in the World Wrestling Federation. Upon his entry into the Federation, several vignettes ran on WWF programming that introduced Dusty Rhodes to its audience. These video segments highlighted the "common man" aspects of Rhodes' persona and despite the somewhat embarrassing "Plumber Man," "Pizza Man," and "Potty Man" vignettes, Rhodes, as always, made the best of the situation. While some insiders felt that the segments were designed to humiliate the former NWA icon, the exact opposite took place and Rhodes remained as popular with WWF fans as he had been with his legion of NWA supporters. Whether entering the ring in polka dot outfits or with his elderly African-American valet Sapphire, it seemed that each of the passive/aggressive obstacles that the WWF placed in front of him were simply embraced by Rhodes and turned to his advantage. Indeed, the ovations he received from WWF audiences were nearly as loud, if not louder, than those usually reserved for Hulk Hogan. No matter where he went, fans loved the entertaining blue-collar hero and Dusty became one of the WWF's biggest attractions. His feud with the "Macho King" Randy Savage was a major program for the WWF, as was his series against Ted Dibiase. "The Million Dollar Man," representing the complete antithesis of "The American Dream," was Rhodes' primary antagonist during his WWF tenure, "buying" his valet Sapphire and bloodying his talented young son Dustin during the course of their lengthy feud.
Once his year-long run with the World Wrestling Federation came to an end, Rhodes (along with Dustin) returned "home" to WCW. Initially, Rhodes' resumed his former role as booker, made occasional appearances as an in-ring performer, and served as a color commentator on WCW broadcasts. After an eight-year run with WCW, during which time the Atlanta-based group overtook the WWF as the top wrestling promotion, Dusty eventually parted ways with his longtime employer in the fall of '99. Not long after his departure from WCW, Rhodes made news once again when he unexpectedly showed up in ECW and became involved in an entertaining feud with the "King of Old School" Steve Corino.
At the dawn of the 21st century, in the aftermath of both ECW and WCW shutting down, Rhodes once again tried his hand at promoting when he opened Turnbuckle Championship Wrestling. TCW featured several well-known former WCW and ECW performers along with up-and-coming young independent stars and held cards throughout the southeastern portion of the United States, primarily in Florida, Tennessee and Georgia. The upstart promotion did reasonably well, but without the security of a major well-funded backer, TCW, much like the PWF a decade earlier, fought a very tough uphill battle and its doors were eventually closed after less than three years. Following the demise of TCW, Rhodes struck a deal with Total Nonstop Action in 2003 and joined the promotion as both an on-air talent and its creative director. While in TNA, he was involved in several major storylines against the likes of Jeff Jarrett, A.J. Styles and the Sports Entertainment Xtreme faction. But, after two years with the promotion, Rhodes was asked by TNA President Dixie Carter to step down as head booker and join a creative committee, which he refused, instead choosing to sit out for the remainder of his contract.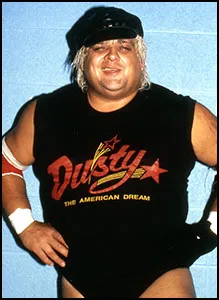 Following his tenure in TNA, Rhodes returned to WWE, signing a "Legends" contract in September of 2005. Soon, he was assigned to the promotion's creative team as a consultant and made occasional storyline appearances on WWE programming. In 2006, the promotion released a career retrospective entitled "The American Dream: The Dusty Rhodes Story" and the dvd proved to be very successful, ranking as one of the best selling video releases of the year. Finally, in the summer of 2007, a 61 year old Rhodes was involved in his last WWE storyline series when he faced "The Legend Killer" Randy Orton. Engaging in Rhodes' specialty bout, a Texas Bullrope match, "The Dream" was defeated by his brash young foe at that year's Great American Bash pay-per-view. Three years later, Dusty Rhodes wrestled the final match of his career on July 9, 2010, some 43 years after his pro debut, when he teamed with sons Dustin and Cody at a Florida Championship Wrestling event, defeating the team of Curt Hawkins, Trent Barreta and Caylen Croft. Away from the cameras, Rhodes was heavily involved with WWE's developmental program, at various times serving as NXT's creative director and the lead writer for the weekly NXT television show, as well as an instructor at the newly-created WWE Performance Center training facility. In August of 2015, NXT introduced the Dusty Rhodes Tag Team Classic, a popular annual tournament posthumously named in honor of Rhodes.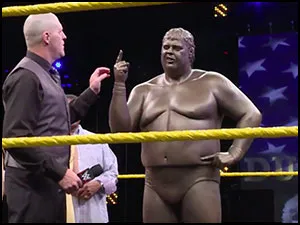 Dusty Rhodes is a member of the WCW Hall of Fame (1995), the Wrestling Observer Newsletter Hall of Fame (1996), the WWE Hall of Fame (2007), the Professional Wrestling Hall of Fame (2010), the NWA Hall of Fame (2011), and the International Wrestling Institute & Museum's George Tragos/Lou Thesz Professional Wrestling Hall of Fame (2017).
On June 11, 2015, Virgil "Dusty Rhodes" Runnels passed away due to kidney failure at the age of 69.