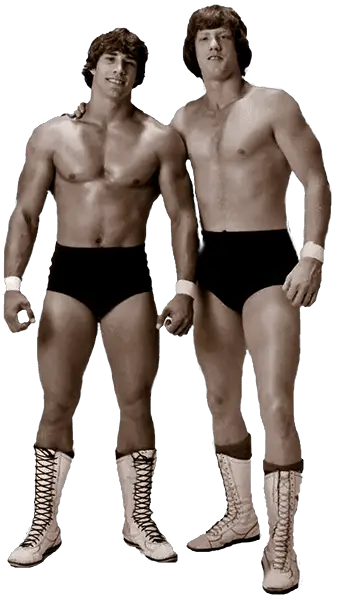 There have been many wrestling families, both real and fictional, who have entertained fans throughout professional wrestling's long history. From fabricated wrestling clans such as the Grahams, the Andersons, and the Valiant Brothers, to genuine wrestling dynasties such as the Funks, the Briscos, the Harts, and the Samoan Anoai family (among many others), the love of pro wrestling often just seems to be passed on from generation to generation in the blood of its combatants. But one family above all others transcended the sport and placed their wrestling family into a category all their own. The Adkissons, better known as pro wrestling's Von Erich family, were blessed with popularity and success that was virtually unparalleled in wrestling history. The young, good looking and athletic "home-grown" superstar brothers, along with their rugged and legendary father, experienced fan adoration and hysteria not unlike what The Beatles elicited when they first arrived on the shores of America. Everyone in Texas, and eventually the entire country, had heard of the famous Von Erich name, and they were without a doubt Texas' "favorite sons." However, a dark shadow loomed over the young warriors, an opponent that could not be defeated, and one after the other, five of six brothers would follow each other from the wrestling ring to their own premature graves.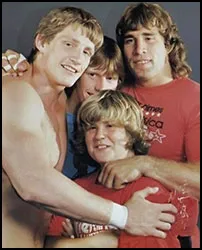 It started innocently enough. Jack Adkisson, following a standout football career at SMU and stint in Canadian pro football, entered the pro wrestling ranks in the mid-1950's after being trained by Stu Hart. Although he was a respectable, normal family man outside the ring, inside of it he was Fritz Von Erich, a Nazi sympathiser, German Bulldozer, hated villain, and master of the "Iron" Claw. Known by other wrestlers as being especially stiff and heavy-handed inside the ring, Fritz Von Erich was a brawler who relentlessly tore into his opponents. His first few years in the sport were lean, but happy, for Adkisson. He had a lovely young wife, two young sons (Jack, Jr. and Kevin), and a promising career. In 1958 we teamed with fellow "Nazi" Hans Herman and won the NWA  World Tag Team title (Minneapolis version). He also won the Texas Brass Knuckles title during the same year.
But in 1959, a tragedy occurred that Adkisson later admitted he never truly recovered from occurred, when his oldest son, Jack, Jr., who had not yet reached his 7th birthday, passed away due to a freak accident. The loss of his firstborn son understandably devastated Jack Adkisson, but even so, Fritz Von Erich had to keep on wrestling. Adkisson later admitted that he took much of his pain and frustration out on his opponents inside the ring during that dark time in his life. Although his personal life was at a depressing new low, his ring career at this time was skyrocketing and he wore the NWA U.S. Heavyweight (Detroit) championship three times between 1961-1966, the World Heavyweight (Omaha) title and the AWA World Heavyweight title in both in 1963, and the NWA Texas Heavyweight title three times between 1965-1967, among many other championship accolades. Simply stated, Fritz Von Erich was one of the most hated and in-demand  wrestlers in the sport. Later in his career, he would turn that hate around and become one of Texas' most beloved and respected veteran grapplers. However, for the first 15 years of his career, Fritz Von Erich was among wrestling's most despised and feared villains.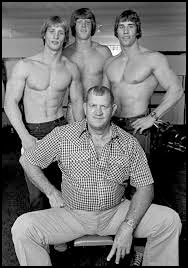 After Jack Jr.'s tragic death, Adkisson's family life slowly healed with the additions of David, Kerry, Mike, and young Chris. In fact, when Fritz moved his family to a ranch outside of Dallas and began promoting as well as competing, Jack Adkisson had it all — a wonderful family, a beautiful home, a ranch on many acres of land, and a very successful career that provided a high standard of living for his family. Life could not have been better and his athletic young sons all followed their father into the world of professional wrestling, with the Von Erich aura growing as each young superstar entered the business.
Kevin Von Erich was the first Adkisson boy to turn pro. High flying, handsome, athletic and very talented, he entered the sport in 1976 and quickly became one of the sports' brightest young stars, defeating men with years more experience. Kevin would go on to win the American Heavyweight title, the American Tag Team title, the NWA Missouri Heavyweight title, the NWA World Tag Team title, and the All-Asian Tag Team title all within his first five years in the sport. True, Kevin had an advantage over new wrestlers, growing up with Fritz, a former National Wrestling Alliance President and top promoter, as his father. Still, Kevin's natural talent and daredevil style was obvious from the beginning and it helped carry him to staggering heights of success within months of his debut.
David Von Erich soon followed, and the two exciting brothers quickly captured their first title together, the NWA Texas Tag Team title in 1978 and the NWA American Tag Team title later that same year. David, who resembled father Fritz the most, also won the Texas Heavyweight title during his rookie year in 1978 and would go on to win the prestigious regional championship a total of six times. He would also capture premier titles such as the NWA Southern Heavyweight title, the North American Tag Team title (as a heel, w/Dory Funk, Jr.), the Florida TV title, the Missouri Heavyweight championship and many others in the next few years. Nicknamed "The Yellow Rose Of Texas," the 6`5 David Von Erich was a natural, perhaps even better than Kevin, and many had him pegged as a future NWA World champion.
The combination of youth and experience possessed by Fritz, Kevin and David was a box-office sensation the likes of which the state of Texas had never seen. But, to the delight of wrestling fans everywhere (a large portion of which were teenage females) there were more Von Erichs to come.
"The Modern Day Warrior" Kerry Von Erich was next, and his addition to the Von Erichs truly solidified them as an unstoppable juggernaut of youth, strength and talent. Kerry, with the body of Hercules and the charisma of a rock star, set the wrestling world afire after he made his debut in 1979. Like his two brothers, Kerry Von Erich was a the wrestling equivalent of a supernova and a champion almost immediately upon entry into the sport. His instant success was not due to special favors or nepotism, Kerry was just obviously a natural born wrestling champion.
The trio of young and talented brothers, led by their legendary father, became the biggest wrestling stars the state of Texas had ever known, with that fame eventually spreading across the nation and then, due to a ground-breaking television syndication package, the world. Their feuds with Harley Race, Ric Flair, Ken Patera, Dick Murdoch, Bruiser Brody, and especially The Fabulous Freebirds drew record crowds and ratings for the NWA's World Class Championship Wrestling. No doubt about it, when it came to the wrestling business, and making money within it, the Von Erichs were about as good as you could get. But, tragedy and death was about to stun the wrestling world and turn the Adkisson family's world upside down, again.
While in Japan preparing for a tour of the Orient, David Adkisson was found dead in his Tokyo hotel room on February 10, 1984. Officially, David Von Erich died at the age of 27 of intestinal complications, but many reported at the time that drugs were the actual cause of his death. Whatever the true cause was, the outpouring of grief and sadness at the news of his death was nevertheless overwhelming and covered in newspapers worldwide. David Von Erich's funeral procession trailed nearly five miles, and literally tens of thousands mourned the young, fallen warrior. In 1984, WCCW's Parade Of Champions, a card dedicated in David's memory, drew over 32,000 fans to Texas Stadium, and the enormous crowd literally shook the rafters as they exploded with cheers when "The Modern Day Warrior" Kerry Von Erich defeated World champion "Nature Boy" Ric Flair to win was had been David's dream in pro wrestling, the NWA World Heavyweight title belt. It was the culmination of a uniquely dramatic and tragic wrestling saga and one of the most emotional moments in the history of the sport.
Mike Von Erich was the next Adkisson son to choose a career in wrestling, and he made his debut in 1983. Although a popular and talented champion, after a few years in the sport, Mike (and many fans) felt he had not been able to fill the void left by David's death, nor had he lived up to the lofty standards set by his brothers before him. It's not hard to imagine the pressure Mike must've been under, and simply by virtue of their incredible talent and natural ability, the three preceding Von Erichs were a very, very tough act to follow. Additionally, Mike was not nearly as large or athletic as the previous Von Erich superstars. In the ring and behind the mic, his inexperience and lack of confidence was obvious, sometimes painfully. But he continued to work hard to improve, and slowly but surely Mike got better. However, in 1987, he was unexpectedly rushed to the hospital, as his temperature had risen to deadly levels due to a case of Toxic Shock Syndrome. At death's door, he was ultimately able to pull through, although the affliction took a serious toll, both physically and mentally. Once again, the WCCW cameras were there to capture the drama of another real-life Von Erich tragedy, something that many later pointed to as evidence of the true cause of the Von Erich's troubles. After a frighteningly close brush with death and a brave, hard-fought recovery, Mike Von Erich returned to the ring and tried to resume his wrestling career. However, his comeback was far from successful, at least in terms of in-ring progress. Meanwhile, away from the tv cameras, Mike Von Erich faced a number of personal and legal problems and in April of 1987, a despondent Mike Adkisson climbed inside of a sleeping bag and took his own life with an overdose of prescription drugs. Once again, the Adkisson family, and the world of wrestling, was left in a state of shock and sadness.
Chris Adkisson, the youngest brother, had been born with asthma, and his growth was stunted as a child. At just 5'5, he was a warrior at heart, but simply could not cut it in the ring, especially during the 1980s when larger-than-life behemoths ruled the sport. Texas wrestling, after all, had always been the home of some of some of the biggest, baddest, matmen pro wrestling has ever known. All Chris Adkisson, an undersized young man born into a family of mighty ring warriors, ever wanted in life was to carry on his family legacy as Chris Von Erich, champion pro wrestler. But after a few angles working with the Freebirds and Gen. Scandar Akbar, it became obvious that pro wrestling — a literal "Land of the Giants" — was not going to be a career option for him. Deep down, Chris Adkisson knew that painful but undeniable truth. Seeing no future for himself in wrestling, missing his brothers (Chris had been particularly close to Mike), and probably feeling he had, in some way, let down his family, Chris Adkisson, 21, also took his own life on September 12, 1991.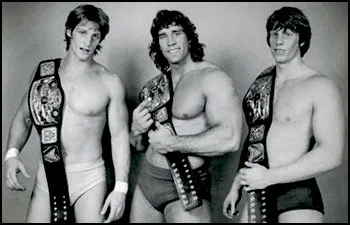 Yet, shockingly, unbelievably, there was still more tragedy in store for the Adkisson family, and as a result, pro wrestling. On February 18, 1993 Kerry Adkison, former NWA World Heavyweight, WWF Intercontinental, and WCWA. World champion, and unquestionably one of the elite names in the sport, shot and killed himself at a quiet spot on the family ranch. Kerry was reportedly despondent at the fact he was facing mandatory jail time after having been convicted for drug possession and forging prescriptions while on probation. Kerry, who had been battling a longtime addiction to painkillers and cocaine, had reportedly become disillusioned with living his life on the road. It has been said that he, understandably, resented missing out on seeing his young daughters grow up, and that in addition to his legal problems, he had also just seen his marriage fall apart shortly prior to his suicide. It was no secret that away from the cameras, Kerry was a loose cannon and lived life on the edge.
But for his fans, the news of his death sent yet another round of shock, sadness, and disbelief throughout the wrestling world, and all but destroyed what was left of the Adkisson family.
Soon after Kerry's death, Jack Adkisson's wife of over forty years left him, reportedly blaming him personally for the death of five of her six sons. Even before Kerry's death in 1993, Kevin Adkisson, aka Kevin Von Erich, had walked away from wrestling completely, choosing a lifestyle that allowed him to spend his time at home with his wife and four children. On September 9, 1997 Jack Adkisson aka Fritz Von Erich, 68, one of pro wrestling's most successful performers, promoters, and businessmen, died in his home with his son Kevin by his side after lung cancer had spread to his brain.
In 2009, the Von Erich family, Fritz, Kevin, David, Mike, and Chris, were inducted into the WWE Hall of Fame.