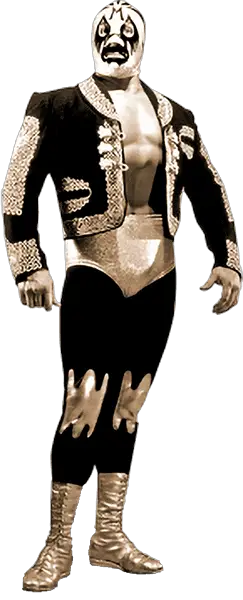 "If it weren't for Mil Mascaras, there would be no Jushin Liger, no Ultimo Dragon, or the Great Sasuke today…" was what Satoru Sayama, the original Tiger Mask, is quoted as saying when asked about the revolutionary luchador Mil Mascaras. Sayama, as the legendary Tiger Mask, inspired the likes of Liger, Dragon, Sasuke and numerous others to become high-flying masked pro wrestlers, yet, Sayama himself was inspired as a youth by the colorful and inventive "Man of 1,000 Masks." For anyone who was lucky enough to see Mascaras wrestle, whether on TV or in person, it was hard to look at the sport the same way again as his unique style and superhero-esque persona was unlike any other wrestler competing at the time. In many ways, particularly during the decade of the Seventies, Mil Mascaras genuinely helped revolutionize the sport.
Mil Mascaras was born Aaron Rodriguez on July 15, 1942 in San Luis Potosi, Mexico. Like millions of other Central and South American children during the Fifties, he grew up idolizing El Santo and when he entered the sport in 1964, Rodriguez was determined to emulate his hero's mystique and aura of excitement in the ring. As far as pure innovation goes, it can be argued, as the man who popularized moves such as the suicide dive, the plancha, and made the flying bodypress a work of art, that Mascaras actually surpassed his childhood idol.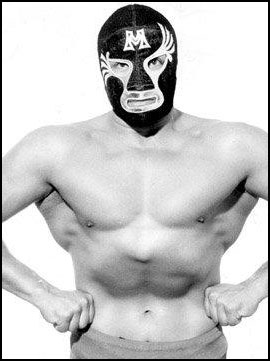 Initially, he competed as Ricardo Duran but, a year or so after his pro debut, Rodriguez took on the colorful persona of Mil Mascaras. His first title came on June 12, 1967 when he won the Mexican National Light Heavyweight title. He lost the championship several months later, but he again won the title in 1968. "The Man of 1,000 Masks" also wore All Japan's P.W.F. championship, the NWA Americas Heavyweight title four times, the NWA American tag team championship and the World Class Wrestling Association World tag team title, among others. And, although they were not considered to be "true" World championships by fans of the day, Mascaras was a multi-time World Heavyweight champion, in the IWA, the WWA and the A.L.L.L. (Guatemala).
These championships won over the years, as well as his frequent trips through the NWA, AWA, and WWWF, helped Mascaras establish himself as an elite superstar and a tremendous drawing card for many promoters. When he made his Japanese debut in 1971, Mascaras became incredibly popular overseas as well and his wildly successful, precedent-setting Japanese tours were a consistent and unqualified success. Furthermore, literally everywhere he wrestled around the globe, he inspired young athletes to become high-flying wrestling superstars, diverse and exciting performers such as the aforementioned Tiger Mask, as well as Jimmy Snuka, Sweet Brown Sugar, The Great Muta, Rey Mysterio Jr., and Prince Puma to name just a few. Along the way, he engaged in numerous main-event feuds with the likes of "Superstar" Billy Graham, Ernie Ladd, Harley Race, Ken Patera, Ivan Koloff, Nick Bockwinkel, The Destroyer, Freddie Blassie, the Funk brothers and dozens of other all-time wrestling greats. And, while his villainous opponents frequently cheated as often as possible against the high-flying luchador, the sophisticated and refined Mascaras, who was known for being one of the best-conditioned and athletic wrestlers in the sport, seemingly never lost his cool or resorted to "rule breaking."
Although he was loved and respected by millions of wrestling fans worldwide, those feelings were not always shared by many of his co-workers in the dressing room. In a business full of egos, Mascaras was reputed to have one of the biggest and due to his penchant for refusing to lose cleanly in matches, even against reigning champions, as well as a noticeable lack of selling for his opponents, he was not always the most popular man amongst his peers. Still, despite these things, no one could fault Mascaras' immense pride in his family, which is one of the most impressive in the history of the profession. His brothers, Dos Caras and Sicodélico, were both major stars around the world and followed in their older brother's colorful masked tradition. Additionally, his nephews El Hijo de Dos Caras, Hijo de Sicodelico, Sicodelico Jr. and, of course, former WWE champion Alberto Del Rio, were all top performers and box-office attractions in the following generation.
Aside from being a world-famous wrestler, Mascaras, like Santo before him, was also a huge movie star in his native Mexico. Between 1966-2015, he filmed some twenty successful wrestling action movies during a lengthy motion picture career, including the genre's top-grossing film of all time, 1970's "Las Momias de Guanajuato" (The Mummies of Guanajuato). In 1968, Mascaras co-starred with renowned U.S. film star John Carradine in two films, "Las Vampiras" (The Vampire Girls) and "Enigma de Muerte" (Enigma of Death). He was also able to co-star with his idol El Santo as well as the legendary Blue Demon in several of his films, such as "Misterio en las Bermudas" (Mystery in Bermuda), "Los Campeones Justicieros" (The Champions of Justice) and "Vuelven los Campeones Justicieros" (The Champions of Justice Return). His final film appearance was in 2015's "Aztec Revenge."
Although he never officially retired from the ring, Mil Mascaras wrestled his last match in Japan in 2011, teaming with Dos Caras and Tiger Mask (Sayama) to defeat CIMA, Último Guerrero and Tiger Mask IV. The masked legend's 49-year-career spanned through no less than six separate decades and he competed, albeit on a limited basis, into his late-sixties.
Mil Mascaras received Tokyo Sports magazine's Match of the Year Award (1977, vs. Jumbo Tsuruta), and was honored by the Cauliflower Alley Club (2006). Additionally, he is a member of the Wrestling Observer Newsletter Hall of Fame (1996), NWA Hall of Fame (2009), Professional Wrestling Hall of Fame and Museum (2010), WWE Hall of Fame (2012), and the International Professional Wrestling Hall of Fame (2021).