World Wide Wrestling Federation/Capitol Wrestling Corporation (a.k.a. "New York")
OWNERS/PROMOTERS:
Vincent J. McMahon (1952-1982)
Joseph "Toots" Mondt (1957-1969)
Phil Zacko (1969-1982)
Robert Morella (1969-1982)
Arnold Skaaland (1969-1982)
Vincent K. McMahon (1982 – Present)
STATES & PRIMARY CITIES:
New York (New York City, Buffalo)
Pennsylvania (Pittsburgh, Philadelphia, Allentown, Hershey)
Maryland (Baltimore, Landover)
Ohio (Cleveland)
District of Columbia (Washington)
MAJOR CHAMPIONSHIPS:
WWWF World Heavyweight title (1963-Present)
WWWF Tag Team titles (1971-Current)
WWWF Inter-Continental title (1979-Present)
PROMOTIONAL HISTORY:
The seeds of the Northeastern territory were planted when Jess McMahon and Toots Mondt purchased the rights to television and arena shows in the Washington, DC territory through their Capitol Wrestling Corporation. When Vincent Kennedy McMahon joined the venture, he began making connections up and down the eastern seaboard. Vince began bringing in talent from other regions and featured them on shows in DC. More importantly, he began producing compelling television broadcasts, focusing on his premier talent. This benefitted him when his television broadcasts (originating from the Dumont Broadcasting Corporation's local Washington, DC station, WTTG) were seen by the owners of WABD, an independent station owned by DuMon in New York City. As WABD's New York based broadcasts were considered stale and lifeless, WABD entered an agreement to broadcast McMahon's live shows from the Capitol Arena on Thursday nights beginning on June 21, 1956. He was able to put together working agreements with promoters in the New York and New Jersey region and the added television exposure allowed him to book his red hot wrestlers in that area. Because Mondt was limited in the amount of work that he was doing on a day to day business, McMahon brought in Johnny Doyle from Los Angeles to take over many of Toot's duties. The group continued to expand with Doyle's help, but he left within a year, leaving McMahon and Mondt as the 50/50 owners of the Capitol Wrestling Corporation in Washington, DC.
As the company began putting more and more of its efforts into spreading across the region, they incorporated another company, also called the Capitol Wrestling Corporation, in New York on March 10, 1961. Antonino Rocca had been one of Capitol's top stars throughout its earliest years, but the group now put its fortunes in the hands of "The Nature Boy" Buddy Rogers. Rogers was neither the athlete that Rocca was, nor a technician on the level of Lou Thesz. But he was a great worker and a premier draw, a heel able to antagonize crowds wherever he wrestled. By most accounts, Rogers was considered the top performer in the business and McMahon pushed him as the man who should next carry the National Wrestling Alliance World Heavyweight title. Others agreed and Rogers was given a title shot against the NWA champion Pat O'Connor in front of 38,622 fans in Chicago, Illinois on June 30, 1961. Rogers was victorious and as he walked away with the title belt from the ring that evening, McMahon and Mondt began their plan to turn him into their cash cow.
The NWA champion was always considered to be the top draw in the country and promoters from across the United States were clamouring for Rogers' visits to their territory, to drive revenues and to legitimize their wrestlers as top stars. Instead, McMahon and Mondt booked him mostly in the cities that they controlled. While hosting the NWA champion helped to sell out arenas from Maine to Virginia (bringing in huge revenues for Capitol), the other NWA members were obviously not happy with McMahon monopolizing the champion's dates. A cry arose for the belt to be taken off of Rogers and Lou Thesz was brought back to recapture the belt. With Thesz threatening to do things the hard way or the easy way, Rogers had no choice but to drop the belt and he did so in a one fall match in Toronto, Ontario, Canada on January 24, 1963.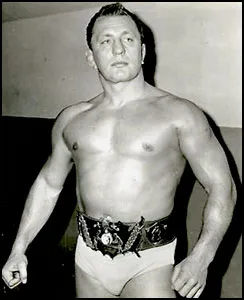 McMahon and Mondt disputed Rogers' loss, arguing that the title could only change in a two out of three falls match. Nevertheless, with the title off of Rogers, Vince felt that he had little need for the NWA and announcer Ray Morgan explained that Capitol had withdrawn from the NWA on the April 11, 1963 broadcast of Capitol's television show. A week later, he also announced that Capitol had established the World Wide Wrestling Federation as its governing body and that Buddy Rogers had won a tournament in Rio De Janeiro, Brazil over Rocca and had been crowned as the inaugural WWWF champion. Challenging the NWA was a very risky proposition, but McMahon was confident that Rogers could still outdraw Thesz. Not unexpectedly, though, McMahon and Mondt began butting heads with Rogers and had to seek an alternative plan for the promotion, especially when Buddy began suffering from significant health issues.
Rogers suffered an apparent heart attack and was not considered healthy enough to carry the company's fortunes on his back. The decision was made to bring in the Pittsburgh-based rising star Bruno Sammartino to meet him for the belt. Sammartino grabbed him in a bearhug and forced Rogers to submit in only 47 seconds to become the new WWWF title holder. For the next eight years the WWWF would hitch its wagon to the Italian strongman and he would pull them forward to a financial bonanza. In the late 1960s, the company had relocated its headquarters to New York city and was operating out of the Edison Hotel.
By 1971, Sammartino was tired from the grind and wanted to drop the belt. At the same time, McMahon felt pressure from growing regional competition, the fiercest coming from promoter Tony Santos in Boston. As such, Vince reached out to his old friends in the NWA. He mended fences by rejoining the Alliance and got their help in taking over Boston. Soon thereafter he pushed his way into Philadelphia, Pittsburgh, Buffalo and Cleveland and ran these cities in addition to New York City, Baltimore and Washington D.C. Within four years, the WWWF was running the biggest cities in the region and had welcomed back Sammartino to the fold as its champion. The promotion also held house shows at smaller venues near these big towns, taping television shows as a way of building up the appearances at the larger arenas.
McMahon's son, Vincent Kennedy McMahon (Vince Jr.), was hired to do the in ring announcing in 1969 for some of the WWWF shows. Vince Jr. and his wife Linda were assigned to run a small territory in Maine in 1971 and with the elder McMahon seeing a great deal of promise in his son, Vince Jr. began gaining more responsibilities, including replacing Ray Morgan as the play-by-play announcer in 1971 (he would continue on in this capacity for the next 26 years). He helped his father in increasing the WWF syndication of its television shows by 300% and convinced his father to rename the promotion as the World Wrestling Federation in 1979.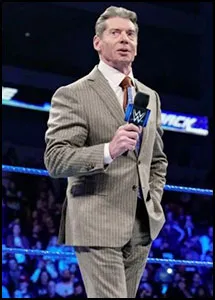 By now, Vince, Jr. had plans of his own for the promotion. He and Linda incorporated their own company, Titan Sports, in 1980, and in 1982 purchased the assets of Capitol Sports (the subsequent name of CWC). While the actual date of the purchase is unknown, it is generally accepted that the agreement for the sale took place on June 6, 1982. The purchase by Vince, Jr. and Linda, was from Vince, Sr., and his partners Gorilla Monsoon, Arnold Skaaland and Phil Zacko. The terms of the deal were for a total of $1.64 million, paid in monthly payments, but if Titan missed even a single payment, ownership of the company would revert back to Vince, Sr. and his partners, and they would keep whatever money had already changed hands. Vince Jr. and Linda took out various loans from banks and other promoters to make the deal happen.
What Vince, Sr. did not know was that his son planned to expand the company's reach beyond the Northeastern region and instead would become a national promotion. In a 1991 interview with Sports Illustrated, Vince Jr., admitted "Had my father known what I was going to do… he never would have sold his stock to me." Vince Jr. first accomplished this by buying out, taking over or creating new television deals with broadcasters in regions across the country and began having WWF content broadcast on these shows. He then began raiding talent from promotions across the country, using the wrestlers on television in their local markets to attract loyal fans (this included Hulk Hogan, Jesse Ventura, Bobby Heenan, "Mean" Gene Okerlund, Roddy Piper, Greg Valentine, Ricky Steamboat and the Junkyard Dog). He often made offers to the regional promoters to fold their promotions into his for a payout, or threatened to simply run them over. Despite the economic risks that it posed to him, McMahon was successful in driving most of the promoters who had worked under the NWA umbrella, as well as Verne Gagne's American Wrestler Association, out of business within a few years. At the annual meeting of the NWA in 1983, the McMahons and former Capitol employee Jim Barnett all withdrew from the organization. With only Crockett Promotions around to offer any competition, McMahon soon ran blockbuster national pay per view and closed circuit shows and got the WWF into syndication in almost every market across the United States. This not only destroyed the regional territorial system that had existed for more than 100 years, it also ended the Northeastern territorial boundaries as well.