Professional wrestling has had many brawling foreigners, but perhaps none as influential and successful as the mighty "Russian Bear" Ivan Koloff. One of the greatest heel personas of the territorial years, he was known throughout his lengthy career as being one of the toughest, best-conditioned wrestlers of his era and his endurance inside the ring was legendary, as was his bone-crushing power. The character he portrayed, that of a bald-headed, goateed Russian juggernaut, was the role model for numerous "Russian" wrestlers that came after him and his wrestling persona was emulated many times over. A veteran of virtually every promotion one can think of, the well-travelled Koloff was unquestionably one of wrestling's elite attractions for over thirty years.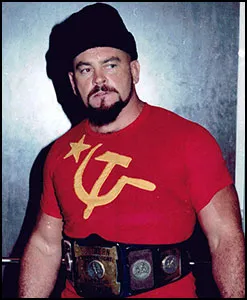 Ivan Koloff was born Oreal Perris on August 25, 1942 in Montreal and he began his career in 1961 after being trained by former British Empire champion Jake Wentworth. Wrestling as Red McNulty, he travelled throughout Canada for several years, enjoying a fair amount of mid-card success in cities such as Toronto and Calgary. However, it was when he adopted the role of a Russian that his career truly skyrocketed, Debuting his new persona in 1967 during the height of the Cold War era, the 5'11" 290 lb. Ivan Koloff incited untapped anger from his audiences and he immediately shot straight to the top of the wrestling world. After spending two very successful years in Montreal's IWA promotion, Koloff travelled to the World Wide Wrestling Federation in 1970 and, with Lou Albano serving as his manager, began a legendary feud with reigning WWWF champion Bruno Sammartino.
When Koloff defeated Sammartino on January 18, 1971 — without any cheating tactics or outside interference — the shocked Madison Square Garden crowd famously fell silent with disbelief. The beloved "Living Legend," who hadn't lost in nearly 10 years, had just been pinned, cleanly, by the despised communist behemoth and the 22,000 in attendance literally could not believe their eyes. Of the hundreds of men who had tried to dethrone him over Sammartino's eight year reign, only "The Russian Bear" Ivan Koloff could get the job done. However, Koloff's victory, impressive and historic as it was, would be short-lived. Three weeks later, on February 8, 1971, the same M.S.G. crowd that had been so silent when Koloff defeated Sammartino erupted in an overwhelming roar as Pedro Morales upended the hated Russian for the WWWF championship.
Whether he was wrestling Morales, Sammartino or Bob Backlund, Ivan Koloff would never be able to regain his WWE title, however, he still had dozens of entries to add to his championship resume. In addition to his WWWF Heavyweight title, Koloff won the WWC (Puerto Rico) Heavyweight championship, the Canadian Heavyweight title, the Mid-Atlantic championship, the IWA International Heavyweight title and WWA World Heavyweight championship. As far as the tag team division went, Koloff was equally, if not more, successful and he captured no less than five NWA World Tag Team championships. He also won the prestigious Georgia tag team title twice (with partners Ole Anderson and Alexis Smirnoff), the Florida tag title (with Mr. Saito), the International tag belts (with Mad Dog Vachon) and two NWA World Six-Man championships.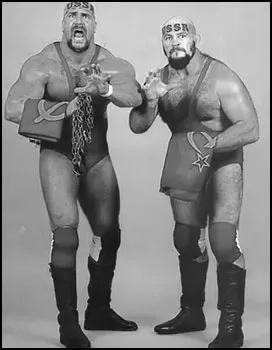 No doubt about it, the massive Russian was a true winner and one of the greatest of his era. Koloff's bitter, bloody, main-event feuds with Sammartino, Backlund, Ric Flair, Andre the Giant, Dusty Rhodes, Verne Gagne, Mil Mascaras, Jack Brisco, Jimmy Valiant, Dick The Bruiser and countless other top stars were legendary for their intensity, violence and box-office success. It's been said that imitation is the sincerest form of flattery and, as the original "bald, bearded Russian powerhouse," Ivan Koloff certainly had numerous imitators over the years, including Krusher Kruschev, Nikoli Volkoff, Alexis Smirnoff, Soldat Ustinov, Vladimir Petrov and, of course, his "nephew" Nikita Koloff.
Following his retirement in 1994, Koloff, who was always a student of the game, opened a wrestling school so that he could pass on his thirty-five years worth of experience and knowledge to the next generation. Perras became a born again Christian in 1995 and he used his time away from the ring to become an ordained minister. Speaking at churches, schools and youth groups, Koloff talked openly about his many years of abusing drugs and alcohol, as well as how his new faith helped him overcome his personal demons. He also penned two books, Is That Wrestling Fake? The Bear Facts and its successor, Life in the Trenches. Eventually, he would return to the ring on a limited, part-time basis during the 2000s before finally wrestling his final match against "Bullet" Bob Armstrong, which Koloff lost, on November 16, 2013 in Rome, Georgia.
In 2009, Ivan Koloff was presented with the Frank Gotch Award by the International Wrestling Institute, a huge honor, as well as the Cauliflower Alley Club's Iron Mike Mazurki Award in 2013. He was also inducted into the Professional Wrestling Hall of Fame & Museum (2011) and the Wrestling Observer Newsletter Hall of Fame (2015).
A victim of liver cancer, Oreal "Ivan Koloff" Perras passed away on February 18, 2017 at the age of 74.