Young and talented, Jack Brisco was one of the most popular and successful NWA World Heavyweight champions of all time.  The Oklahoma native gained fame and respect (along with dozens of titles) throughout the wrestling world due to his hard working attitude, professionalism, and most importantly, a vast knowledge of wrestling holds and maneuvers.  The fans loved him for his youthful good looks, sportsmanlike approach and his overwhelming skill inside the ring.  Promoters liked him due to his ability to draw big crowds and because of his professionalism both in and out of the ring.  Other wrestlers liked working with Brisco because, quite simply, he was one of the best wrestlers in the business and just didn't have many bad matches, making even the clumsiest of wrestlers appear to be far more talented than they really were.
Jack Brisco was born Freddie Joe Brisco on September 21, 1941, in Seminole, Oklahoma, and was raised in the neighboring town of Blackwell. After competing as an amateur in high school, he attended Oklahoma State University, where he became a two-time Big Eight conference titleholder and a two-time NCAA wrestling champion in the 191 lb. weight class. After dominating on the national collegiate level, he was trained by Leroy McGuirk and followed his childhood idols Lou Thesz and Danny Hodge into the ranks of professional wrestling, making his pro debut in 1965. Although he initially began his career by competing in preliminary bouts, Brisco soon began to rise up the pecking order, established himself as a true up-and-comer. Before long, he was not only winning matches, but also championship gold. Among the dozens of titles he would go on to capture throughout his career were four NWA Southern championships, five Florida Heavyweight titles, two Missouri State championships, and five Mid-Atlantic titles. However, Brisco is best remembered for winning one championship in particular.. twice.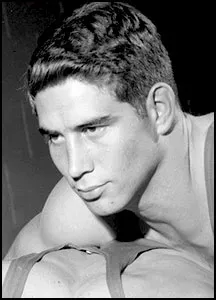 His first NWA World Heavyweight wrestling title came when he defeated Harley Race in Houston, Texas on July 20, 1973.  Once word had spread throughout the many territories of the NWA that Brisco had won the world title, the young, athletic and very popular champion found himself in huge demand all across the country, as well as overseas.  In particular, his legendary rivalry with Dory Funk, Jr. was considered the premier feud in wrestling at the time and the two battled each other in promotions across the globe.  But after defending the title for over a year and a half, Brisco eventually lost to the Japanese superstar Shohei "Giant" Baba on December 2, 1974 in Kogoshima, Japan.  He didn't have to wait long to become champion again, though, as Brisco defeated Baba in a rematch one week later on December 9, 1974 in Toyohashi, Japan.
Brisco's second World Title reign turned out to be just as successful as the first and he traveled to the many NWA regions, defeating the top challengers from each promotion for over a year.  But the grind of constant travel began to take its toll and he, like every other great titleholder, would eventually go down in defeat in order for a new champion to be crowned.  Brisco's last day as NWA World champion came on December 10, 1975 when he was defeated by Terry Funk in Miami, Florida  He would rebound, though, winning numerous regional titles, many of which were among the most prestigious of the day.  Additionally, following his run as World champion, he formed a highly successful tag team with his brother Jerry, who was also a collegiate champion.  The Brisco Brothers, despite their comparative lack of size, were among the winningest teams of the era.  Their combination of exceptional wrestling skill and extensive knowledge of the sport proved to be very successful and their style was perfectly suited for the traditional southern NWA territories in which they primarily competed.  The duo went on to become one of the best-known teams in the world, and they won nearly 20 tag team championships together.  Meanwhile, Jack and Jerry's family feud with Dory and Terry Funk was one of wrestling's most heated, bitter, and longest-running rivalries ever.  For nearly ten years, the evenly matched teams battled for supremacy and family pride all across the globe, with no clear-cut winner of the multi-year feud.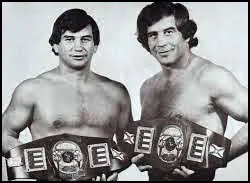 But as the 1980's rolled in, things slowly began to change for the Brisco Brothers team.  After more than a decade as two of wrestling's cleanest "good guys," the Briscos shockingly, unexpectedly turned on their fans and Mid Atlantic wrestling allies.  Insulting their once adoring supporters and using every "short-cut" they could while facing the region's most beloved fan favorites, The Brisco Brothers became perhaps the most hated team in the NWA and their many battles over the World Tag Team title with the incredibly popular duo of Rick Steamboat and Jay Youngblood solidified the fans' hatred for the turncoat Oklahomans.
Shortly thereafter, the Briscos, who were longtime NWA loyalists both in front of the camera and behind the scenes, shocked many when they cut ties with the National Wrestling Alliance, sold their promotional interest in the Georgia promotion to Vince McMahon (which allowed McMahon to take over the NWA timeslot on TBS) and jumped to the World Wrestling Federation.  As part of the WWF roster, they had some mid-card tag team success but never received the kind of main-event treatment they had enjoyed in the NWA for so many years.  Babyfaces once again, their rather plain, gimmick-less (and steroid-free) personas didn't mix well with the WWF's more cartoonish image at that time and, despite their impressive technical skills, they were not a big hit with the WWF's younger, less traditional fans.  After spending a year or so in the WWF, Jack Brisco abruptly, and permanently, retired from pro wrestling in 1985.  Meanwhile, his brother Jerry stayed with the WWF, working in a number of different positions for decades to come.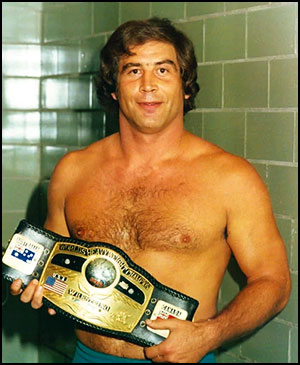 The two-time NWA World champion returned to Florida, where he owned (along with Gerald) a very successful auto body shop.  Having retired before he burned-out, many fans remember Jack Brisco as one of the sport's greatest natural grapplers, a career-long winner, who ranked among the elite champions of the sport.  Hold for hold, Brisco had virtually no equal during his prime and he has been cited many times by co-workers as perhaps the best pure wrestler of his era.
Jack Brisco was voted the Most Popular Wrestler of the Year (1972), Wrestler of the Year (1973), and Match of the Year (1974, vs. Dory Funk, Jr.) by the readers of Pro Wrestling Illustrated, and received the publication's Stanley Weston Award in 2017. Brisco is also a member of the Wrestling Observer Newsletter Hall of Fame (1996), the George Tragos/Lou Thesz Professional Wrestling Hall of Fame (2001), the St. Louis Wrestling Hall of Fame (2008), and the WWE Hall of Fame (2008).
Following complications from heart surgery, Jack Brisco died on February 1, 2010 at the age of 68.
---