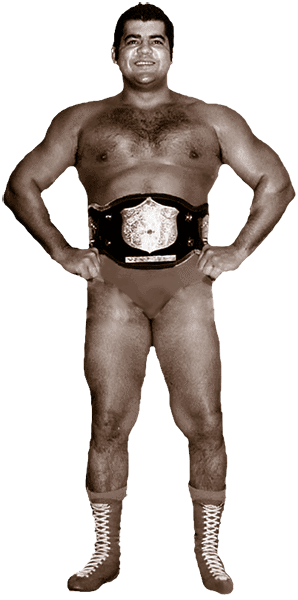 Of the numerous Latino pro wrestlers who have competed in North America over the past one hundred years, Pedro Morales is, arguably, the most famous and successful of them all.  As a beloved multi-time World champion, a career-long babyface and consistent main event performer for over two decades, Morales was a role model to millions.  A man with ample "cross-over appeal," Morales was a hero not only to his fellow Latin Americans, but to all of pro wrestling's vast North American fanbase.  A top box office draw throughout the 1960s, 1970s, and into the 1980s, Pedro Morales was one of the most in-demand performers of his era, a consistent champion and, ultimately, a genuine pro wrestling legend.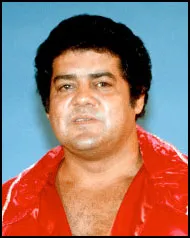 Pedro Antonio Morales was born on October 22, 1942 in Culebra, Puerto Rico and moved to the United States at the age of twelve.  Living in New York City, Morales began wrestling as an amateur soon after coming to America and continued competing while in high school.  Morales began his professional wrestling career in 1959 at the young age of just seventeen, winning his debut match against Buddy Gilbert.  Soon, he began competing in Mid-Atlantic states such as North Carolina and Virginia, where he gained a great deal of experience as well as quite a few victories.  The burgeoning Latino star then moved on to the rings of Texas, enjoying more success there before returning to the east coast as a solid young mid-card performer.
In 1965, Morales began working mainly on the west coast, primarily in Los Angeles, as part of the World Wrestling Associates.  During his stay in L.A., Morales left an indelible mark on the territory, and proved to many onlooking NWA promoters that he had what it took to be a top star. The 5′ 11″, 240 lbs. Latino sensation made his first big waves when he captured the prestigious WWA World Heavyweight title from The Destroyer in L.A. on March 12, 1965.  The popular young champion held the title for four months before being defeated by a member of one of wrestling's greatest "families," the unpredictable "Crazy" Luke Graham.  Morales rallied to win his title back from Graham, though, less than three months later.  Although he was still relatively inexperienced compared to the many veterans he wrestled against, Morales was more than able to keep up with his more seasoned competition.  He defeated top-level challengers such as Fred Blassie, John Tolos, The Destroyer, and many other Los Angeles-area legends until finally being toppled by Buddy Austin on August 5, 1966.  Following his run as the WWA World champion, Morales concentrated on the WWA Tag Team gold, again with enormous success.  Between 1966-68, he wore the WWA tag team belt four times, with four different partners; Luis Hernandez, Mark Lewin, Victor Rivera, and Ricky Romero.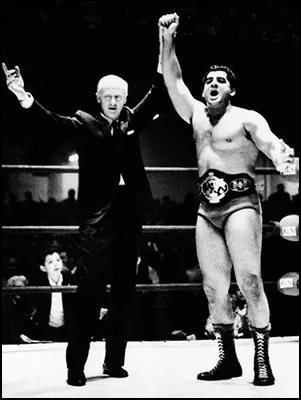 But, with the new decade of the 1970s came new challenges for Morales.  Having dominated the WWA, Morales took an offer to work for Vince McMahon's World Wide Wrestling Federation and moved back to the east coast.  Once there, Morales immediately established himself as a serious contender for Bruno Sammartino's unshakable position as the WWWF's top babyface.  When "The Russian Bear" Ivan Koloff shocked the world by defeating the "unbeatable" Sammartino, Morales' fate was sealed.  On February 8, 1971, less than three months after entering the promotion, Pedro Morales defeated Koloff for the WWWF championship and history was once again made inside the hallowed halls of New York's Madison Square Garden.  As the WWWF champion, Morales was respected and very popular, regularly setting attendance records at MSG and amassing a huge fanbase, particularly among New York's large Puerto Rican community.  But, as popular and successful as he was as champion, he could never totally escape the long shadow of the former kingpin, Bruno Sammartino.  Fans had been clamoring for a Bruno-Pedro bout since the day Morales entered the promotion, but various circumstances (primarily McMahon's reluctance to feature a babyface vs. babyface encounter) kept the dream match from happening.  Finally, though, on September 30, 1972, the two Kings of the WWWF met head-on at Shea Stadium before over 20,000 rabid spectators.  That night, the fans in attendance endured poor weather but received their "Match of the Century," a grueling, hard fought hour-plus time limit draw.
Pedro Morales held his WWWF Heavyweight title for nearly three years before finally being defeated by The Grand Wizard's latest protégé, Stan "The Man" Stasiak on December 1, 1973.  Stasiak, in turn, soon lost the title to Sammartino and in the year following his loss of the championship, the former champion Morales remained a top attraction.  But, early in 1975, Morales left the WWWF and began competing for Roy Shires' San Francisco promotion.  His winning ways continued, and on October 29, 1975, Morales teamed with Pat Patterson to defeat The Invaders and capture the NWA World Tag Team championship.  During this time period, Morales also engaged in singles feuds with Don Muraco, Mr. Saito and other top singles performers.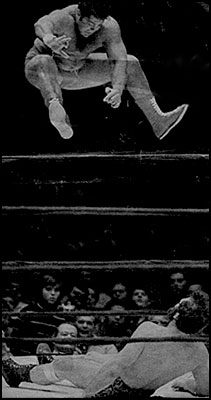 After a year of wrestling in northern California, Morales then moved on to his newest destination, Verne Gagne's American Wrestling Association.  While in the territory, Morales continued wrestling at the top of the card and served as one of AWA World champion Nick Bockwinkel's primary challengers.  He also competed in major feuds with the likes of The Super Destroyer and Lord Alfred Hayes during his year-long stay in the midwestern promotion.
From there, Morales entered Eddie Graham's Florida-based NWA group and quickly began a major series with his former tag team partner, Pat Patterson and, later, top area heels like "Superstar" Billy Graham and Lars Anderson.  While in Florida, Morales also teamed with Rocky Johnson to win the NWA Florida Tag Team Championship.  But, as was the case ten years earlier, with the start of the new decade came a fresh beginning for Morales, and he made a triumphant return to the World Wrestling Federation in the Spring of 1980.  In the WWF, Morales immediately picked up right where he'd left off, at the top of card.  On August 9, 1980, he made history by teaming with WWF Heavyweight champion Bob Backlund to defeat Lou Albano's Wild Samoans for the tag team championship.  However, since the Federation's "rule book" stated that a reigning WWF titleholder could not wear the Tag Team or Intercontinental championship at the same time he carried the Heavyweight championship, the team of Morales & Backlund had to forfeit their title belts days later.  But, that renewed taste of championship gold was only the beginning for Morales and on December 8, 1980 he defeated the rugged Intercontinental champion Ken Patera to become the new I-C champ.  By capturing the Intercontinental title, the former Heavyweight and Tag Team champion became the first-ever "triple-crown" winner in WWE history.
The enormously popular Morales held the I-C title for six months, holding back the challenges of the former champ Patera, as well as serious title threats from Greg Valentine and "Magnificent" Don Muraco.  It was Muraco who would end Pedro Morales' first Intercontinental reign, defeating Morales in New York on June 20, 1981.  Morales and Muraco had a particularly long, intense, and bloody rivalry during this period of time, a feud that sold-out arenas all across the World Wrestling Federation.  Morales would eventually regain his title from Muraco, to the delight of his many fans, on November 23, 1981.  After regaining his Intercontinental belt, Morales spent all of 1982 defending the title against the top challengers, primarily Muraco and the recently returned "Superstar" Billy Graham.  Over a year into his second Intercontinental title reign, Pedro was again defeated by arch-nemesis Don Muraco.  This defeat marked the end of Morales' 20-year championship run, as he never again wore another title belt.  He did, however, remain a top-level performer, often headlining WWF arena cards.  But, after more than two decades in the wrestling ring, Morales began to contemplate his retirement.  In 1987, Morales quietly exited the sport in which he'd spent his entire adult life.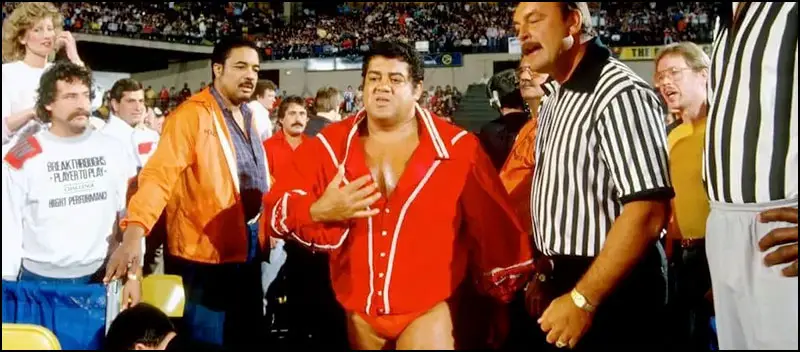 However, Morales did not disappear entirely from the wrestling world.  After leaving the ring, Morales took a high-profile position as the lead commentator on the WWF's popular Spanish-speaking TV programs.  Several years later, he joined WCW in the same capacity.  Although he'd often had trouble giving interviews during his career as a wrestler (mainly because English was his second language) Morales excelled as a commentator for the Spanish announce teams he was a part of.  In many ways, commentating gave Morales a second chance in wrestling, allowing him to earn a comfortable living in the only profession he had ever known.  Additionally, it exposed a whole new generation of fans to the great Latin wrestling legend, fans who would have otherwise been unfamiliar with Pedro Morales.  At the same time, Morales once again served as a bridge between two cultures, a role he had embraced for more than 30 years.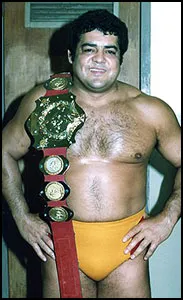 Pedro Morales was voted Wrestler of the Year (1972) by the readers of Pro Wrestling Illustrated and honored by the Cauliflower Alley Club (1994). Additionally, Morales is a member of the WWE Hall of Fame (1995), the Professional Wrestling Hall of Fame and Museum (2015), and the Wrestling Observer Newsletter Hall of Fame (2017).
A victim of Parkinson's disease, Pedro Morales passed away on February 12, 2019 at the age of 76.