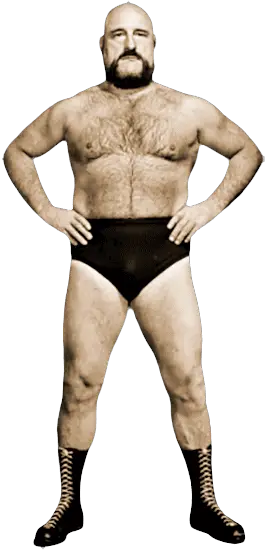 Maurice "Mad Dog" Vachon was one of the biggest stars the American Wrestling Association has ever known, and to generations of fans both in the Midwestern portion of the U.S., as well as his native Canada, the "Mad Dog" was one of the most vicious, hated villains in the world of wrestling. Over the course of many years, though, that hatred slowly turned to love, and during his final decade in wrestling, "Mad Dog" Vachon was a beloved veteran fan favorite. His Tasmanian Devil-ish appearance and style was legendary and his opponents, nearly all of whom were far larger than Vachon, were well aware that the rabid "Mad Dog" was 5 feet 7 inches of violent dynamite. A man who was perpetual motion inside the ring (nearly all of it stomping, biting, and pounding), his stamina was known worldwide, nearly as much as his reputation as a bloodthirsty mauler. As the unofficial leader of one of wrestling's proudest families (the Vachon wrestling family includes "Mad Dog," brother Paul "Butcher" Vachon, sister Vivian Vachon, and niece Luna) "The Mad Dog" led by example, winning the AWA World Heavyweight title five separate times. During his prime as one of wrestling's most hated villains, Vachon was as "evil" as they came, portraying a character only steps away from a snarling, blood-hungry beast, showing a score of future "psychotic" wrestlers how its done. Truly, "Mad Dog" Vachon was a legitimate trendsetter and a wrestling wildman unlike all others…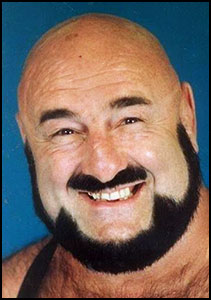 The story of "Mad Dog" Vachon begins on September 1, 1929, in Montreal, Quebec. Born Joseph Maurice Régis Vachon, one of thirteen children, Maurice excelled at sports as a youth, particularly wrestling. As a Middleweight, Vachon was one of Canada's most gifted amateur wrestlers during the mid 1940s. In fact, Vachon was so talented that he represented Canada in the 1948 Olympics and, among a pool of world-class international grapplers, Vachon placed a respectable 7th in freestyle wrestling. After winning a gold medal at the 1950 British Empire Games, Vachon made the decision to enter the professional wrestling ranks, where he once again excelled. As was the case for all pro wrestlers of his era, it was a tough road for Vachon at first, despite his success as an amateur. Originally, he did not use his famous "Mad Dog" persona, but instead wrestled simply as Maurice Vachon, with modest success. But, when he shaved his head bald, grew a beard, and developed his "Mad Dog" personality, Vachon's career skyrocketed.
When he entered the American Wrestling Association in the early 1960s with his new character complete, Vachon became an instant box-office powerhouse. The fans, although they despised him, could not get enough of this wrestling wolverine and his vicious tactics, including his feared finishing maneuver, the Piledriver. On May 2, 1964 in Omaha, Nebraska, Vachon toppled his arch-rival, AWA World champion Verne Gagne to win his first World title. The victory was short-lived, however, because Gagne regained his belt just two weeks later, again in Joe Dusek's Omaha territory. Gagne and Vachon battled night after night in cities throughout the massive AWA region, with the technical master trying his best to fend off the never-ending onslaught by the "Mad Dog." On October 20, 1964, Vachon once again defeated Gagne for the AWA World championship and held the title for several months before losing to The Mighty Igor.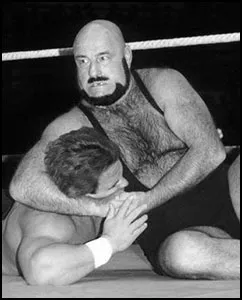 By now, however, Vachon had established himself as the top heel in the AWA, and it didn't take him long to regain his belt. On May 22, 1965 Vachon defeated Igor and held the World title until Vachon faced the formidable challenge of The Crusher. "The Wrestler Who Made Milwaukee Famous" was just as mean, just as tough as the "Mad Dog," and considerably larger than Vachon. On August 21, 1965, "Crusher" Lisowski defeated Vachon for the AWA World title in St. Paul, Minnesota. But, after being separated from his title for three months, Vachon rallied to defeat Lisowski on November 12, 1965 in Denver, Colorado and regained his prized World championship. However, by feuding with The Crusher, Vachon created a situation he hadn't expected and he soon found himself face to face with "The World's Most Dangerous Wrestler," Dick the Bruiser…
As the man who had feuded with (and taken the title from) his old drinkin' buddy The Crusher, Dick the Bruiser took Vachon's actions personally and pursued the hated champion with a vengeance. On November 21, 1965, The Bruiser exacted his revenge by bloodying and defeating Vachon for the AWA World title on November 12, 1966 in Omaha, Nebraska. Not to be denied, Vachon bested his larger foe to regain the AWA championship just a week later on November 19, 1966, again in Omaha. Vachon's fifth (and final) reign as AWA World champion ended on February 26, 1967 against the man he originally won the title from, Verne Gagne. However, it certainly wasn't the end of Vachon's championship tenure. Later in 1967, he won the IWA World title (Montreal), making him the top heel in two major promotions simultaneously. After losing to Hans Schmidt, Vachon would again wear the IWA World title by defeating Johnny Rougeau.
In 1971, Maurice and his brother Paul opened Grand Prix Wrestling in Montreal and began promoting cards in opposition to the Rougeau's well-established IWA group. Over the course of the next five years, the Vachons battled the Rougeaus for promotional superiority in the lucrative Montreal market, with a great deal of success. In addition to giving a young Andre the Giant (then known as Jean Ferre) his first bookings in North America, Grand Prix Wrestling was home to many top names, including the Vachons, "Killer" Kowalski, Jos Leduc, Edouard Carpentier and, for short time, even Bruno Sammartino. The crowning achievement for the young promotion was drawing 29,127 fans to its July 14, 1973 show at Jarry Park in Quebec. In the main event, "Mad Dog" Vachon defeated "Killer" Kowalski before the largest wrestling crowd in Quebec's history.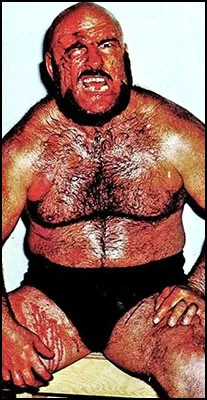 It was during the time period just prior to opening Grand Prix Wrestling that the "Mad Dog" brought the highly intimidating combination of himself and his brother, Paul "The Butcher" Vachon, to the AWA. On August 30, 1969 the rugged duo upset the powerhouse team of The Bruiser & The Crusher for the AWA World Tag Team title, proving that they were capable of defeating one of the greatest teams in history. It was a sign of things to come, as The Vachons went on to defeat the best teams the AWA had to offer and they held the promotion's tag team title for nearly two full years, an exceptionally long reign for a tag team of that (or any) era. The highlight of their lengthy reign came on August 14, 1970 when they faced the former champions, The Bruiser and The Crusher, before a crowd of over 30,000 spectators at Comiskey Park in Chicago. But, of course, all title reigns must come to an end and The Vachon Brothers lost their prized belts to the combo of Red Bastien & Hercules Cortez on May 15, 1971. Several years later, after forming a friendship with former bitter enemy Verne Gagne, the unlikely duo defeated Pat Patterson & Ray Stevens to win the tag title on June 6, 1979 in Winnipeg. The technical master and the savage brawler formed a unique and very popular team, one that proved to be difficult to defeat. Together, Gagne & Vachon held the AWA tag straps for over a year before passing them on to another legendary team, the East-West Connection of Jesse Ventura & Adrian Adonis, on July 20, 1980 in Denver. During the early 1980s, Vachon also engaged in a noteworthy feud with the mammoth 450 lb. "Crusher" Jerry Blackwell that drew sell-out crowds throughout the multi-state territory.
As Vincent K. McMahon continued to methodically chip away at the once-formidable AWA talent roster, using former AWA stars to invade Verne Gagne's midwestern strongholds, Vachon eventually jumped ship and joined the World Wrestling Federation in 1984. But, Vachon's WWF tenure ultimately proved to be fairly short-lived. During an era of giants his size was an issue, however, even more so, the decades that Vachon spent taking punishment in the ring began to take their toll on his body and he slowed down considerably, despite his popularity with the fans. In 1986, nearly four decades after his debut, Vachon finally retired from the ring following a tremendously successful career. He spent his retirement years enjoying some long overdue time with his wife and family at his home in Omaha, where he also ran a local gym. But, in 1987, tragedy struck as Vachon was struck by a hit-and-run driver while jogging and, in the aftermath, the sad result was the amputation of his leg. Still, the "Mad Dog" persevered and fought to go on, adjusting to life with an artificial limb.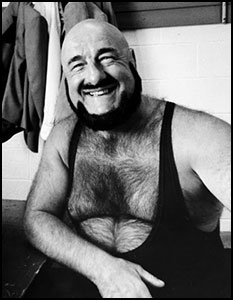 His final public appearances were with the World Wrestling Federation, and both involved his new appendage. First, he was involved in the main event of In Your House #7, which saw Diesel pull off his artificial leg and try to use it as a weapon, only to have his opponent, Shawn Michaels, use the unorthodox weapon to score the pinfall. A few years later, at WWF Over the Edge in 1998, Vachon was sitting at ringside along with The Crusher. Announcer Jerry Lawler continually mocked the elderly brawlers and even tried to yank off the "Mad Dog's" leg before being pummeled by the two legends.
Vachon is a member of the Wrestling Observer Newsletter Hall of Fame (1996), the George Tragos/Lou Thesz Professional Wrestling Hall of Fame (2003), the Professional Wrestling Hall of Fame and Museum (2004), the Quebec Sports Hall of Fame Class (2009) and the WWE Hall of Fame (2010). He also received the Cauliflower Alley Club's "Iron" Mike Mazurki Award in 2003.
Maurice "Mad Dog" Vachon passed away on November 21, 2013 at the age of 84.