When one thinks of wrestling managers, Bobby "The Brain" Heenan has to be among the first names that come to mind and many consider him to be the greatest manager of all time. His unique ability to simultaneously infuriate and thoroughly entertain the audience made him one of the most controversial men in the history of the AWA, the NWA and WWE and, at the same time, also one of the most successful wrestling personalities ever. Whether managing his various World champions, World Tag Team champions or any number of regional and secondary champions, Heenan was always at the top of whatever promotion he worked for, constantly at the center of controversy, stirring up trouble. Later, once he had retired from managing and moved into the role of a color commentator, Heenan entertained millions of fans by calling the action while cheering on the "bad guys" and delivering his classic one-liners in both WWE and WCW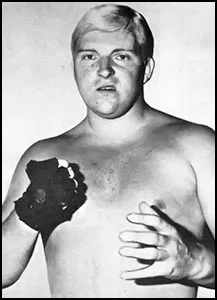 Bobby Heenan was born Raymond Louis Heenan in Chicago, IL. on November 1, 1944. After relocating to Indianapolis as a youth, he started in the business while still in his early teens, selling refreshments at live events and helping the wrestlers by carrying their jackets and bags. Eventually, he got his start as a pro in Dick the Bruiser's Indianapolis territory, wrestling his first match in 1961 at the age of just 17. A natural in the ring who never received any formal training, he originally competed, both as a wrestler and a manager, using the name "Pretty Boy" Bobby Heenan. In the beginning, Heenan struggled to be taken seriously inside the ring because, while technically gifted, he was not particularly physically intimidating. But, after working hard on his technique while competing in the W.W.A and Central States promotions, the talented young Heenan developed himself into a fairly tough, devious, and, often, very cowardly wrestler. Meanwhile, his interview ability was obvious from the start and that gift of gab helped him greatly in his role as a manager. It didn't take long for "The Brain" to figure out that managing was a lot less painful than wrestling and, consequently, right about the time he really came into his own as a pro wrestler, Heenan began to focus solely on his managerial duties.
After a falling out with William Afflis over pay, Heenan left the W.W.A for Verne Gagne's American Wrestling Association, a move that turned out to be one of the most fortuitist of his career. During his run as a manager in the AWA, Heenan (who eventually dropped the "Pretty Boy" moniker in favor of "The Brain") was paired with the cream of the crop when it came AWA rulebreakers. In addition to his prized protégé, former AWA World Heavyweight & Tag Team champion Nick Bockwinkel, Heenan added his wit, humor, and interview ability (as well as plenty of outside interference) to villains like The Blackjacks, Ray "The Crippler" Stevens, "Superstar" Billy Graham, Angelo Poffo, Ernie "The Big Cat" Ladd, The Valiant Brothers, Bobby Duncum, Ken Patera, Baron Von Raschke and many more. On the other side of the coin, Heenan, through his devious, cheating methods, found himself feuding with the best of the AWA's "good guys," including heroes like The Bruiser, The Crusher, Billy Robinson, Pepper Gomez, Andre the Giant, Hulk Hogan and, of course, Verne Gagne. Indeed, "The Weasel" lost many pints of blood protecting his men and their championships.
In 1975, Heenan managed his main protégé, Nick Bockwinkel, to his first AWA World title win over perennial champion Verne Gagne, a reign for Heenan & Bockwinkel that lasted over five years. "The Brain" was also there by "Tricky" Nick's side when he regained the title in 1980. Additionally, Heenan managed three tag teams (Bockwinkel & Stevens, Lanza & Duncum, and Patterson & Stevens) to six AWA World Tag Team championships, with his legendary team of Bockwinkel & Stevens holding the AWA straps for an impressive total of 27 months.
His dominance continued when Heenan left his longtime home of the AWA and moved on to the NWA, more specifically, TBS's Georgia Championship Wrestling in 1980. Once there, AWA protégé Blackjack Lanza followed, and quickly won the Georgia TV (precursor to the WCW World TV) title. Meanwhile, The Masked Superstar and "Killer" Karl Kox (new additions to the NWA version of the Heenan Family) both brought home the prestigious Georgia Heavyweight title under Heenan's tutelage. His feuds with Wahoo McDaniel, Tommy Rich and AWA-turned-NWA nemesis The Crusher were the focal points of the promotion during Heenan's tenure in Georgia.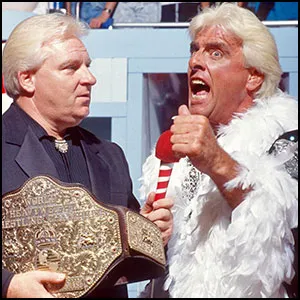 When Heenan eventually left the NWA and returned to the AWA, he made it clear that he was there to make life hell for anyone who got in the way of the Heenan Family, especially AWA heroes such as Verne Gagne, "Mad Dog" Vachon & Rick Martel. For approximately two years he did just that, leading Bockwinkel to (tainted) victory after (tainted) victory before once again leaving his home base of the AWA for a new opportunities, this time in the expanding promotion that was quickly becoming known around the country as the World Wrestling Federation. Once in the WWF, Heenan soon established himself as the #1 manager in the promotion, as he managed top WWF superstars such as "Big" John Studd, "Mr. Wonderful" Paul Orndorff, "King" Harley Race, "Ravishing" Rick Rude, Andre the Giant, Mr. Perfect, The Islanders, Hercules, The Brainbusters and numerous other WWF heels into battle against Hulk Hogan, The Ultimate Warrior, "Macho Man" Randy Savage and other WWF fan favorites. In addition to the WWF Intercontinental and World Tag Team titles he managed his men to, Heenan scored multiple WWF World Heavyweight championships through protégés Andre the Giant and "Nature Boy" Ric Flair.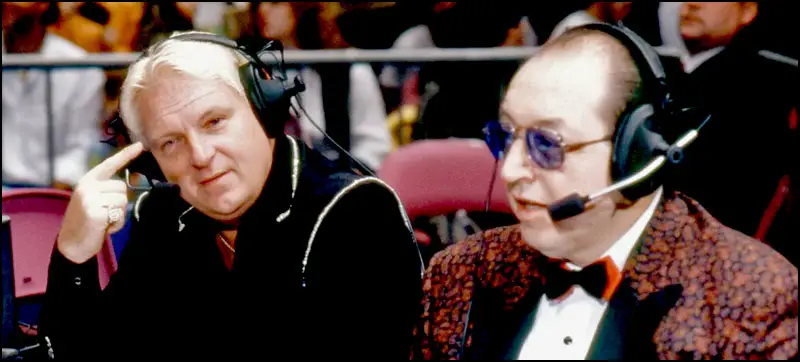 Heenan spent the next decade in the WWF where "The Brain" not only established himself as the top manager in the Federation, but also as its top announcer, or as Heenan referred to himself, a "broadcast journalist." His inspired pairing with Gorilla Monsoon, hosting the USA Network's Prime Time Wrestling program, was particularly noteworthy and thoroughly entertaining. Meanwhile, the WWF's very own "King of the One-Liners" was also a well-known mainstream celebrity, due to his frequent appearances on Late Night w/ David Letterman and The Arsenio Hall Show. Heenan was a major part of many top WWF storylines over the years and, away from the camera, was one of Vince McMahon's most loyal employees. However, in 1994, another new challenge was waiting for "The Brain," this time in his old Atlanta stomping grounds of the NWA, now called WCW As an announcer, Heenan was seen each week by millions of viewers on the highly-rated WCW Monday Nitro and Thunder programs as well as their pay-per-view broadcasts. However, other than a one-time WCW p.p.v. appearance as Ric Flair's mentor, Heenan stayed away from managing during the six years he spent in WCW, instead concentrating solely on his duties as a "broadcast journalist."
After five solid years of commentating WCW's network and pay-per-view broadcasts, it started to become clear that the quality of Heenan's work was declining. He would later state that he was simply disheartened by the politics in WCW and uninspired by its on-screen product. In January of 2000, WCW made the decision to remove Heenan from his position on Monday Nitro and the company's pay-per-view events. He continued to provide color commentary for TBS' Thunder program until July of 2000, when he was replaced by former wrestler Stevie Ray and then, four months later, the decision was made to remove Heenan from his duties on the syndicated WCW Worldwide series, effectively ending his six-year association with World Championship Wrestling.
Following his release from WCW in 2000, Heenan made a handful of appearances in WWE as well as brief stints in TNA, Ring of Honor and W.O.W. Additionally, he wrote two successful books, Bobby The Brain: Wrestling's Bad Boy Tells All in 2002 and Chair Shots and Other Obstacles: Winning Life's Wrestling Matches in 2004. But, sadly, in January of 2002, Heenan shocked the wrestling world when he publicly announced that he'd developed throat cancer. He received treatment and while the cancer had gone into remission by 2004, he was forced to undergo reconstructive surgery of his jaw and, for a time, was unable to speak. His health issues continued to mount and, between 2010 through 2016, Heenan suffered a number of falls that resulted in a broken hip, shoulder and pelvis.
Bobby Heenan was awarded the Cauliflower Alley Club's "Iron" Mike Mazurki Award in 2004 and he is a member of the Wrestling Observer Newsletter Hall of Fame (1996), the WWE Hall of Fame (2004), the Professional Wrestling Hall of Fame and Museum (2006) and the St. Louis Wrestling Hall of Fame (2010).
Due to organ failure brought on by throat cancer, Ray "Bobby" Heenan passed away on September 17, 2017 at the age of 72.