Wrestling history has proven that with each new generation of performer comes a few special men who, in their own individual way, alter the "sport" and change it from what it was to what it would become. Certainly, the talented and trend-setting wrestler known worldwide as "Ravishing" Rick Rude falls into that elite category which is reserved for those who have truly reshaped the wrestling business and influenced others to come. "Ravishing" Rick Rude's long-term influence and impact on professional wrestling is more than apparent to the trained eye. "The Ravishing One" was truly a revolutionary force in pro wrestling, although not necessarily due to his ring work, solid as it may have been. Instead, Rude left his indelible mark on wrestling through his look, his attitude, and most importantly, his unique style of delivering a promo. While it is now commonplace for a wrestler to stroll down to the ring while using the microphone to insult (or excite) the audience, or to start each of his wrestling matches by cutting an in-ring promo first, neither was the case when Rude began his career. Indeed, these traits, common in so many of today's performers, didn't really exist until the muscular, aggressive and arrogant "Smooth Operator" introduced them (as well as other nuances, including air-brushed wrestling gear) during the early and mid-Eighties.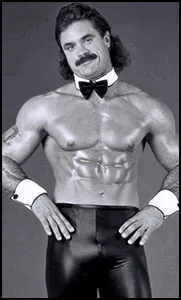 "Ravishing" Rick Rude was born Richard Erwin Rood on December 7, 1958 and grew up just outside of Minneapolis, in Robbinsdale, Minnesota. Following high school, he attended Anoka Ramsey Junior College and graduated with a degree in physical education. After finishing college, he still had not found his calling and was working as a bouncer when fate intervened and he was approached about pursuing a career in pro wrestling. Having been a fan of the sport while growing up, Rood quickly decided to give wrestling a shot and he was soon being trained by Eddie Sharkey. After his training was complete, Rood (a former arm-wrestling champion) began his wrestling career in 1983, performing on a card held in Vancouver, British Columbia. Following a short stay in the Northwestern territory, he then moved on to Georgia, where he was used as an enhancement talent before travelling to the Memphis territory. While in Memphis, he was seconded by the region's top manager, "The Mouth of the South" Jimmy Hart. Of course, as Hart's top protégé, Rood couldn't help but get involved in a feud with Memphis legend Jerry "The King" Lawler. In a truly impressive victory for someone with just a year of experience to his credit, Rood defeated Lawler for the prestigious AWA Southern Heavyweight title on June 11, 1984 before a raucous, packed crowd at the Mid-South Coliseum. As a key member of Jimmy Hart's "First Family," Rood, despite his inexperience, became a main-event player in the territory and shortly after losing the Southern championship to Tommy Rich, he was back in the title picture once more. With fellow First Family member, the young & massive King Kong Bundy, Rood captured the AWA Southern Tag Team championship on October 8, 1984, adding yet another impressive title to his growing championship resume. Six months after losing the AWA Southern Heavyweight title, the talented young heel travelled to Florida and capturing the NWA's even more prestigious version of the championship. On January 16, 1985 in Tampa, Florida, Rood continued his steady drive to the top when he won the NWA Southern Heavyweight title by defeating "Pistol" Pez Whatley. A dominant Southern champion, Rood, led by his new manager, Percival Pringle III (a.k.a. Paul Bearer) held the territory's primary title for three months, defending his Southern championship against several of Florida's top fan favorites such as Whatley, Wahoo McDaniel, Billy Jack Haynes and Mike Graham among others before eventually dropping the belt to Brian Blair.
Dallas' World Class Championship Wrestling was next up for Rood, who by this time had begun referring to himself as "The Smooth Operator." As always, Rood quickly won championship gold upon entering this latest territory, courtesy of his devastating variation of the Neck Breaker known as "The Rude Awakening." With the annoying, agitating Percy Pringle still by his side and the sophisticated strains of Sade's Smooth Operator serving as his entrance theme, the arrogant, rule breaking newcomer created quite a stir in Texas by winning the NWA American Heavyweight title almost immediately upon his arrival. Defeating "Iceman" King Parsons for the championship on November 4, 1985 in Ft. Worth, Texas, Rick Rood instantly became the top heel in Texas, a distinction he would enjoy for quite some time to come. While in the WCWA, Rood also captured the World Class TV title by defeating the "cousin" of the famous Von Erich brothers, Lance Von Erich, and he held the belt until being defeated by Bruiser Brody. By the end of 1986, having conquered the World Class territory, it was time for "The Smooth Operator" to make his next career move by leaving the WCWA and moving up to Jim Crockett's successful NWA promotion, seen nationally via syndication and on TBS. Soon after his NWA debut, "The Ravishing One" (who now spelled his name Rude instead of Rood) debuted as a member of "Number One" Paul Jones' army.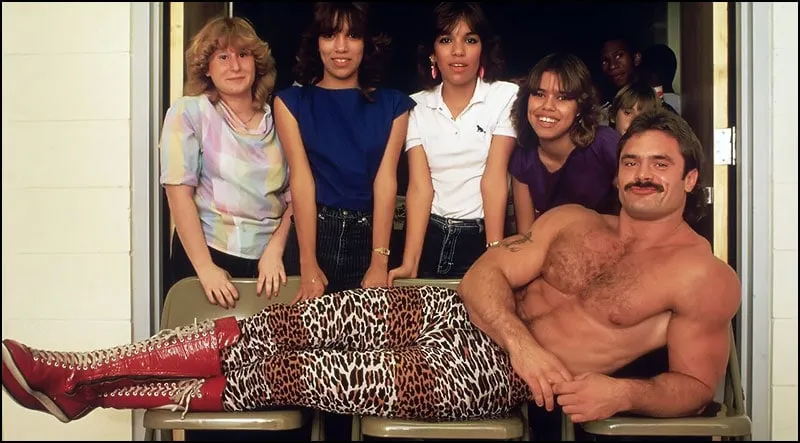 After a short run as a singles competitor, Rude was paired with "The Ragin' Bull" Manny Fernandez and together they pulled off a major upset by defeating NWA tag champs The Rock `N Roll Express just weeks after forming their team. While, at first, their pairing seemed a bit awkward, Rude and Fernandez soon gelled into a very formidable team and capable World champions. Together, Jones' seemingly make-shift team carried the World Tag Team title belts for more than a half-year. Still, despite his lengthy run as a co-holder of the tag team championship, Rude felt, perhaps rightly so, that he was not reaching his full potential in the NWA. So, when the opportunity arose in mid-1987, Rude, still one-half of the NWA World Tag Team champions, gave his notice and made the jump from the NWA to the WWF. Fernandez was allowed to replace the "injured" Rude with fellow Paul Jones stablemate Ivan Koloff, while "Ravishing" Rick Rude made his WWF debut soon thereafter.
As was often the case with wrestlers who coming into the WWF for the first time, once he entered the Federation, "Ravishing" Rick, despite the name he had built up for himself in the WCWA and NWA, was forced to prove himself all over again by starting at the bottom of the card and working his way up. Still, it didn't take long for the impressive heel to catch on with both the WWF's fans and management. Rude's antagonistic, yet brilliant, pre-match ritual of getting on the microphone, insulting the audience, telling the sound man to "hit my music" and then slowly disrobing while gyrating his hips was a spectacle indeed. Designed to incite a negative reaction, the gimmick more than elicited the desired response and, before he knew it, Rude found himself amongst the most 'hated' men in the WWF and definitely on his way up the card towards the main event. Later, Rude accentuated his controversial pre-match ritual by incorporating a post-match gimmick in which he would have his manager, Bobby "The Brain" Heenan, pick an attractive lady from the audience and bring her into the ring. Rude would then celebrate his victory by kissing the female audience member passionately before softly laying her down on the mat. As though this was not enough of an ego-stroke, Rude would then proceed to stand over the fallen female, gyrating his hips and posing for the fans in a display that could be described as nothing but exploitative. Of course, that was the intention of the gimmick and it worked to perfection, especially when Rude tried it on the wife of none other than Jake "The Snake" Roberts, who was sitting in the audience and was "unknowingly" selected by Heenan. The ensuing feud between Roberts and Rude was among the most heated and emotional in WWF history and their matches never failed to create a great deal of excitement.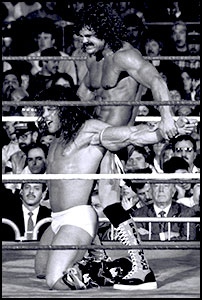 Additionally, by engaging in such a successful feud against an opponent the caliber of Jake Roberts, who at that point was in his WWF prime, Rude was finally elevated to the upper echelon of the promotion's talent-rich roster.After paying his dues for the better part of a year and having proven himself during his feud with Roberts, Rude's rise up the WWF's crowded ranks was complete and his patience and talent were finally rewarded. Following an angle in which the egocentric Rude challenged any WWF superstar to a pose-down contest, the call was answered by none other than the superhuman Ultimate Warrior. The two bodybuilders then began a very successful program that culminated in Rude defeating The Warrior for the WWF's second most prestigious title, the Intercontinental championship, on April 2, 1989 at WrestleMania in Atlantic City, New Jersey. Later, after the Ultimate Warrior had become WWF champion, Rude served as his top challenger during a large portion of the Warrior's title reign.
But, several injuries forced Rude to the sidelines and he was slowly written out of the WWF storylines. Month after month passed, more than a year in all, yet nothing was heard from the "Ravishing One." However, this would change, drastically, in 1991 following a shocking surprise jump from the WWF to WCW which resulted in his unexpected debut on an episode of TBS's Clash of the Champions. "Ravishing" Rick Rude immediately became the key player in Paul E. Dangerously's impressive collection of wrestlers known as The Dangerous Alliance. In the tradition of the Four Horsemen, Rude's Dangerous Alliance partners ("Stunning" Steve Austin, Larry Zbyszko, "The Enforcer" Arn Anderson, Bobby Eaton and Madusa) were always there to give him a bit of "back-up" should the need arise, which it often did. On November 19, 1991, "Simply Ravishing" Rick Rude became the NWA United States champion by defeating the promotion's franchise player, reigning U.S. champion Sting. In WCW, Rude picked up right where he had left off in the WWF, showcasing his familiar entrance in which he would come out to the ring and tell all of the "fat, out of shape, cable-watching couch potatoes" to "sit down, shut up and watch" as he took his robe off and showed everyone "what a real man is supposed to look like." Following his WCW debut, it was very apparent that Rude's skills had not diminished during his absence from wrestling, but rather, he was better in the ring than ever before. Indeed, Rude's sense of timing, his believable selling & bumping, and an expanded arsenal of both offensive and defensive moves combined to make him one of the best wrestlers in the world, a distinction that he had not earned while competing in the WWF. Following his title victory, Rude dominated the U.S. championship like few in WCW history. When facing top-level competition such as Sting, The British Bulldog, Dustin Rhodes and Ricky "The Dragon" Steamboat, proved that he was as good as it got. Not surprisingly, his solid ring work, heat-generating mic skills and abrasive, arrogant personality (not to mention his controversial manager, Paul E. Dangerously) all added up to an incredibly entertaining performer and, without question, "Ravishing" Rick Rude was WCW's top heel during this time period.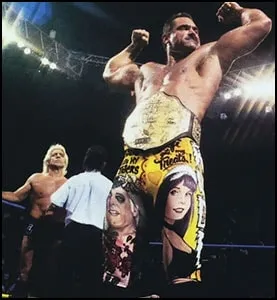 On paper, it would seem that a feud between the egomaniacal "Ravishing" Rick Rude and longtime WCW-NWA champion "Nature Boy" Ric Flair over both the World title and Flair's valet would be a sure-fire success both artistically and monetarily. And, in practice, it most definitely was, although their program was relatively short. The two superstars, who actually shared more than a few similarities, began their exciting run against each other following an episode of Ric Flair's WCW Saturday Night talk segment called "A Flair for the Gold." During the segment, "The Ravishing One" seemed more than a bit jealous of the attention that Flair, the NWA World Heavyweight champion, was receiving from his beautiful young French valet, Fifi. Considering himself to be the ultimate male specimen, "The Smooth Operator's" out of control ego could not handle the fact that Fifi was more attracted to "The Nature Boy" than to him. Furthermore, Rude's ambition turned to professional jealousy as he prepared to face the multi-time NWA-WWF-WCW World champion. Determined to prove that he was, indeed, better than the best, Rude focused on Flair's valet in order to lure the champion into granting him a title match. Finally, after interrupting several of Flair's interviews, incessantly harassing "The Nature Boy's" valet with his unwanted advances and even going so far as to kiss Fifi against her will, an angered Flair readily granted Rude his title matches, which took place in arenas across the country. While "Slick" Ric was able to defend his title successfully against the younger, stronger Rude, "The Ravishing One" eventually got the best of Flair and on September 19, 1993 in Houston, Texas, Rude used a pair of brass knuckles to K.O. the champion and won the NWA World Heavyweight title.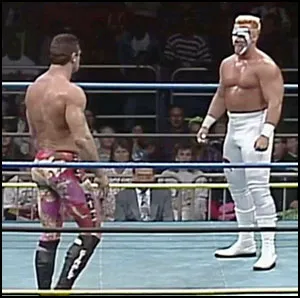 Following his run with Flair, Rude's ongoing feud with Sting was rekindled and the two superstars resumed their exciting series, with the WCW International World Heavyweight championship on the line. Being evenly matched opponents and with their individual ring strengths complimenting the other well, Sting and Rude engaged in several highly memorable and entertaining bouts during this phase of their feud, which had actually began some three years earlier. Eventually, Sting overcame Rude and defeated him for the championship on April 17, 1994 at the inaugural WCW Spring Stampede PPV, which was held at the Rosemont Horizon in suburban Chicago. Then, just a few weeks later on May 1, 1994, Rude's career was forever altered when he met & defeated Sting in a rematch for the title in Fukuoka, Japan. During the hard-fought bout with Sting, Rude suffered a severe neck injury, one that effectively ended his in-ring career. The title was held up and then, eventually, regained by Sting while Rude disappeared from the wrestling scene as he tried to recover from the injury and subsequent surgery. Shockingly, it appeared that the talented Rude, who was in the middle of his prime as a wrestler, would never step into the ring and perform again. Sadly, that turned out to be the case. Fortunately, however, his premature retirement from the ring would not mark the end of "Ravishing" Rick Rude's association with pro wrestling.
After several years away from the public eye, Rude finally made yet another shocking, unexpected return to the business when he entered Extreme Championship Wrestling as Joey Style's part-time color commentator and ECW World Champion "The Franchise" Shane Douglas' full-time antagonist. The recipient of the fans' cheers for the first time in more than a decade, Rude did not actually wrestle Douglas, but he nevertheless drove the egotistical ECW champion nearly insane with jealousy and anger during their obscenity-laced exchanges. Eventually, though, the plotline developed to the point where Rude and Douglas (along with The Franchise's insatiable valet Francine) actually joined forces, creating The Triple Threat, an elite Horsemen-esque faction led by Douglas that featured Rude serving as a manager/advisor/run-in man.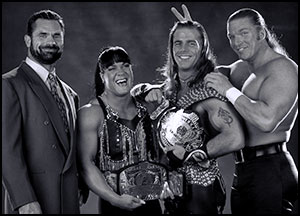 Having proven his value as a performer despite his inability to wrestle, Rude (who was still in tremendous physical condition, aside from his vulnerable neck & back) attracted the eye of WWF management during his stay in ECW, and his former employer eventually offered Rude a new spot in the company, in which he would serve as a bodyguard for Shawn Michaels and D-Generation X. But, true to form, several months after his return to the WWF, Rude once again shocked the wrestling world when he appeared on WCW's live Monday Nitro while being featured at nearly the exact same time on the WWF's taped Monday Night Raw program. Joining forces with his longtime friend, nWo member Curt Hennig, Rude's bold jump was completely unanticipated by both the public and the WWF, which was again embarrassed by WCW President Eric Bischoff's ability to continually one-up the Federation. Yet, while his simultaneous WCW-WWF appearance was definitely an unexpected event that made a lot of waves initially, the impact of his return (as well as his overall job security) was undoubtedly lessened by Rude's inability to wrestle. Having not competed since his neck was injured nearly five years earlier and without many career options left in wrestling, Rude decided that he was healthy enough to make a return to the ring as a wrestler. With his comeback decided upon, the former World champion began training intensely for his imminent return to action.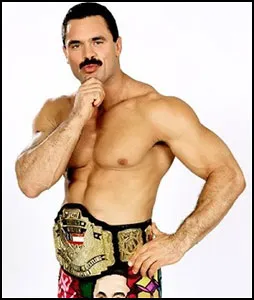 Then, tragically and totally unexpectedly, Rick Rude suffered a heart attack that took his life. Certainly, when a man as young and seemingly healthy (not to mention as incredibly muscular) as Rude passes away, it raises several questions as to why. While a heart attack was the official cause of his death, it has been speculated that Rude's prolonged use of muscle enhancing drugs may have been a major contributor to his early demise. Whatever the case, the fact remained that one of wrestling's brightest stars was suddenly gone forever and no amount of speculation over his untimely death would bring him back. Former WWF-WCW World champion Bret Hart remembered Rude as a man far different than the one he portrayed on television for so many years. Regarding his deceased friend, Hart had this to say: "Rick was a great family man, and he loved his wife. He was one of those kind of guys who would never take his wedding ring off, he just put a white piece of tape around it when he went into the ring. He was also the kind of guy that, when you need someone to back you up, he wouldn't flinch at all. Not for money, not for anything."
"Ravishing" Rick Rude was voted Most Hated Wrestler of the Year (1992) by the readers of Pro Wrestling Illustrated and the publication ranked him #4 in its Top 500 Wrestlers edition (1992). Also in 1992, he was voted Best Heel by the readers of the Wrestling Observer Newsletter and inducted into the WWE Hall of Fame in 2017.
Richard Rood passed away on April 20, 1999 at the age of 40.