Although he had a run late in his career as a babyface, Nick Bockwinkel is best remembered as one of the greatest heel champions of all-time, particularly in the history of his home-base promotion, the American Wrestling Association. A second-generation wrestler who was trained by the legendary Lou Thesz, after making his pro debut in 1955, twenty-one-year-old Nick teamed with his father Warren Bockwinkel during the early stages of his career. Together, the popular father/son duo enjoyed a great deal of success and those winning ways continued after his father retired. The younger Bockwinkel continued on, primarily as a singles competitor, wrestling as a popular babyface before eventually turning heel. As he gained experience and tenure, Nick Bockwinkel created a name for himself while performing in territories such as the Pacific Northwest, Hawaii, San Francisco, Los Angeles and Georgia, picking up numerous regional championships along the way.
In the Spring and Summer 1970, he won the NWA Georgia Heavyweight title twice, one of the NWA's most prestigious regional championships. However, Bockwinkel's greatest success came when he entered the American Wrestling Association in 1970. Initially, he formed a devastating team with Ray "The Crippler" Stevens and the duo went on to become three-time AWA World Tag Team champions, holding the title belts for a combined 3 1/2 years between 1971-1975. The duo, led by "Pretty Boy" (later, "The Brain") Bobby Heenan, is considered to be perhaps the greatest AWA tag team champions (and certainly one of the most dominant) in the thirty-one year history of the promotion. But after years of firmly establishing himself as a premier tag team wrestler, there was still more glory in store for Bockwinkel, this time as a singles competitor.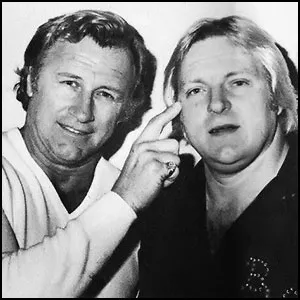 Under the firm guidance of Heenan, Bockwinkel won his first (of four) AWA World Heavyweight championship by ending Verne Gagne's record seven-year title reign on November 8, 1975 in St. Paul, Minnesota. "Tricky" Nick's arrogance and condescending interview style combined with his undeniable talent, his tendency to defeat opponents by "cheating" and his frequent reliance on DQ losses to save the title infuriated fans throughout his first AWA title reign, which lasted five years.
Bockwinkel also made history by putting his title on the line in the first-ever AWA vs. WWF title unification match against Bob Backlund, with the classic bout ending in a one-hour draw. The fans' hatred for Bockwinkel continued during his second reign as World champion, which began after he lost the belt back to Gagne on July 19, 1980 at Comiskey Park in Chicago. Following that loss, on May 19, 1981, the AWA awarded its World Title to Bockwinkel, the #1 contender, after Gagne retired from professional wrestling. The move infuriated AWA fans, which ultimately worked both for and against the promotion.
Bockwinkel then held the title for nearly a year and a half before he was beaten on August 8, 1982 by Otto Wanz in what was considered a major upset. He regained the title from Wanz two months later, though, and went on to hold it until he was beaten by Jumbo Tsuruta on February 22, 1984 in Tokyo.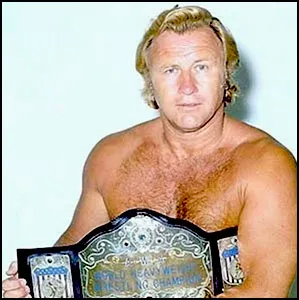 Bockwinkel, who was now without Heenan and, miraculously, a fan-favorite, had been out of the AWA World Title picture for nearly two years when the veteran was scheduled to meet (and defeat) then-AWA champion Stan Hansen on June 28, 1986. When told he would be losing the championship, Hansen walked out of the Denver arena with the AWA title belt and immediately began defending it in Japan until he was legally forced to stop. Still, the AWA World Championship (minus the belt) was, once again, awarded to Bockwinkel that night.
Although was now a respected and beloved fan favorite, the fact that he had been "given" the World Title not once but twice (as well as a couple of unflattering matches during which he was pinned, but was allowed to keep the title due to a technicality) somewhat tarnished Bockwinkel's reputation in the eyes of many fans at the time. Despite all of the controversy, though, Bockwinkel used his considerable skill and wealth of knowledge (plus some good "luck" courtesy of AWA President Stanley Blackburn) to defend the World title for one more year, until he was defeated by Curt Hennig, forever ending his championship history.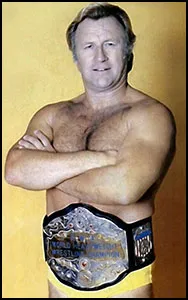 After the loss of his title to Hennig, Bockwinkel, like so many of his former AWA co-workers, eventually jumped to the World Wrestling Federation. However, his days as an active competitor were finally behind him once he reached the WWF and Bockwinkel now served as a color commentator. Away from the cameras, the former champion also worked for Titan Sports as a backstage producer/agent. After a tenure of several years with the WWF, Bockwinkel would then join WCW as its on-air Commissioner in 1994. In World Championship Wrestling, he was an important part of several storylines and angles for the better part of a year. Later, Bockwinkel would also serve as the President of the Cauliflower Alley Club for several years before stepping down due to health issues in 2014.
Nick Bockwinkel is a member of the WCW Hall of Fame (1993), the Wrestling Observer Newsletter Hall of Fame (1996), the Professional Wrestling Hall of Fame and Museum (2003), the WWE Hall of Fame (2007), the George Tragos/Lou Thesz Professional Wrestling Hall of Fame (2009), and the NWA Hall of Fame (2016).
As a result of complications brought on by Alzheimer's disease, Nick Bockwinkel died on November 14, 2015 at the age of 80.
---