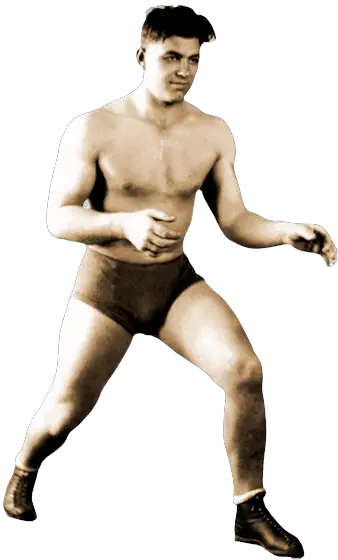 Throughout the long and, at times, confusing history of professional wrestling, deserving names often slip through the cracks of the sport's collective memory. Although he was unquestionably one of the biggest stars of his era, Orville Brown, the eleven-time Midwest Wrestling Association World champion and first-ever NWA World Heavyweight champion, is sometimes overlooked when historians recount the great title lineage of the National Wrestling Alliance. That said, the rugged Kansas farmer turned wrestling champion is absolutely deserving of history's acknowledgement, for a number of reasons, and he made an indelible mark on the early years of professional wrestling.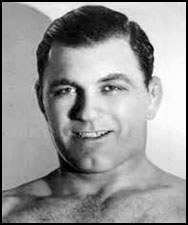 Orville Brown was born in the small Midwestern town of Sharon, Kansas on March 10, 1908. Life was not easy for the young Brown, who grew up fatherless and, when his mother passed away, was orphaned at the tender age of 11. Education became secondary to earning a living and he soon dropped out of school to work full-time on the farm. During this time, the teenage Brown developed into a talented cowboy, competing in — and winning — rodeo events throughout Kansas and the neighboring areas. Although the sport of bronco riding and steer bulldogging was nowhere as lucrative as it would become in later years, the extra income he earned as a rodeo cowboy helped greatly and by the time he had reached his eighteenth birthday, Orville Brown had amassed quite a reputation in the sport. His ever-increasing size, though, became a hindrance to his continued success in the rodeos and eventually led to Brown withdrawing from the game and returning to life as a farmer and blacksmith.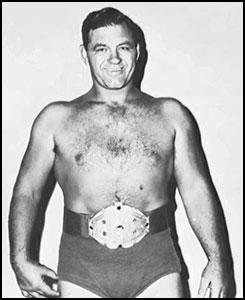 Frontier, freestyle wrestling was a way of life for early twentieth century men in rugged, rural states like Iowa, Kansas, Illinois, and Missouri. Unsophisticated, violent, and free of restrictive rules, "catch wrestling" was reflective of the Midwestern men who were its primary practitioners and every town, big or small, had dozens of skilled, dangerous local grapplers who, after a hard day of work, would gather to face off against each other for prize money. Orville Brown certainly fit into this mold and early in 1931, while still in his early-twenties, he came into contact with a local promoter/trainer named Ernest Brown (no relation) who saw potential in the brawny 6'1″ 230 lb. blacksmith. He soon convinced Orville that he had the physical tools needed to earn a good living as a professional wrestler and began preparing him for a career in the profession. Following an extended period of training, Brown had his first professional match in October of 1931, which he won, and began wrestling regularly throughout the region. Before long, he amassed an impressive win/loss record and eventually went undefeated in his first 72 matches, many of which were legitimate contests. It was while competing in Kansas that Abe Coleman, who was a well-known wrestling celebrity at the time, saw Brown and befriended the impressive young grappler. Just as Ernest Brown had seen potential in Orville, Coleman did as well and he informed the powerful St. Louis promoter Tom Packs that he'd found a new star in the making. By 1933, Brown was being booked in Packs' prestigious territory and doing quite well against the promotion's more experienced competition. Convinced that Brown had the size, skill and attitude that it took to become a major star, Packs sent his new protégé to the east coast in order to further his training and gain more experience. Under the capable guidance of veteran matman George Zaharias, the talented young Brown learned and improved, starting at the bottom of the cards and working his way up.
While competing in the Baltimore area, Brown began facing more advanced competition, including well-known opponents such as Zaharias, Everett Marshall, Karl Sarpolis and Jim Browning, among others. It was also during this time period that he finally suffered his first defeat, on November 3, 1933, against former World champion Dick Shikat. Undeterred by the loss, Brown continued wrestling and improving while defeating a string of mid-level regional stars. By the Spring of 1934 he had returned to the Midwest and had his first series of bouts in the city he would eventually become synonymous with, Kansas City, Kansas. It was there that he achieved the biggest victory of his young career when, on May 14, 1934, he defeated the future World champion Everett Marshall, which in turn set up a bout with top contender Ray Steele. Held on May 28, 1934, he would go on to lose his match with the more experienced Steele, however, by putting on a good showing for himself, Brown lost none of his momentum in the eyes of the matchmakers or fans. A popular babyface, Brown was promoted as a rugged ex-cowboy and a solid family man, both of which were true, and he received a great deal of positive coverage in the national press.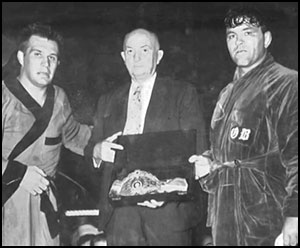 Soon, Orville Brown had wrestled in enough territories to garner the box-office clout required to receive a shot at the World championship and he faced reigning titleholder Jim Londos on several occasions during 1935. Their encounter on April 12 in Detroit drew over 13,000 spectators and grossed $21,217, very impressive figures for the time. Wrestling to a ninety-minute draw, a rematch was scheduled for June 5, again in Detroit, at Navin Field. That bout drew another large crowd of 11,572 with a gate of $16,213, however, this time around Brown was defeated by the champion after 73 minutes of hard-fought action. From this point on, however, Orville Brown was seen as a legitimate national wrestling star who faced only the best competition. Even though his undefeated streak was no longer a factor and he occasionally lost a match here and there, Brown won (or, went to a draw with) just as many, competing against top names including Dick Shikat, John Pesek, Frank Sexton, Ray Steele, and Ed "Strangler" Lewis, which firmly cemented his position as a major name within the business.
As the 1930s became the 1940s, Brown forged a friendship on the east coast with Bobby Bruns, a wrestler that would go on to be one of the major players in his career. While they appeared to be bitter rivals who feuded all across the country, away from the spotlight Bruns and Brown were close friends and, over time, longtime business partners. Between 1940-1948, Bruns and Brown traded the prestigious Midwest Wrestling Association World championship no less than four times. All total, Orville Brown held the M.W.A. World title on eleven different occasions, taking on, and defeating, challengers such as Bruns, Sky Hi Lee, Fred Blassie, the Swedish Angel, Ed Lewis, Joe Cox, Ray Eckert, Ronnie Etchison, Lord Albert Mills and many others. During this time period, he also formed a working relationship with the notorious promoter Jack Pfefer, which would play a role in Brown's career once he joined George Simpson and took control of the Kansas City territory. The territory, which also included Topeka, Wichita and St. Joseph, Missouri, was one of the more lucrative regions in the country at the time and, when faced with a promotional war, Brown called on Pfefer and his east coast talent connections to overcome his opposition. Meanwhile, in 1947 a group of investors that included Canadian promoters Frank Tunney, Eddie Quinn, Lou Thesz, Bobby Managolf and Bill Longson bought the St. Louis promotion from Tom Packs, who was retiring. A territorial war then took place in St. Louis between this group and the less established promotion of Sam Muchnick, who was (at least temporarily) helped by Jack Pfefer. For many months, the battle was fairly even, although the Thesz-led group held an advantage. So, when Des Moines promoter Pinkie George presented Muchnick with the idea of forming a coalition of several Midwestern promoters, it made a great deal of sense. George (Iowa), Muchnick (St. Louis), Tony Stecher (Minneapolis), Max Clayton (Omaha) and Orville Brown (Kansas City) met in Waterloo, Iowa in 1948 to discuss a partnership and the National Wrestling Alliance was born. On July 14, 1948 the promoters all agreed to name Orville Brown as the first NWA World Heavyweight champion and he immediately set about establishing the new championship, travelling to each member's regions and defending the title against the top challengers, which included men like Bill Longson, Bronko Nagurski, Don Eagle, Ali Baba and many others.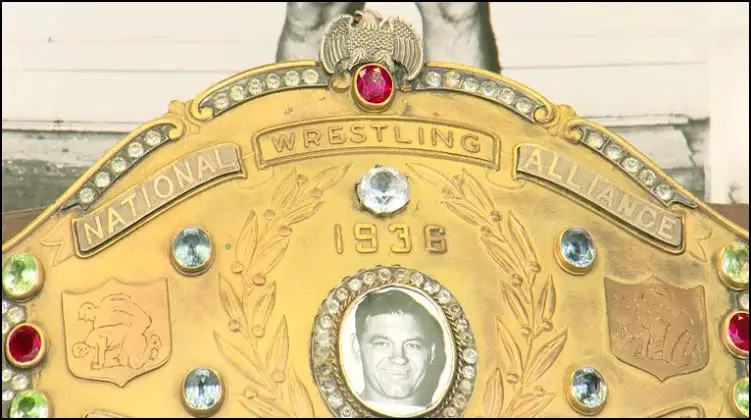 Brown's greatest rival during the first year of his NWA title run was the flamboyant "Nature Boy" Buddy Rogers. After Muchnick brought him in to St. Louis, Rogers proved himself to be a major draw in the Gateway City and, ultimately, the deciding factor in Muchnick's St. Louis wrestling war with Thesz. Rogers went on to receive several title matches against Brown, in cities like Wichita, Cleveland, Hollywood and Kansas City, with the two headliners drawing large crowds wherever they wrestled. Although Brown always walked out of the ring with his championship intact, it was usually not a result of pinfall victories and many of their encounters resulted in time-limit draws, count-out decisions or disqualifications that kept both men strong in the eyes of the fans.
Once Muchnick's promotional war with Thesz had ended and the two sides began working together, plans were put into place that would have Brown and Thesz engage in a lengthy series of matches, with both men gaining title victories over one another. The two Midwestern matmen had faced off in previous years, wrestling to three time-limit draws against each other. However, when they were programmed to battle over the NWA championship, a clear cut winner would be necessary. A plan was laid out wherein Brown would win their first championship encounter, scheduled for Thanksgiving Day on November 25, 1949, and win subsequent rematches throughout the various NWA territories. Then, at some point during 1950, Thesz would defeat Brown for the title and the two would again engage in a new series of rematches, with Thesz defending the championship successfully. After that, it was agreed that the NWA members would decide who would continue to carry the belt, based on what was best for the Alliance as a whole.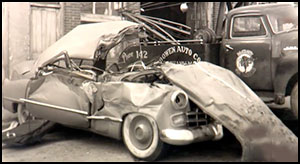 But, on October 31, 1949, those plans all came to an abrupt, unexpected end. Following a title defense in Des Moines against his on-screen enemy and off-screen partner Bobby Bruns, the two were heading home in Brown's Cadillac when tragedy struck. Unbeknownst to Brown, a semi trailer had stalled on the road ahead them and as they came over a hill driving at a high rate of speed, the inevitable took place and Brown's vehicle slammed head-on into the truck, with disastrous results. Bruns was the luckier of the two, escaping the accident with a broken shoulder and serious damage to his arms. Brown, however, barely escaped decapitation. The frame of the trailer tore the roof off of his vehicle and Brown received a near-fatal blow to the head that resulted in brain damage for the NWA champion. Thankfully, both men survived and, with rehabilitation and time, recovered to a certain degree. That said, neither were ever the same again and business in the area suffered greatly when the press got wind of the fact that the two "enemies" were traveling in the same car together at the time of the accident.
Following a year of rehab, Brown actually attempted to make a comeback in the ring. Although he worked extremely hard to regain the use of his semi-paralyzed limbs and had made tremendous progress in that sense, the damage done to his brain resulted in a loss of motor skills that he simply could not overcome. While, thankfully, he was able to continue his duties as a promoter, as well as master everyday tasks such as walking, driving, hunting, etc., the complex skills needed to perform inside of a ring were beyond his capabilities and Brown was quickly forced to abandon his dream of making a comeback to wrestling. As for his NWA World championship, Brown was obviously forced to relinquish the title.On November 27, 1949, the Alliance awarded the belt to Brown's #1 contender, Lou Thesz, who, over time, would go on to transform the newly-created World title into the most prestigious championship in the sport.
Orville Brown is a member of the Professional Wrestling Hall of Fame (2005)
On January 24, 1981, Orville Brown passed away at the age 72.