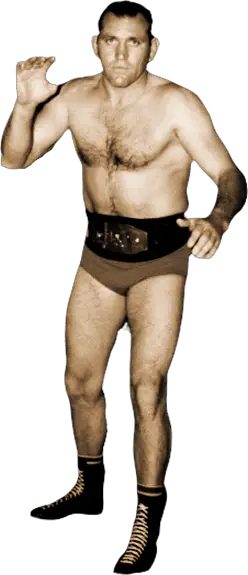 When fans think of the genre of Light Heavyweights, what usually comes to mind are high-flying moves galore, non-stop action and a feverish pace. However, Danny Hodge, truly one of the greatest athletes in the history of pro and amateur wrestling, was no daredevil or aerialist. Hodge was a wrestler, plain and simple. His grappling skill and fighting technique, not an endless array of high spots, was what made Hodge so dangerous, a throwback to the days of the hooker in wrestling. Simply put, Hodge needed no flashy gimmick to get over with the fans of his day, just his incredible wrestling skill and hard working attitude. That skill and work ethic paid off for the wrestling purist, as a three-time N.C.A.A. national amateur champion, 1956 Olympic Silver medalist and, later, the undisputed NWA World Junior Heavyweight champion. At the same time, the universally respected Hodge lent an air of credibility to the Junior Heavyweights and, as the World champion and main attraction for the better part of 15 years, Hodge carried the fledgling Junior Heavyweight division in the U.S., making it possible for modern Cruiserweights/Light Heavyweights to have a prominent, respected place in the sport.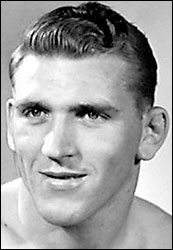 Danny Hodge was born on May 13, 1932 and began his wrestling career as a young teen in Perry, Oklahoma, excelling at the sport and going undefeated during his entire high school tenure. Upon graduation, he had a spot on the University of Oklahoma wrestling squad waiting for him and he continued his winning ways. As an amateur, Hodge was a three-time N.C.A.A. champion and he remained undefeated during his collegiate career with a record of 46-0. As an Olympian, he first competed in the 1952 games, placing fifth, and then returned in 1956, winning a silver medal in Helsinki as a middleweight. The most decorated and dominant amateur wrestler of the day, Hodge also graced the cover of Sports Illustrated in 1957, the first wrestler, pro or amateur, ever to do so. Still, as impressive as his amateur wrestling credentials were, Hodge was equally impressive as a boxer. In 1958, he won the Chicago Golden Gloves as a heavyweight and accumulated an amateur record of 17-0, with twelve of his victories coming via knockout. Making the natural progression to the professional ranks, Hodge earned a record of 7-2 before retiring from boxing in 1959.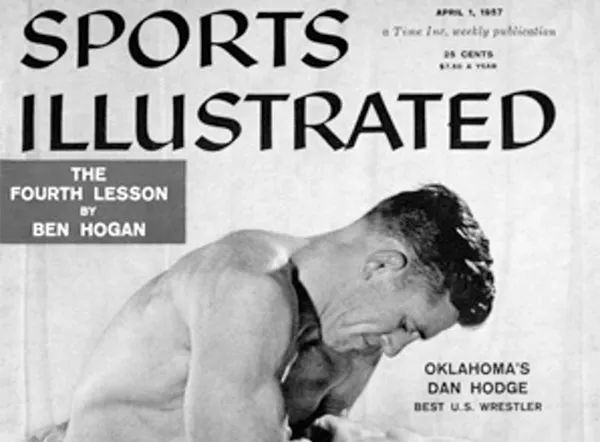 After making the move to pro wrestling, he was trained by Leroy McGuirk and former World Heavyweight champion Ed "Strangler" Lewis. Much like the NWA promoters he worked for, Hodge believed in the fundamentals of wrestling, whether it was as an amateur or when he turned pro in 1959. Danny Hodge was a mat wrestler, albeit a lightning-quick and deceivingly strong one. His 220-lb. frame was honed to top condition after years of training. Meanwhile, his tendon strength, particularly in his hands, was truly legendary. A master of tying up his opponent, Hodge would then either slap on one of his numerous submission holds or simply pin his opponent after methodically wearing his challenger down.
He won his first NWA World Junior Heavyweight championship on July 22, 1960, by defeating three-time NWA Jr. Heavyweight champion Angelo Savoldi. Hodge then went on to hold the World title for nearly 4 1/2 years. During this time, the fighting champion took on all comers, defending his World championship up to five nights a week and serving as a Junior Heavyweight ambassador to the fans wherever he fought. Much more so than today, Junior Heavyweights in the 1960s and 1970s were put on the back-burner in favor of their gigantic counterparts. As the NWA World Jr. Heavyweight champion (all total, he won the title on seven different occasions) Hodge carried the success — and failure — of the division on his back each time he wrestled.
After holding the title for over four years, Hodge finally dropped the belt to longtime rival, and technical wrestling wizard, the "evil" Hiro Matsuda in Tampa, Florida. However, six months later, Hodge regained the title from his talented Japanese foe in Tulsa, Oklahoma. He then held the belt for several more months before losing to perennial challenger Lorenzo Parente. Hodge and Parente both lost and regained the NWA Jr. Heavyweight title twice (each) in the span of a year during their highly competitive feud. Parente eventually lost the title to Joe McCarthy, who only managed to hold the belt for three months before Hodge defeated him in May of 1966 in Little Rock, Arkansas. Hodge then wore his NWA gold for another four years before finally being taken down by Sputnik Monroe on July 13, 1970, in Shreveport, Louisiana. But, much like his heavier counterpart Lou Thesz, Hodge was just too good not to be champion, and he quickly regained the title a few months later. Hodge once again took on all challengers for his title during this, his fifth NWA World Jr. title reign. But, when he met up with the blond, muscular and arrogant "Nature Boy" Roger Kirby, Hodge found himself an ex-champion once again. This time, he was separated from his NWA title for an entire year before wrestling the masked NWA Junior Heavyweight champion Dr. X on March 20, 1972. Hodge defeated the hated masked man and went on to wear the title belt for nearly two more years before being upset by Ken Mantell on December 19, 1973 in Jackson, Mississippi. Mantell then held the championship for a year and a half before losing the title to former champion (and Hodge's archenemy) Hiro Matsuda. Mantell tried for months, but could not seem to gain a clear victory over Matsuda.
Enter Danny Hodge.
Nine months into his second title reign, Matsuda was once again faced with the challenge of Hodge. And, once again, the Oklahoman got the best of Matsuda, defeating him for the championship on March 2, 1976. But then, just two weeks later, tragedy struck Hodge, and by association, the entire world of pro wrestling. On March 15, 1976, Danny Hodge relinquished his claim to the NWA World Junior Heavyweight title and retired after breaking his neck in a severe auto accident. It was a hard way to leave the sport, but fittingly, Hodge went out on top, as the World champion.
In the years following his retirement, Hodge continued to make occasional pro wrestling appearances, primarily in the Mid-South territory. Years later he served as the chairman of the Oklahoma Professional Boxing Commission, the regulating body for professional boxing, wrestling, and MMA. in his home state of Oklahoma. Meanwhile, the Dan Hodge Trophy was established in 1995. The Hodge Trophy is awarded to the most outstanding amateur wrestler of the year and is the highest, most prestigious honor in collegiate wrestling, the sport's equivalent of college football's Heisman Trophy.
In terms of the pro ranks, Hodge is a recipient of Pro Wrestling Illustrated's Stanley Weston Award (1996) as well as the Cauliflower Alley Club's Art Abrams Lifetime Achievement Award (2004) and the Lou Thesz Award (2007). Hodge is also a member of the Wrestling Observer Newsletter Hall of Fame (1996), the George Tragos/Lou Thesz Professional Wrestling Hall of Fame (2000) and the Professional Wrestling Hall of Fame and Museum (2007).
Danny Hodge passed away on December 24, 2020, at the age of 88.