Shohei "Giant" Baba, all 6 feet 9 inches and 300 lbs. of him, didn't go undefeated for fifteen years or embark on a never-ending trek around the globe, nor did he attain the same type of global fame and celebrity that his gigantic counterpart from France achieved. However, Baba, the first and only Japanese wrestler to wear the NWA World championship on three different occasions, helped to literally save the sport of pro wrestling in Japan after the controversial death of Rikidozan. More importantly, as the founder of All Japan Pro Wrestling, he created one of the most successful and important promotions in the history of the business while simultaneously becoming a revered national sports hero in the Land of the Rising Sun.
Following the shocking murder of Rikidozan in 1963, professional wrestling in Japan (which had only been established in the country a mere decade earlier) was sent into a tailspin. With unflattering news filtering to the public regarding Rikidozan's personal life, the details of his murder and revelations about the connections he maintained with organized crime, the fledgling sport saw an instant and devastating decline in popularity. Thankfully, before his untimely death, Rikidozan set about trying to create the next generation of Japanese stars, top-level wrestlers who could carry the business forward once he was no longer competing. After his unexpected and controversial death, Rikidozan's two star pupils, Baba and Antonio Inoki, would end up doing just that.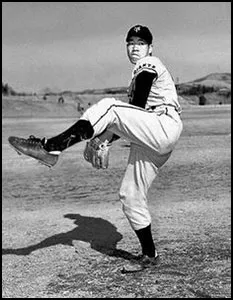 Born on January 23, 1938 in Sanjo, Japan, Baba had been a teenage phenom in the game of baseball and earned a developmental contract when he was just 16. Eventually, he was brought up to the major leagues as a pitcher for the Tokyo Giants, although his time as a professional baseball player ultimately turned out to be short-lived. After being recruited by Rikidozan, he decided to enter the ranks of pro wrestling and started his training for a career inside the ring. Soon after, the towering Baba made his professional debut in September of 1960, defeating Yonetaro Tanaka. After gaining some experience in his homeland, the young Japanese giant travelled to America to further his wrestling education in territories such as Amarillo, Los Angeles and the northeastern U.S. While in America, Baba quickly became one of wrestling's top new heels and received World championship matches across the country, competing in main-event bouts with champions such as Lou Thesz (NWA), The Destroyer (WWA). and Bruno Sammartino (WWWF).
Upon his return to Japan a few years later, Baba quickly proved that he was more than able to draw crowds and keep their interest while maintaining a level of credibility in the eyes of the Japanese public. Because of his monolithic proportions, he was a slow-moving but deceivingly capable wrestler. Although he did not go "undefeated" like Andre and he was not generally seen as a great mat technician, his sheer size and natural athletic ability quickly earned Baba a reputation as one of the most difficult men in the world to defeat and it was considered a major upset whenever his shoulders were actually pinned.
As the 1970s began, the Japanese Wrestling Association, while maintaining enormous t.v. ratings and healthy live attendance, slowly began to crumble due, primarily, to mismanaged funds and lack of creative direction. Frustrated and ambitious, the JWA's two biggest stars both decided to break away and start their own promotions, with Antonio Inoki leaving first and founding New Japan Pro Wrestling. Some six months later, Baba followed suit, quitting the JWA and establishing All Japan Pro Wrestling. However, unlike Inoki, Baba quickly applied for (and received) membership status in the NWA, a move that allowed him access to top American talent and a higher level of power within the industry. Equally important to Baba was the fact that his status as an NWA member effectively shut out Inoki (who, several years later, would prevail in gaining his own NWA membership) from that same pool of valuable American talent. Soon, a highly intense promotional war between New Japan and All Japan broke out, a seesaw rivalry that lasted for more than two decades and, ultimately, reshaped professional wrestling in the process.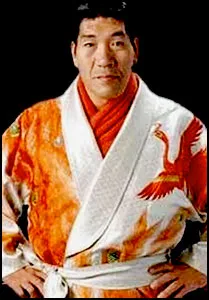 With his three NWA World Heavyweight title victories, four reigns as P.W.F. champion, three NWA International championships and numerous tournament victories, the "Giant" Baba's reputation as an elite champion, both domestically and internationally, preceded him. However, it was as a promoter where his legacy was truly established.
Without question, Shohei Baba commanded respect and loyalty like few others in his profession. His conservative yet innovative booking style, a style that placed the emphasis on sport, logic and believability over flash and short-term gain, was admired worldwide. But even more importantly, Baba's professional and personal honesty, dependability and generosity when dealing with others was universally acknowledged and respected amongst his colleagues and employees alike.
Baba was ranked by his countrymen at #92 in the Top 100 Historical Japanese Persons poll, while Tokyo Sports honored him with the prestigious publication's Wrestler of the Year (1975, 1979), Match of the Year (1979, 1980, 1981, 1982), Best Tag Team (with Jumbo Tsuruta, in 1978, 1980, 1982), and Lifetime Achievement (1999) awards. Additionally, in a display of just how respected his management abilities were, the readers of the Wrestling Observer Newsletter repeatedly voted him Best Booker (1989, 1990, 1991) and Promoter of the Year (1990, 1991, 1992, 1993, 1994). Lastly, Baba is a member of the Wrestling Observer Newsletter Hall of Fame (1996), the Professional Wrestling Hall of Fame and Museum (2008), and the International Professional Wrestling Hall of Fame (2021).
Following a battle with cancer, Shohei "Giant" Baba passed away on January 31, 1999 at the age of 61.