Unquestionably, a chapter (or two) in any "Book of Wrestling" would have to be dedicated to the tradition of the squared circle's masked men; those hooded marvels who, despite having their faces completely covered, incited unyielding hatred from their audience or, in certain cases, inspired great admiration and, in many instances, both. Like their masked brethren in Mexico and Japan, the North American masked men have traditionally featured several identifiable characteristics, unique to their corner of the globe. But, unlike other countries where flamboyantly attired masked wrestler have flourished, in the United States and Canada the athletes who wore a hood generally opted for a relatively basic mask design and standard ring attire. Rather than high-flying, elaborately costumed heroes, the majority of North American masked men were hulking, devious villains. However, there are always exceptions to every rule and, in a few rare cases, the North American masked man represented sportsmanship and unbreachable code of honor. Certainly, these traits apply to, and, essentially, define the wrestler who history has proven to be perhaps the most popular American masked man of all time, the grappler that President Jimmy Carter once cited as being his (and his mother's) favorite "rassler," the legendary Mr. Wrestling II.
Johnny Walker was born on September 10, 1934 in Charleston, South Carolina. At the age of 21 he was trained by Tony Morelli and Pat O'Connor and began his career in professional wrestling in 1955. A journeyman who wrestled both as a heel and babyface, Walker enjoyed his share of success throughout the Southeastern portion of the U.S., yet never really made a major impact in any of the various promotions he wrestled. However, Walker's life was forever changed after the famed promotional war in Georgia broke out in 1972. When Ann Gunkel formed the All-South Wrestling Alliance and took 95% of the established Georgia promotion's talent roster with her, a deep void was left for the NWA to fill in a very short amount of time. The Alliance promptly set about deluging the territory with an influx of fresh talent and newly-hired booker Leo Garibaldi began the process of rebuilding the territory. The masked Mr. Wrestling, Tim Woods, had been a huge star in Georgia previously and a return to the region would surely result in a spike at box-office. "Rubberman" Johnny Walker had made a lasting impression on Garibaldi during the veteran journeyman's tenures in various territories and he accurately believed Walker would make an excellent new masked marvel. Clad in familiar, heroic white and introduced as the protégé of the famous Mr. Wrestling, Walker's career was truly given new life when Mr. Wrestling II made his debut.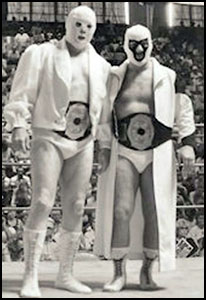 Almost immediately, the Georgia fans rallied behind the mysterious new wrestler and, in time, his popularity eventually overtook even that of his more established "mentor." Whether they were working together as a team (or, later as bitter rivals) the masked duo featured exceptional timing and teamwork, with each wrestler complimenting the other man's style. Mr. Wrestling I & II soon rose to enormous heights of popularity with the region's fans and together they captured five Georgia Tam Team championships between 1974 and 1980, establishing themselves as one of the most successful and resilient attractions in the annals of Georgia tag team wrestling. In addition to their five reigns as the Georgia Tag Team champions, the combo of Mr. Wrestling I & II established their dominance even further when they captured the richest prize in Tag Team wrestling, the NWA World Tag Team championship, after upending their old Georgia rivals, Ole & Gene Anderson, while competing in the Mid Atlantic territory. One cannot discuss the championship reigns of Mr. Wrestling I & II in Georgia without noting that three of their five Georgia championship victories (and the subsequent defeats) came against the masked team's arch rivals, "The Minnesota Wrecking Crew" Gene & Ole Anderson. The heroic masked men engaged in a years-long war against the brawny scientific brawlers, a match-up that has gone down in Southern wrestling history as one of the most heated programs ever. To that end, even after Gene Anderson and Mr. Wrestling had moved on from the region, Ole Anderson and Mr. Wrestling II continued their never-ending feud, with much success at the box-office. Their many intense battles at Atlanta's City Auditorium (and, later, The Omni) are the stuff of legend. It was on more than one occasion that the snow-white mask of Mr. Wrestling II was stained with the crimson hue of his own blood, drawn by Ole Anderson.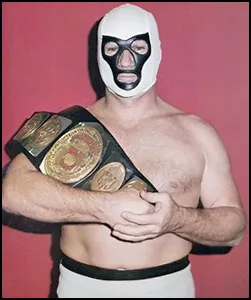 Mr. Wrestling I & II's fifth (and final) reign as the Georgia Tag Team champions came at the expense of the team's other arch-rivals, the despised yet formidable Masked Assassins. Outside of the hoods that each man wore, the two masked teams were, essentially, the polar opposites of each other in terms of ring style and their similar differences created a natural rivalry that fans were more than willing to pay to see. On September 19, 1980, after chasing the hated masked champions for weeks, Mr. Wrestling I & II defeated The Assassins in Griffin, Georgia. to capture their fifth Georgia Tag Team title. Meanwhile, over the course of many years, the Mr. Wrestling II vs. The Assassin feud continued on in several different promotions. With each man fairing as well in singles competition as they did together as a unit, the team of Mr. Wrestling I & II often amicably split off from each other in order to concentrate on their individual careers, only to reunite at a later date. In terms of the competitive singles division, the talented Mr. Wrestling II definitely excelled. He was a ten-time holder of the coveted Georgia Heavyweight championship, having defeated (often by using his noted finishing move, the running Knee Lift) the likes of Bill Watts (1973), Harley Race (1974), Nikolai Volkoff (1975), Dick Slater (1976), Stan Hansen (1977), Angelo "King Kong" Mosca (1978), The Masked Superstar (1979) and Austin Idol (1980).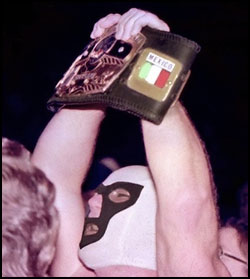 Mr. Wrestling II also captured another highly sought-after regional title when he defeated Ernie "The Big Cat" Ladd to win the NWA North American title on February 16, 1979 in Atlanta, Georgia. Consequently, when the Mid-South Wrestling Association was created by Bill Watts later that year, Mr. Wrestling II was declared the first M.S.W.A. North American heavyweight champion in August of 1979 and the title was defended exclusively in the Mid-South territory from that point forward. Following a lengthy seven-month reign as champion, he eventually lost the North American title to Mike George on September 5, 1979. Meanwhile, it was during his lengthy rivalry with Race that Mr. Wrestling II was able to defeat the reigning NWA World champion to win the Champion of Champions Cup in one of the most famous matches of his career.
Mr. Wrestling II spent the early 1980s splitting his time between the Mid South, Georgia and Florida territories and along with Sunshine State mainstays such as Dusty Rhodes and Mike Graham, Mr. Wrestling II was one of popular Florida territory's top fan favorites. As always, the masked man was constantly in the title hunt during his tenure in Florida and he twice wore the Florida Heavyweight championship, having defeated one of his arch-rivals, The Masked Spoiler, in 1981 for the title and then capturing the belt again in 1982 when he bested James J. Dillon. Later in 1982, after returning to the Mid South promotion, the hooded grappler captured the Mississippi State championship by defeating another fierce masked rival, Mr. Olympia (Jerry Stubbs).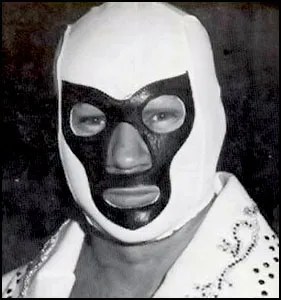 On March 12, 1983, he captured the Mid South Tag Team title with partner Tiger Conway, Jr. by defeating Ted Dibiase and Matt Borne and several months later, he again paired himself with a young and talented protégé, Magnum T.A. On Christmas night 1983, the popular duo defeated Jim Cornette's Midnight Express (Bobby Eaton & Dennis Condrey) to win the Mid-South Tag Team championship and, from there, went on to enjoy three months as the champions. Later down the line, their "teacher/student" storyline continued to develop, with jealousy inevitably entering the mix. To the shock of Mid South viewers, Mr. Wrestling II eventually turned on his protégé as well as his legion of fans. Now wrestling as a full-fledged heel for the first time since donning the white mask some ten years earlier, Mr. Wrestling II regained the prestigious North American title by defeating the Junkyard Dog in March of 1984 on a card that was held inside the cavernous SuperDome in New Orleans, Louisiana.
By virtue of his status as a consistent regional titleholder, Mr. Wrestling II received more than his fair of NWA World Heavyweight title matches, against several different champions. During the early Seventies, he was a serious threat to Jack Brisco's claim to the championship and then a few years later, Mr. Wrestling II became a constant thorn in the side of NWA kingpin Harley Race. Of course, one cannot forget his exciting, money-making run against "Nature Boy" Ric Flair in Georgia and Florida during the early eighties. While he never captured "The Big One," the skilled masked man more than filled his role as a "credible challenger" and whenever he was granted a title shot, the arena was invariably packed full with fans who hoped that they were about to see Mr. Wrestling II finally win the World Heavyweight championship…
The legendary Mr. Wrestling II's final title victory came in 1987 while he was competing in the Southeastern-based Continental Wrestling Federation. It was at this time that the wily veteran won the Alabama Heavyweight title by defeating Mike Golden on April 27, 1987. The seasoned grappler, once again a babyface and still incredibly popular amongst Southern wrestling fans, then went on to hold the Alabama State championship for two months before the young Golden was able to avenge his previous loss and regain the title. Approximately two years after losing the Alabama championship, and following nearly 35 years as a professional wrestler, the revered masked man officially retired from active competition in 1989.
Mr. Wrestling II was voted Wrestler of the Year (1975) and Most Popular Wrestler of the Year (1980) by the readers of Pro Wrestling Illustrated (italicize) and is a member of the WCW Hall of Fame (1993), the NWA Hall of Fame (2012), and the Pro Wrestling Hall of Fame (2014).
On June 10, 2020, Johnny "Mr. Wrestling II" Walker passed away in Honolulu, Hawaii at the age of 85.