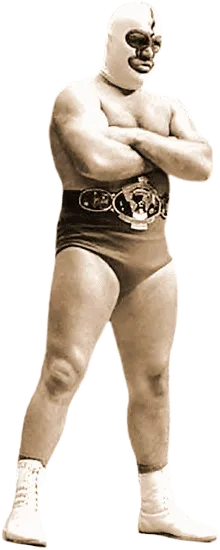 Pro wrestling has featured many masked men during its lengthy history, with North America contributing more than its fair share of masked performers to the primarily international genre of wrestlers. All-American masked marvels (both babyface and heel) such as Mr. Wrestling I & II, The Assassins, The Masked Superstar, The Grappler, various incarnations of the Super Destroyer character, The Patriot, and dozens of other masked men enjoyed immense popularity and success throughout the various territories of the past. However, one North American masked man in particular not only excelled in the U.S. mat wars, but truly broke through to the international wrestling audience, and in the process earned his lofty spot in history. Dick Beyer a.k.a. The Sensational Intelligent Destroyer was that man, and although his attention-grabbing moniker might not be familiar to many modern fans, his impact on wrestling, especially in Japan, is no less enduring. Known worldwide as a genuine mat technician, the man under the mask was well-schooled in the art of both the amateur and professional aspects of wrestling, and his reputation as a champion preceded him wherever he performed.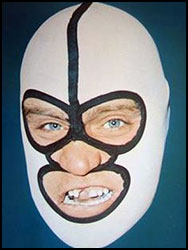 Born Richard John Beyer on July 11, 1930, in Buffalo, New York, Dick Beyer was a high school wrestling stand out and he became an amateur champion and football player in college at Syracuse University. After graduating from Syracuse with a Masters degree in education, he became a professional wrestler, intending to make a few bucks before entering the world of academia. After being recruited by Ed Don George and then trained by former NWA World champion Dick Hutton, Beyer first climbed into the squared circle in 1954. The maskless Beyer gained some modest success wrestling in various territories, including Buffalo and Hawaii. However, when a series of circumstances led to him Los Angeles, donning a mask (supposedly for only a few weeks) and calling himself The Sensational Intelligent Destroyer, Dick Beyer's career truly took off. Beyer later explained in an interview: "So, when I went into L.A., I went in there on a Thursday. I talked to the office and said, 'You guys must not want me to come in here. I'm down here at the commission office and my name isn't even in here to get a license.' Jules Strongbow says, 'Well, you're not in here as Dick Beyer.' I said 'What the hell have you got me wrestling under?' He says, 'We're going to put a mask on you and call you The Destroyer.' I said, 'I don't even have a mask!'"
The Sensational, Intelligent Destroyer was an instant hit with the fans, and when his paychecks began to increase dramatically, Beyer resigned himself to the fact that he would be a masked man for the rest of his career, instead of the few weeks he originally planned. Although The Destroyer made his presence felt as a villain originally, he wrestled "on both sides of the fence," so to speak, and was often the fan favorite. His wrestling skill was undeniable, and separated him from his competition. In addition, he was admired for taking the long-held traditions of being a masked man very seriously, as all masked greats have done. Beyer has stated in interviews that, after leaving an arena, he would sometimes have to drive his car while wearing his famous hood for as long as an hour, just to make sure no fans would catch a glimpse of his face.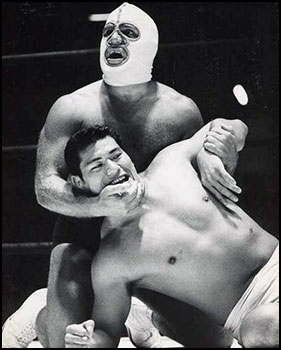 The Destroyer established himself as a popular attraction on the various regional circuits he competed in and his legendary feuds with the likes of Fred Blassie, Dick the Bruiser, Pedro Morales, "Cowboy" Bob Ellis, Nick Bockwinkel, "Mad Dog" Vachon, The Sheik, and many others drew sold-out crowds across the country. Later, he would go on to achieve even greater fame and notoriety in The Land of the Rising Sun, where he was (and still is) considered a true wrestling legend. A brief look at his title history speaks for itself…
He won the prestigious WWA World Heavyweight title in 1962 and held the championship for nearly a full year before being defeated by archrival "Classy" Fred Blassie. All total, The Destroyer held the WWA World title on three different occasions. In 1963 and again in 1964, he teamed with Art Michalik to win the Pacific Northwest Tag Team title. Also in 1964, The Destroyer twice teamed with Hard Boiled Haggerty to win the WWA World Tag Team title. He also defeated "Mad Dog" Vachon to win the prestigious NWA Pacific Northwest Heavyweight title in the mid 1960s. However, when he entered Verne Gagne's American Wrestling Association during the late 1960s, Gagne decided he wanted Beyer to remain a masked man, but use a different persona. Thus, the evil masked Dr. X was created. After transforming himself into Dr. X, Beyer continued to enjoy great success and he became one of the AWA's top attractions. On August 17, 1968, Dr. X defeated Gagne in Bloomington, Minnesota to become the AWA World Heavyweight champion. Elsewhere, The Destroyer defeated Pedro Morales to win the Hawaiian version of the North American title in 1970 and, years later, The Destroyer won the Canadian International Heavyweight title in 1983.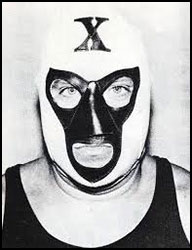 Yet, as successful as he was in America, The Destroyer truly made his most lasting impact in the nation of Japan. On May 19, 1963, The Destroyer cleanly defeated Japan's greatest wrestler, Rikidozan, making the masked man a genuine superstar there. Five days later, on May 24, 1963, a rematch between the two garnered an unbelievable 67 rating on television for their one-hour draw. To this day, the Destroyer vs. Rikidozan encounter remains the second most-watched wrestling match in the history of the sport. From that point forward, The Destroyer was a frequent and highly visible figure on Japanese television, eventually becoming a revered, beloved star in the Orient at a time when foreigners were universally booked to be hated by the Japanese wrestling public. The Destroyer faced the very best competition on the Island nation in dozens of tournaments and was a three-time PWF United States champion, holding the title for over six years all total. In 1973, Beyer signed a six-year deal with Shohei Baba's All Japan Pro Wrestling and Tokyo's NTV television network. During this tenure in Japan, The Destroyer engaged in monumental feuds with Abdullah the Butcher as well as Mil Máscaras. His program with the colorful Mascaras eventually culminated in a legendary best-of-seven series between the two masked men. From 1973-1977, Beyer, as the masked Destroyer, also established himself as a popular mainstream television personality in Japan by hosting Uwasa No Channel, which was a popular late-night comedy/variety show.
Beginning in 1984, after thirty years in the business, Dick Beyer went into a state of semi-retirement. For the next eleven years, while wrestling on a limited part-time basis, Beyer also taught physical education in Akron, New York, as well as coaching football, swimming, and, of course, amateur wrestling. Realizing the correlation between the success of amateur wrestling in relation to future generations entering the pro ranks, Beyer often participated and helped promote amateur wrestling tournaments throughout the United States. As a result of his lifelong love and dedication to the sport, both genres of wrestling were much better off. Finally, on July 29, 1993, thirty-nine years after his pro debut, The Destroyer wrestled his final match, a six-man tag team bout in Japan with Baba and Beyer's son Kurt against Masao Inoue, Haruka Eigan and Masa Fuchi.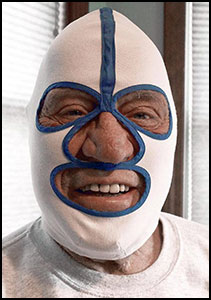 The Destroyer was awarded All Japan's Champion Carnival Technical Award (1977), the Champion Carnival Fighting Spirit Award (1979) and, in 1996, the Cauliflower Alley Club's "Iron" Mike Mazurki Award. Additionally, he is a member of the Wrestling Observer Newsletter Hall of Fame (1996), the International Wrestling Institute & Museum's George Tragos/Lou Thesz Professional Wrestling Hall of Fame (2002) and the Professional Wrestling Hall of Fame and Museum (2005).
Dick "The Sensational Intelligent Destroyer" Beyer passed away on March 7, 2019 at the age of 88.