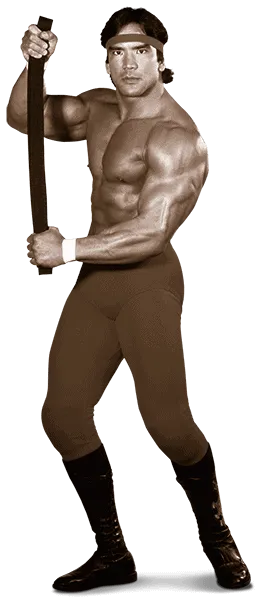 In the fickle world of pro wrestling, attention spans are short and stagnation is the key to damnation. In order to keep the fans' attention, many wrestlers try outlandish gimmicks, adopt a flamboyant appearance or repeatedly switch from "bad guy" to "good guy", sometimes all the above. Few wrestlers are able to maintain one identity or persona throughout their entire career without making the jump to "the other side of the fence," be it as either a hero or a villain. Invariably, the ones who are able to pull it off are very special wrestlers and, without question, Ricky "The Dragon" Steamboat is truly one of those unique competitors.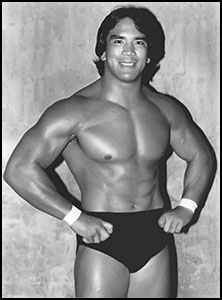 Steamboat is widely acknowledged as one of the best all-around performers of the late-twentieth century, an elite competitor whose raw talent, athleticism, and skill were nearly unparalleled in the business. He was also a consistently bankable draw for promoters, as well as a fan favorite in the truest sense of the term. As such, Steamboat became one of the most prolific champions of his era, capturing more than a dozen tag team titles, numerous secondary championships, and he was one of the fortuitous few to have won The Big One, the NWA World Heavyweight championship. A master technician inside of the squared circle, "The Dragon's" repertoire, timing and ring psychology went virtually unequalled during his time in the sport and he stands in professional wrestling history alongside the literal best of the best.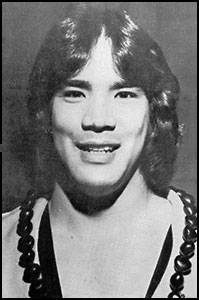 Ricky "The Dragon" Steamboat was born Richard Henry Blood on February 28, 1953 in West Point, New York. The oldest son of an American military serviceman and a Japanese mother, the Blood family moved frequently during Richard's youth and the future Dragon attended high schools in both New York and Florida, where he excelled at wrestling. After graduating in 1971, the athletic Blood eventually found his way to Minnesota, where he enrolled in Verne Gagne's professional wrestling training camp. Gagne's AWA training camps were notoriously difficult and physically exhausting, intentionally designed to weed out those who Gagne felt were not qualified to make a career in pro wrestling. Richard Blood, however, was an exceptional athlete with a solid foundation in amateur wrestling, traits that Gagne highly valued. After completing the training camp, Blood made his professional debut in 1976, wrestling in the AWA under his real name. He then went on to compete in Gagne's promotion for the majority of his rookie year before relocating back to his home state of Florida, where he wrestled for the legendary Eddie Graham. Upon his arrival in the territory, Graham, citing a strong resemblance to Sam Steamboat (who had been a popular attraction in Florida during the Sixties) gave Richard Blood a new ring-name; Rick Steamboat.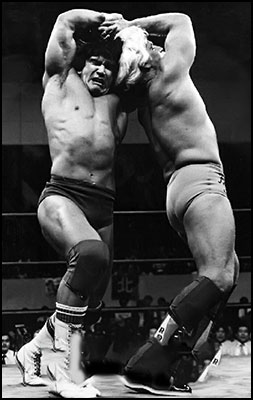 After spending the first year of his career competing in the AWA and Florida promotions, Steamboat then entered the NWA's Georgia territory and quickly became a popular undercard wrestler, paying his dues and working his way up the ladder. However, Georgia booker Ole Anderson soon realized that he did not have a good spot for the deserving Steamboat in his talent-rich promotion. As was commonplace during this territorial era of pro wrestling, Anderson contacted Mid-Atlantic booker George Scott and offered him the promising rookie, an offer that Scott accepted, forever changing Steamboat's life. He burst upon the Mid-Atlantic scene in the Spring of 1977 and almost immediately scored an upset win over Mid-Atlantic TV champion Ric Flair on June 25, 1977. The surprise victory ignited what would go on to become one of professional wrestling's greatest and longest-running feuds. Subsequently, the Crockett family's popular Mid-Atlantic territory became Ricky Steamboat's base of operations for the next eight years.
The athletic young Steamboat went on to hold the Mid-Atlantic TV Title for four months before being defeated by the hated Baron Von Raschke on October 15, 1977. The title loss was somewhat mitigated, however, due to the fact that Steamboat and Paul Jones had won the Mid-Atlantic Tag Team title less than a month earlier, on August 22, 1977. Steamboat & Jones defeated the young and vicious team of Ric Flair & Greg Valentine for the championship belts, further inflaming Flair and Steamboat's heated rivalry. Arguably the two brightest young stars in wrestling at the time, their feud quickly became the red-hot Mid-Atlantic territory's most profitable match-up and the two young ring warriors battled each other virtually every night of the week. The stakes of their rivalry were raised even higher when Steamboat closed the year by defeating Flair for the region's top prize, the prestigious United States Heavyweight title, on November 1, 1977. His first year in the Mid-Atlantic territory (and only his second full year in the wrestling business) had been an unprecedented success and while 1977 was truly a breakout year for Ricky Steamboat, 1978 proved to be even better…
On April 23, 1978 Steamboat & Jones, the reigning Mid-Atlantic Tag Team champs, captured the NWA World Tag Team titles by winning a 10-team tournament, becoming dual champions and one of the top teams in the sport. Still, as time went on it became apparent to fans that Jones was jealous of the young, handsome Steamboat and all of the attention that he received. Jones eventually turned violently on Steamboat and the two former partners engaged in a bitter series of grudge matches, with Steamboat coming out on top of the feud with his former mentor. Once he had disposed of Jones, Steamboat's attention was once again turned to his arch-rival, "Nature Boy" Ric Flair, and on December 18, 1978 he once again defeated Flair for the prestigious United States championship. However, as time would tell, Flair and Steamboat were very evenly matched opponents and "Slick" Ric rebounded to defeat Steamboat on April 1, 1979 and regain his U.S. Heavyweight championship.
Filled with talent and ambition, even in defeat Rick Steamboat would invariably bounce back from a championship loss by simply going out and winning another title. On October 24, 1979, he and Jay Youngblood teamed to win their first NWA World Tag Team championship and, all total, the gifted young team of Steamboat & Youngblood won the World Tag Team championship on five different occasions. Additionally, he also captured the Mid Atlantic Tag Team title with Youngblood in Toronto on August 22, 1982. In the ring, Steamboat and Youngblood were truly exceptional and their individual styles meshed perfectly with one another during their five-year tenure as a tag team. However, away from the spotlight, differences in lifestyle and personal choices slowly formed cracks in the foundation of their inspired partnership, eventually leading to its disintegration. On Christmas Day 1983, Steamboat & Youngblood's NWA World Tag Team title was vacated when Steamboat announced his intention to retire from the sport in order to spend more time with his family. While Steamboat's "retirement" did not last even a full year, the talented and extremely popular duo would never team again, as Jay Youngblood (Steven Romero) tragically died on September 2, 1985. At the time of his death, Youngblood was just thirty years old. During their five-year run as a tag team, Steamboat & Youngblood were either the Mid-Atlantic or NWA World Tag Team champions for a total of 543 days, a truly impressive accomplishment for what turned out to be one of pro wrestling's greatest unsung tag teams.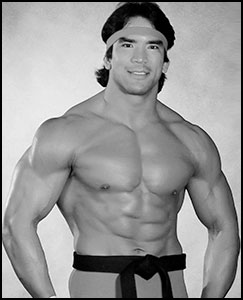 After spending nearly a decade as Mid-Atlantic Wrestling's purest babyface, Steamboat, having accomplished essentially every goal possible in the territory (while also experiencing creative differences with new Mid-Atlantic booker Dusty Rhodes) showed up in the World Wrestling Federation in the Fall of 1985. Upon his debut, Rick Steamboat adopted a martial arts persona and was billed as Ricky "The Dragon" Steamboat. As had been the case in the NWA, Steamboat continued his winning ways and quickly established himself as one of the premier wrestlers in the WWF. During his first run in the World Wrestling Federation, Steamboat entered into violent, intense, main-event feuds with the likes of "Magnificent" Don Muraco, Jake "The Snake" Roberts, and, of course, "Macho Man" Randy Savage. It was against Savage that Steamboat engaged in perhaps the hottest WWF rivalry at the time, culminating in what many still claim to be the greatest match in Wrestlemania history. On March 29, 1987, after a truly classic battle, Steamboat pinned Savage in front of nearly 80,000 fans to win the WWF Intercontinental Heavyweight title at WrestleMania III.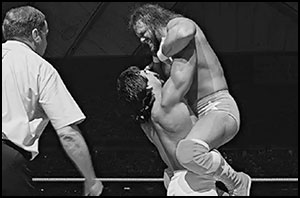 Yet, after nearly two years of working towards a title win in the WWF, the newly-crowned Intercontinental champion was anti-climatically defeated less than three months later in a controversial match against the far less competent Honkytonk Man. Unbeknownst to WWF fans at the time, Steamboat's I-C title reign was cut short due to a conflict with Vince McMahon regarding time he had requested off prior to winning the championship. As a result, he was asked to drop the title and, upon his return several months later, there was a dramatic decrease in both the quality of Steamboat's opponents and his placement on house show and p.p.v. events. The writing was clearly on the wall and by the Summer of 1988, Steamboat had left the World Wrestling Federation.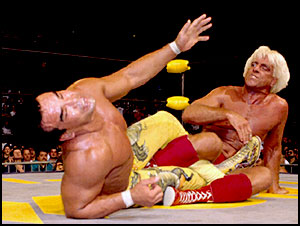 Meanwhile, back in the National Wrestling Alliance, Eddie Gilbert was in the midst of a minor TV feud with Ric Flair and the Four Horsemen in January of 1989 when he announced that he would have a surprise partner to face Ric Flair and Barry Windham for a match on an upcoming episode of World Championship Wrestling. The arrogant Flair was unimpressed and clearly not expecting much when, from out of nowhere, Ricky Steamboat, Flair's greatest enemy, appeared on TBS and actually pinned the stunned NWA champion in front of the whole nation. Forced into a title match by the NWA Board of Directors, Flair then lost his cherished World Heavyweight championship to Steamboat on February 20, 1989, in Chicago, Illinois. The new champion went on to retain his title in a series of rematches against Flair and, later, defended the NWA World championship against other Top Ten contenders like The Iron Sheik and Butch Reed at live arena events across the country. But Flair, as always, could not be counted out and 76 days after losing the title belt, the Nature Boy regained his World championship by defeating Steamboat in Nashville at the NWA's 1989 "WrestleWar: Music City Showdown" pay-per-view. Not long afterwards, Steamboat and the NWA were unsuccessful in agreeing to a new contract and, excluding a short yet exciting tour of New Japan during the Fall of 1990, The Dragon once again disappeared from the wrestling world.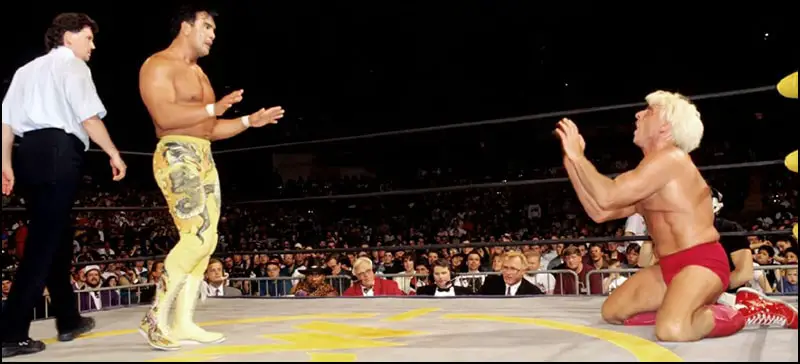 After a fairly long period of time away from his fans in North America, Steamboat again reappeared in the WWF in February of 1991. However, unlike his previous WWF tenure, lingering tensions between Vince McMahon and Steamboat ensured that this time around, the former Intercontinental champion would be relegated to lower mid-card matches and feuds.
He was billed only as "The Dragon" during this WWF tour, and the main thrust of his character was an impressive pre-match ritual that saw The Dragon breathe fire. Yet, despite the heat generated by his new entrance, he was placed on a treadmill of lower-card matches and was fed clearly inferior opponents. This treatment wasn't satisfactory to Steamboat, who was truly one of wrestling's elite names, and following a rather bland run of being misused in the WWF, he once again left the Federation after less than a year in the promotion.
Not long after departing the WWF, Steamboat reappeared in WCW and, as had been the case a few years prior, he once again did so in a dramatic and unexpected fashion. When Dustin Rhodes' partner Barry Windham was injured by the reigning WCW World Tag Team champions, The Enforcers (Arn Anderson & Larry Zbyszko), "The Natural" was forced to find a new partner for a scheduled title match at the upcoming The Clash of the Champions broadcast. On the night of the match, Rhodes' "mystery partner" was revealed in dramatic fashion to be the returning Dragon and Steamboat & Rhodes then went on to defeat the stunned Enforcers to capture the WCW World Tag Team titles on November 19, 1991. The popular new champions went on to defend their title belts for nearly three months before being dethroned by Paul E. Dangerously's duo of Arn Anderson & Bobby Eaton.
From there, The Dragon began feuding with members of The Dangerous Alliance faction, in particular, reigning U.S. Heavyweight champion "Ravishing" Rick Rude. At the time, Rude was arguably the top heel not only in WCW but the entirety of professional wrestling and his matches with the ultra-talented Steamboat were among the most exciting in the sport during this time period. Following his exceptional series with Rude, Steamboat entered into a program with another supremely gifted opponent from Paul E.'s Dangerous Alliance, "Stunning" Steve Austin. Steamboat and Austin feuded for months in WCW, providing TBS with high television ratings and the viewers with truly exemplary matches. The lengthy and exciting Steamboat-Austin feud culminated with The Dragon taking "Stunning" Steve's World TV championship on September 2, 1992.
Exactly 364 days after his return to WCW, Steamboat teamed with a young Shane Douglas to once again win the WCW World Tag Team championship on November 18, 1992. This marked The Dragon's eighth (and final) reign as one-half of the World Tag Team champions and the seemingly make-shift duo instantly gelled into an elite-level team. Steamboat and Douglas' combination of experience & youth, agility & speed, and technique & athleticism synthesized into a truly great, albeit somewhat overlooked, tag team and one of the best babyface combos in WCW's thirteen-year history. Over the course of the following four months, Steamboat & Douglas defended their belts before eventually losing to another great, unsung team from the early Nineties, Steve Austin & Brian Pillman, known collectively as The Hollywood Blondes.
On August 18, 1993 "The Dragon" once again won a major championship, this time the WCW World TV title. After defeating "Mr. Wonderful" Paul Orndorff in Daytona Beach, Florida, Steamboat went on to defend his World TV championship against all comers each week on WCW's cable & syndicated programs. During his four reigns as the NWA/WCW World TV champion, Steamboat held the title for a combined 314 days, establishing himself as one of the greatest titleholders in the long history of the championship. Steamboat also became a four-time NWA/WCW United States champion by defeating "Stunning" Steve Austin for the belt on August 24, 1994. Reigniting their exciting feud from 1992, the two talented athletes picked up right where they'd left off, thrilling fans with a new round of exceptional bouts. However, Steamboat suffered a legitimate back injury while wrestling Austin and was forced to vacate the championship on September 18, 1994, less than a month after his championship victory. It was the last title Rick Steamboat ever held, as his injury was severe enough that he was forced to retire from professional wrestling after nineteen years in the sport. WCW President Eric Bischoff then literally added insult to injury when he unceremoniously fired Steamboat weeks later, via Federal Express.
For nearly a decade, Steamboat remained away from the spotlight, enjoying life as a husband, father and small business owner. In 2002, though, he returned to the world of professional wrestling as a guest referee and ambassador of sorts for the upstart TNA promotion. Steamboat later joined Ring of Honor, where he was involved in an ongoing storyline with R.O.H. Pure Wrestling champion C.M. Punk. The Dragon also worked a program in R.O.H. with Mick Foley that never actually resulted in a return to the ring for Steamboat, yet provided several entertaining interview segments. Having made his way back into the sport, albeit in a limited capacity, it was no real surprise when Ricky Steamboat returned to WWE in 2005, the first time he'd done so in over a dozen years, taking on a job as a producer as well as making occasional guest appearances on television and pay-per-view events.
Several years later, during the build-up for WrestleMania XXV, the next logical step in the return of Ricky Steamboat took place when he became part of a storyline involving Chris Jericho. The former "Ayatollah of Rock 'n Rolla" was now portraying a far more serious and sinister role, one in which he was intent on proving his greatness by destroying past icons and legends of the sport. Along with "Rowdy" Roddy Piper and Jimmy "Superfly" Snuka, a 56 year-old Steamboat climbed back into the ring at a sold-out Reliant Stadium in Houston, Texas to face Jericho in a three-on-one handicap match. Although he had not wrestled in some fifteen years, The Dragon carried the load for his team and showed signs of his former brilliance before ultimately going down in defeat to Jericho. Although he came out on the losing end of the unique encounter, Steamboat was so impressive during his WrestleMania XXV appearance that the promotion scheduled a rematch against Jericho for the following month's pay-per-view, Backlash. Encouraged by his ability to still perform at a high level, The Dragon teamed up with his young son Richie Steamboat in 2009 for the Puerto Rican-based World Wrestling Council and again in 2010 while the younger Steamboat was competing in the WWE developmental territory, Florida Championship Wrestling.
While a full-time return to wrestling was never his goal, the matches with Richie and his encounters with Jericho (as well as the outpouring of positive fan reaction that accompanied each of his appearances in the ring) were more than enough to prove that Ricky "The Dragon" Steamboat still had plenty of gas left in the tank. Another storyline was then developed in which Steamboat would face off against WWE's newest heel faction, The Nexus. On the June 28, 2010 edition of Monday Night Raw, Steamboat was on hand to promote the release of his new DVD, Ricky Steamboat: The Life Story of the Dragon, when he was attacked by the youthful group of villains. The storyline called for Steamboat to suffer debilitating injuries at the hands of The Nexus, and it was reported on the WWE website that Steamboat had been hospitalized following the televised beat-down. However, as is often the case in professional wrestling, life imitates art. Within days it was revealed that during the angle with The Nexus, Steamboat had actually legitimately been hospitalized after re-injuring his back, the same problem area that had caused his original retirement back in 1994.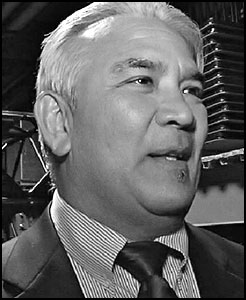 With the real possibility of paralysis should he ever compete again, Steamboat permanently retired from in-ring action following his brief but impressive return. He then went on to serve as an NXT trainer for the next several years until his son Richie was released from his development contract in 2013. Although he is no longer an employee of WWE, Steamboat has continued making occasional guest appearances for the promotion.
Ricky "The Dragon" Steamboat is a member of the Wrestling Observer Newsletter Hall of Fame (1996), the Professional Wrestling Hall of Fame (2002), the WWE Hall of Fame (2009), the International Wrestling Institute & Museum's George Tragos/Lou Thesz Professional Wrestling Hall of Fame (2009), and the NWA Hall of Fame (2012).