Clara Mortensen was a pioneer in the field of women's professional wrestling, holding the title of Women's World Champion and drawing huge crowds in a time where women's wrestling was just a stone's throw from the carnival circuit. A beautiful blonde with a traditional bob, she was athletic and fit in an era where many wrestlers were bulky and brutish. She helped to change the look of wrestling in the 1930s.
Clara Mortensen was born into a wrestling family. Her father Fred "Mart" Mortensen was a professional wrestler in his native Denmark, the light heavyweight champion known as "The Terrible Dane." He continued to wrestle in Portland, Oregon and he trained both Clara and her brother Leo in the grappling trade.
Clara was born in Sioux City, Iowa in 1916 and Mart had introduced Clara to the art of tumbling when she was only three years old before matching her up to wrestle against boys. Because of their size and age, the boys were able to throw her around easily, but rather than get discouraged or cry about the rough treatment, she instead focused on learning to take it, gaining a toughness that would make her formidable in years to come. She made her wrestling debut on July 18, 1925 against her brother Leo at an Elks Club picnic in Portland for a purse of $81.00.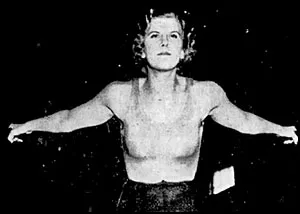 She continued training against her brother and other boys until 1932, when armed with experience and a toughness that belied her age, she engaged to wrestle Barbara Ware for the women's World title that had remained vacant since Cora Livington's retirement in 1924. Ware was a clear favorite as her career was managed by Billy Wolfe, the top promoter of female wrestlers in the United States. Standing only 5' 6" and weighing 133 lbs., the blond sixteen year old used her flying scissors and airplane spin techniques to defeat the veteran Ware in Topeka, Kansas (it should be noted that Ware disputes this version of events, claiming instead that she was the victor. Furthermore some historians cast doubt that Ware was even the wrestler that Clara defeated for the title as details for the event are sketchy).
Mortensen did not sit around waiting for any dispute to be resolved and joined up with a circus called Crafts Big Shows before going out on her own to tour, with her parents and brother in tow. She toured across the United States and in 1934 she made her way to the Hawaiian Islands where she wrestled in front of a reported crowd of 31,000 fans. She wrestled as often as four times a week and was reported by Time magazine to have earned $37,000.00 over a four month span in 1937 (the equivalent of almost $660,000.00 in 2020).
She was noted for having defeated challenger Betty Brown via pinfall in New Orleans in 1935, and Dot Lee in Roanoke, Virginia in 1937, but her biggest match that year was against up and comer Mildred Burke. Burke, coincidentally, was now married to Billy Wolfe. Wolfe pushed for his wife to get a chance to vie for the belt that Clara had held for five years and a matchup between the two women was set. In their first match in December 1936, Clara defeated Burke at the Barn Arena in Anniston, Alabama. Over the course of their next ten matches, four ended up without a winner with Mortensen dominating to win the other six. But on January 28, 1937 at the Memorial Auditorium in Chattanooga, Tennessee, Mildred Burke toppled the champion to capture the Women's title belt.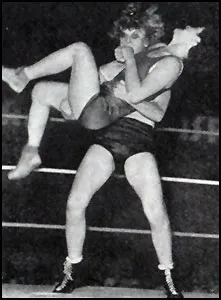 Despite Burke snapping her five year winning streak, Clara got right back on the saddle and prepared for a rematch. During these years, most of the matches were being worked, to some degree. Burke's insistence that she might shoot on Mortensen to take the belt caused a rift to develop between the two. Thus, there was bad blood between them when they stepped into the ring for the rematch on February 11, 1937, back in the Memorial Auditorium. Nothing untoward happened and Clara was able to defeat Mildred to reclaim her title. Her title run was not to last as long as her first and the game Burke fought her way to a victory in April 1937, ending Mortensen's title dreams forever. While Mildred is considered by many the greatest female wrestler in history, Mortensen won the battles between the two of them by a wide margin. This did not help in repairing the rift between the two and for the next forty years, the two engaged in a war of words that saw them refuse to even be in the same room with one another at a Cauliflower Alley banquet.

The lack of a belt did not stop Clara from wrestling as she toured from coast to coast. She was managed by Bill Lewis, who referred to himself as "Bluebeard." She wrestled all of the top tier wrestlers of the day, including Mildred White, Mexican Women's Champion Rita Martinez, Maria Gardini, Mary Davis Dorothy Gonzales and Betty McGee. She also teamed up with her brother Leo, who wrestled under the name "Milo the Strong Man" in mixed tag team matches and wrestled Burke's husband Billy Wolfe in a man vs. woman match (Clara lost by a disqualification). Mortensen lived in Ventura, California and continued to wrestle on the west coast until the state of California banned women's wrestling in 1939. Despite this, she moved around and continued on in her career, compiling 224 wins and 10 losses before her retirement in 1951.
Although retired, she was not done entertaining and moved back to California to become an actress and appeared in the gangster movie Racket Girls in 1951 and later served as a stuntwoman and technical advisor in Here Comes the Groom, also in 1951. She briefly returned to wrestling and entered a tournament and lost in the finals to Maria Bernardi, allowing Bernardi an opportunity to lay a claim to being the Women's champion. Mortensen made appearances over the next thirty years before she passed away in 1988 in Los Angeles, California.
Clara Mortensen picked up the ball after Cora Livingston's retirement to become the top woman in professional wrestling and served as a credible champion and a top draw across the United States and was one of the first wrestlers honored by the Cauliflower Alley.