Antonino "Argentina" Rocca is one of the most influential performers that the sport of professional wrestling has ever known and a legitimate trailblazer in the genre of the "high flying" wrestler. In addition to his revolutionary wrestling technique, Rocca was arguably the biggest, most consistent box office draw of his era. At the height of his fame, "Argentina" Rocca was one of the most recognizable sports figures in any sport, not just pro wrestling. Antonino (who also went by the name Antonio) Rocca was also a key figure during the explosion of popularity that wrestling enjoyed following the advent of television and he was a true "Golden Age" legend that influenced generations of wrestlers to come.
Rocca was born Antonino Biasetton on April 13, 1921 in Treviso, Veneto, Italy and moved to Argentina in the years just prior to World War II. He began his career as a professional wrestler in 1942 and by incorporating some of the techniques he acquired as an acrobat and soccer player in Argentina with the traditional pro wrestling of the day, Rocca developed a style uniquely his own, one that was incredibly popular with fans. Not only did Rocca give new life to old wrestling holds, he developed many original moves of his own, several of which are still commonplace in wrestling to this day.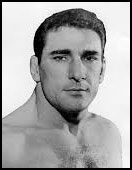 Although many of his contemporaries viewed Rocca as a top attraction but a subpar wrestler, he was not only an exciting, fresh performer to fans of his era, he also showed that a wrestler could be very funny, yet still have the public take him seriously. For instance, one of Rocca's favorite spots was to slap his opponent in the face, only instead of using his hands, he would give them a humiliating flurry of smacks to the jaw using his bare feet. Not only was the spot entertaining, it (along with his exemplary dropkick) also showcased the tremendous balance and coordination he acquired prior to entering the squared circle. Additionally, Rocca would often tie his opponent up in "pretzel holds," to the delight of his fans, of which there were legions. Rocca was especially popular in the northeastern part of the country, where he was an ethnic, blue-collar hero to millions. But "Argentina" Rocca, a household name due to his exposure on national television, enjoyed immense notoriety and popularity all across the country. From New York to Chicago to L.A. and Texas, during the 1940s and 1950s, "Argentina" Rocca was known as one of the most popular and entertaining pro wrestlers of his day.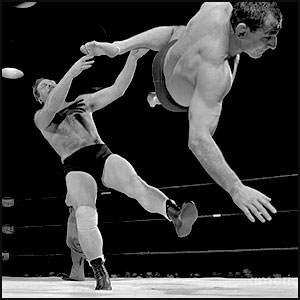 Considering the fame he enjoyed and the length of his time at the top, Rocca actually won very few championships during his career, relatively speaking. However, this was perhaps due to the fact that promoters felt that he didn't need a title to "get over" with the fans. He was already over, clearly. That said, Antonino Rocca did win his share of championship gold, including two prestigious, albeit regional, versions of the World title; the AWA (Ohio) and the Montreal Athletic Commission World Heavyweight championships. He also enjoyed a lengthy reign as the International Heavyweight champion as well as two runs with the NWA Texas championship. His legendary tag team with Miguel Perez was a main-event duo that drew truly impressive numbers throughout the Northeast and, in particular, New York's Madison Square Garden. The team of Rocca & Perez won Capital Sports' version of the NWA World Tag Team championship in 1957 and, nearly twenty years later, reformed their pairing in Puerto Rico to capture the World Wrestling Council North American Tag Team championship by defeating The Infernos on September 11, 1976.
Perhaps more importantly, Rocca was a main-event challenger against numerous legendary World champions, and was a major factor in some of the biggest crowds wrestling had ever drawn at that point in history. Champions like Thesz, Rogers, and Carpentier all faced Rocca in sold out arenas around the country. Other foes of Rocca, the likes of Johnny Valentine and "Classy" Freddie Blassie, fought not necessarily over titles, but rather pride and respect, not to mention the large payoffs each received after main-eventing with a superstar the caliber of "Argentina" Rocca. Aerialists such as Edouard Carpentier, Mil Mascaras, Jimmy Snuka, Tiger Mask and many others owe a debt of gratitude to the revolutionary Antonino Rocca, who influenced countless high-flying wrestlers to come and, in many ways, originated that genre of the sport.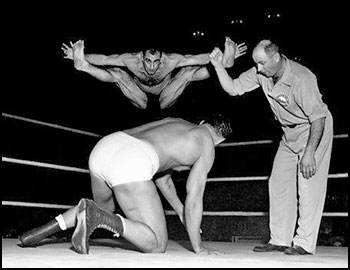 As successful as he may have been inside the ring, though, Rocca did not always make the best business decisions outside of it. In his autobiography Hooker: An Authentic Wrestler's Adventures Inside the Bizarre World of Professional Wrestling, Lou Thesz wrote about Rocca, saying, "The picture really came into focus when I learned his deal with the New York thieves (Vincent J. McMahon, Toots Mondt and Kola Kwariani) gave Rocca 25% of the office. Since the office's money came primarily from Rocca's bookings, it meant his partners were getting 75% of everything he earned."
With the arrival of the 1960s, the establishment of the World Wide Wrestling Federation and main-event performers such as "Nature Boy" Buddy Rogers and Bruno Sammartino headlining the cards, an aging Rocca, despite his fame and drawing power, found himself being pushed out of the top spot he'd enjoyed for so many years. Eventually, after leaving the promotion, Rocca even helped run a short-lived opposition group to McMahon's powerful WWWF, presenting cards at the Sunnyside Gardens in Queens, N.Y. The promotion ultimately failed, however, with the new decade of the 1970s, Rocca eventually returned to Capital Sports and teamed with a young Vince McMahon Jr. as a color commentator on the WWWF's Championship Wrestling and All-Star Wrestling television programs. The legendary veteran had an announcing style that was all his own, to say the least, and, for better or worse, his unique commentary added greatly to the popular programs.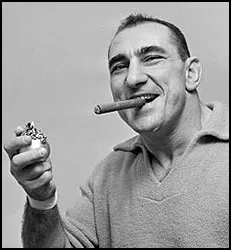 Antonino Rocca is a member of the WWE Hall of Fame (1995), Stampede Wrestling Hall of Fame (1995), Wrestling Observer Newsletter Hall of Fame (1996), and the Professional Wrestling Hall of Fame and Museum (2003).
Stemming from complications related to a urinary infection, Antonino "Argentina" Rocca passed away unexpectedly on March 15, 1977 at the age of 55.