Professional wrestling's "Golden Age" of the late-1940s through the late-1950s produced a number of legendary grapplers who, by appearing on the newly-created medium of television, became household names during that era. Johnny Valentine was one of those "Golden Age" greats, one of the toughest, most physical villains in the history of wrestling as well as one of its most prolific champions. As a performer, few could match Valentine's ability to get his story across to the fans and at 6`4″ and 250 lbs., with bleached blond hair, Valentine perpetuated a look and persona that is still part of wrestling to this day. A testament to his talent and staying power, Valentine was a top performer beginning in the late-1940s until the end of his career in the mid-1970s, proving that his straight-forward, no-nonsense style of wrestling could be successful in any time period. During his prime, he was among the most famous wrestlers in the country and Valentine became a role model for many wrestlers to come.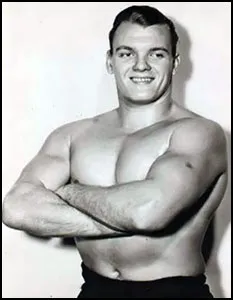 Johnny Valentine was born John Wisniski on September 22, 1928 in Hobart, Washington and originally he trained as a boxer before making the switch to wrestling. His professional debut came in 1947 at the age of 19 and with his blond hair, tanned, athletic build, and cocky mannerisms, Valentine quickly became one of the top stars in the business. His talent and toughness inside the ring frustrated many fans of the day, as the arrogant Valentine was as good as he bragged about being and he never let anyone forget it. As a result, in the eyes of the wrestling audience, he was among the most hated men of the era. That said, later in his career he occasionally wrestled as a tough-as-nails babyface and was equally successful in either role.
Johnny Valentine was famous for employing a notoriously methodical style of ring work during his matches, a style that most modern wrestling fans would likely find to be, at best, difficult to appreciate or, at worst, very boring. By working basic holds (i.e. a headlock, a leglock or perhaps an arm bar) for extended periods of time, he expertly incorporated genuine wrestling psychology into his matches. Meanwhile, his chops and forearm smashes were laid in with as much force as he could muster, which, to say the least, was considerable. Realism, not flash or wasted motion, was the mantra of Johnny Valentine and he was a true master at it. His matches, especially those against blood-enemies like Wahoo McDaniel, Dory Funk, Jr., The Sheik or Bobo Brazil, were some of the most violent, stiff, and realistic bouts that a wrestling fan could hope to witness.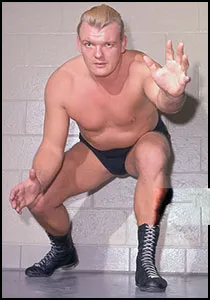 The great Lou Thesz, who was a frequent opponent for many years, said of Valentine, "Easily the toughest guy I ever met. He was a two-fisted brawler who always tried his wings at wrestling. He enjoyed trying to hook me and put me in jeopardy, just to see if he could get away with it, and he was so strong and well-conditioned that he could've caused me considerable embarrassment if I hadn't taken him seriously. I knew how to play the game a little better, though, because I'd had the expert coaching, but occasionally I'd have to use a hook on him, just to get away. If he'd had the kind of focused wrestling background I had, things could've been very different."
Valentine's list of championship accomplishments speaks for itself. In the tag team division, he won the Texas Tag Team championship with Rip Rogers (a.k.a. Eddie Graham) in 1958, followed by the NWA United States Tag Team title (which later evolved into the WWE World Tag Team championship) on November 14, 1959 with partner Dr. Jerry Graham. He also scored three more U.S. Tag Team titles wins with partners Buddy Rogers (1960), "Cowboy" Bob Ellis (1962) and Tony Parisi (1966), the Southern Tag Team title w/Boris Malenko in 1968, and five NWA International Tag Team championships. As a singles competitor, Valentine held, among other titles, three separate versions of the United States Heavyweight championship; the Toronto version (1963, 1968), the Detroit version (1964, twice in 1973) and the Mid-Atlantic version (the same U.S. title currently defended in WWE) in 1975. The talented Valentine also wore the coveted Florida Heavyweight title three times between 1967-68, the Southern Heavyweight championship in 1973, the NWF North American title in 1972, Japan's United National Heavyweight title in 1973, and the NWA Eastern States Heavyweight title twice in 1974 and 1975. Although he was never an NWA World Heavyweight champion, Valentine did wear several prestigious regional versions of the World title, including the IWA (Chicago) World championship in 1963, the IWA (Montreal) World title in 1972, and the NWF World Heavyweight championship twice, in 1972 and 1973.
In addition to his many championship accolades, Johnny had intense, long-running feuds with some of the greatest stars of any era; Lou Thesz, Pat O'Connor, Harley Race, The Sheik, Wahoo McDaniel, Bruno Sammartino, Antonino Rocca, Bobo Brazil, Johnny Powers, the Brisco Brothers, Red Bastein, the Funks, and many, many others. He also produced an heir to his impressive legacy in the form of his very talented and successful son, Greg "The Hammer" Valentine. Although he was known as perhaps the toughest man in wrestling during his day, was an infamously "stiff ribber" among his co-workers, and his matches were often gory bloodfests, away from the ring, Johnny Valentine was quite different from the violent sadist he portrayed on television. A lover of opera, a player of chess and a connoisseur of fine wine, Valentine was truly an unlikely renaissance man.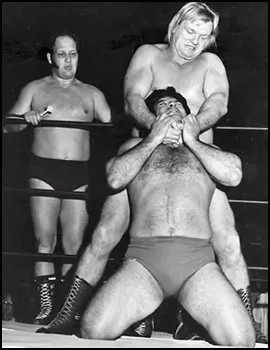 But, on October 4, 1975, the life of this legendary wrestler — and the world of professional wrestling — changed forever when Valentine (along with Ric Flair, David Crockett, Bob Bruggers and Tim Woods) were in a private plane, en route to another performance. While in flight, the plane literally ran out of fuel thousands of feet in the air and the result was a forgone conclusion, as it was only a matter of time before the small plane crashed to the ground below. The pilot eventually lost his life, while Flair and Bruggers both suffered broken backs. Meanwhile, Johnny Valentine was partially paralyzed. It was a tragedy that, while it could have been worse, was an understandably bitter pill to swallow for the proud Valentine. But, fate had left him with no options, professionally speaking, and his 28-year career as a wrestler was over, permanently.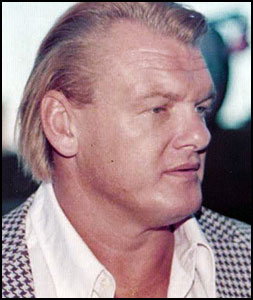 Not surprisingly, Johnny Valentine has been inducted into several Halls of Fame, including the Stampede Wrestling Hall of Fame (1995), the Wrestling Observer Newsletter Hall of Fame (1996), the Professional Wrestling Hall of Fame (2006), the St. Louis Wrestling Hall of Fame (2007) and the NWA Hall of Fame (2011)
On April 24, 2001, John "Johnny Valentine" Wisniski passed away at the age of 72.