During the "Golden Age" of professional wrestling immediately following World War II, there were many famous wrestling heroes and villains that were known all across the country, due primarily to the fact that wrestling was an enormous part of the early development of television. At a time when a broadcast day for the networks lasted less than 12 hours, there was still hour after hour of professional wrestling featured on the new entertainment medium. Pro wrestling was experiencing a huge boom in popularity and certain names stuck out in the minds of wrestling fans and the public at large. "Killer" Kowalski, the hulking Polish monster of the mat, was unquestionably one of the most famous of them all.
Wladek "Killer" Kowalski was born Edward Władysław Spulnik on October 13, 1926 in Windsor, Ontario. He was discovered and trained by promoter Bert Ruby, who saw a future superstar (and, no doubt, many dollar bills) in the massive 22 year-old. Standing 6'6″ and weighing nearly 300 lbs., it wasn't difficult to understand what attracted Ruby to Spulnik and he soon made his professional debut in 1948, originally competing in the Central States promotion as Tarzan Kowalski. He also used the ring name Hercules Kowalski before settling on the name that would make him famous, "Killer" Kowalski. After appearing on Fred Kohler's nationally broadcast Chicago-based wrestling program, Kowalski caught the eye of Sam Muchnick and other members of the NWA's hierarchy, all of whom were interested in employing the young giant. Standing head and shoulders above his competition, literally, Kowalski quickly became feared as one of the most vicious and unrelenting villains the sport had ever known. One of his earliest championships was the prestigious NWA Texas Heavyweight title, which he won on August 22, 1950 when he defeated "Nature Boy" Buddy Rogers in Dallas, Texas. On a roll, the Polish wrecking machine also won the Texas Tag Team title on December 11, 1950, single-handedly defeating reigning champions Duke Keomuka & Danny Savich in a handicap title match. In 1951, he won the Central States Heavyweight title, defeating former three-time NWA champion "Wild" Bill Longson in Kansas City and instantly ruled the Midwest as a result.
But The Killer, who was incredibly agile for such a huge man, was also feared in the tag team ranks. Early on in his career he formed a highly successful and virtually undefeatable team with the equally huge 6′ 6″, 270 lbs. German powerhouse Hans Herman and the duo was among the era's tag team elite, winning the NWA Pacific Coast Tag title in 1951, among other championships. However, "Killer" Kowalski had some of his greatest success when he returned home to Canada (Montreal, in particular) and became a genuine superstar who was hated like none other. He wore the regionally prestigious IWA World Heavyweight championship eight different times between 1952-1962, defeating wrestlers the caliber of Verne Gagne, Edouard Carpentier, Don Leo Jonathon, Pat O`Connor, and others for Canada's top championship. It was in Montreal where he also cemented his reputation as wrestling's most notorious villain when, on October 15, 1952, Kowalski tore off a portion of Yukon Eric's ear while executing a knee drop. Of course, in reality, the injury was accidental, however, the press and notoriety that followed forever fortified Kowalski's reputation among fans as being the most ruthless, bloodthirsty villain in the sport.
With his notorious name and reputation secured throughout The Great White North, Kowalski ventured back to America, this time to New York City and the World Wide Wrestling Federation. Once there, he established himself as the most violent wrestler on the East Coast, giving every "fan favorite" wrestler, including WWWF kingpin Bruno Sammartino, some of the most brutal beatings that fans along the eastern seaboard had ever seen. Along with the then-hated Gorilla Monsoon, he won the WWWF United States Tag Team title in November of 1963 in Washington, D.C. by defeating the team of Skull Murphy and Brute Bernard. After his impressive first run in the WWWF, Kowalski continued his never-ending travels, and eventually landed in the NWA's Hawaiian territory, where he won the promotion's version of the U.S. Heavyweight title by defeating Curtis Iaukea on November 3, 1965.
Not long after competing in the Hawaiian territory, Kowalski made the decision to switch to a vegetarian diet and lifestyle, which he continued for the remainder of his years. Following his retirement, Kowalski became a frequent public speaker on the virtues and benefits of vegetarianism. And, while the change in lifestyle did visually affect his once-mammoth, heavily-muscled physique, Kowalski's legendary stamina and endurance remained unchanged.
With the new decade of the 1970s, "Killer" Kowalski continued to travel from territory to territory, with success always following. In 1970, he won the Texas Brass Knuckles championship by defeating the rugged Johnny Valentine. He also traveled to California, winning the prestigious NWA Americas Heavyweight title on January 31, 1972 by defeating Los Angeles wrestling legend John Tolos. During this time period, he also won the NWA America's Tag Team title with Kinji Shibuya. From there, Kowalski returned to the northeast and the World Wide Wrestling Federation where he donned a mask and teamed with John Studd as the Masked Executioners. With Lou Albano serving as their manager, The Executioners defeated Tony Parisi and Louis Cerdan to win the WWWF Tag Team championship on May 11, 1976 in Philadelphia and the two colossal masked men went on to hold the straps for over five months.
Following his retirement from active competition in 1977, Kowalski continued to be involved in the sport as a trainer and his Massachusetts-based wrestling academy was responsible for starting and/or advancing the careers of dozens of future wrestling superstars. Of course, his two most famous students, Triple H and Chyna, went on to the very top of the profession. But, Kowalski also had a hand in training many other major names including, among others, Luna Vachon, Aron Stevens, The Eliminators (Saturn and Kronus), April Hunter, Chris Nowinski and Fandango.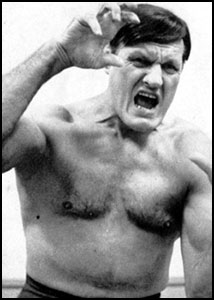 "Killer" Kowalski was inducted into the WWE Hall of Fame in 1996, followed by the Wrestling Observer Newsletter Hall of Fame, also in 1996, as well as the National Polish-American Sports Hall of Fame in 2007. Kowalski was also honored with the Cauliflower Alley Club's prestigious "Iron" Mike Mazurki Award in 2002.
On August 8, 2008, Wladek "Killer Kowalski" Spulnik suffered a heart attack and subsequently passed away on August 30, 2008 at the age of 81.