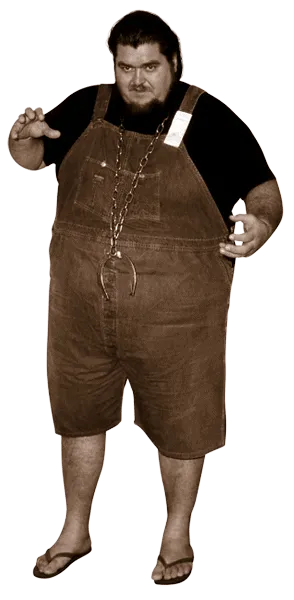 Although he was a fairly competent showman in the ring, the gigantic Haystacks Calhoun was by no means known as a tremendous worker and certainly not a traditional wrestler. However, in Calhoun's case, traditional wrestling prowess was simply not the key to his success. In a game that's one part sport, two parts showbiz, it's an accepted fact that marketability and charisma are just as important as technical ability and Haystacks Calhoun was among those performers that proved a wrestler's character and image could be just as important as pure wrestling ability. During his prime in the late Fifties and early Sixties, he was easily one of the most popular entertainers on television and the name Haystacks Calhoun was more recognizable to the mainstream public than virtually any other performer in professional wrestling. Furthermore, despite his lack of technical wrestling ability, the beloved gentle giant was able to draw huge crowds to his matches, genuinely helping to expand the popularity of his chosen profession. Calhoun was a sports entertainer in the truest sense of the term and a man who helped shape the future of the business by cementing in the minds of promoters that a grappler could "get over" not just by displaying exceptional wrestling skills, but also via the development of his or her look, character & personality.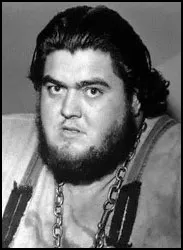 Haystacks Calhoun was born William Calhoun on August 4, 1934 in McKinney, Texas and when he was in his early twenties, the massive young Calhoun was convinced to take a shot at a career in professional wrestling. Standing 6′ 3″ and weighing in at a colossal "601 lbs." (in reality, Calhoun fluctuated between 450-500 pounds) the rookie wrestler certainly had the size criteria covered. In fact, upon his debut, Haystacks Calhoun was (rightfully) promoted as the largest wrestler in the world. However, in addition to his extraordinary size and bulk, Calhoun's "farm boy" gimmick, which was quite unique at the time, is what truly got him over as a hugely popular babyface. Billed as hailing from Morgan's Corner, Arkansas, the likable young country boy was an instant hit with fans when he began his career in the mid-Fifties. With his trademark good-luck horseshoe chained to his neck, the barefooted hillbilly struck a chord with television's huge wrestling audience, many of whom still lived in rural areas of the country. Almost immediately, Calhoun enjoyed a position as one of the major superstars at the tail end of the "Golden Age of Wrestling," a time during which the sport was a staple of the popular new entertainment outlet of television. As charismatic as he was heavy, the mammoth Calhoun made a lasting impression on a huge percentage of the U.S. population, even those who did not necessarily follow professional wrestling.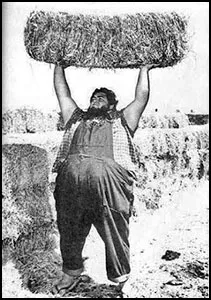 The enormous Haystacks would often entertain his audience by competing in two-on-one handicap matches. However, billed at 601 lbs., the huge Calhoun would still top the combined weight of his opponents, and despite being out-manned, it was clear to his fans that the popular farmer was never in any real danger of being defeated during his many handicapped bouts. The fame that Calhoun garnered as a result of his career in wrestling led to other show business opportunities, including product endorsements and movie offers. In 1962, the monstrous wrestler appeared in Rod Serling's critically acclaimed masterpiece, Requiem for a Heavyweight, further adding to Calhoun's already substantial mainstream notoriety. The enormous grappler made a short but memorable appearance portraying a pro wrestler, opposite the film's lead character, a punch drunk, washed-up boxer (Anthony Quinn) who, at the urging of his debt-ridden manager (Jackie Gleason) is reduced to earning a paycheck in the shady, vaudevillian world of professional wrestling. The film, of course, went on to be a classic and the renowned Calhoun received positive reviews for his brief but memorable film debut.
As one of the top attractions in the business, Haystacks Calhoun was placed in programs with some of the biggest stars of the day, including "Nature Boy" Buddy Rogers, Killer Kowalski and George "Crybaby" Cannon, among many others. While he would never be confused with a great technical wrestler, the massive Calhoun did possess surprising agility and some impressive moves, including his devastating sit-down splash finishing maneuver, and he was involved in what were considered exciting wrestling matches. Throughout the decade of the Sixties, Calhoun remained one of the premier attractions in pro wrestling, traveling from territory to territory and entertaining fans along the way.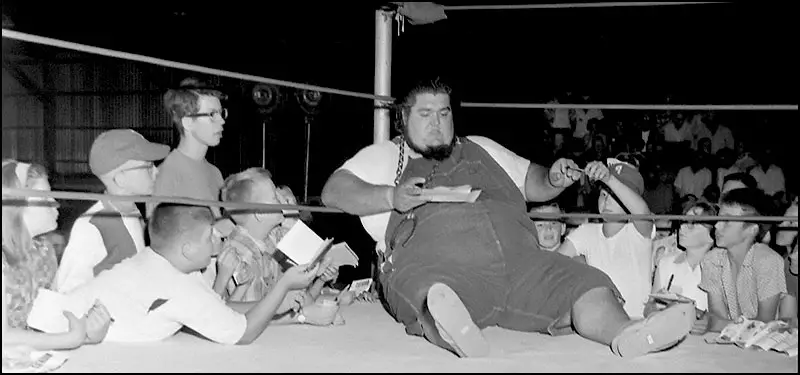 The nature of his gimmick was such that he really didn't need to wear championship gold in order to be a success and as a result, Calhoun won just a handful of tag team titles during his career, and never a singles championship. His first came in 1960 when he teamed with The Amazing Zuma to win the NWA Southern Tag Team title, followed by the WWA International TV Tag Team title with Abe Jacobs in 1962. Calhoun twice captured the Canadian Tag Team title w/ Don Leo Jonathon, first in 1966 and again in 1968. He also teamed with a young Jack Brisco to capture the United States Tag Team title in 1966 and the Florida Tag Team title in 1974 with Kevin Sullivan.
After years of nomadic travel with no real "home base," Calhoun eventually settled in the Northeast, with Vince McMahon's Capitol Wrestling group, where he enjoyed massive fan support. After engaging in a heated program with WWWF mainstay Bruno Sammartino, Calhoun later formed a successful team with "The Living Legend." Additionally, the big man enjoyed a solid pairing with the legendary Bobo Brazil. It was while wrestling in the World Wide Wrestling Federation that Haystacks Calhoun won the most prestigious championship of his career, teaming with the popular young Australian Tony Garea to capture the WWWF Tag Team championship. On May 30, 1973 in Hamburg, Pennsylvania, Calhoun and Garea defeated the reigning champions, the hated but lethal Japanese team of Fuji & Tanaka, to win the WWWF tag team gold. The popular duo combined youth & speed with size & power, and the end result was a championship duo that drew and maintained fan interest. Over the course of the following four months, Calhoun & Garea successfully defended their title belts against the ongoing challenge of the talented former champions, as well as other top WWWF teams. However, on September 11, 1973, Fuji & Tanaka were able to regain the World Wide Wrestling Federation Tag Team championship, taking the straps back from Garea & Calhoun in Philadelphia. Haystacks Calhoun continued wrestling in the WWWF throughout much of the Seventies, as well as making special guest appearances in other wrestling hotbeds across the country. But, after nearly twenty years of taking bumps in the ring, the big man understandably began to slow down a bit. By the latter portion of the decade, while still enjoying a position as a top attraction and a very popular fan favorite, the world-famous super heavyweight finally retired from the wrestling business.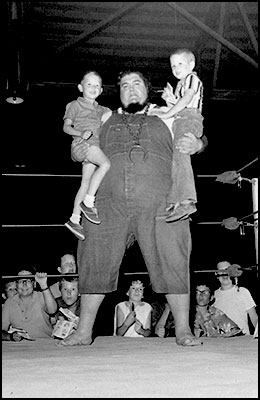 Not surprising is the fact that, after seeing the great success achieved by Haystacks Calhoun, there were many who tried to repeat his success by adopting his gimmick, or at least parts of it. During his era, and after, there were many Calhoun-like performers, such as Giant Haystacks, "Plowboy" Stan Frazier (a.k.a. Uncle Elmer), Hillbilly Jim and the Godwinns, to name a few.
Haystacks Calhoun is a member of the WWE Hall of Fame (2017).
William "Haystacks" Calhoun passed away due to complications from diabetes on December 7, 1989 at the age of 55.