It seems that each sport has its own legendary "voice," a commentator who epitomizes the sport, just by speaking. In baseball, there was Harry Carry. In boxing, the legendary Howard Cosell encompassed the sport, without ever stepping in the ring. And in pro wrestling, there was the knowledgeable, dignified, somewhat raspy voice of "The Dean of Wrestling Announcers" Gordon Solie. Before good ol' JR, Michael Cole, Tony Schiavone, Vince McMahon, "Mean" Gene, Jesse "The Body" or Gorilla Monsoon, there was, in the minds of millions of fans, one voice for the sport of professional wrestling and it belonged to Gordon Solie.
Solie was actually born Francis Jonard Labiak on January 26, 1929 in Minneapolis, Minnesota and started his career in broadcasting as a young radio sportscaster in the 1950s. Although he would end up being involved in the wrestling business for nearly fifty years, Solie did not grow up watching professional wrestling and his true passion was for sprint & stock car racing.
Through a series of circumstances, he wound up as the ring announcer in Florida before being hired by promoter "Cowboy" Luttrell to be his television play-by-play commentator in 1960. Given the fact that he was not terribly familiar with professional wrestling, Gordon arranged to have some of the wrestlers apply various holds on him, with force, so that he could better describe the effects to his viewers. It was an indicator as to his dedication to his new profession, a dedication that followed him throughout his thirty-plus years of broadcasting pro wrestling. Solie was, arguably, not only the most dedicated wrestling announcer, he was also the most prolific and at one point served as the lead commentator for the regional NWA wrestling programs from Florida, Georgia, and Alabama simultaneously.
His work on Eddie Graham's Championship Wrestling from Florida program was truly noteworthy, as Solie called the most historic matches in the storied annals of Florida wrestling history. At the same time, his commentary and interviewing skills were a key factor in helping to develop the careers of legendary wrestlers such as Jack Brisco, Dusty Rhodes, Bill Watts and numerous other Florida standouts. Meanwhile, as the host of Superstation TBS's Georgia Championship Wrestling from 1973 through Vince McMahon's takeover of the timeslot in 1984, Gordon Solie was easily the most famous and respected announcer in professional wrestling.
Following his lengthy run on TBS, Solie served as the co-host of the groundbreaking syndicated news magazine Pro Wrestling This Week, which followed the storylines and aired matches from virtually every U.S. promotion, including the WWF Additionally, during this time period, he still served as the host of Championship Wrestling from Florida and was the lead commentator for Ron Fuller's Continental Wrestling Federation. Later, after those two promotions folded, he rejoined his former TBS boss Ted Turner in 1989. While in WCW, Gordon did color commentary and news features on various Turner-produced programs such as the NWA Power Hour, World Wide Wrestling, and the Saturday night World Championship Wrestling program on TBS. Solie's final national wrestling appearance took place at WCW's Slamboree '95 pay-per-view, when was inducted into the WCW Hall of Fame.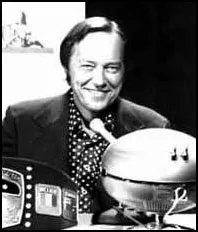 Sadly, in 1999, Solie (who was a longtime smoker) underwent surgery to remove cancer from his throat. The operation was a success, but Gordon, who had made a living for almost a half-century by talking, lost his ability to speak. The cruel irony was not lost on his millions of fans from years gone by, however, Solie himself seemed at peace with the loss of his voice.
Gordon Solie is a member of the WCW Hall of Fame (1995), the Wrestling Observer Newsletter Hall of Fame (1996), the Professional Wrestling Hall of Fame and Museum (2004), the NWA Hall of Fame (2005), and the WWE Hall of Fame (2008).
On July 28, 2000, Gordon Solie passed away at the age of 71, a victim of brain cancer.