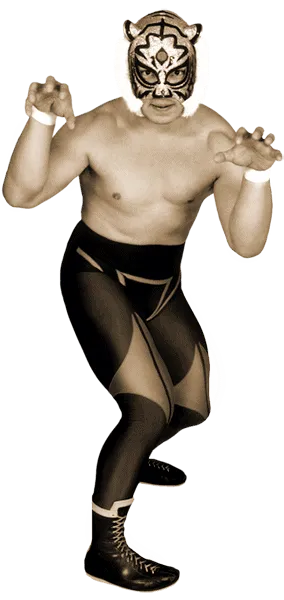 Satoru Sayama, wrestling as the original Tiger Mask — a character straight out of the pages of a popular Japanese comic book — single-handedly set the world of Junior Heavyweights (later called Cruiserweights and/or Light Heavyweights) afire when he made his debut on April 23, 1981. At first, many traditional Japanese fans scoffed at the thought of Tiger Mask, Ikki Kajiwara's and Naoki Tsuji's popular comic book wrestling hero, being pushed as a legitimate wrestling star. But, as the world would soon find out, there was much more to the high-flying and inventive masked man than just his already famous comic book persona. The death-defying and revolutionary aerialist took the style of his childhood idol Mil Mascaras and, due to his own incredible skill and ingenuity, turned it into his own, forever changing pro wrestling for athletes under 225 lbs. Quite simply, history may prove the original Tiger Mask to be, arguably, the single most important and influential man in the history of wrestling's lighter weight division.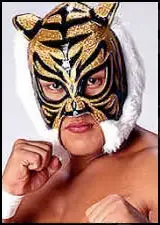 Satoru Sayama was born on November 24, 1957, in Yamaguchi, Japan and began his career at the age of 19. He made his professional debut on May 28, 1976, losing to Shouji Kai in Tokyo. Standing 5'8″ and weighing a mere 160 lbs., Sayama was far from an imposing physical presence, especially considering his line of work. Nevertheless, after a few years of learning his craft in promotions across the globe, paying his dues and gaining experience, Satoru Sayama steadily rose up the ranks until winning his first title in 1979, the NWA World Middleweight championship, in Guadalajara, Mexico. Sayama went on to hold the title for six months before losing to El Satanico on March 28, 1980, impressing many with his ever-expanding arsenal of moves and undeniable skill.
When Tatsumi Fujinami, who had spearheaded the Junior Heavyweight division in Japan after his success in America as WWWF Junior Heavyweight champion, decided to move up to the Heavyweight division, New Japan was looking to create new stars for the Junior division. As a way to promote and draw attention to the Junior Heavyweights, they decided to make the popular Tiger Mask wrestling cartoon character into a true professional wrestler. The talented Sayama was asked to fill the role, he accepted, and after much preparation made his debut as Tiger Mask on April 23, 1981, defeating the formidable Dynamite Kid for the vacant WWF Junior Heavyweight championship. That victory, highlighted by his array of unique moves and hybrid ring style, also managed to shock the wrestling world in the process. The match served as a springboard for a truly legendary feud between Tiger Mask and the Dynamite Kid, a ground-breaking series that thrilled fans of the day and would go on to influence generations of wrestlers to come.
After winning over the skeptics and critics in Japan with his dazzling repertoire and obvious superiority, Tiger Mask was finally defeated by the Black Tiger on May 6, 1982 for the WWF Junior Heavyweight title. The loss hurt, but was definitely lessened by the fact that Tiger Mask would go on to win the even more prestigious NWA World Junior Heavyweight title just two weeks later on May 25, 1982. Then, the very next day, Tiger Mask defeated Black Tiger in a rematch for the WWF Junior Heavyweight title, making him a two-time WWF Junior Heavyweight champion, the first-ever simultaneous NWA & WWF Junior Heavyweight titleholder, and the hottest Junior Heavyweight the sport had ever seen. Even in America, where he was first received with skepticism, if not downright apathy, the unique and exciting Tiger Mask quickly won over the North American audience and became a legitimate "special attraction" for promoters in the northeastern U.S. That said, soon after regaining the WWF title, certain NWA promoters declared the NWA Junior Heavyweight title vacant, at least in the United States, believing that since the NWA's title was universally considered the "true" World Junior Heavyweight title, Tiger Mask should only defend the NWA — and not the WWF — championship.
For the next year, Tiger Mask ruled his segment of the wrestling world. Whereas Tatsumi Fujinami had basically introduced the Junior Heavyweight division to the Japanese fans, it was Tiger Mask who took it to incredible new heights of popularity in his native country, as well as in Mexico and the U.S. However, during a tag team match on April 3, 1983, he was injured by the Dynamite Kid and, two days later, was forced to vacate the NWA World Junior Heavyweight title after it became clear that he would need time off to recuperate. However, once the determined Sayama recovered, Tiger Mask regained his NWA World Jr. title by defeating Kuniaki Kobayashi on June 2, 1983, making him a two-time NWA World Junior Heavyweight champion, and, once again, simultaneous NWA-WWF Junior champ.
As impressive as Tiger Mask's popularity was, behind the scenes Sayama was increasingly dissatisfied with his pay, placement on the cards and a perceived lack of recognition and appreciation of his success by New Japan Pro Wrestling. His frustration eventually reached a boiling point and, and the peak of Tiger Mask's fame and notoriety, he announced his retirement from NJPW in 1983.
Following his retirement, several new wrestlers portrayed the role of Tiger Mask, while Sayama focussed on shootfighting and mixed martial arts, both as a trainer and competitor.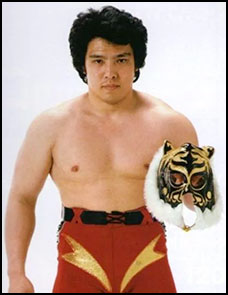 In the years to come, he would be involved in several shoot wrestling promotions such as the UWF (as The Tiger/Super Tiger) and Inoki's UFO group, as well as forming his own promotions such as SHOOTING and Real Japan Pro Wrestling. In 1995, Sayama had a major role in the movie Roppongi Soldier and a decade later appeared in Shinsetsu Tiger Mask, which was a biopic about Sayama's life. The role of Sayama/Tiger Mask was played by actor Masakatsu Funaki, with Sayama portraying Tiger Mask's trainer. Sayama also penned a very controversial book, Kay Fabe, which created headlines in Japan by exposing many of pro wrestling's long-hidden and well-protected secrets.
Tiger Mask has received received a number of different awards, including Tokyo Sports' MVP Award (1982), Popularity Award (1981), and Technique Award (1982, 1984). Additionally, the readers of the Wrestling Observer Newsletter voted him Best Flying Wrestler (1982, 1983), Most Impressive Wrestler (1982), Best Technical Wrestler (1982, 1983), and Match of the Year (1982, vs. Dynamite Kid). Satoru Sayama is also a member of the Wrestling Observer Newsletter Hall of Fame (1996) and the International Professional Wrestling Hall of Fame (2021).