January 25, 1978, Miami, Florida
In the first-ever NWA vs. WWWF title unification match, National Wrestling Alliance World champion Harley Race faced the Worldwide Wrestling Federation Heavyweight title holder "Superstar" Billy Graham at the Orange Bowl in Miami, Florida. Without question, the champion vs. champion clash was a genuine "dream match" for wrestling fans of the era and one of the most important bouts of the 1970s. Although there would be several more NWA vs. WWF unification matches in the future, including championship showdowns between Race & Backlund, Backlund & Rhodes, and Backlund & Flair, the match between Harley Race and Billy Graham was the first of its kind and, fittingly, stands apart from the others.
The historic match was held outdoors at the cavernous Orange Bowl in Miami and its promoters were hoping for a crowd in the range of 30,000. However, the event was marred by day-long wind and rain, with the poor weather conditions severely hampering the event's walk-up business at the box office. As a result, just over 12,000 people attended the card, which was a decent enough house but far less than what was expected for such a monumental event. Understandably, the match itself suffered from its participants having to perform during intermittent rainfall, inside of a wet ring. That said, both Race and Graham did their best to put on an exciting match for the fans in attendance while simultaneously protecting each other from potential injury. The first fall went to Graham a half-hour into the match when his powerful Superstar Bearhug forced a submission. Race then rebounded, capturing the second fall after suplexing Graham from the apron into the ring at the fifty-minute mark. During the third and final fall, Race had Graham locked in a sleeperhold and near unconsciousness when the one-hour time limit expired and the match was declared a draw.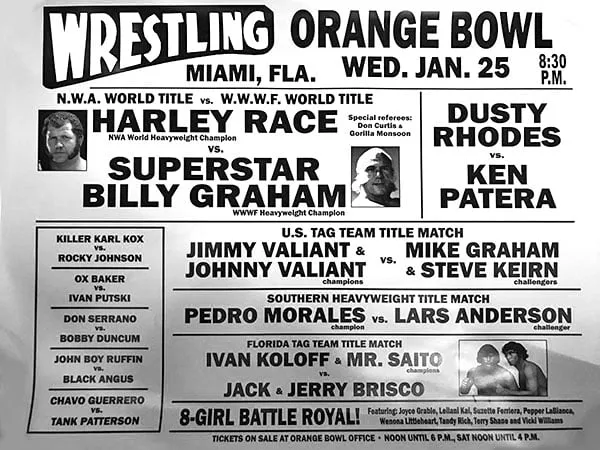 All total there were 11 matches on the card and in addition to the title unification main event, The Superbowl of Wrestling featured several unique "NWA vs. WWWF" bouts on the undercard. Interpromotional match-ups included Dusty Rhodes (NWA) squaring off against Ken Patera (WWWF), Mike Graham & Steve Keirn (NWA) defeating The Valiant Brothers (WWWF) for the U.S. Tag Team championship, and Ox Baker (NWA) battled Ivan Putski (WWWF). Additionally, Joyce Grable won an 8-woman Battle Royal, Pedro Morales defeated Lars Anderson for the Southern Heavyweight title and The Brisco Brothers toppled Ivan Koloff & Mr. Saito.
Although the poor weather hampered attendance, The Superbowl of Wrestling was nevertheless considered a success and it led to several more collaborations between promoters Eddie Graham and Vince McMahon, Sr. Just one month after Graham faced Race in Miami, newly-crowned WWWF champion Bob Backlund wrestled Race in Jacksonville, Florida followed by another Backlund vs. Race title unification bout eight months later in Orlando.