May 25, 2019, Las Vegas, Nevada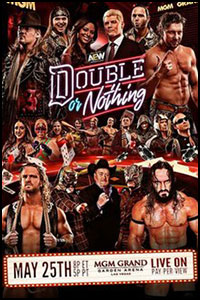 Building upon the unprecedented success of their initial pay-per-view offering, "All In," the Jackson brothers, Cody Rhodes, Kenny Omega, and Tony Khan, having officially formed All Elite Wrestling, present the first-ever AEW pay-per-view event, "Double Or Nothing." Capitalizing on the significant percentage of professional wrestling fans who had become disillusioned with World Wrestling Entertainment and its formulaic, relatively uninspired product, Double Or Nothing sought to once again tap into an audience that craved something new and different.
Held at the MGM Grand Arena in Las Vegas, Nevada, Double Or Nothing immediately proved to be even more in-demand than its predecessor, All In, had been. In less than five minutes, more than 12,000 tickets were sold and, ultimately, Double Or Nothing would draw well over 100,000 pay-per-view buys for a total gross in the $5 million range, incredibly successful figures considering the fact that A.E.W. had no national television outlet at the time. The card, which consisted of nine matches in total, did not disappoint All Elite Wrestling's new & enthusiastic fanbase.
In the main event, Chris Jericho defeated Kenny Omega, thus earning a spot in the inaugural AEW World championship match against "Hangman" Adam Page, who had also captured a spot in the match by winning the Casino Battle Royale. Other featured matches included The Young Bucks vs. The Lucha Brothers for the AAA World Tag Team title and a much-anticipated grudge match between the Rhodes brothers, Cody and Dustin. Also noteworthy was the unexpected appearance of former WWF and WCW World champion Bret "Hitman" Hart, who unveiled the impressive new AEW championship belt.
Following the main event, the show ended on a spectacular note, with ex-WWE champion Jon Moxley (the former Dean Ambrose) coming though the amped-up crowd to enter the ring and attack both Chris Jericho as well as Kenny Omega. Double Or Nothing was an unqualified success, creatively, monetarily, and critically, once again proving its doubters wrong. The event won the Wrestling Observer Newsletter Award for Best Major Wrestling Show of 2019, and the blood-soaked thriller between Cody and Dustin Rhodes garnered Pro Wrestling Illustrated's 2019 Match of the Year Award.