June 19, 2002, Huntsville, Alabama

In the wake of the closure of both ECW and WCW in 2001, the world of North American professional wrestling found itself in a place it had never been before, with only one major promotion left standing to represent the entire business. While this was obviously a great position for the World Wrestling Federation (soon to become World Wrestling Entertainment) to be in, it was a truly dire situation for the sport as a whole, one that would not be easily remedied. While there was still an abundance of major talent on the free market at the time, as well as a large void that was waiting be filled given the right approach, the prospect of attaining national television clearance and support for any wrestling promotion that did not have WWF as its initials was essentially nonexistent. If an entrepreneur was to make a go of it in this new, uncharted business climate, they were going to have to be well-funded and, perhaps even more importantly, think outside of the box.
This was the mindset that former WCW employees Jeff Jarrett and Bob Ryder shared when they approached Jarrett's father, longtime promoter Jerry Jarrett, with the idea of starting a new league. Since obtaining a spot on any of the major cable networks was nearly impossible, while the former business model of reaching fans via syndicated television was no longer a viable option, and the concept of internet streaming still years away from becoming a reality, Ryder and Jarrett sold Jerry Jarrett on the notion of presenting their proposed product in a brand new way; weekly pay-per-view events. Priced down to just $9.99 per show, the weekly events would be a financially reasonable alternative for disaffected wrestling fans while also theoretically remaining profitable for the promotion, which would be called Total Nonstop Action, or, TNA.
Once Jerry Jarrett was on board, a deal was brokered with the nearly-defunct National Wrestling Alliance that allowed for the use of its recognizable name. initials, and still-respected championship title belt, the iconic "Ten Pounds of Gold." The new promotion's infrastructure was quickly established, a credible roster of past & future stars was assembled and on Wednesday, June 19, 2002, NWA: Total Nonstop Action made its debut. Emanating live from the Von Braun Center in Huntsville, Alabama, the two-hour event was hosted by former WCW play-by-play announcer Mike Tenay and his two color commentators, Don West and Ed Ferrara. Additionally, Jeremy Borash served as the ring announcer, while Goldy Locks conducted backstage interviews.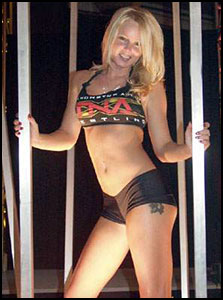 From the opening moments until the event's conclusion, it was clear that the new promotion would position itself — with varying degrees of success — as a blend of tradition and modernism, old school and new school, the past and the present. As an example, the juxtaposition of the NWA championship belt featured alongside scantily-clad TNA cage dancers was, if nothing else, quite different from what had been presented to wrestling fans, especially those of the National Wrestling Alliance, up to that point.
Meanwhile, in addition to spotlighting former NWA World champions such as Harley Race, Dory Funk, Jr., Ricky Steamboat, and southern territorial legends like Jackie Fargo and Bob Armstrong throughout the program, the inaugural TNA event also showcased several future superstars such as A.J. Styles, K-Krush (aka R-Truth), "Cowboy" James Storm, Alexis Laree (aka Mickie James), Low Ki, and Justice (aka Abyss) among other promising unknowns.
The main event of the evening, a Royal Rumble-style match to crown a new NWA World Heavyweight champion that was dubbed "The Gauntlet for the Gold," featured twenty wrestlers, many of them being top names in the business. Established personalities that competed in the match included Jeff Jarrett, Scott Hall, Konnan, Rick Steiner, Buff Bagwell, Steve Corino, and Ken Shamrock, while the remaining slots in "The Gauntlet for the Gold" were filled by talented workers such as Malice (aka The Wall), Brian Christopher, Norman Smiley, Devon Storm, and Lash LeRoux. After the respectable roster of talent had been eliminated and just two men remained — Shamrock and Malice — the "Gauntlet" then turned into a traditional NWA championship encounter, to be won via pinfall or submission. With Ricky Steamboat serving as the special guest referee, "The World's Most Dangerous Man" would go on to defeat his much larger opponent via a belly-to-belly suplex. With the legendary Steamboat making the three-count, former UFC champion Ken Shamrock added the NWA World Heavyweight championship to his title resume as TNA began what would go on to become its long, tumultuous promotional journey.