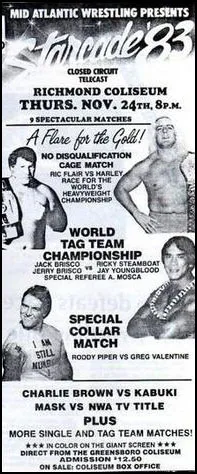 November 24, 1983, Greensboro, North Carolina
Predating WrestleMania by a year and a half, the inaugural Starrcade is held in Greensboro, North Carolina. The event, booked by Dory Funk, Jr. and staged by Jim Crockett Promotions, was subtitled "A Flare For The Gold." Starrcade `83 is considered by many to be the first true "megacard" of the modern era and it was the predecessor of pay-per-view events in professional wrestling.
Financially, Starrcade '83 was an unqualified success, drawing a sold-out crowd of 15,447 to the Greensboro Coliseum, which generated a gate of over $500,000. Meanwhile, nearly 40,000 additional fans throughout the Southeast viewed the event via closed-circuit television, bringing the total gross for the event into the million-dollar range.
At that time in wrestling history, the card, which was hosted by Gordon Solie and Bob Caudle, was as stacked as could possibly be. The undercard showcased strong matches with top Mid Atlantic, Florida and Puerto Rican stars, while the three featured events included "Rowdy" Roddy Piper vs. Greg "The Hammer" Valentine in a legendary Dog Collar match, an NWA World Tag Team encounter between The Brisco Brothers vs. Rick Steamboat & Jay Youngblood and in the main-event, "Nature Boy" Ric Flair regained the NWA World Heavyweight championship by defeating Harley Race.