More than a century before the big-money contracts, worldwide fame and elaborate television production values of modern pro wrestling, fifty years before the post-World War II boom of Gorgeous George and "TV wrestling," decades before the great Lou Thesz or the unbeatable Ed "Strangler" Lewis, before there was even such a thing as an organized wrestling promotion or a booking office, there was professional wrestling's first superstar, the "Father of Professional Wrestling," Frank Gotch.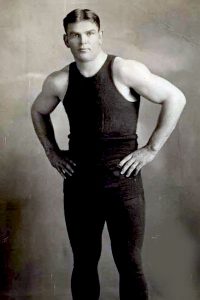 Frank Alvin Gotch was born on April 27, 1877 in the small rural farming town of Humboldt, Iowa.  As a teen, the 5'11" 210 lb. Gotch excelled at freestyle wrestling and he made his pro debut in Humboldt on April 2, 1899 with a victory over Marshall Green.  His second bout, against former American Heavyweight champion Dan McLeod on June 16, 1899, lasted nearly two hours and resulted in a loss for Gotch.  However, by holding his own against a far more experienced, technically superior foe, the novice Gotch proved he was a champion in the making.  He was eventually trained in the science of wrestling by the legendary Martin "Farmer" Burns, at which time the naturally gifted grappler transformed into a truly formidable, genuinely dangerous shooter.  He continued wrestling for prize money in his home state before leaving Iowa to compete in Alaska, where Gotch was billed as Frank Kennedy.
Following his successful tour of the north, Gotch returned home to Iowa, more experienced and in even better condition than when he'd left six months earlier.  A challenge was issued to reigning American Heavyweight champion Tom Jenkins and the match was set.  However, unfortunately for Gotch, he lost the match to Jenkins.  Undeterred, a Gotch-Jenkins return bout was scheduled for January 27, 1904 in Bellingham, Washington.  This time around, though, Gotch emerged victorious and was crowned the new American champion, the first title win of his young career.  Over the subsequent thirteen months, Gotch successfully defended his American championship against all comers while simultaneously solidifying his growing status as America's most famous wrestler.  Meanwhile, Tom Jenkins, grizzled veteran and the premier matman in the country at the time, was determined to regain his championship from the youthful Gotch.  On March 15, 1905 he succeeded in doing just that, defeating Gotch for the American title in New York City and becoming a three-time American Heavyweight champion.  While he continued to wrestle and win, Frank Gotch was separated from the American title for over fourteen months while Jenkins travelled the country defending his championship.  But, on May 23, 1906, in Kansas City, Missouri, Gotch met and defeated Jenkins once more, capturing the American championship for the second time.
Frank Gotch's second reign as the American champion lasted slightly over six months before he was upset by Fred Beell in New Orleans on December 1, 1906.  Beell, while certainly a skilled, respected grappler, was nevertheless simply not in the same league as Gotch (of the eight Gotch vs. Beell contests, Gotch won seven) and, just two weeks after losing the title, Gotch defeated Beell in Kansas City to become American Heavyweight champion for the third time.  Over the course of the following year and a half, Frank Gotch defended the American championship against the best of the day, going undefeated.  Eventually, it came to the point where the talented Iowan had met and defeated every worthy rival.  There was only one opponent left for Frank Gotch to face and, not coincidentally, that man also happened to be the first-ever World Heavyweight champion of wrestling, the mighty "Russian Lion" George Hackenschmidt.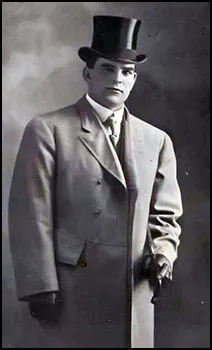 On April 3, 1908, an aggressive and determined Gotch faced off against Hackenschmidt for the World championship in a match held at the Dexter Park Pavilion on Chicago's south side.  The match, like each of their encounters, was filled with controversy and drama.  Many observers remarked that Hackenschmidt, known worldwide for his massively muscled, flawless physique, came to the bout in poor physical condition, appearing soft and overweight.  Additionally, there were reports of Gotch employing some rather questionable tactics during the contest, including head-butts and thumbing, as well as the use of body oil to gain an unfair advantage.  As the bout reached the two and a half hour mark, Gotch was able to capture the champion in his renowned ankle lock, forcing a bloody Hackenschmidt to submit and drop the first fall to his challenger.  The two adjourned to the dressing rooms for the customary ten-minute break, however, Hackenschmidt failed to return to the ring for the second fall, forfeiting the World championship to Gotch.  Newspapers of the time quoted Hackenschmidt as saying, "After going nearly two hours with him, my muscles became stale.  My feet also gave out.  I had trained constantly against the toe hold and had strained the muscles of my legs.  When I found myself weakening, I knew there was no use continuing and that I had no chance to win.  That was the reason I conceded the championship to him.  I have no desire to wrestle him again.  A return match would not win back my title."
As the World champion, Frank Gotch's already significant popularity increased to the point where he became the single most famous sports celebrity in the country, barr none.  Furthermore, his epic battles with formidable challengers such as Stanislaus Zbyszko, Jess Westergaard, Tom Jenkins, Yussiff Mahmout, and Dr. B.F. Roller drew huge crowds and increased the popularity of professional wrestling exponentially, firmly establishing it as one of the top three sports in the United States.  During this fleeting time of legitimacy in wrestling, Gotch was renowned for his great skill, youth, and power.
Three years after winning the World championship, the circumstances were optimal for the long-awaited Gotch vs. Hackenschmidt rematch.  The much anticipated bout took place at Chicago's brand new Comiskey Park on Labor Day 1911 and drew 28,757 spectators for a record $87,000 gate.  Once again, Gotch came out on top and, according to legend, he did so, again, through questionable means.  It is said that just prior to the rematch, Gotch paid off Ad Santel, a very skilled and dangerous hooker, to "accidentally" injure Hackenschmidt during a training session.  There are conflicting reports regarding this matter, however, as Hackenschmidt himself later stated that he never trained with Santel and that the knee injury in question was, indeed, an accident that occurred during a training session with Ben Roller.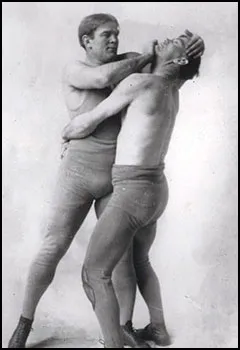 In either case, the fact remained that Hackenschmidt was at far less than 100% going into the rematch with Gotch.  Despite the massive advance in ticket sales, the injured Hackenschmidt was fully prepared to pull out of the bout and reschedule for a later date.  However, he was led to believe (incorrectly, it would turn out) that Gotch had also been injured while training for the bout, thus evening the playing field.  A deal was allegedly struck between the two camps wherein the two combatants would work a match, with Gotch winning two falls to one, allowing Hackenschmidt to look strong in defeat.  But, in pro wrestling's first recorded World title double-cross, Gotch immediately guzzled "The Russian Lion," shooting on his injured opponent and easily earning the two-fall victory in less than a half-hour.
As athletic and skilled as he was determined and ruthless, Frank Gotch held the undisputed World Heavyweight title until he retired in 1913, undefeated as champion.  His professional record was  said to be an impressive 154 victories out of 160 total matches, the majority of which were legitimate contests.  A century after his retirement, Gotch was still held in such high esteem that on July 4, 2012, the town of Humboldt, IA. unveiled an eight-foot statue of its beloved hometown hero, Frank Gotch.  The bronze statue is located on the site where Gotch trained for his legendary rematch with Hackenschmidt in 1911.  Additionally, in December of 2011, a street nearby Gotch's former training spot was officially renamed Frank Gotch Boulevard.
Not surprisingly given his tremendous legacy, Frank Gotch has been inducted into several Halls of Fame, including the Iowa Sports Hall of Fame (1951), the Wrestling Observer Newsletter Hall of Fame (1996), the George Tragos/Lou Thesz Professional Wrestling Hall of Fame (1999), the Professional Wrestling Hall of Fame and Museum (2002), and the WWE Hall of Fame (2016)."
Frank A. Gotch died on December 16, 1917 of uremic poisoning at the age of 39.