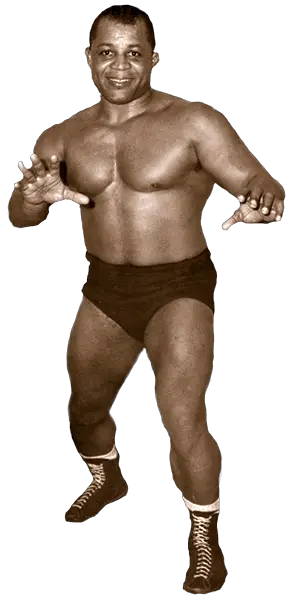 Luther Lindsay is the ultimate example of what could have, and probably should have been. He was an outstanding athlete who used his immense talent to be an established grappler considered the finest African-American wrestler of his generation and has finally been recognized as one of the best of all time.
Luther Jacob Goodall was born on December 30, 1924 near Norfolk, Virginia, with two brothers and a sister. His father died when Luther was five years old and he was raised by his mother and stepfather, a local minister. After growing up in Gibsonville, North Carolina, he returned to the Norfolk area to attend Norfolk State University, a historically Black university where he was a standout player in football, standing 5' 9" and weighing 235 lbs. He later transferred to Hampton Institute, another HBCU school where he continued his football career and also competed in wrestling, named Central Intercollegiate Athletic Association champion. On the football field, he was touted as a Negro All-American, playing tackle and guard for the Pirates. At the time, however, he was unable to gain national recognition because segregation laws throughout the south prevented him from competing against white athletes. After college, unable to play in the segregated National Football League, he moved to Canada to play football professionally for the Hamilton Tiger-Cats of the Canadian Football League for two years.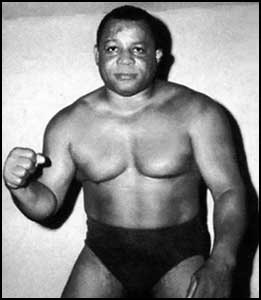 While in Canada, he was introduced to Stu Hart, a professional wrestler and promoter in Calgary, Alberta, Canada. Hart was impressed with Goodall's athleticism and began training him as a professional wrestler. Luther took on quickly to the training and often assisted Hart in training other wrestlers in Hart's famous dungeon. Initially Goodall's greatest asset was his enormous strength and conditioning (he was alleged to have bench-pressed more than 450 lbs.) but in time he became a superior submission wrestler. Hart taught him different techniques and holds and at one point during training, Goodall escaped from one of Hart's holds and reversed it, applying a hold that forced Stu to submit. Hart's reverence for Lindsay was well known, as he named his son Ross Lindsay Hart and carried a photo of Luther in his wallet for 50 years.
Goodall's first recorded professional match was against Al Tucker in Chicago, Illinois on November 21, 1951. He wrestled under the name Luther Lindsay at the suggestion of Ohio promoter Al Haft (Lindsay being the maiden name of Luther's wife Gertrude, whom he had met in college in 1949). Within two years, he had moved to the state of Washington where he began competing against the top wrestlers in the region. As one of the few Black wrestlers in the business, he was often billed as the U.S. Colored or Negro Heavyweight Champion, wrestling against other Black performers such as Woody Strode, Jack Claybourne, Dory Dixon, Sailor Art Thomas and Bearcat Wright (due to segregation in much of the south, Blacks were only allowed to wrestle against one another). While this was for the most part simply a titular designation rather than a competitive one, it did help in terms of recognition throughout the country. Thus, when the National Wrestling Alliance world champion Lou Thesz came to Tacoma, Washington in July 1953, he met Lindsay for a world title match. Lindsay was only the second Black wrestler to challenge for the most coveted title in the world (the first being Seelie Samara in 1950). The match resulted in a time limit draw and Luther's performance impressed the world champion immensely, with Thesz later suggesting that Lindsay was one of the top 25 professional wrestlers of all time.
"(Luther was) without question, the best black wrestler ever. Luther had a fantastic body and limitless energy to compliment his skill. Like many other industries, wrestling was not open to African-American wrestlers during his career, so it was an amazing accomplishment for Luther to even learn his craft. His place in history is not because he was black; it is in spite of the fact he was black… Stu Hart was not alone in his admiration of Luther. We should never forget the hardship on him in just travelling during the times of segregation and extreme discrimination. He was truly isolated from the rest of the boys. He was a hell of a talent and a hell of a man." -Lou Thesz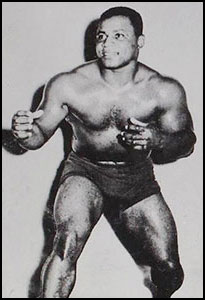 Now wrestling mostly in the Pacific Northwest, Lindsay began facing more well known grapplers including winning a best 2 out of 3 falls against Bronko Nagurski. In addition to getting opportunities to wrestle top stars, he also was getting opportunities to wrestle for the title belt and on January 19, 1954, he teamed with Bobby Bruns to win the NWA Hawaii Tag Team Championship, defeating Bud Curtis and Tommy O'Toole. It was the first of several tag teams titles he would win, later capturing the NWA Canadian Open Tag Team with Jack Claybourne on September 28, 1954 and the NWA Pacific Northwest Tag Team Championship on May 15, 1955, teaming with George Dusette. On May 24, 1955, Lindsay won the inaugural NWA Pacific Northwest Heavyweight Championship, defeating Roger Mackay in a tournament final in Salem, Oregon. In doing so, he became the first Black wrestler to win a NWA singles title in the alliance's seven year history.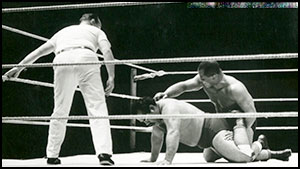 Later in 1955, Luther moved to Texas where he would work for promoter Morris Sigel. As the state was forced to comply with desegregation laws applied to southern states, he was featured in the first interracial match in Texas facing Duke Keomuka and later wrestled to another draw against Thesz in December. In January 1956, he moved to the Dallas area promoted by Ed McLemore and began another feud with Keomuka. Their matches often involved their seconds, with Danny McShain lending aid to Luther and Tiny Mills interfering on behalf of Keomuka. He later teamed with Pepper Gomez against "Iron" Mike DiBiase and Danny Plechas for the NWA Texas Tag Team titles. Luther and Pepper were unable to win the belts despite controversial finishes and he returned to singles action against Keomuka and Thesz. Against Thesz he lost a 2 out of 3 match in December and then scored another draw in January of 1956. Considered a legitimate challenger to the NWA's top crown, he matched up against the new NWA World Heavyweight Champion "Whipper" Billy Watson in Dayton, Ohio on October 25, 1956, but had to settle, once again, for a draw. He would later face NWA Champion Dick Hutton (a loss in Dallas in December 1957) before moving to the east coast to work for Vince McMahon and Toots Mondt of the Capitol Wrestling Corporation in 1959.
In 1960 he decided to move north to work for his friend Stu Hart's Calgary Stampede Wrestling promotion. He captured a win over Don Leo Jonathan and then teamed with Oattem Fisher to win the Stampede International Tag Team Championship. While in Canada he would match up unsuccessfully four times in April and May of 1960 against NWA Champion Pat O'Connor.
After returning briefly to Capitol Wrestling, he moved back to Portland in 1961 and won the NWA Pacific Northwest Heavyweight Championship from "Iron" Mike DiBiase on May 26. He would find his best years in the Portland territory, also winning the NWA Pacific Northwest Tag Team title, once with Bing Ki Lee on June 10, 1961 and once with Herb Freeman on August 10, 1961. After losing his Heavyweight title to Nicholai Volkoff, he traveled to the United Kingdom, winning a match against Mike Marino at the Royal Albert Hall on November 15.
He left for a quick tour of Japan in 1962 and teamed with Ricky Waldo to defeat the great Rikidōzan and Toyonobori for the All Japan Pro Wrestling's All Asia Tag Team Championship on February 3, 1962. This was a great milestone in being able to capture a belt from the Japanese legend and after dropping the belts, he moved back to the Pacific Northwest where he received an NWA World Heavyweight title match against the "Nature Boy" Buddy Rogers on June 18, 1962 in Seattle Washington. Rogers was too much for him though, and Luther once again came up short in his quest for professional wrestling's greatest title. His return to Portland was a positive one, though, as he teamed with his former rival Shag Thomas to grab the NWA Pacific Northwest Tag Team belts from Kurt Von Poppenheim & Fritz Von Goering on July 21, 1963. He would then go one on one against Goering and defeated him to win the NWA Pacific Northwest Heavyweight title on August 24. His collaboration with Thomas would prove quite fruitful as they would hold the NWA Pacific Northwest Tag Team on four separate occasions. Later in the year he teamed with Danny Hodge and the two found initial success but Lindsay was severely injured in an automobile accident and was out for the rest of the year. Over the next few years, he traveled to Hawaii where he captured the NWA Hawaii United States Heavyweight Championship belt twice and continued to dominate in tag team action, collecting title belts with Shag Thomas, Pepper Martin and Bearcat Wright. On January 27, 1965, Luther became the first Black wrestler to battle a white wrestler in the deep south when he met Ron Wright in Kingsport, Tennessee (although he had previously wrestled Thesz in Texas in 1955). The National Guard was brought out in fear of rioting but Luther was overwhelmingly the crowd's favorite, thus opening the box office for Black wrestlers to perform in Dixie.
"He was a real tough wrestler… He was a great athlete. He was a good football player, he was a good wrestler. I can't say enough about how good Luther was in the ring, and how he conducted himself as an individual." – Dick Beyer (The Destroyer)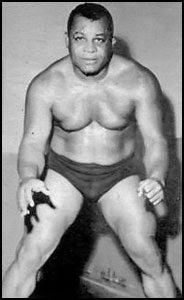 In 1966, Lindsay moved back to the east coast, joining Mid-Atlantic Wrestling. With racial tension still simmering in the south, a wrestler named Ike Eakins hurled a racial slur at Lindsay during a televised match on Jim Crockett's television show All Star Wrestling. WDBJ, the television station airing the show demanded that Eakins apologize during the next broadcast. When Eakins instead repeated the slur, All Star Wrestling was thrown off the air. From 1967 through 1970, he alternated between the Mid-Atlantic and Pacific Northwest territories, teaming with the likes of Abe Jacobs, Dean Ho and Shag Thomas, winning the NWA Pacific Northwest Tag Team belts again with Ho and Thomas. He also won the NWA Pacific Northwest Heavyweight title from Tony Borne on June 2, 1967 and again from Beauregard on November 30, 1968. He also defeated Stan Stasiak to win the NWA Canadian Heavyweight Championship (Calgary version) on April 7, 1967 and wrestled NWA World Heavyweight champion Gene Kiniski to a draw on September 20, 1967 in Salem, Oregon. He would later wrestle Dory Funk, Jr. during his NWA World Heavyweight title run in 1970 and in 1971.
At the tail end of his career, Luther's body began to deteriorate and his health began to fail. He suffered from high blood pressure and would often suffer nosebleeds during matches. On February 21, 1972, Lindsay was facing Bobby Paul at Park Center in Charlotte, North Carolina. At the end of the match, Lindsay hit his opponent with a diving belly-flop. After securing the pinfall, Luther didn't move off of his opponent, and when the referee checked on him, he failed to respond. He was moved to the dressing room where he was pronounced dead, the victim of a heart attack.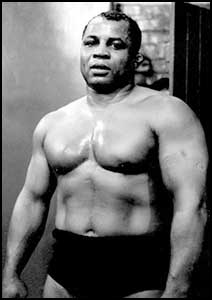 Luther Lindsay's career could be remembered by the freak incident where he died doing what he loved most, but he was a phenomenal wrestler and remembered by many as an even better man. He was one of the earliest Black wrestlers to have national success and challenge for the top belt in the professional, wrestling for it 26 times. He held numerous regional heavyweight and tag team titles and was one of the few wrestlers to defeat the great Lou Thesz in a singles match on January 16, 1961, in Phoenix, Arizona. He was posthumously inducted into the Stampede Wrestling Hall of Fame in 2003, the George Tragos/Lou Thesz Professional Wrestling Hall Of Fame in 2009, and the WWE Hall of Fame on March 31, 2017.
Luther Lindsey was the finest gentleman I ever met in my life, period, end of story—of ANY color, or description. –  Les Thatcher