Gene Kiniski, the 6'4″ 260 lb. multi-time World Champion, often referred to himself during his entertaining interviews as "Canada's Greatest Athlete." Although some may certainly dispute his bold claim, there is more than enough evidence to argue that the rugged Kiniski was not speaking entirely tongue-in-cheek. With a quick glance at the facts, one might come to the conclusion that not only was Kiniski "Canada's Greatest Athlete," but, arguably, he was also one of the greatest pro wrestling champions ever.
He was born in Edmonton, Alberta on November 23, 1928 and began his professional sports career not as a wrestler, but as a football player for the CFL's Edmonton Eskimos until a knee injury forced his early retirement in 1953. Although he was quite famous in sports circles because of his CFL career, when Kiniski started in the pro wrestling ranks he used the name Gene Kelly. As Gene Kelly, he won the Texas Tag Team title in 1956, and later the Texas Heavyweight championship. By 1957, Kiniski was still winning titles (two AWA Canadian World Tag Team championships), but by that point he was also using his real name. Not that it mattered; titles came to the big and tough Canadian no matter what name he used. And, despite his size and rugged approach to the sport, Kiniski knew the importance of wrestling skill for a successful champion, especially in that era. He resigned himself to becoming a proficient technical grappler early in his career and this mindset paid off later for Kiniski, in World championship gold.
Included among Gene Kiniski's dozens of championship achievements are the British Commonwealth championship, three NWA World Tag Team (San Francisco version) titles in 1955, three British Empire championships between 1959-1963, the NWA World Tag Team championship in 1960, two AWA World Tag Team titles, two Hawaiian Heavyweight titles, nine NWA Canadian Tag Team titles between 1963-1976, the Asian Tag Team title in 1964 (w/Cyclone Negro) and the U.S. Tag Team title (w/Fritz Von Erich) also in 1964, to name just a few. However, despite his impressive championship resume, there were many more title belts to come for Kiniski.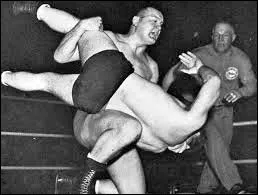 On July 7, 1961 Kiniski defeated Verne Gagne in St. Paul, Minnesota for the American Wrestling Association World Heavyweight title. His reign as the AWA kingpin lasted just over a month before he lost the championship back to Gagne, but the ambitious Kiniski was determined not to let that be his first and only World Heavyweight title. It wasn't. On August 21, 1965, "Big Thunder" defeated "The World's Most Dangerous Wrestler" Dick the Bruiser to win the WWA World Heavyweight championship. The Indianapolis-based promotion was one of the most successful territories of the day and with the addition of the WWA title to his resume, Kiniski was without a doubt one of pro wrestling's elite champions of the 1960s. Even so, for Kiniski, there were more goals to reach and his greatest achievement was still to come.
On January 7, 1966, Gene Kiniski accomplished the highlight of his career when he won the single most prestigious wrestling title in the world, the National Wrestling Alliance World Heavyweight championship. On that cold January night in St. Louis, not only did Kiniski win the "real" World title, he defeated the greatest wrestling champion the sport had ever known at the time (and perhaps of all time) to win the championship, the legendary Lou Thesz. For the big Canadian, it was a sign of things to come.
Kiniski would go on to hold the NWA World Championship for three years, taking on and defeating the best wrestlers of the day. He was not always loved by the fans, though. In fact, he was very much hated throughout most of his tenure as the NWA champion. Regardless, whether the fans loved or hated him, everyone respected him as a wrestler and champion. There was no doubt about it, Gene Kiniski was one of the toughest and most talented wrestlers of his era…and everyone knew it.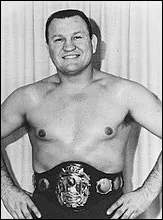 Still, even the best will eventually go down in defeat and the rugged Kiniski was no exception. On February 11, 1969 in Tampa, Florida, he was dethroned by another all-time great, Dory Funk, Jr. The talented young Texan forced Kiniski to submit to his trademark Spinning Toe Hold and, while it was seen as humiliating by fans of the era for the proud Kiniski to end his three-year reign via submission, there were still more championships in "Big Thunder's" future. However, his association with the World Heavyweight championship was forever ended that night in Florida against Dory Funk.
That said, Kiniski would quickly rebound and win the NWA Pacific Coast (Vancouver) Heavyweight championship in 1970, his first of seven Pacific Coast title reigns. He also defeated Terry Funk for the Missouri Heavyweight title, one of the NWA's most prestigious regional titles, in 1973. In 1979, he won and lost his final Pacific Coast championship and, not much later, Kiniski retired from the ring after a stellar career.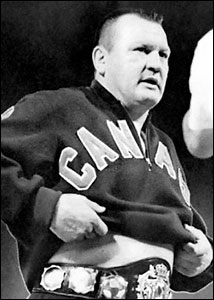 However, as the owner/operator of the Vancouver promotion, Kiniski remained heavily involved in the wrestling business, albeit behind the camera. Still, following his in-ring retirement, Kiniski did make a few more public appearances, most notably participating in the main event of the first Starrcade as the special referee during Harley Race and Ric Flair's NWA World title match in 1983. Kiniski's final public appearance came ten years later at WCW's "Slamboree '93" pay-per-view in Atlanta, Georgia, where he served, ironically, as the "corner man" for Dory Funk, Jr. during Funk's "NWA vs. AWA" legends match with Nick Bockwinkel.
Gene Kiniski is a member of the Wrestling Observer Newsletter Hall of Fame (1996), the George Tragos/Lou Thesz Professional Wrestling Hall of Fame (2004), the St. Louis Wrestling Hall of Fame (2007), the Professional Wrestling Hall of Fame (2008), and the NWA Hall of Fame (2009).
Following a lengthy bout of cancer, "Big Thunder" Gene Kiniski died on April 14, 2010 at the age of 81.
---