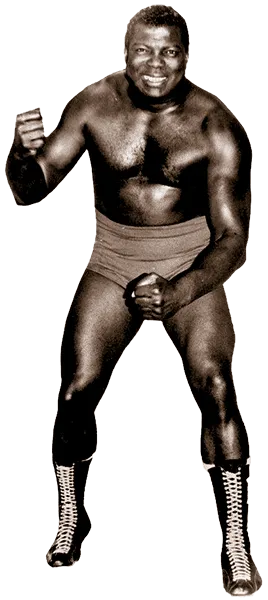 While the Big Cat Ernie Ladd gained great notoriety as a dominant heel across the United States, and Luther Lindsay was held in high enough esteem to be able to challenge more than 25 times for the NWA World Heavyweight title, no Black wrestler in the 1950's and 1960's gained more national acclaim as a wrestling super hero than did Bobo Brazil. His combination of massive size, impeccable style and infectious charisma gained him stature within the Black community, while allowing him to appeal to a white fanbase from coast to coast. He broke down racial barriers throughout the sport and is considered by many to be "the Jackie Robinson of professional wrestling."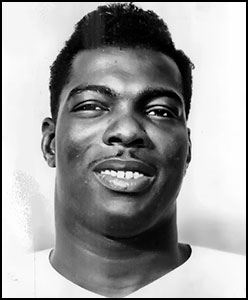 Bobo Brazil was born Houston Harris in Little Rock, Arkansas on July 10, 1924. He was one of six children living in relative poverty and his family moved to East St. Louis, Illinois before settling into Benton Harbor, Michigan. His father died when Houston was seven years old and he was forced to work odd jobs including working on a local fruit farm. He was an excellent athlete as a youth and was a premier baseball player, starring as an outfielder and first baseman. While working in a steel mill, he was recruited to play for one of the prominent barnstorming teams, the House of David baseball team. His first check from the team was for $300 and he eagerly left the steel mill. He later moved on to a top minor league team, the Minneapolis Millers and it was at one of their games (or possibly while working out at the local armory) that he was discovered by former wrestler and promoter Joe Savoldi. Savoldi, a former standout football player for Notre Dame and the Chicago Bears, starred as a professional wrestler and was credited by many with creating the flying dropkick. Seeing the 6' 6", 270 lbs graceful baseball player, Savoldi immediately wanted to sign him. "He hit like Babe Ruth, fielded like Jackie Robinson, and did everything with a raw, animal-like power that, properly controlled, would make a great star of him," said Savoldi. "But I saw something else in him. I saw a tremendous physique going to waste. Ball players have to be good athletes, sure, but sometimes you find one who could do something else even better, if only he tried."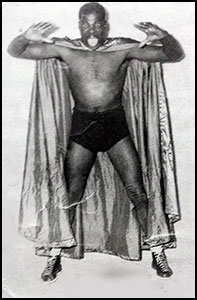 The problem for Savoldi was that Harris had no interest in becoming a wrestler, still focused on playing baseball professionally. According to Ross Davies in his book Bobo Brazil, Harris said "I wouldn't wrestle for a living, even if I had to go on relief." Savoldi promised him that he could earn 20 times his baseball salary as a wrestler and coaxed him to attend wrestling matches taking place in Benton Harbor and he agreed. At one point a wrestler offered $50 to any man who could beat him. Savoldi goaded Harris into getting in the ring and he handled himself well. Although he didn't win the $50, a seed was planted in his mind and he soon thereafter began training with Savoldi and in return helped to set up the ring at Savoldi's spot shows. His first recorded match was on March 29th, 1948 in Benton Harbor where he wrestled to a 30 minute draw as "Huston Harris, The Black Panther" against Armand Myers. Joe later came up with the ring moniker BuBu Brasil, "The South American Giant" for him. A local promoter made a mistake with his name on a printed ad, and the name "Bobo Brazil" stuck. Donning a satin cape created by Savoldi's wife Lois, he was first sent to Canada in 1951 where he debuted in Toronto's Maple Leaf Wrestling promotion and teamed in tag matches with "Whipper" Billy Watson. His first paycheck was for $2,200 and he no longer doubted his career path. He would then move between Ontario and Michigan where he would work in the Sheik's Detroit based promotion.
Within a few years, he was considered a very competent mat-man, a smooth worker in the ring considering his size. With Detroit being an urban center, Brazil developed an immediate fanbase among the Black populace. His modesty, stylish dress and professionalism also made him an appealing babyface to white audiences and he quickly became one of the bigger draws for the promotion. This also allowed him to travel to other territories in which promoters had been afraid to put on interracial matches. Thus he quickly took on some of the biggest stars of the day, including the Sheik, Johnny Valentine, Killer Kowalski, Dick the Bruiser and NWA World Heavyweight champion Lou Thesz. He battled Thesz for professional wrestling's greatest title eight times between 1953-1955. Bobo's immense size and athleticism, made him a smooth operator in the ring but his greatest wrestling move was the "Coco Butt." He would perform this headbutt maneuver against opponents heads, arms and torso, to devastating effect.
In the spring of 1953, Bobo ventured out to California where he would first wrestle Thesz for the title belt and worked his way to the Los Angeles promotion where he would find success as a tag tag specialist, teaming with Wilbur Snyder to win the WWA (Los Angeles) International TV Tag Team title, defeating Tom Rice and Great Bolo on April 19, 1954 and later defeating Gene Kiniski and James Blears for the same belts on September 6, 1954, He later teamed with Sandor Szabo to beat Joe Pazanadak and James Blears on November 29, 1954 to once again claim the belts. In 1954 he left California and moved to Ohio where he continued his tag team success, teaming this time with Frankie Talabar to take the MWA (Ohio) American Tag Team belts from Dick Hutton and Buddy Rogers on May 19, 1955. He was called back to California where he captured the Pacific Coast Heavyweight belt in June before quickly returning to Ohio where he again teamed with Talabar to regain the MWA (Ohio) American Tag Team belts twice while also capturing the MWA Ohio Heavyweight title from Gene Stanlee on April 19, 1956.
Having enjoyed a great deal of regional success in 1956, he was prime to again challenge for the NWA World Heavyweight title, twice against Lou Thesz and twice against the new champion "Whipper" Billy Watson. Although unsuccessful in his quests, his stock climbed and he was soon booked across the country challenging and winning regional singles title and tag team belts over the next few years, including in Ohio, San Francisco, Los Angeles and Toronto.
Bobo's career really got rolling in 1961 and on January 28 he got a shot at the NWA Detroit United States Heavyweight Championship held by the great Dick the Bruiser (William Afflis). The Bruiser had held the belt for more than six months and had steamrolled through most of his challengers, but on this evening, Brazil was the better man, pinning Afflis to become the first African-American to hold such an esteemed title.
By this time, success in the ring was matched by happiness outside of the ring. He married his girlfriend Leonora and they created a family, eventually having six children (his son Karl would later wrestle as Bobo Brazil, Jr. on the independent circuit). Bobo decided to take some of his earnings and invested in a bar called the Dew Drop Inn in East St. Louis, which was run by his brother while he was on the road.
Back in the ring, Bobo's career got even more momentum as he wrestled for the NWA World Heavyweight championship 14 times. The highlight of these matches, and his career at this point, occurred on August 18, 1962 in Newark, New Jersey. Brazil defeated the champion, Buddy Rogers, by countout, when Rogers was hit in the groin and unable to continue. Bobo, the babyface hero, refused to accept the belt because of Rogers injury, and he was not officially recognized by the NWA as having won the World Heavyweight Championship. Over the next six years Brazil would challenge for that belt six more times, but would never come as close to winning it as he did that night.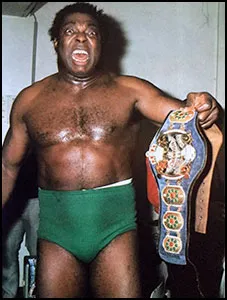 Success would still come in 1966 as he was wrestling in the Los Angeles based Worldwide Wrestling Associates promotion. On September 2, 1966, Brazil defeated Buddy Austin to win the WWA World Heavyweight Championship (Los Angeles version), becoming the second Black wrestler to hold a major world championship. He lost the belt in a rematch two weeks later, but recaptured the belt from Austin on January 12, 1968 and held it for another 341 days days. When the WWA decided to rejoin the NWA on October 1, 1968, a match was sanctioned pitting Bobo against the NWA World Heavyweight champion Gene Kiniski. On December 18, 1968, Brazil wrestled Kiniski to a draw in Los Angeles, and Kiniski was recognized as the real world's champion as the WWA title was merged with the NWA World Heavyweight belt. Brazil, thus, never lost the title belt and was the last WWA champion.
Over his career, Brazil battled against the top wrestlers in the business, including Lou Thesz, Buddy Rogers and Bruno Sammartino. His battles against Bruno in the World Wide Wrestling Federation caused a dilemma amongst fans on whom to root for in the unusual matchup between babyfaces. His biggest rivalry, however, was with the Arabian Madman, the Sheik. The two battled one another over the course of several decades, often over the NWA Detroit United States Heavyweight Championship belt, which they traded back and forth 13 times over a 16 years period.
Bobo was a huge draw over his career and achieved success everywhere he went, including winning regional NWA championships in the Detroit, Toronto, Florida, San Francisco and the Mid-Atlantic regions and headlined cards in Japan. He was also considered a racial pioneer. He was the first Black person to wrestle a white performer (Hans Hermann) in the state of Indiana, and teamed with El Mongol to beat Mr. Ito & The Great Ota in the first racially-mixed match in Atlanta.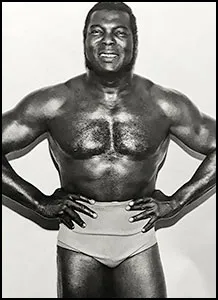 Being a pioneer is a great honor for the history books, but not an easy undertaking as a lifestyle. In addition to the verbal abuse he suffered, he often had to travel through dangerous Jim-Crow south, facing the indignity of being refused service at hotels and restaurants. As recounted in 1993 at Mike Lano's Wrestling Wreality forum, Killer Kowalski explained that "Some of these hotel managers had come to the arenas and paid to see him wrestle me and cheered Brazil, but then when he wanted to rent a room to sleep for the night, they apologized and refused him. I'd later quietly sneak him into my room, to share it with me later on in the middle of the night which I did many, many times. It was very ugly, an ugly time and it happened in so many towns around the country."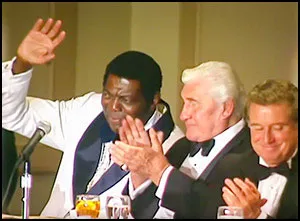 Despite these difficulties, Bobo was wildly popular wherever he appeared. Fans would pull for him, in part because he was so good at selling for his opponent. Bobo would put on such a display that the fans believed he was close to dying at the hands of his opponent and would rally to his defense. At the same time, crowds were drawn to him because of his humble attitude. In the book The Pro Wrestling Hall of Fame : Heroes & Icons by Steven Johnson and Greg Oliver, ring announcer Jerry Walton explained why Brazil resonated so much with the fans. "He was a big guy, but he was mellow. He'd be very low, very quiet… and he'd say 'Folks, come out and support Bobo. I cannot win this match without you being there.' Very simple, no yelling, no screaming. He came across very humbly." He was also popular amongst his fellow wrestlers, often calling them "Champ." This respect towards his peers as well as the dignity with which he carried himself allowed him to enjoy success moving from one territory to another.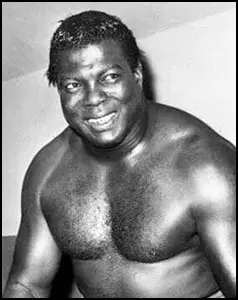 After four decades in the sport, Bobo retired from professional wrestling in 1993, with his last match taking place in Chicago, Illinois against Kelly Kiniski, the son of his long-time rival. He and his wife moved back to Benton Harbor and opened a restaurant called "Bobo's Grill." Brazil was inducted into the WWF Hall of Fame by wrestling legend Ernie Ladd in 1994, the Wrestling Observer Newsletter Hall of Fame in 1996, the Professional Wrestling Hall of Fame and Museum (Television Era) in 2008, and the NWA Hall of Fame in 2013.
Confined to a wheelchair after a series of strokes, Houston "Bobo Brazil" Harris passed away on January 20, 1998 at the Lakeland Medical Center in St. Joseph, Michigan. He was 73 years old.