July 4, 1915, Omaha, Nebraska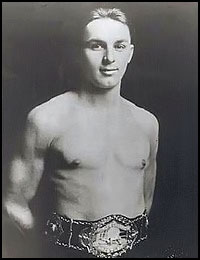 Following the retirement of the sport's number one attraction and World Heavyweight champion, Frank Gotch, in 1913, promoters across the country were searching for someone to fill the noticeable void left by Gotch's departure from the fledgling sport of professional wrestling. Many talented grapplers tried, but none were able to replicate Gotch's unprecedented popularity and box-office drawing power. However, Nebraska's Joe Stecher eventually emerged as one of the top young grapplers of the day and, after amassing an impressive collection of victories throughout the Midwest and Western states, Stecher came to national prominence on July 4, 1915.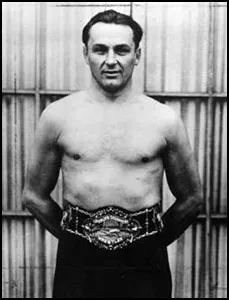 That date marks the day that the unassuming 22 year-old Stecher defeated Charlie Cutler for the World championship in what was, at that time, one of the premier wrestling cities in the country, Omaha, Nebraska. In fact, Gotch himself was in attendance that night in Omaha and it was with the world-renowned former champion's public support that the new titleholder set out to carve his own niche while also carrying on in the tradition set by Gotch and the previous champion, George Hackenschmidt.
Joe Stecher was successful in this endeavor and although he was not able to match the nearly unattainable goal of replacing Gotch in the hearts and wallets of the wrestling public, the two-year title reign that began on Independence Day of 1915 unquestionably helped pull the sport out of its post-Gotch tailspin. As a result, Stecher (who would go on to capture the world championship on three separate occasions), kept professional wrestling healthy during a trying time and helped set the stage for the sport's next true superstar, Ed "Strangler" Lewis.