September 4, 1911, Chicago, Illinois
Three years after their momentous and controversial April 3, 1908, World Heavyweight championship showdown in Chicago, the circumstances were optimal for the long-awaited rematch between Frank Gotch and George Hackenschmidt. The much-anticipated bout took place at Chicago's brand-new Commisky Park on Labor Day 1911 and drew 28,757 spectators for a record $87,000 gate. To put that figure into perspective, $87,000 in 1911 would be equal to $2,417,459 in 2020 currency, a truly astronomical number and, dollar-for-dollar, one of the biggest gates in the entirety of professional wrestling's lengthy history, bar none.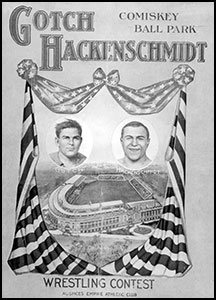 As had been the case previously, Gotch would come out of the bout as the World champion and, according to legend, he once again did so through questionable means. It is said that just prior to the rematch, Gotch paid off Ad Santel, a very skilled and dangerous hooker, to "accidentally" injure Hackenschmidt during a training session. There are conflicting reports regarding this matter, though, as Hackenschmidt himself later stated that he never trained with Santel and that the knee injury in question was, indeed, an accident that occurred during a training session with Ben Roller. In either case, the fact remained that Hackenschmidt was at far less than 100% going into the rematch with the defending champion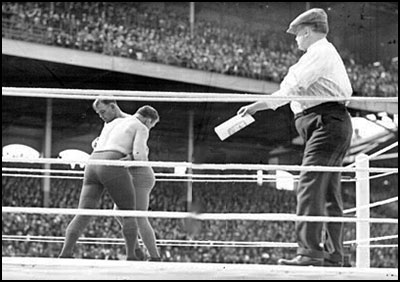 Despite the massive advance in ticket sales, the injured Hackenschmidt was said to be fully prepared to pull out of the match and reschedule for a later date. However, he was led to believe (incorrectly, it would turn out) that Gotch had also been injured while training for the bout, thus evening the playing field. A deal was allegedly struck between the two camps wherein the two combatants would "work" a match, with Gotch winning two falls to one, allowing Hackenschmidt to look strong in defeat. But, in pro wrestling's first recorded World title double-cross, Gotch immediately guzzled "The Russian Lion," shooting on his injured opponent and easily earning the two-fall victory in less than a half-hour.