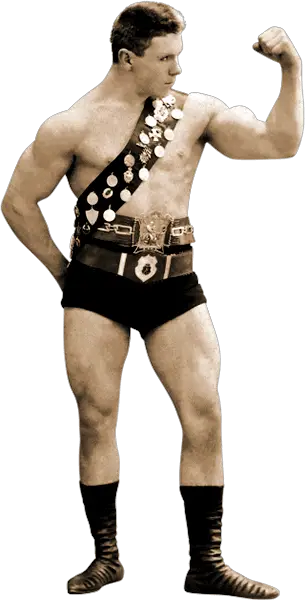 "The Russian Lion" George Hackenschmidt is one of wrestling's original great competitors, the first recognized World Heavyweight Wrestling champion, and his story took place at the dawn of the modern professional wrestling era. His turn of the century battles with Frank Gotch over the World Heavyweight title have become nearly as legendary as the man himself. As one of the sport's early superstars, he was a celebrity worldwide and a huge box office draw for the early wrestling promoters. As a wrestler, the heavily muscled champion was vulnerable, but only if you could get past his extreme power advantage and effective grappling skills. Not many wrestlers of the day could, and "The Russian Lion" was one of the most successful men in the sport during his era, firmly entrenching himself in professional wrestling history.
After establishing himself as a champion weightlifter, he began his professional wrestling career in the late 1890s and quickly became a major wrestling celebrity in Europe. By the turn of the century, he was the premier wrestler in Europe and is credited for selling out the London Opera House, a highly prestigious venue, in 1904. His muscular physique was quite an attention grabber, and his massive body was easily the most developed specimen in the sport at the time. As a result, people flocked to arenas throughout Europe to see him wrestle. His chiseled physique would, years later, be cited as a model for many muscular wrestlers and bodybuilders to come.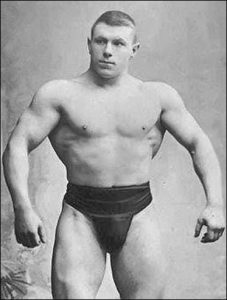 But, in addition to being a genetic wonder, Hackenschmidt was a formidable opponent for anyone he was matched against, and he possessed a painful and effective finisher in a version of the contemporary Bearhug maneuver. Realizing the value of showmanship, despite having to deal with bouts that were often legitimate contests, Hackenschmidt would often play up to the crowd, making him even more popular. He was known to perform elaborate exhibitions of strength before his matches, creating yet another reason for people to attend his bouts.
Hackenschmidt won the European version of the World Heavyweight championship in November of 1901 in Vienna, Austria by defeating Ahmed Madrali. A few months later, "The Russian Lion" added the European Greco-Roman Heavyweight title, another early version of the World Title, to his growing collection of championships. He held both European titles for three years before defeating American Heavyweight champion Tom Jenkins on May 4, 1905 in New York City. That victory, in addition to his European championships and World Title tournament victories, solidified Hackenschmidt as the true owner of the unified, undisputed World Championship. His other titles were declared vacant, and George Hackenschmidt was recognized as the original World Heavyweight Wrestling champion.
So, when he finally made his way to America in the early 1900s, Hackenschmidt's reputation was such that many Americans believed the European powerhouse was unbeatable, much like Mike Tyson's aura/reputation preceded him during his prime eight decades later. However, reigning American Champion Frank Gotch felt differently, and since he was the most legitimate challenger for "The Russian Lion," their imminent match-up was highly anticipated. Their first encounter, held at the Dexter Park Pavilion on Chicago's south side, was an epic struggle that lasted over 2 1/2 hours. However, in the end, Hackenschmidt surrendered his title to Gotch, who had managed to secure an ankle lock submission hold. After the match, Hackenschmidt let it be known that he felt Gotch had used some unscrupulous methods to obtain the victory, and challenged him to a rematch. The match was signed to take place on Labor Day, 1911 at the brand-new Comiskey Park. The event drew well over 30,000 fans for a record (at that time in history) gate of $87,000, and was easily considered to be the sporting event of the year. Hackenschmidt once again lost, primarily because Gotch allegedly had paid off the legendary hooker Ad Santel to make sure Hackenschmidt was not at 100%. According to legend, Santel reportedly did just that, by seriously injuring Hackenschmidt's knee during what was intended to be a simple training session.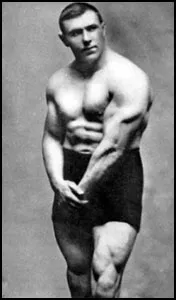 According to many wrestling historians, a pre-bout arrangement was made wherein Gotch would drop one fall to Hackenschmidt, allowing him to appear strong in defeat, but still win the other two falls, thus retaining the World title. Both agreed, but, only one man intended on keeping his word and it wasn't Frank Gotch. The 30,000 on hand in Chicago witnessed a truly historic title match, one that was simultaneously a work and a shoot, which saw Gotch go over the unsuspecting and highly vulnerable Hackenschmidt in two straight falls.
"The Russian Lion," who had been the crowd favorite, was well compensated monetarily, but the loss was still a bitter defeat for Hackenschmidt to accept. Not long after his second loss to Gotch, he retired from the sport he had been so instrumental in popularizing. However, George Hackenschmidt was an intelligent, educated man and he went on to have a meaningful, substantive life once his career as a wrestler ended. From his home in London, Hackenschmidt (who spoke seven different languages) went on to write several successful books, including Fitness and Your Self, Consciousness and Character: True Definitions of Entity, Individuality, Personality, Nonentity, and The Way to Live in Health and Physical Fitness, among others.
"The Russian Lion" is a member of the Wrestling Observer Newsletter Hall of Fame (Class of 1996), the Professional Wrestling Hall of Fame and Museum (2002), the George Tragos/Lou Thesz Professional Wrestling Hall of Fame (2003), and the WWE Hall of Fame (2016).
"The Russian Lion" George Hackenschmidt died on February 19, 1968 at the age of 90.
---