December 7, 1915, New York, New York 

When the 1915 New York International Wrestling Tournament started in the Manhattan Opera House, the public showed a tepid interest, despite many of the great wrestlers of the day taking part in the tournament, including Strangler Lewis, Alexander Aberg, Dr. Benjamin F. Roller and Wladek Zbyszko. After Lewis wrestled to a draw with Charles Cutler and Aberg defeated Roller, a masked man walked through the crowd and was seated near the stage. The crowd turned to stare at the mysterious man in the black hood and after a time, he stood and bellowed a challenge to the other wrestlers, demanding the opportunity to enter the tournament. The crowd roared with approval and the press was in a frenzy. Soon, news of the masked wrestler circulated throughout the newspapers and word of mouth until the Opera House was filled to capacity.
The Masked Marvel became an overnight star, faring well in his matches. While he only won one match (over George Lurich), he wrestled to long draws against Zbyszko, Aberg, and Lurich. He captured the imagination of the crowds and gained favorable reviews in the press. For the most part, people were excited that he made the tournament interesting and while there had been numerous masked wrestlers before, both in the United States and Europe, he was the first pushed so aggressively in such a public manner. The rumored plans behind the scenes were for the Masked Marvel to go undefeated and face Aberg in the finals.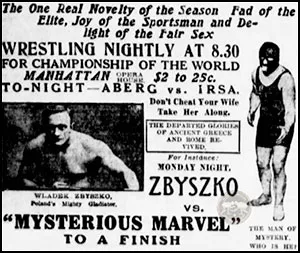 Those plans were dashed when he faced Lewis. Lewis, who wrestled mostly in staged exhibitions at this point could legitimately beat anyone in the sport if pushed. He was not about to lose to a gimmicky newcomer and met the masked man in the ring on December 20, 1915. The Strangler wasted no time, securing a headlock on the masked man and eventually transitioned into a wrist lock that allowed him to force the Marvel onto his back. Lewis secured a pinfall in just 11:50, much to the astonishment of the crowd. After a long silence, the crowd roared in approval. The Marvel would later claim that he entered the match with a cold and shouldn't have wrestled, but didn't want to disappoint the crowd. The Masked Marvel would not win another match in the tournament (which was won by Aberg) and he was soon revealed to be a journeyman wrestler from Rochester, New York named Mort Henderson. The Masked Marvel gimmick was suggested by an opera promoter named Mark A. Luescher whom had previously toured the country with a masked opera diva to great financial gain. He presented the idea to Ben Atwood, a press agent for the opera house, who passed it along to Jack Curley and Charlie Cutler, who secured the services of Henderson. Mort Henderson never achieved the type of acclaim generated by his first appearance in a mask and he died on 4th August 1939.