September 4, 1995, Minneapolis, Minnesota
The Monday Night War was the result of an evolution of a dispute between Vince McMahon and Ted Turner that originated more than 20 years earlier. McMahon, who was in the midst of taking his promotion nationwide, had acquired a time slot on the USA cable network for his All American Wrestling program. He determined that he needed exposure on another national cable television network and approached media titan Ted Turner about purchasing the time slot on Turner's TBS Superstation channel that was currently occupied by Georgia Championship Wrestling . GCW which was broadcast on Saturday night's from 6:05 – 8:05 was very popular and had a very loyal fanbase. Turner, thus rejected the offer out of hand. Undeterred, McMahon approached Jerry and Jack Brisco, part owners in GCW who had grown dissatisfied with the direction of the company under the leadership of co-owner and booker Ole Anderson. The Brisco's along with the fourth co-owner, Jim Barnett, agreed to sell their majority interest in GCW to McMahon. As the new majority owner of the promotion, McMahon was therefore the owner of the 6:05 pm Saturday time slot.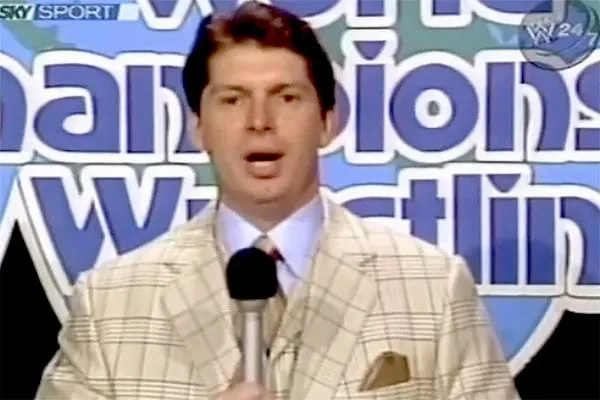 On July 14, 1984, McMahon appeared onscreen to announce that the WWF content would now be featured in place of GCW (an event known as Black Saturday). For the next year, McMahon introduced WTBS fans to the superstars of the World Wrestling Federation (WWF), but his efforts did not go over well. WTBS fans were accustomed to a faster pace of action and missed long time announcer Gordon Solie as well as the wrestlers they had been fans of. Turner was especially displeased as McMahon was not offering as much original programming as he had promised and ratings for the broadcasts were down miserably. Turner took action, giving an afternoon time slot to Bill Watts Mid-South Wrestling and then a morning slot to Championship Wrestling from Georgia, now run by Ole Anderson. Both shows gained higher ratings than McMahon's WWF offerings. McMahon knew when to cut bait, and sold the time slot to Jim Crockett Promotions and would eventually broadcast World Championship Wrestling on the channel.
McMahon continued on with the USA network with several programs. Prime Time Wrestling was broadcast on USA for more than eight years, but that show was replaced January 11, 1993 by Monday Night Raw. Raw was shot live before a raucous crowd and matches and angles played out in real time. It was groundbreaking television and gained immediate popularity. The first episode took place at the Grand Ballroom at the Manhattan Center, in New York City and eventually moved around to locations across the United States. World Championship Wrestling (WCW), at the time, was showcasing a number of former WWF Superstars, including Hulk Hogan and Randy Savage. Both were brought in by Eric Bischoff, a former C-show announcer who had been moved up to the role of Executive Vice President in 1994. Bischoff had increased the number of pay-per-views the promotion broadcast and increased the production values of both pay-per-view and television broadcasts. His efforts proved beneficial and the company started gaining traction against the WWF. However, with the success of Monday Night Raw, Bischoff knew that the WWF seemed the bigger of the two promotions because it operated in prime time. He thus approached Turner about launching a new show to compete head to head against Raw. The show would be called WCW Monday Nitro.
Nitro debuted on September 4, 1995 from the Mall of America in Minneapolis, Minnesota and was broadcast on Turner's TNT network. Mall of America, at the time, was the largest mall in the United States, so the one-hour broadcast gained a lot of media attention prior to the show. Hosted by Eric Bischoff, Bobby Heenan and the debuting former Super Bowl champion Steve McMichael on color commentary, Monday Nitro opened with a blistering match between Brian Pillman and New Japan's Jushin Liger. Additionally, U.S. champion Sting defended his title against "Nature Boy" Ric Flair and, in the main event, WCW World champion Hulk Hogan faced "Big" Bubba Rogers. The biggest splash on the show occurred when Lex Luger walked out and challenged Hogan for his title belt. Luger was a long time star for WCW before defecting to the WWF to serve as the next physical specimen that McMahon wanted to make a superstar. His run in the WWF had been disappointing, but he was still a valuable member of the roster. His appearance on Nitro was a huge shock and surprise, especially since he had appeared on a WWF PPV the previous night. Bischoff wanted Nitro to have an "anything can happen" air to the broadcast and Luger's appearance was the first of many examples. The competition between the two companies, especially during prime time, made for compelling action and storylines that would lead to a boom period in professional wrestling history.  The unique setting and rapid-fire, highly energetic pace of WCW's new one-hour program was refreshingly exciting, despite the prevailing thought within wrestling circles prior to its debut that the show would be a flop creatively and, certainly, in terms of ratings. It was neither, and the very respectable rating of 2.9 that the inaugural Nitro garnered went a long way towards quieting the show's early pundits.
With the WWF's Monday Night Raw preempted over on the USA network, TNT had Monday Nitro's first night all to itself. WCW Executive Vice President Eric Bischoff made the most of this fortuitous situation and scored a very impressive rating that set the stage for Nitro & Raw's first head-to-head encounter the following week. Despite Nitro's strong debut rating, many predicted that the well-established World Wrestling Federation would easily defeat World Championship Wrestling in the new TV ratings war. However, when the two programs aired opposite of each other for the first time on September 11, 1995, WWF Monday Night Raw managed a victory over WCW Monday Nitro by the slimmest of margins, 2.5 to 2.4.